---
---
Vancouver Hiking Trails – Instructions
Click on any of the Vancouver hiking trails above for a detailed description of the hike, including pictures, video, stats, route description, driving directions to the trailhead, and more. (If you're not sure where to begin, we have a collection of 'Best of' hikes at the bottom of this page).
You can use the 'Filter by Hike Features' button to filter the hiking trails database by different metrics like distance, time needed, if hiking with dogs is allowed, public transit, and more. If you are unsure what any of the features are (for instance, what is meant by 'fitness'), you can press the (i) icon for a short description. Most metrics are explained in details below. If you notice a data point seems incorrect for a hiking trail, or disagree with something, please contact us. 
Each of the Vancouver hikes has a difficulty rating; either easy hikes, moderate hikes, or difficult hikes. Difficult hikes offer big climbs with lots of elevation gain and technical terrain, some requiring a full day's effort. Generally, difficult hikes should not be undertaken by children or novice hikers. These are rated as 'hikes' and not 'walks' so even something rated as easy may have a few sections of challenging terrain.
---
Hiking Vancouver: Exploring Southwest British Columbia's Most Beautiful Trails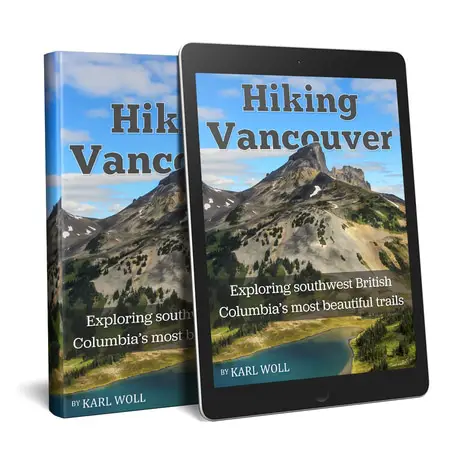 Want all 130+ of Outdoor Vancouver's hiking guides in one eBook? From the classics like The Chief and Black Tusk to the hidden gems, they're all here in over 500 pages!

Hiking Vancouver is your guide to the best hikes in southwest British Columbia.
Only $8.99 (or included with OV Patron membership)
---
Hike types. Most of the hikes near Vancouver are out-and-back hikes (you return on the same path as you took to the summit). Some hikes are a loop (you start and finish at the same location but with minimal re-tracing of your steps). And few others, like the Howe Sound Crest Trail, are point-to-point hikes (meaning your hike ends at a different location than where you started). For the out-and-back hikes, the distances offered for each hike are measured from the trailhead, to the summit, and then back to the trailhead. Distances, even when provided to a fraction of a kilometer, are only rough estimates.
The listed elevation gain is the simple math of the difference in the starting elevation and the summit, in meters. It is not a cumulative calculation of the total elevation gained during the hike. This means, in most cases, you will actually climb more than the listed net elevation gain. Some hikes have 0 m elevation gain listed, which means the trailhead is actually the highest point, as is the case with some waterfall hikes, for example.
The completion times of the hikes are estimates and will, naturally, vary per individual, ability, and weather conditions. Once you have done a few hikes from these guides, you can use them as a guideline to estimate your personal time to complete a hike. The times offered, however, are meant to be generous. Individuals with a lot of hiking experience and good fitness should be able to finish the hikes more quickly than the estimated times provided.
Each hike has a corresponding season when the trail is most likely to be in good condition. However, as the snowmelt can vary each year, these too, are estimates. It is best to confirm the current trail conditions before heading out. A few of the guides in the list are specifically for snowshoeing, and are indicated as such.
The OV Rating is our subjective rating of how much we liked each of the hiking trails based on four factors: The variety of the terrain, the views, how crowded the trail is, and an overall 'fun' factor. This is score is debatable, so if you disagree with a rating please feel free to leave your own review of the trail in the comments section at the bottom of the trail guide.
Each of these hikes near Vancouver will indicate if dogs are allowed on the trail. If hiking with dogs is allowed, it does not necessarily mean that the trail is 'dog-friendly'. Even though dogs might be allowed, it may be a bad idea to bring them on certain Vancouver hikes (due to ladders, difficult sections, boulder fields, etc). This is up to each dog owner to research and determine the suitability of the trail for their dog in advance.
Each guide has a downloadable PDF version, so you can load the description onto your phone and take it with you – keeping in mind that it would be ridiculous to rely solely on a text description loaded onto your phone for navigation, and that the PDF would only be a supplement to navigation skills and carrying The Essentials.
While every care has been taken, there may be inaccuracies in these guides. It is your responsibility to hike within your limit and take all necessary safety precautions. Hiking is inherently dangerous. Do not underestimate how quickly you can get into remote and wild terrain. Please read the disclaimer for this site.
If at any point while reading these guides you have any questions, please don't hesitate to contact me. I can easily be reached on Twitter (@outdoorvan) or on email (karl [at] outdoorvancouver [dot] ca). These guides are constantly being revised. If there's anything you think that can be done to improve them, please let me know!
Most of the guides are for hiking trails near Vancouver (ie, North Vancouver) and the Sea to Sky area. But we're constantly expanding this list of hiking guides over time to further reaches. This is a growing database so check back often and subscribe to the free monthly newsletter to be notified of new Vancouver trails!
Before embarking on your trip, you may also want to check our Trail Closure and Updates page to see the latest intel. 
Happy hiking, Vancouver!
---
Looking for the best places to hike in Vancouver? Check out these lists of the best hikes in Vancouver by category: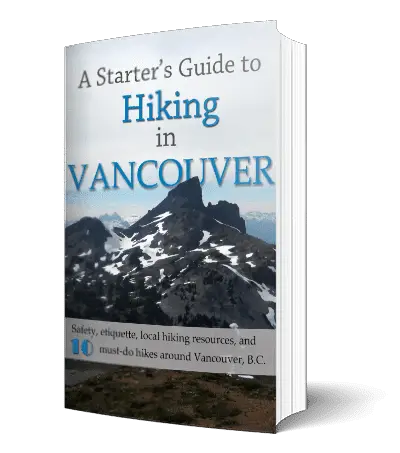 A Starter's Guide to Hiking in Vancouver.
Guides for 10 amazing hikes near Vancouver
Hiking safety and trail etiquette
Resources, hiking gear overview, and more!