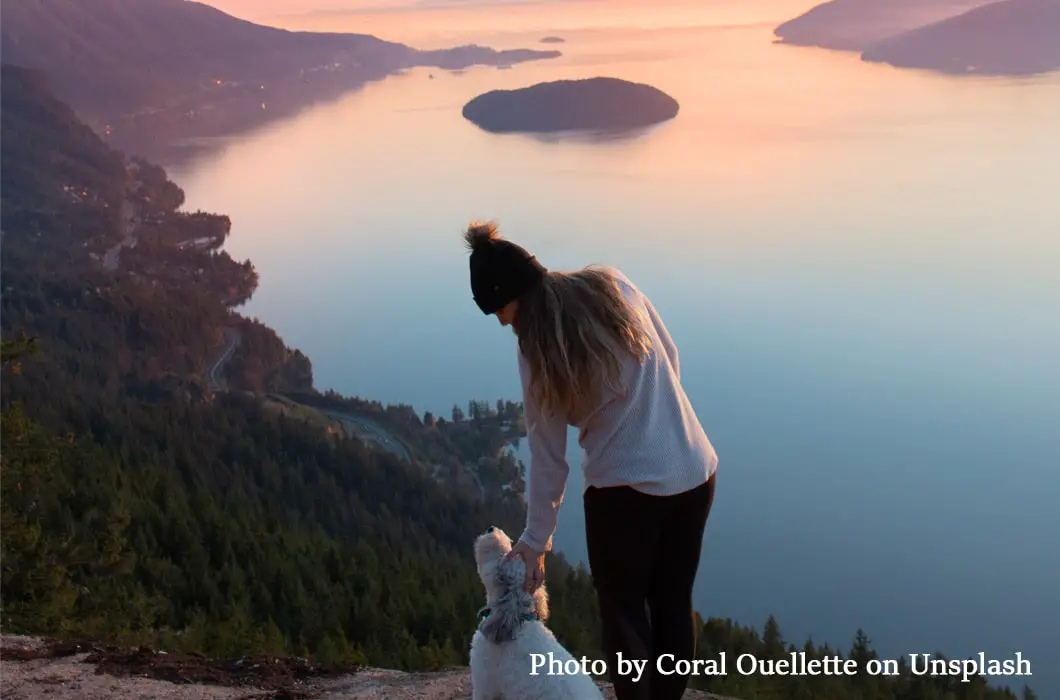 Table of Contents
Hiking with Dogs in Vancouver
Dogs and hiking, a match made in heaven. There's no better way to spend a day with your pet pooch than out on the trails. To help you get outside, we've compiled this list of our favorite dog-friendly trails around Vancouver. This guide offers some practical dog-hiking in-fur-mation so your hike lives up to its full pet-tential.
This isn't a complete list of all the dog-friendly hikes around Vancouver, but it's a collection of our 16 favorites. If you want to see even more hikes where dogs are allowed, you can use the search filter on our Hiking Guide Database, and search by many criteria (city, dogs-allowed, time-needed, distance, etc).
On most trails, dogs are required to be on-leash. We have specified below if any trails are off-leash dog trails. We also have a list of off-leash dogs parks for Vancouver and every city around the Lower Mainland at the bottom of this post as well.
Before we dig into the hikes, let's paws and consider a few things first so you don't go barking up the wrong tree.
---
Safety Considerations for Hiking with Dogs
First and fur-most, don't forget common sense safety. Always do your research before em-barking on any hike. Some of the hikes below are no walk in the park. Carry The Essentials, leave a trip plan, and be prepared.
For your dog's safety and well-being, please consider the following:
Don't let your dog chew shrubs and plants – they may contain poisons.
Put your dog on-leash if bears or other wildlife are nearby. It's paws-ible dogs can unsettle a bear and trigger an attack. More on bear safety here.
Don't let your dog drink still or stagnant water. Always find fresh, running sources of water. Or bring an extra water bottle and collapsible bowl. Give your dog a chance to drink as often as every 15 – 30 minutes.
Research the hike. Is your dog in good enough physical shape to handle the trail? If your dog is a little husky, maybe stick to flatter hikes without a lot of elevation gain.
---
Gear for Hiking with Dogs
A few things you might want to consider picking up (Amazon Canada and MEC links below) or in your local re-tail store.
Poop bags. Please bag and carry everything out.
Poop bag dispenser attachment for leash.
LED light for your dog's collar. Or a LED Collar to keep your dog safe in the dark.
Collapsible bowl for sharing your drinking water.
Extra dog treats and food.
Hiking pack. Let the pooch carry her own gear!
A good, durable harness.
Bear bell.
Rain jacket.
Consider including vet wrap in your first aid kit (or dog boots), in case a paw gets cut.
Paw wax. For long hikes, or if there will be snow or ice, this can help protect the pads of your dog's paws.
---
Trail Etiquette for Hiking with Dogs
Do your research and don't bring your dog where it is fur-bidden. In some areas with high bear activity or ecologically sensitive areas, Fido needs to stay home, unfortunately. Going to a trail only to find out dogs aren't allowed would be a mastiff waste of time.
Here are a few more practical pieces of etiquette advice to make sure you're respecting other trail users:
When hiking with your dog, yield to other hikers. Some people think dogs are fur-ocious and may not like being approached or getting sniffed (crazy, we know). Stand to the side, and let others pass.
If leashes are required on the trail, keep your dog on-leash. If it's an off-leash trail, keep your dog close by and on strict voice command.
Pick up and pack out your doggie's doo doo. Seeing or stepping in turds on the side of the trail is re-pug-nant for anyone.
Now, with that aside, let's look at these pawsome dog friendly hikes in Vancouver and beyond!
---
Sea to Sky
1. Whistler Train Wreck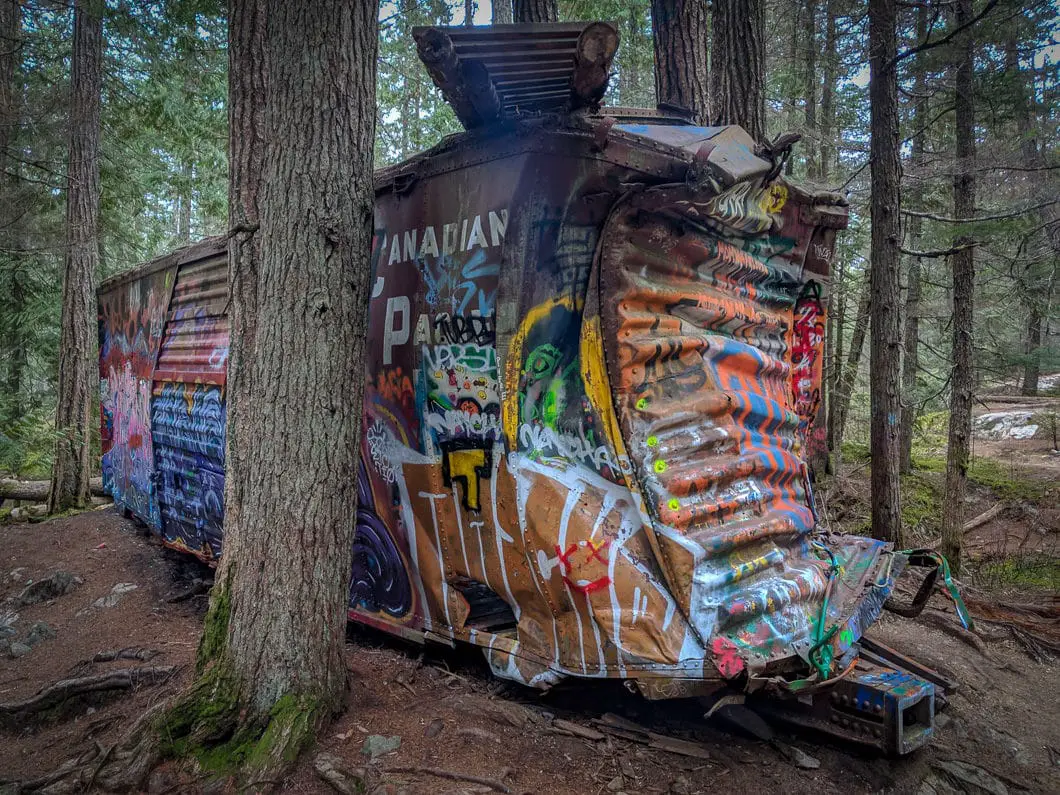 Where: Whistler
Time needed: 1 hour
Leash Requirements: On-leash
Details: The Whistler Train Wreck is a popular, low elevation hike in Whistler. This short hike takes you to the wreckage site of an old train derailment. All the train cars have been colorfully graffitied over the years.

There is also a suspension bridge over the Cheakamus River, making this a fun, quick hike to tackle with dogs.
Link: Read more here.
---
2. Stawamus Chief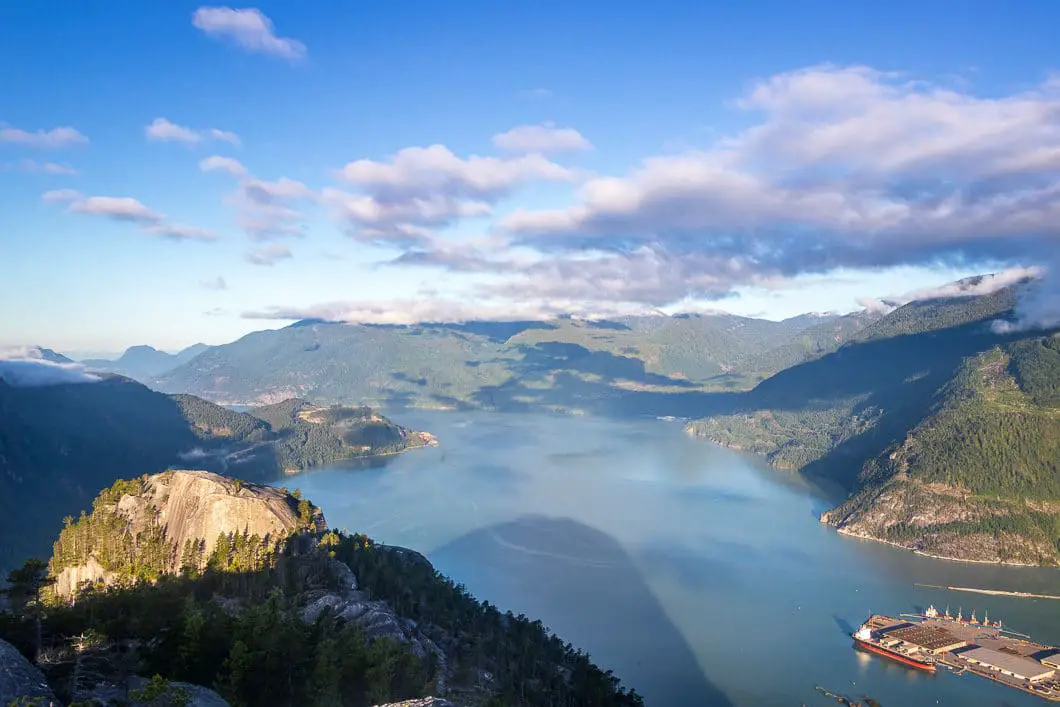 Where: Squamish
Time needed: 3+ hours
Leash Requirements: On-leash
Details: One of the most popular hikes in Squamish and anywhere around Vancouver, the Chief is a classic. There are a few challenges for hiking the Chief with dogs, however. If heading to Peak 1, there are some steep sections and a ladder. It can be difficult for dogs to get up the ladder and they will likely need your help.

There are also cliffs near the summit, and in the rain the rocks are slippery. Dogs might also be tempted to chase chipmunks near the summit, so keep dogs close at hand.
Link: Read more here.
---
3. Brohm Lake
Where: Squamish
Time needed: 2+ hours
Leash Requirements: On-leash
Details: Brohm Lake offers a nice variety of trails that wind around the lake and make for a relaxing outing. Brohm Lake is also a great place to take a refreshing dip after you hike in the summer.
Link: Read more here.
---
4. Sea to Summit Trail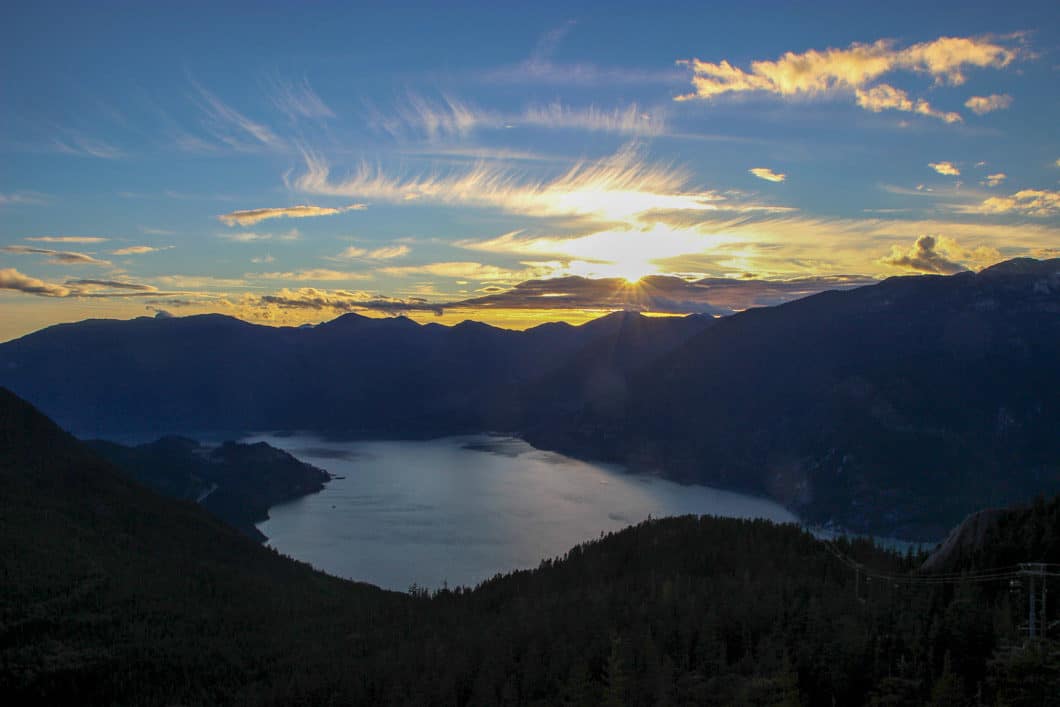 Where: Squamish
Time needed: 3 -4 Hours
Leash Requirements: Off-leash allowed during the hike, but dogs are to be leashed in the parking area and at the summit.
Details: The Sea to Summit trail is a challenging hike for dogs and people, which gains 835 m of elevation over 7.5 km. The trail takes you to the top of the Sea to Sky Gondola where you can enjoy a beer and the incredible view of Howe Sound.

Dogs are allowed to ride down on the gondola (but not up) and a ticket for dogs costs $15.
Link: Read more here.
---
5. Murrin Park
Where: Squamish
Time needed: 1 – 2 Hours
Leash Requirements: On-leash . Dogs are not allowed on the beach area.
Details: Murrin Provincial Park is a popular spot for swimming, fishing, and rock climbing. A series of trails were built to access the rock climbs in the park, but also make for great hiking. The Quercus viewpoint offers an unbeatable view of Howe Sound.

Link: Read more here.
---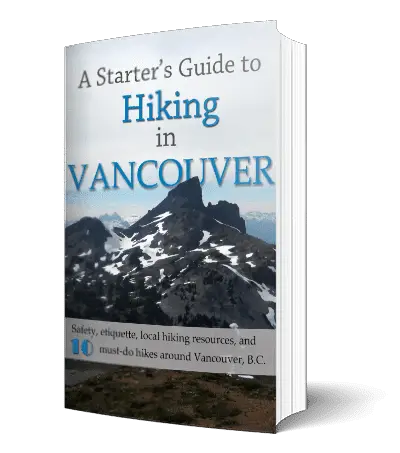 A Starter's Guide to Hiking in Vancouver.
Guides for 10 amazing hikes near Vancouver
Hiking safety and trail etiquette
Resources, hiking gear overview, and more!
---
Metro Vancouver
6. Pacific Spirit Park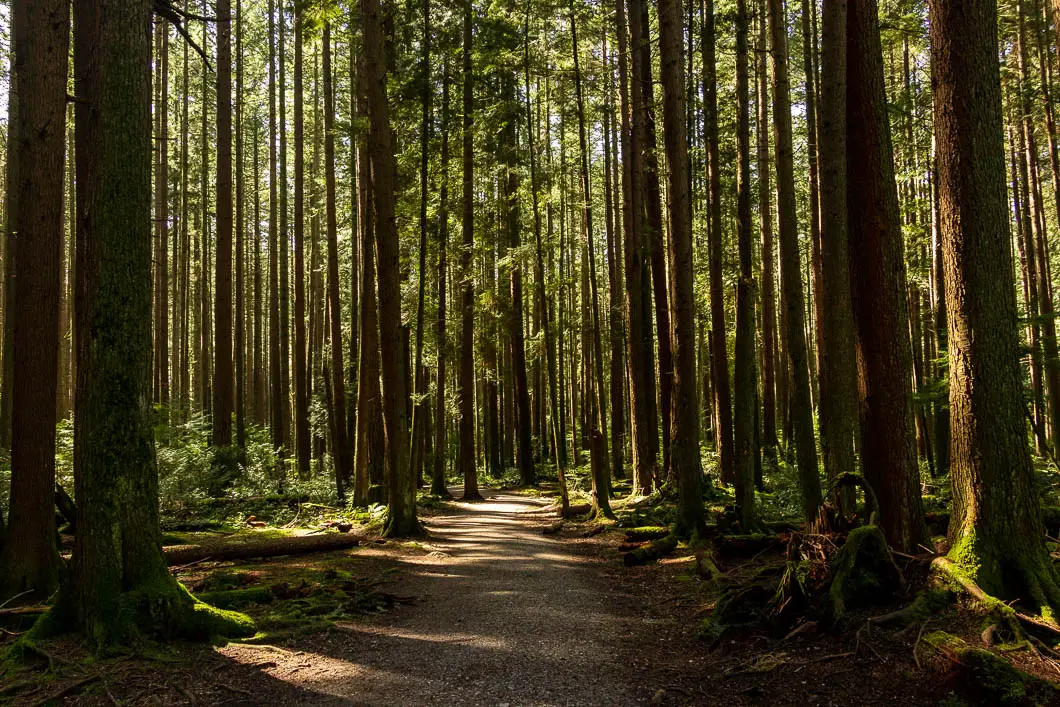 Where: Vancouver
Time needed: 2+ Hours
Leash requirements: Off-leash. Dogs are allowed on most trails within Pacific Spirit Park, but please obey the signs. There are some trails where dogs are not allowed because they are in ecologically sensitive areas.
Details: Many of Pacific Spirit Parks' 78 km trails are designated off-leash, making this beautiful area one of the most popular places for walking with dogs in all of Vancouver.
---
7. Capilano River Regional Park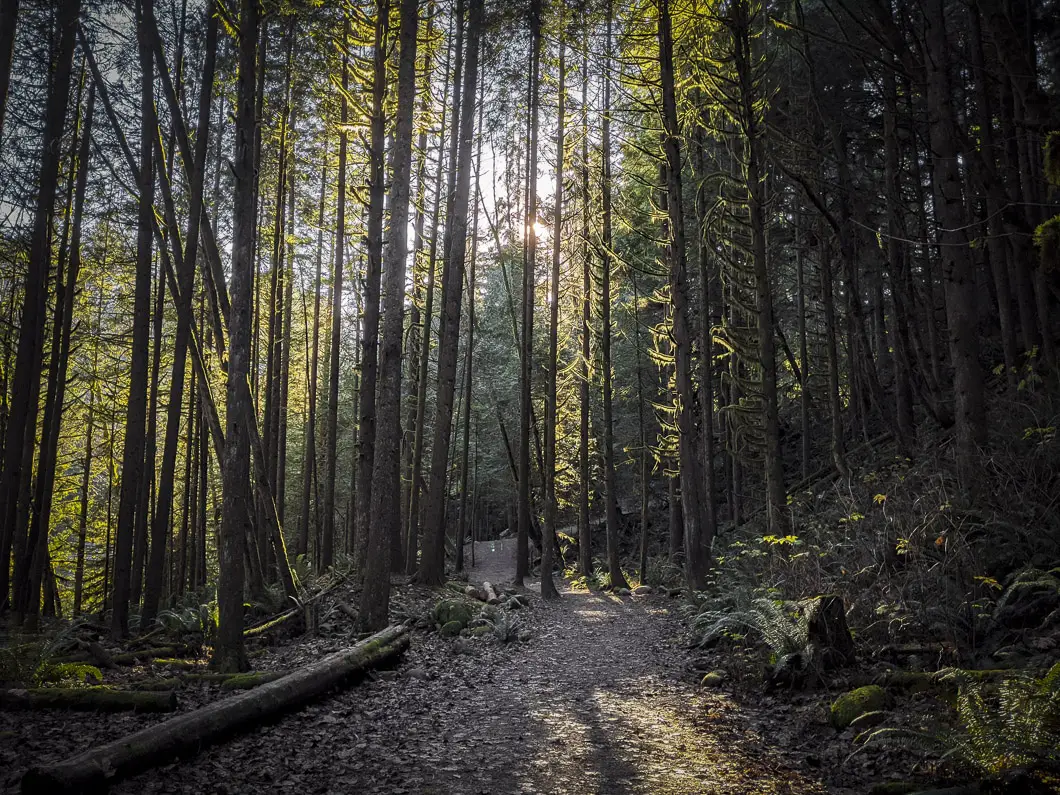 Where: North Vancouver
Time needed: 1+ Hours
Leash requirements: On-leash. Dogs not allowed on beach areas where posted.
Details: Capilano Park has 26 km of walking trails, the incredible Capilano Canyon, the Cleveland Dam, the Capilano River, and a salmon hatchery, among other highlights. It's beautiful forest is the perfect place to get into nature and have a relaxing walk with the pup.
Link: Read more here.
---
8. Norvan Falls
Where: North Vancouver
Time needed: 5 hours
Leash requirements: On-leash
Details: Norvan Falls is a spectacular waterfall hike located in Lynn Headwaters Regional Park, in North Vancouver. The trail to Norvan Falls runs parallel to Lynn Creek and is relatively flat. The trail is relatively flat but is challenging enough in sections. to keep things interesting. Most of the hike follows Lynn Creek and has many stream crossings so there is plenty of water opportunity for dogs.
Link: Read more here.
---
9. Dog Mountain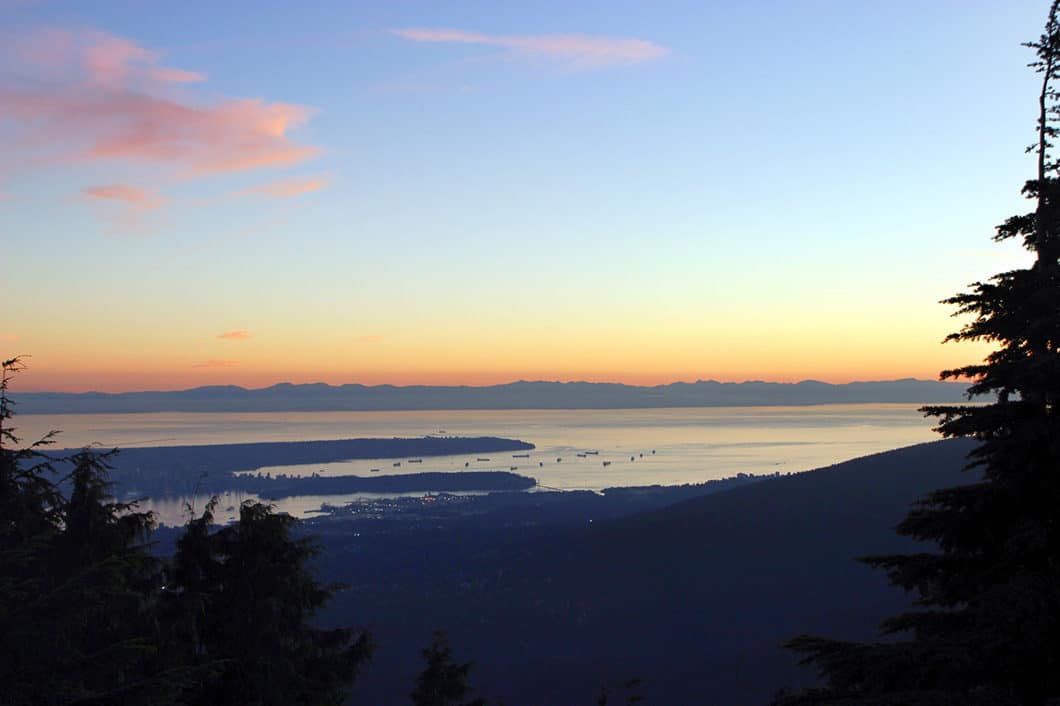 Where: North Vancouver
Time needed: 2 hours
Leash requirements: On-leash
Details: We couldn't leave this hike off this list, for obvious reasons. A relatively short hike without too much elevation takes you to an exceptionally beautiful lookout over Vancouver and the Strait of Georgia.

On a clear day, epic views of Vancouver can be had.
Link: Read more here.
---
10. Burnaby Mountain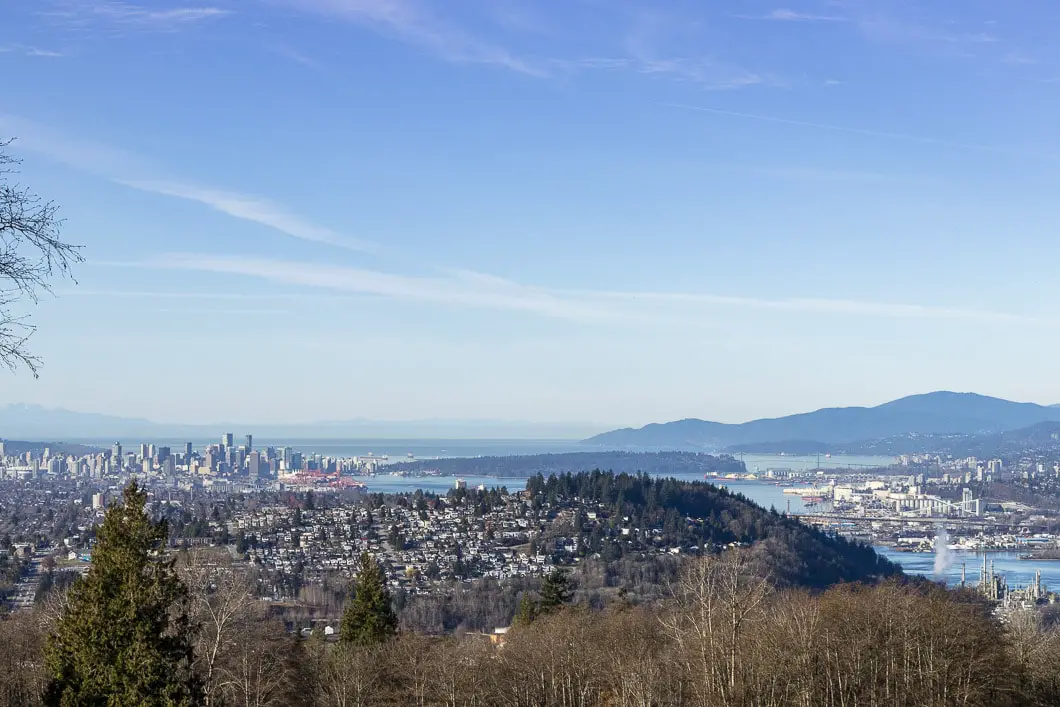 Where: Burnaby
Time needed: 3 hours
Leash requirements: Yes
Details: Burnaby Mountain is a popular hiking and mountain biking destination, boasting a large network of trails. With its summit at 366 m elevation, Burnaby Mountain offers great views of downtown Vancouver, the North Shore, the Indian Arm, and the Burrard Inlet.
Link: Read more here.
---
11. Diez Vistas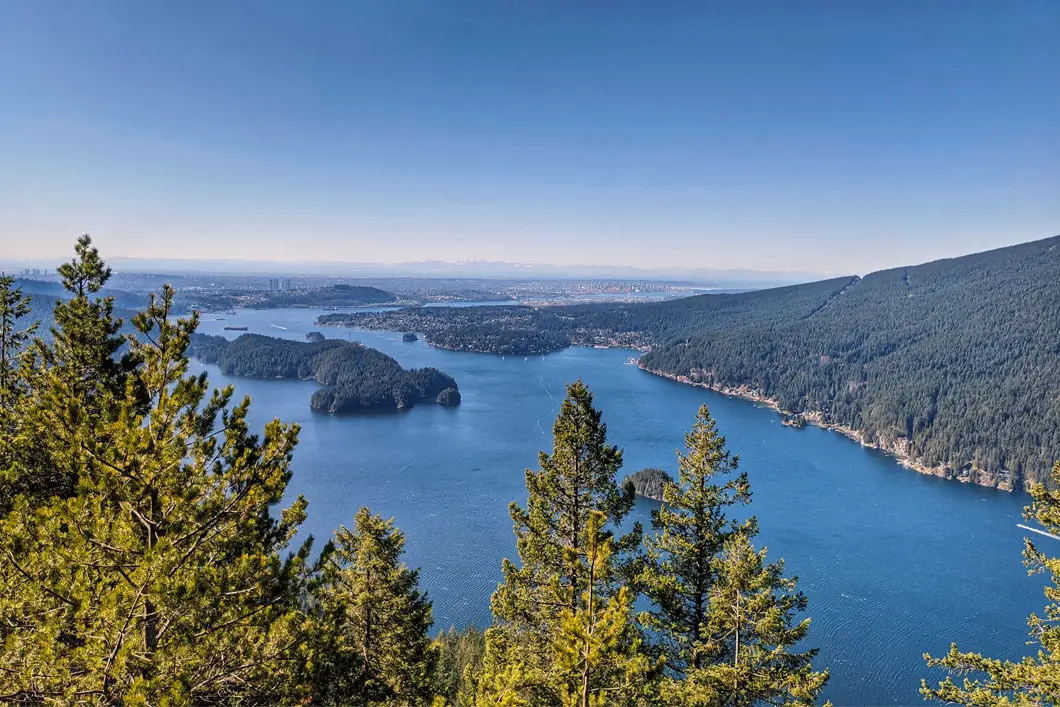 Where: Buntzen Lake/ Anmore
Time needed: 4+ hours
Leash requirements: On-leash on trail. There is a fenced off-leash dog park area. Dogs are requested to be kept off the main beach area.
Details: Diez Vistas offers a steep hike with terrific views of the Indian Arm and Burrard Inlet. It's a popular hike for dog owner's who want to get in some elevation and a workout. Most head to the main viewpoint (pictured), but you can carry along the entire trail to do a 15 km loop on the west side of the lake.
The Buntzen Lake dog park is also a popular spot to let dogs run off-leash during a trip the Buntzen Lake. The Buntzen Lake Dog Park is located on the eastern side of the beach.
Link: Read more here.
---
12. High Knoll & Minnekhada Park
Where: Coquitlam
Time needed: 2 – 3 hours
Leash requirements: On-leash
Details: With over 200 hectares in Minnekhada Regional Park, there are many trails to explore throughout. The main trails are the Quarry Trail, Mid-Marsh Trail, Lodge Trail and the Fern Trail.

The High Knoll is the best lookout in the park, and gets the heart rate going without being overly strenuous. There is lots of bear activity in this area, however, so be prepared for that.
Link: Read more here.
---
Fraser Valley
13. Elk Mountain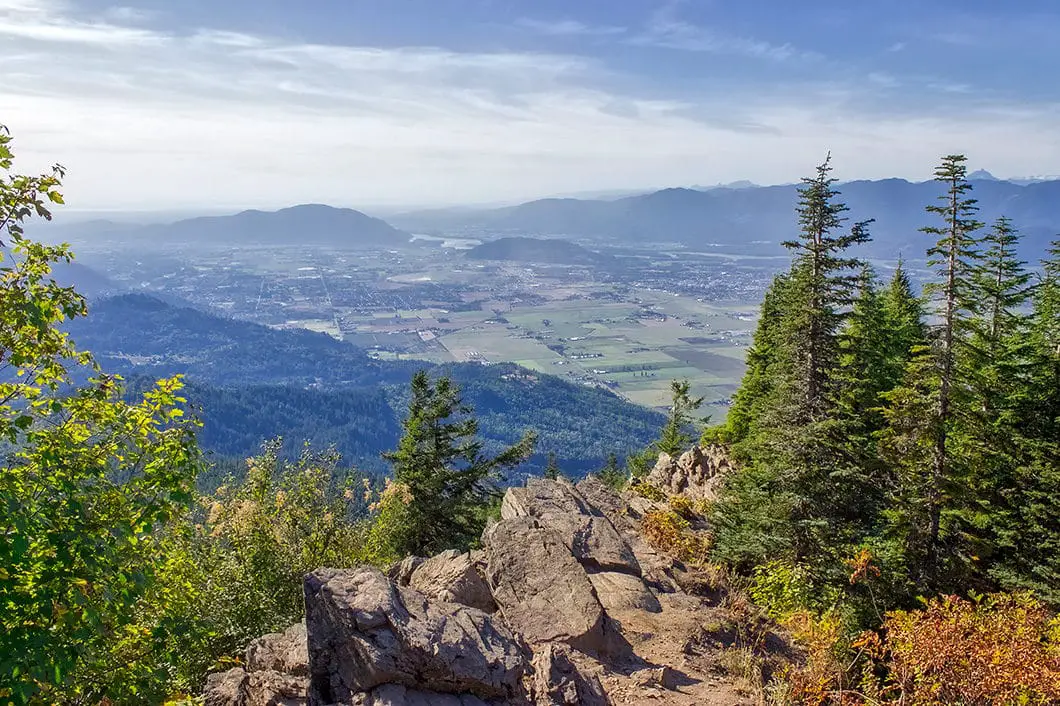 Where: Chilliwack
Time needed: 4 hours
Leash requirements: On-leash
Details: A Chilliwack favourite year-round. It's hard to find a hike that can be completed in only 4 hours, yet provides such tremendous views. The entire hike is enjoyable, and provides unbeatable views of the Fraser and Chilliwack River Valleys.
Link: Read more here.
---
14. Abby Grind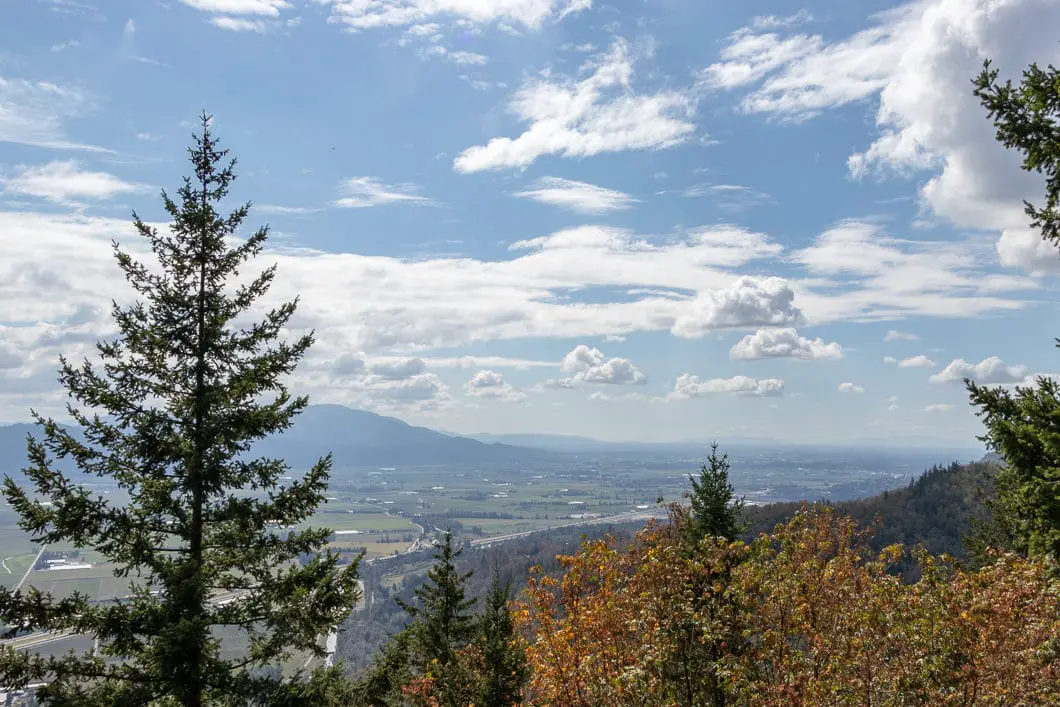 Where: Abbotsford
Time needed: 2 hours
Leash requirements: On-leash
Details: The Abby Grind (or Abbotsford Grind) is a popular hiking trail for fitness. It is often referred to as 'Abbotsford's version of the Grouse Grind', and it takes about 45 minutes to reach the top at a solid pace.
Link: Read more here.
---
15. Teapot Hill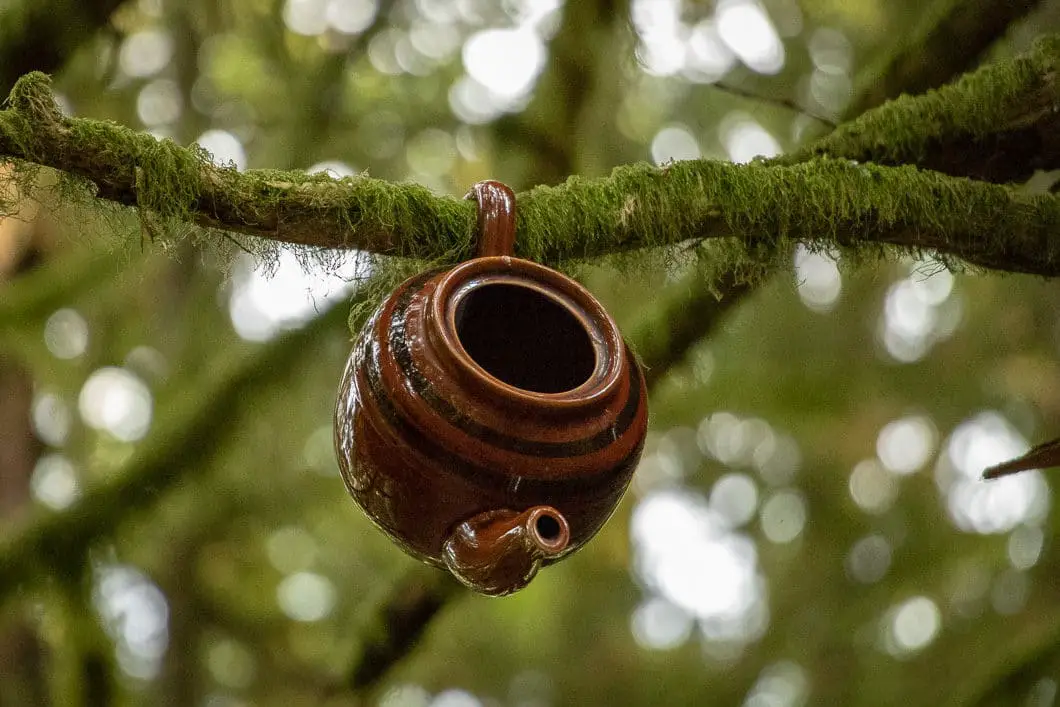 Where: Chilliwack
Time needed: 2 hours
Leash requirements: On-leash
Details: While the views from the top are obstructed by trees, Teapot Hill does offer a fun twist – there are dozens of teapots and teacups scattered and hidden throughout the hike.
Link: Read more here.
---
16. Lindeman Lake
Where: Chilliwack
Time needed: 2 hours
Leash requirements: On-leash
Details: Lindeman Lake is a popular and scenic hike in Chilliwack Lake Provincial Park. At 3.4 km, it is a short hike, but well-worth the lengthy drive out to the trailhead. While it is a short trail, it's still a good workout, so don't be fooled.

Dogs may be happy to jump into the beautiful lake, but it is too cold for most (sane) humans.
Link: Read more here.
---
Hiking Vancouver: Exploring Southwest British Columbia's Most Beautiful Trails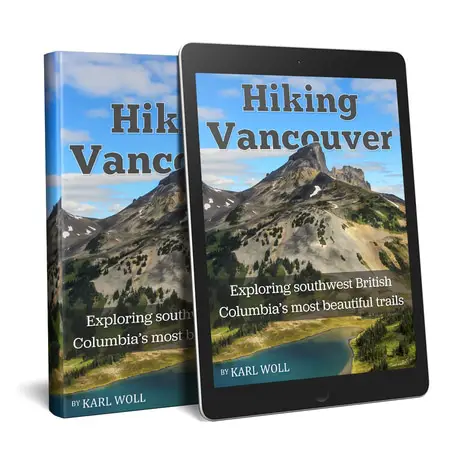 Want all 130+ of Outdoor Vancouver's hiking guides in one eBook? From the classics like The Chief and Black Tusk to the hidden gems, they're all here in over 500 pages!

Hiking Vancouver is your guide to the best hikes in southwest British Columbia.
Only $8.99 (or included with OV Patron membership)
---
Off-leash Dog Parks around Vancouver
Here is a collection of websites containing more information about off-leash dog parks in Vancouver and surrounding cities.
Map of the dog trails and dog-friendly hikes