Diez Vistas – Table of Contents
Diez Vistas Hike Intro
Advance Parking Passes Required
From May 16 until September 4, all vehicles, including busses will need to book a free parking pass before arriving at Buntzen Lake. Parking passes are available starting at 7 a.m. the day before your planned visit. There will be no first come, first serve parking, and those who arrive without a parking pass will not be able to enter.

More details from B.C. Hydro are available here.
The Sendero Diez Vistas Trail, located near the Village of Anmore, will take you on a challenging trek all the way around Buntzen Lake. In addition to the scenery of the lake, there are ten breathtaking views provided along the ridge of the trail looking overlooking the North Shore, Burrard Inlet, the Indian Arm and even Vancouver Island.
The hike is aptly named, as 'Sendero Diez Vistas' is Spanish for 'Ten Views Trail'. The challenging, technical terrain of the area make it popular for hikers and also for trail runners. The area is host to the annual Diez Vistas 50km Trail Race.
The area is managed by BC Hydro, and they have a map of the Buntzen Lake area trails here.
As a side-note – Diez Vistas is rated as 'Moderate' here. It is definitely closer to the 'difficult' side of moderate, however. This isn't because of the distance, but because of the technical, rooty and sometimes steep sections of terrain.
---
Diez Vistas Hike Stats
Rating: Moderate
Distance: 15 km
Net Elevation Change*: 440 m
Highest Point: 560 m
Time Needed: 6 – 7 Hours
Type: Loop
Season: March to November
Dog Allowed: Yes, on-leash
Est. Driving Time from Vancouver: 50 minutes
Trailhead Coordinates: 49.339833, -122.859123
*For a better understanding of the stats and difficulty rating, check out the Hiking Guides page for details. Always carry The Essentials and fill out a trip plan.
---
Diez Vistas Video
Here is a 1-minute video of our experience on this hike!
---
Diez Vistas Hike Map and Elevation
Profile
Minimum elevation:
No data
Maximum elevation:
No data
Duration:
No data
---
Diez Vistas Hiking Route
The easiest way to begin is to walk down to the shore of the Buntzen Lake South Beach and walk west along the shore past the boat dock. You'll be forced onto the Energy Trail which you will follow for a little over 1 km until you come to a junction and signpost. Follow the signpost directing you onto the Floating Bridge and Westside Trail. Once you've crossed the floating bridge there is a service road. Cross the road, and follow the trail uphill. After roughly forty minutes you'll come out under a power line clearing and a fork in the trail. There will be a sign directing you left for Sasamat Lake, or straight to continue along Diez Vistas Trail.
Continuing on the trail it immediately begins to go up. Up, up, up Buntzen Ridge. This is the steepest part of the hike and the next hour or so is a steady, uphill climb with plenty of switchbacks. Eventually, you'll come to the first viewpoint, which actually isn't one of the ten 'official' vistas, but is a beautiful vantage point nonetheless.
About ten minutes past this lookout, there is a fork where you can continue along the ridge or detour to a viewpoint overlooking the south end of Buntzen Lake. If you have time to spare, it is worth detouring to the lookout (dubbed Punta del Este or East Point). Not long after this fork, the trail takes you to the first official Diez Vistas viewpoint overlooking the Indian Arm.
You will carry along the ridge, enjoying short treks between each of the remaining viewpoints. Some views are nicer than others, but each offers a different angle and perspective on the surrounding area. The third view is the widest and most spectacular. You can't miss this viewpoint, and you'll know you've found it when your jaw has dropped to the ground.
This view showcases North Vancouver and Deep Cove, the Indian Arm, Burrard Inlet, Burnaby, Vancouver, Vancouver Island and even Sasamat Lake on the far left. It offers a unique and unparalleled view bearing east, that you cannot get from any other point around Vancouver (except nearby Eagle Ridge). This is a great spot to grab a snack and regain some energy.
After your break, keep following the Diez Vistas Trail which will drop down into a saddle before climbing back up the north side of the ridge. Once you have past the final view, the trail will begin to switchback its way back down, steeply, towards Buntzen Lake. This downhill stretch is quite difficult, especially on already-tired legs, so take caution and be ready for a workout heading back down to the lake.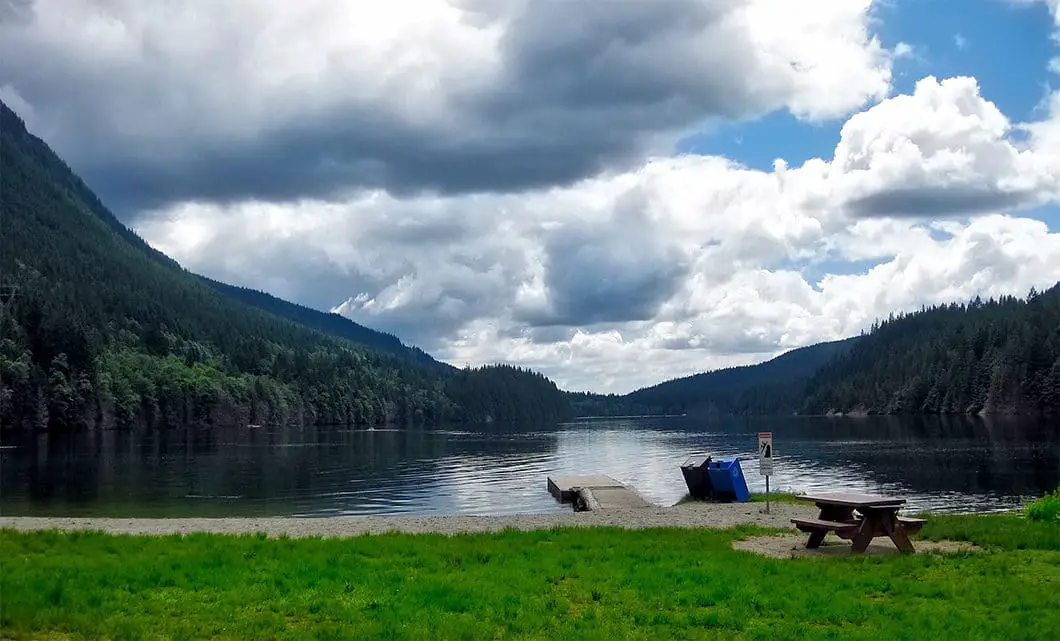 The Diez Vistas trail will end at a BC Hydro service road. Take a right on the road to a pump house and then follow the signs for Buntzen Lake Trail. Here you can either go left, over where the trail will take you over a pipeline and around McCombe Lake. Or, you can go right, which is the more scenic and direct route to the North Beach. If you go right, you will go over a wooden suspension bridge and both trails will meet again at the North Beach.
From here, just follow the Buntzen Lake Trail as it snakes it way along the east side of Buntzen Lake. Your legs will be tired from the ground covered earlier, but there isn't any more technical terrain and it's only about a 50 minute walk from the North Beach until you arrive back at the South Beach, having completed a full loop of the lake. Pat yourself on the back for a job well done.
As Diez Vistas Trail rarely receives snow, this is a good one to leave for the spring or fall to avoid crowds. Or, if you tackle it during the summer, be sure to leave a towel in your car for the finish. Nothing beats a dip in the lake as a reward for a great hike on a hot day!
---
Download the PDF version of this guide for offline use
Enter your email to receive free PDF version of this guide. You will receive the file immediately in your email, and will also gain access to the monthly Outdoor Vancouver newsletter.
---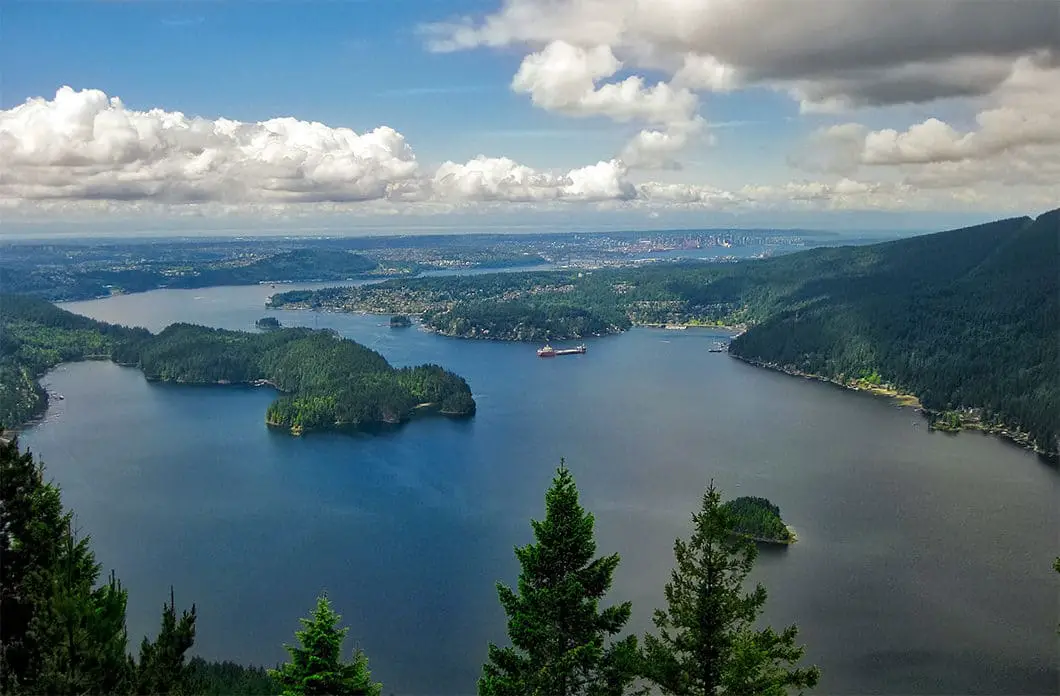 ---
Directions and Parking
The trail begins from the Buntzen Lake parking lot. The easiest way to get there is to take Highway 7A (Barnet Highway) and turn north onto Ioco Road. At the second major intersection on Ioco, the street will bear left, paralleling the inlet. (Careful, if you go straight through the lights you will end up on Heritage Mountain Blvd). Follow Ioco Road until you come to a stop sign at 1st Ave. Turn right onto 1st Ave and then bear right immediately at the fork for Sunnyside Road. Follow the Sunnyside Road up the hill to its end, which will take you right into the park and a large parking lot.
There is a Google Map here.
---
Help Us Create New Hiking Guides!
Advertising revenue is falling quickly across the internet, and independently-run sites like Outdoor Vancouver are hit hardest by it. We are committed to keeping Outdoor Vancouver free and independent, but we need to find other ways to continue operating this site.

If you like our hiking guides and would like to help, please consider making a contribution with the PayPal or Patreon links below – any amount helps! There is also a list of other ways you can support Outdoor Vancouver here!
Becoming a Patron through Patreon unlocks membership benefits and rewards. Learn More.
A one-time donation through PayPal helps with monthly website hosting costs.
---
Other great hikes in this area
Download the PDF version of this guide for offline use
Enter your email to receive free PDF version of this guide. You will receive the file immediately in your email, and will also gain access to the monthly Outdoor Vancouver newsletter.
---
Outdoor Vancouver Apparel