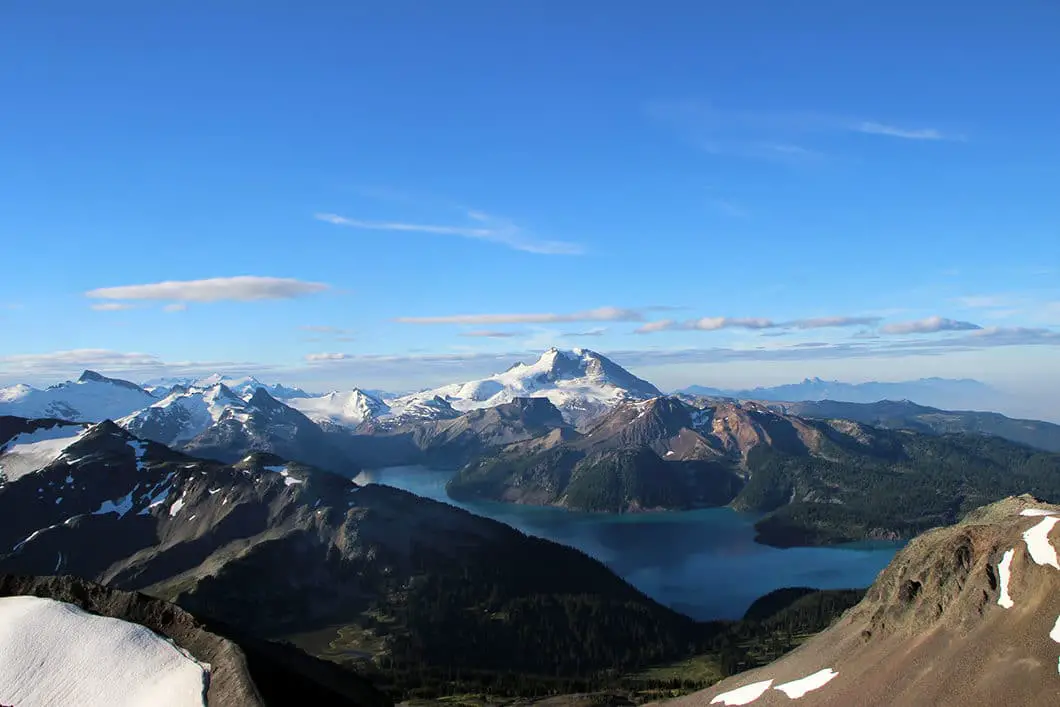 Black Tusk – Table of Contents
Black Tusk Hike Intro
Black Tusk, visible from Whistler and several points along the Sea to Sky highway, is an iconic natural landmark in southwest B.C. Located in Garibaldi Provincial Park, The Black Tusk offers a unique hiking experience and draws hikers from far away. There are several amazing hikes in Garibaldi Park, but a trip to The Black Tusk is a must for anyone visiting the area.
The dramatic shape, and contrast of the mountain to its surroundings make it instantly recognizable. The Black Tusk is the remnant of a volcano which has eroded immensely over time. Many people hike only to the exposed base of Black Tusk, however, with caution, the south peak can be accessed via a tight rock chimney. The true, northern, summit – only about 1 meter higher – can only be gained with climbing gear.
Most hikers will tackle The Black Tusk from Garibaldi Lake/ Taylor Meadows, but it can also be accessed via a route from Helm Lake to the north.
This hike is among the more difficult of all the day hikes around southwest British Columbia. This guide is not intended for beginner or new hikers. Please make sure you are in good fitness and take all regular safety precautions on this hike.
---
Rating: Difficult (Moderate to base of Black Tusk)
Distance: 14 km
Net Elevation Change*: 850 m
Highest Point: 2,319 m
Time Needed: 4 – 5 Hours

Type: Out-and-back
Season: July – October
Dogs Allowed: No
Est. Driving Time from Vancouver: 90 Minutes
Trailhead Coordinates: 49.946139 -123.056792
---
Black Tusk Hike Stats (From Rubble Creek Parking Lot)
Rating: Difficult
Distance: 28 km
Net Elevation Change*: 1,750 m
Highest Point: 2,319 m
Time Needed: 9 – 11 Hours
Type: Out-and-back
Season: July – October
Dogs Allowed: No
Est. Driving Time from Vancouver: 90 Minutes
Trailhead Coordinates: 49.957294 -123.120259
*For a better understanding of the stats and difficulty rating, check out the Hiking Guides page for details. Always carry The Essentials and fill out a trip plan.
---
Black Tusk Video
Here is a 3-minute video of our experience on this hike!
---
Black Tusk Map and Elevation
Profile
Minimum elevation:
No data
Maximum elevation:
No data
Duration:
No data
---
Black Tusk Hiking Route from Rubble Creek Parking Lot
Same as the hike to Panorama Ridge, Black Tusk can be accomplished as a day-hike from the Rubble Creek parking lot, but I highly recommend turning this into an overnight hike and starting from the campsite at Garibaldi Lake (or the one at Taylor Meadows). Or, as Dawn Hanna puts it in her book Best Hikes and Walks of Southwestern British Columbia:
"As a dayhike from base camp at Garibaldi Lake or Taylor Meadows, Black Tusk is a perfect day of alpine meadows, a good aerobic workout and stunning mountain scenery. As a dayhike from the Black Tusk parking lot, it's a 32 kilometre, 10-hour long bad idea".
I wouldn't go so far as to call it a bad idea if you are a trail runner, or very fit, but the point is well taken.
From Rubble Creek parking lot, find the trailhead which takes you up Garibaldi Lake Trail. The first stretch of the trail take you up alongside Rubble Creek, which you will hear rumbling nearby. The first 6 km are relatively uneventful. You will work your way up, and up, and up – along several long switchbacks. Each kilometer is marked so you can marvel at your slow progress. The trail itself is wide and well groomed, so there's not much worry about getting off-track.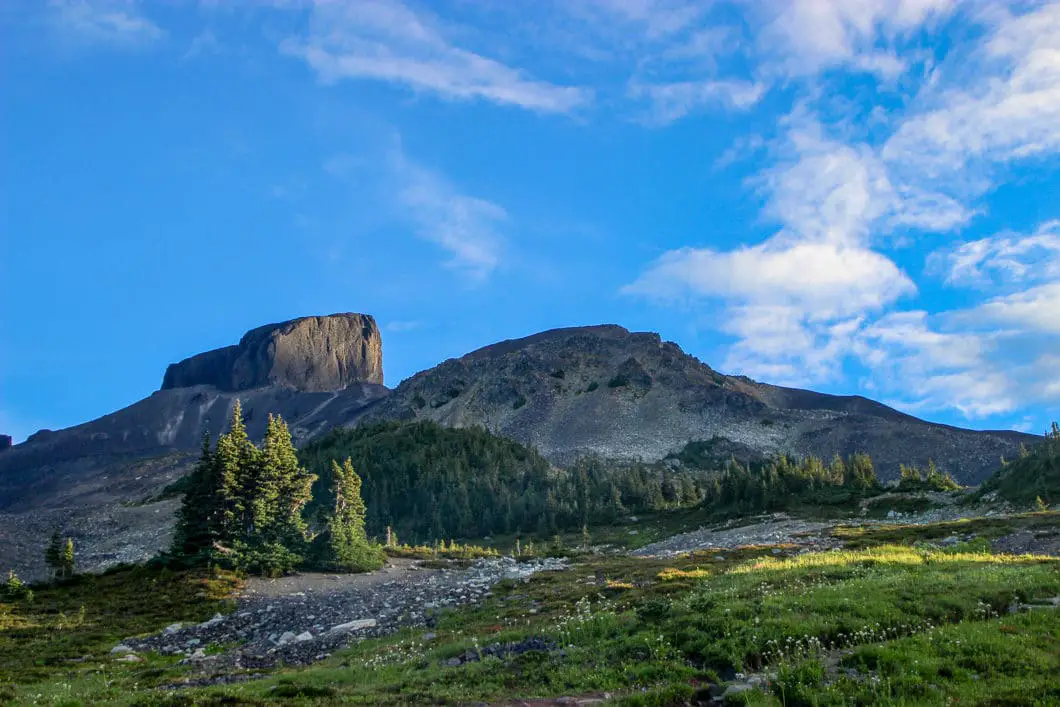 Pay attention after the 5 km marker, as you will quickly reach a nice view of 'the Barrier' off to the right side of the trail. The Barrier is a 300 m thick lava dam that acts as a containing wall for the entire Garibaldi Lake system above. This precipitous cliff was formed during a massive landslide in 1885 which was also the inspiration for naming Rubble Creek.
Once you reach the 6 km point, there is a major junction, with a fork for the Taylor Meadows campground or Garibaldi Lake. The choice is yours. The most direct route is to go via Taylor Meadows. If you are camping at Garibaldi Lake, or just wish to extend the hike, you can detour that way before continuing on to Black Tusk via the Black Tusk/ Cinder Flats connector trail. However, I will continue to describe the route for a direct ascent via Taylor Meadows.
Going left at the 6 km junction, it is 1.5 km to reach the Taylor Meadows campground. If you are camping at Taylor Meadows, set up your site and have lunch before continuing on the Taylor Meadows Trail.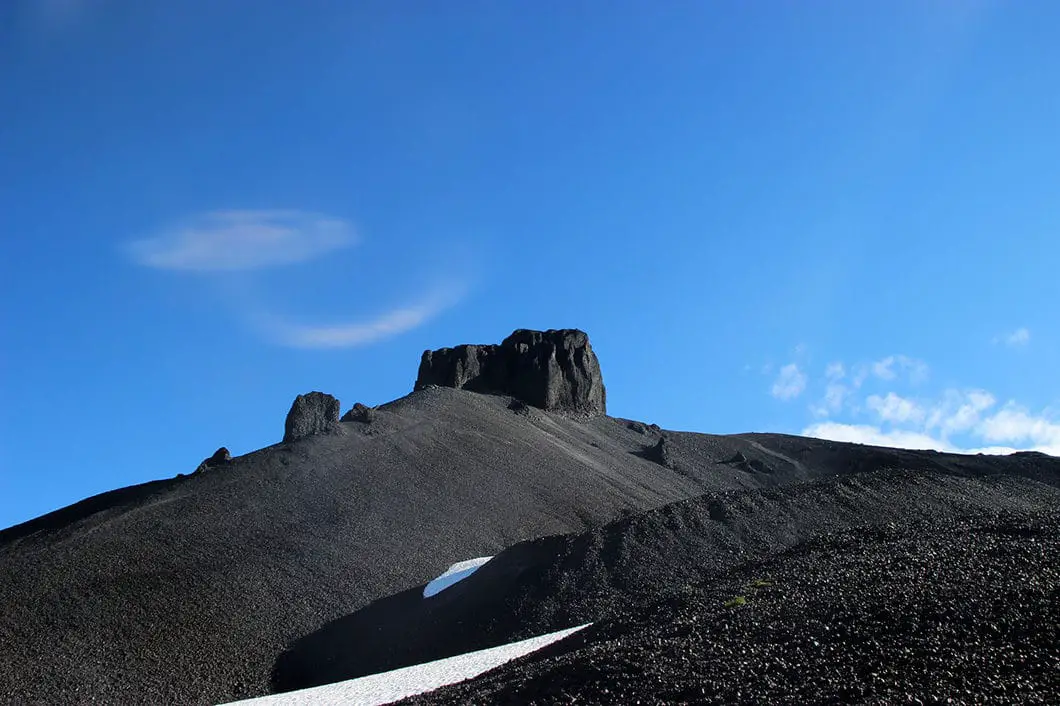 Continuing the hike to Black Tusk from Taylor Meadows
Upon leaving the Taylor Meadows campsite, you will cross Taylor Creek – a nice place to grab some drinking water. A few minutes beyond the creek, you will come to a junction. Going right here will take you down to Garibaldi Lake. Continue straight along the Taylor Meadows Trail, enjoying the beautiful open meadow and wildflowers if they are in bloom (July and early August). 2 km past the previous junction, you will come to another major junction, this one called Outhouse Junction, with yet another trail connecting directly from Garibaldi Lake. Shockingly, there is an outhouse here.
As with all the major junctions, there are markers clearly stating which trail you are on, and pointing you in the right direction for your destination – whether it's Black Tusk, Garibaldi Lake or Panorama Ridge.
---
Help Us Create New Hiking Guides!
Advertising revenue is falling quickly across the internet, and independently-run sites like Outdoor Vancouver are hit hardest by it. We are committed to keeping Outdoor Vancouver free and independent, but we need to find other ways to continue operating this site.

If you like our hiking guides and would like to help, please consider making a contribution with the PayPal or Patreon links below – any amount helps! There is also a list of other ways you can support Outdoor Vancouver here!
Becoming a Patron through Patreon unlocks membership benefits and rewards. Learn More.
A one-time donation through PayPal helps with monthly website hosting costs.
---
In our case, continue along the trail and within a matter of minutes you will reach the junction for Black Tusk. Now the real fun starts!
A steady uphill battle begins. You will cross a few creeks, and get great views of Mt. Garibaldi, and Garibaldi Lake behind you as you climb. Continuing up the trail you'll come to the viewpoint of Black Tusk with a sign saying "End of maintained trail". From here, the hike becomes significantly more difficult as you maneuver up a steep slope of loose and exposed rock. The massive amount of scree has been created by the decay of the outer layer of the Black Tusk volcano over tens of thousands of years. You can call it a day from here, or if you have the energy and time, press on. It is worth the scramble to get an up close look at this huge structure if you are comfortable with the terrain.
Moving on up the steep slope of loose rock and/or snow, you will reach the base of The Black Tusk in about 20 minutes. From here you'll get to examine the 1.1 million year old volcanic rock. You get amazing views of the surrounding area, and some gut-wrenching drops. This is a great place to eat and rest before heading back.
It is not advised to carry on any further. However, if you wish to press on still further, the hike gets even more challenging from here. You can cut across the slope to the backside of the base of the Black Tusk, and find the chimney. Climbing the chimney is quite dangerous, and recommended only for rock climbers or experienced mountaineers. A slip here would mean serious injury or worse. And remember, coming back down is much more difficult than going up! If you choose to ascend, make sure you leave plenty of space with the person in front of you, as falling rock is a hazard. Climb cautiously up the chimney, and you'll emerge with another scramble up more loose rock for the final 10 minutes of this hike. The view from the summit is simply stunning. To the east you can see Panorama Ridge and Garibaldi Lake, with Mimulus Lake and Black Tusk lakes directly below you.
Cool fact: The true summit, only about a metre higher, lies just to the north across a precipitous drop. It is rarely climbed, requiring a rappel of about 10 m into a notch followed by a loose and dangerous reascent up the crumbling lava… The first ascent of Black Tusk was by William J. Gray in 1912. [Source]
Now it's just a matter of retracing your steps, taking extra caution climbing back down the chimney. If you hiked up via Taylor Meadows, you can add some variety to your return route by going through Garibaldi Lake, or vice versa. Particularly on a hot day, a dip in the chilly water of Garibaldi Lake might be just what you need.
If you are looking for an alternate route to reach Black Tusk, you can also hike in from the Cheakamus Lake trail and through the Helm Creek campground. This route has less crowds, but requires some route-finding.
Download the PDF version of this guide for offline use
Enter your email to receive the free PDF version of this guide. You will receive the file immediately in your email, and will also gain access to the monthly Outdoor Vancouver newsletter.
---
Camping at Garibaldi Park
Camping is permitted in Garibaldi Provincial Park in designated areas. Garibaldi Lake and Taylor Meadows are the two main campsites near Black Tusk.  As of 2018, reservations are required for all overnight stays in Garibaldi Provincial Park, year-round, and can be made up to 4 months in advance.
Self-registration stations are no longer be available at the trailheads as they used to be. All campers must pay in advance using the online system.
More details on the camping in Garibaldi Park and backcountry camping permits can be found here.
---
Directions and Parking
Take Highway #99 heading north past Horseshoe Bay towards Squamish. Keep driving along the Sea to Sky highway all the way to Squamish. Once you've hit downtown Squamish, watch your odometer and keep head north for about another 37 km. Keep a sharp eye out for the Garibaldi Provincial Park sign on your right. Just over the Rubble Creek Bridge you will take a right onto a small paved road that is not hard to miss.
Just continue on for a few kilometers until you reach the parking lot.
Google Map directions here.
---
Other great hikes in this area
Download the PDF version of this guide for offline use
Enter your email to receive the free PDF version of this guide. You will receive the file immediately in your email, and will also gain access to the monthly Outdoor Vancouver newsletter.
Outdoor Vancouver Apparel