Crown Mountain – Table of Contents
Crown Mountain Hike Intro
Lynn Headwaters Backcountry Winter Closure
This hike and all backcountry routes at Lynn Headwaters Regional Park are now CLOSED due to hazardous winter conditions. This applies to routes beyond Norvan Falls (e.g. Hanes Valley, Coliseum Mountain and Lynn Lake) as well as routes in the Grouse subalpine (e.g. Dam Mountain, Thunderbird Ridge, Crown Mountain, Goat Mountain, Little Goat & Goat Ridge). See more from Metro Vancouver.

Unpredictable and rapidly changing hazardous mountain weather conditions may include:
– Snow, ice and slippery conditions in steep terrain
– Heavy rainfall
– Rock and ice fall
– Lack of visibility (whiteout caused by fog and/or snow)
– No trail markers
From a height of 1,504 m, Crown Mountain offers one of the most spectacular views from any of the North Shore summits. Nestled behind Grouse Mountain in Lynn Headwaters Regional Park, this is not an easy hike, but is well worth the effort.
With a stunning panoramic view of Vancouver as you look down over the peaks of Goat Mountain and Grouse Mountain to the south, and with a cascade of mountains to the north, east and west, it's a view that's hard to beat. Best of all, there are 3 starting points to choose from, to make an already challenging hike even more strenuous if you wish.
Your first choice is starting from the base of Grouse Mountain and coming up the notorious Grouse Grind, or the adjacent BCMC trail. This will add about an hour and 884 m of elevation to your day.
Your second choice is taking the Grouse Mountain gondola, or 'Skyride', up and starting from the Grouse Mountain chalet.
Your third choice, if you truly want to punish yourself, is starting from the Lynn Headwaters Regional Park entrance, making the trek through Hanes Valley, ascending Crown Mountain, and then heading back down to the Grouse Mountain lodge. You can view a map here to get a sense of your options.
I'll describe the hike as starting from the top of the Grouse Mountain lodge as this is probably the most common and easiest option.
This hike has very technical sections, and North Shore Rescue has plucked more than a few lost or injured hikers on this route – be especially prepared if doing this hike.
---
Crown Mountain Hike Stats
From Grouse Mountain Lodge
Rating: Difficult
Distance: 10 km
Net Elevation Change*: 376 m
Cumulative Elevation Gain: ~800m
Highest Point: 1,504 m
Time Needed: 5 – 7 Hours Hours
Type: Out-and-back
Season: July to September
Dogs Allowed: No
Est. Driving Time from Vancouver: 30 Minutes
Trailhead Coordinates: 49.379259, -123.082363
From Lynn Headwaters Regional Park, exiting at Grouse Skyride
Rating: Very Difficult
Distance: 20 km
Net Elevation Change*: 1,300 m
Cumulative Elevation Gain: ~1,700m
Highest Point: 1,504 m
Time Needed: 10+ Hours Hours
Type: Point-to-point
Season: July to September
Dogs Allowed: No
Est. Driving Time from Vancouver: 30 Minutes
Trailhead Coordinates: 49.359619, -123.027950
*For a better understanding of the stats and difficulty rating, check out the Hiking Guides page for details. Always carry The Essentials and fill out a trip plan.
---
Crown Mountain Hike Map and Elevation
Profile
Minimum elevation:
No data
Maximum elevation:
No data
Duration:
No data
---
Crown Mountain Hiking Route
Starting from the top of the Skyride on Grouse Mountain, follow the paved path to the grizzly bear enclosure, and towards the base of Grouse Mountain proper. There is a dirt road that splits right to the peak of Grouse, and to the left under the Peak Chairlift. Head left, underneath the Peak Chairlift, and follow the gravel road. Directly under the chairlift is a Lynn Headwaters Regional Park information board, map and a hiker registration. Register here, so search and rescue can more easily find you later should something go wrong. Follow the road for about 500 m and you will you will reach the start of the Alpine Trail.
From here, the trail begins to climb upwards and becomes more technical. You will come to a junction for the Ridge Trail (to Dam Mountain). You can go this route if you want, and rejoin the Alpine trail on the other side of Dam Mountain, but it adds some elevation and distance to the trek. Instead, go right at the junction, staying on the Alpine Trail, so you flank both Dam Mountain and Little Goat Mountain to the east.
Work your way up the trail, and before long, you'll come to a zip-line tower and see some signs pointing you in the direction of Goat and Crown mountains. Follow the Alpine Trail towards Crown/ Goat, and continue to ignore any junctions you see taking you towards Dam Mountain, Little Goat, or Thunderbird Ridge (all great hikes too, but for another day).
As you near the junction for Goat Mountain, you will get a few glimpses of the challenge that awaits – the summit of Crown Mountain with 'The Camel' just in front of it (look closely, it really looks like a camel!).
Continuing from Crown Pass
Cool fact: Crown Mountain was first charted by Captain Richards in 1859-60. As seen from the West Vancouver shore the Crown Mountain has a distinct crown-like appearance. Seen from Vancouver it resembles a reclining human figure, hence it is sometimes called Sleeping Beauty. [source]
After about an hour from the start of your hike you should be at a large junction for Goat Mountain and Goat Ridge. Most people will follow the path to Goat Mountain/ Goat Ridge, but you will take the trail to the west of Goat Mountain, which cuts down beside it. Here is the first challenging section of the trail – a nice descent of about 250 m into Crown Pass, with sections of slippery rock and rooty terrain. There are chains to assist your descent in a couple of sections and as you near the bottom of Crown Pass you will cross a small boulder field.
After carefully treading down this section, you may want to break for a quick drink/ rest before you make your 421 m ascent to the peak of Crown.
Sidenote: Keep this in mind the total elevation gain of the hike is only 376 m, but you just lost about 250 m on the descent into Crown Pass which you will have to hike back up on the way out. The cumulative elevation gain is closer to 800 m.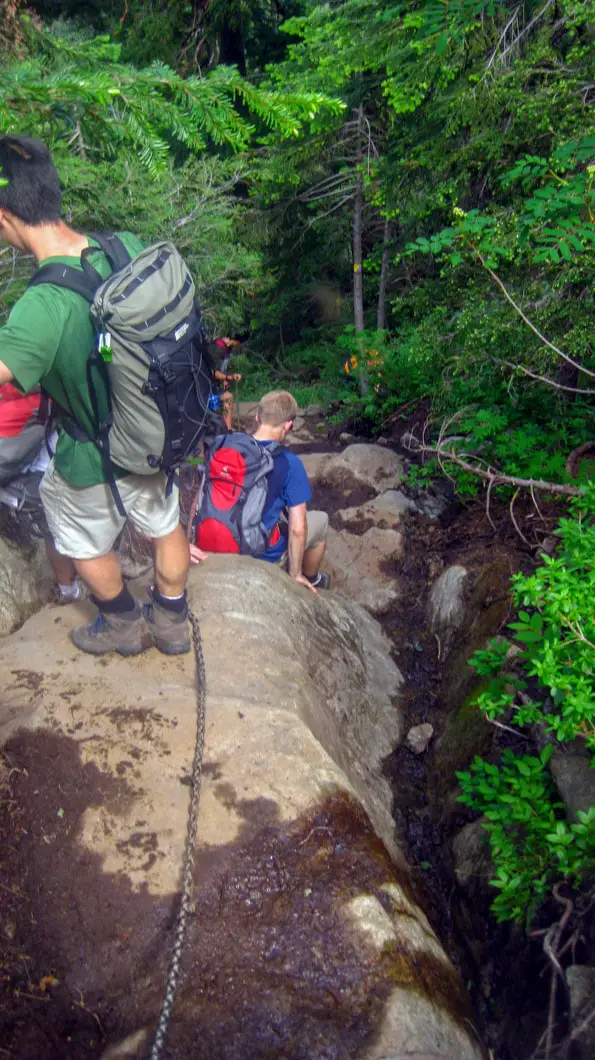 Before the ascent starts again, you'll pass another junction, where going right would take you down into the aforementioned Hanes Valley. Instead, stay straight at the junction and carry on up towards Crown Mountain. The next hour or so is a steady uphill battle, with some exposed scrambling.
The trail climbs up beside a steep cliff, and at several points on your climb you'll be rewarded with views into the expansive Hanes Valley. The trail will then cut across a rocky section, with the route marked by orange circles painted on some of the rocks. The trail will go back into the trees and continue pushing upwards.
As you begin to near the crest, you'll get a wonderful view of downtown Vancouver, the Capilano watershed and much of the Fraser Valley for that matter. All that remains is the final push to the summit. The peak itself – referred to as 'The Pyramid' – is very narrow so take caution while you enjoy the scenery.
On a clear day, a wonderful 360-degree panorama of ocean, city and mountain range makes this one of the best views on the North Shore. In the distance below you will be able to see your starting point, the Grouse Mountain lodge. To return, retrace your steps and carefully navigate back across Crown Pass.
Download the free PDF version of this guide for offline use
Enter your email to receive the free PDF version of this guide. You will receive the file immediately in your email, and gain access to the monthly Outdoor Vancouver newsletter.
---
Make sure you bring lots of water on this hike as there is only 1 tiny stream near the summit of Crown, and depending on the time of year may be non-existent if all the snow has already melted.
If you want to start this hike at the Grouse Mountain lodge, you will need to pay for a Skyride ticket. As of this writing, the current fee is $40 for an adult. If you hike up the Grouse Grind or BCMC trail, the download-only fee for the Skyride is $10 and tickets can be purchased at Customer Service in the lodge. If you have the energy at the end, hiking down the Grouse Grind is not allowed, but you can hike down the adjacent BCMC trail if you'd like.
As mentioned, if you are looking for a very challenging hike, you can also start this one at Lynn Headwaters Regional Park, and carry on into Hanes Valley. Once you scramble up the boulder field in Hanes Valley, you will connect with this trail as it begins the final ascent up to the peak of Crown Mountain in Crown Pass. Doing this route in, and then exiting out of the Grouse chalet is strenuous but rewarding hike of about a 22 km. Please note, this route is much longer than the route detailed above and only recommended for experienced hikers or trail runners.
---
Directions and Parking
From Highway #1, take the Capilano Road exit North. Follow Capilano Road all the way north up the hill. It will turn into Nancy Green Way, and just follow the road until it terminates at the parking lot by the Skyride.
Google Map directions are here.
---
Help Us Create New Hiking Guides!
Advertising revenue is falling quickly across the internet, and independently-run sites like Outdoor Vancouver are hit hardest by it. We are committed to keeping Outdoor Vancouver free and independent, but we need to find other ways to continue operating this site.

If you like our hiking guides and would like to help, please consider making a contribution with the PayPal or Patreon links below – any amount helps! There is also a list of other ways you can support Outdoor Vancouver here!
Becoming a Patron through Patreon unlocks membership benefits and rewards. Learn More.
A one-time donation through PayPal helps with monthly website hosting costs.
---
Other great hikes in this area
Download the PDF version of this guide for offline use
Enter your email to receive the free PDF version of this guide. You will receive the file immediately in your email, and gain access to the monthly Outdoor Vancouver newsletter.
---
Outdoor Vancouver Apparel