Golden Ears Summit – Table of Contents
Golden Ears Hike Intro
The Golden Ears Summit is a spectacular hike that always makes for a memorable day – for both its beauty and its challenge. Located in Golden Ears Provincial Park, it is a popular destination for experienced hikers who are looking for a difficult outing.
As one of the highest peaks around, it provides unbeatable views in all directions from the summit.
Golden Ears can be completed as a punishing day hike but is often completed over two days.  There are rough campsites at Alder Flats, nearer the base of the mountain, and on Panorama Ridge, closer to the summit. There is also, of course, front-country camping within Golden Ears Provincial Park. There are more details on camping at the bottom of this guide.
The Golden Ears hike can be thought of in two separate halves: The first half is an easy-going, relatively flat hike through the forest to Alder Flats. The second half is a steep, arduous journey into the alpine, culminating with a scramble to the summit (if conditions are right).
DIFFICULTY – While beautiful, this is not a beginner hike. It is steep, long, and difficult! Those wanting to complete the hike in a single day need to start early and be prepared to be finishing late. Summiting Golden Ears requires a full day's work. During the summer, Golden Ears Provincial Park is open from 7 am to 11 pm. The park is gated, so you won't be able to enter/ leave outside those hours. The hours are shorter outside of summer, so be sure to check the B.C. Parks website for current gate hours.
WATER – Bring plenty of water and a means of filtering water as well. There is little to no fresh water beyond Alder Flats. The summit area is exposed to the sun, and as the hike is strenuous, you may be going through lots of water. Bring more than you think you need.
SUMMITING – Summiting is not recommended, but it is possible. From the emergency shelter to the summit will take you at least 45 minutes, one-way. Snow will persist near the summit year-round. At all times during the year, except late summer on low snowpack years, you will likely need crampons and an ice axe to safely traverse the snowfield and icy terrain to gain the summit.  
OTHER ADVICE: Bring a headlamp – although this is a ten essential item that should be taken on every hike, you will especially want one on this hike. Bugs can be brutal in the sub-alpine depending on when you go. Due to the altitude, weather can change quickly near the summit, and fog can roll in and limit your visibility quickly.
As of June 17, 2022, a free day-use pass is required to visit Garibaldi Provincial Park, Golden Ears Provincial Park, and Joffre Lakes Provincial Park. Passes are available to book starting at 7 am, two days in advance of your planned visit.
Day use passes are not needed when camping, in which case a camping permit is required instead.
For full details on obtaining a Day-Use Pass to access this hike, please visit the B.C. Parks website.
---
Golden Ears Hike Stats – to Panorama Ridge
Rating: Difficult
Distance: 21 km
Net Elevation Change*: 1,183 m
Highest Point: 1,372 m
Time Needed: 11+ Hours
Type: Out-and-back
Season: July – September
Dogs Allowed: Yes
Driving Time from Vancouver: 90 Minutes
Trailhead Coordinates: 49.327226, -122.463092
Golden Ears Hike Stats – to Golden Ears Summit
Rating: Difficult
Distance: 24 km
Net Elevation Change*: 1,527 m
Highest Point: 1,716 m
Time Needed: 12+ Hours
Type: Out-and-back
Season: July – September
Dogs Allowed: Yes
Est. Driving Time from Vancouver: 90 Minutes
Trailhead Coordinates: 49.327226, -122.463092
*For a better understanding of the stats and difficulty rating, check out the Hiking Guides page for details. Always carry The Essentials and fill out a trip plan.
---
Golden Ears Video
Here is a 2-minute video of our experience on this hike!
---
Golden Ears Hike Map and Elevation
Profile
Minimum elevation:
No data
Maximum elevation:
No data
Duration:
No data
---
Golden Ears Hiking Route
From the West Canyon parking lot, find the trailhead which is marked by a 'Ridge Meadows Outdoors Club' sign. Get on the wide trail, and there is a junction almost immediately. Go right. The trail is marked for Alder Flats and West Canyon Trail.
You will now be walking on a wide, flat, gravel road, with a slight overall incline. Before long, the trail will cross the path of the Menzies Trail – a shared horse trail. Keep going straight, and you'll soon see another sign for the West Canyon Trail.
Enjoy these easy kilometers early in the trail, because they do not last.
Carry on the road, which remains mostly flat. You will cross over a footbridge. 5 minutes after the bridge, you will see a trail on your left marked for the Viewpoint Trail (which is the route to Evans Peak). Ignore that trail and, again, continue going straight.
The trail is easy to follow, but there are also orange markers. 500 m into the hike, you'll see one marked 0.5 km. The trail here is flat, heavily forested, and scenic.
Just past 1 km, you will climb a short way and cross over a bridge. The bridge crosses over a creek which may be dry heading into the fall season. After the bridge, the trail drops back down again.
At 1.7 km, the trail narrows, and you will come to another bridge crossing another large creek.
Just after 3 km, you will come to a sign for Alder Flats and Golden Ears to the left. The path to the right is marked for Lower Falls. Go left, where it cuts up.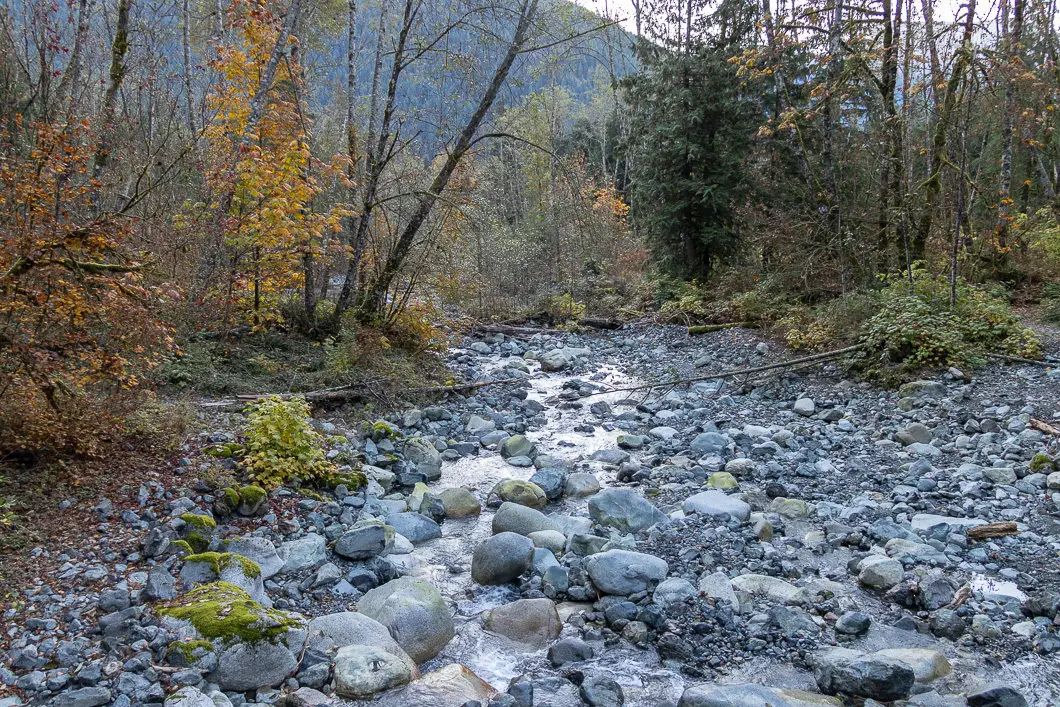 From here, the trail becomes a little rockier and covered by tree roots but remains easy to follow. The trail also gets steeper from here.
Around 3.5 km into the hike, the trail starts to get 'real' and becomes more gnarly. You will come to wooden steps in places and several short switchbacks. Despite the increase in difficulty, the trail is still easy to follow and there are still orange trail markers to keep you on track.
Just before 4 km, you will come to the Gold Creek Lookout. There's a sign in a tree indicating this point, and you have a scenic view of Gold Creek below.
The trail carries on from the lookout, rolling up and down, with the valley down to your right.
Next, you will walk through a scenic stretch of forest. At roughly 4.5 km, you come to a creek crossing. Immediately on the other side of the creek, there's a marker that says Alder Flats to the left and East Canyon Trail to the right – go left towards Alder Flats.
You'll reach boardwalks covered with metal gratings, in a wet, mossy section of the trail. Many large boulders are scattered around the trail in this area.
You will come to a bridge crossing over a creek. Here, there's a sign that says no drinking water beyond this point. This is a good place to fill up your water bottle(s) for the long trek ahead. This is about 5 km into the hike.
You will cross over more streams, too many to count. But there are small bridges over most of them.
You will continue walking uphill, beside a creek on your left. The trail is easy to follow, and the junctions are marked.   

Around 5.5 km, you will reach Alder Flats (by our measurement it is slightly less than the advertised 6 km). There is an outhouse here, along with some roughed-out camp spots.
There are plenty of orange markers so you can pick up the trail again beyond the campsite. At Alder Flats, the West Canyon Trail ends, and the Golden Ears Trail begins.
The trail zigs up to the right, on an old logging road, and starts to climb uphill. You will quickly be back on a rooty and rocky single-track trail. You will come to a point where there is a sign pointing you to Golden Ears to the left.
It gets steep from here.
Climb up the rocky path, and you will begin to have views looking to the west. Here, you have a great view on your left of Alouette Mountain, Blanshard Peak, Edge Peak, and Golden Ears.

Just past this lookout of these beautiful mountains, you will see a 6.5 km marker in a tree.
The trail cuts back into the forest, away from the valley, and keeps climbing up a rocky path. By now, your heart rate should really be rising.
Keep grinding uphill until you eventually come to an opening to another view of Edge Mountain et. al, directly to the left. The trail carries up to your right, where you will find a wooden staircase.
The pace is slower here, given the technical terrain. There are plenty of markers and short flights of wooden stairs.
Just short of 8 km, you will come to a point where there are some ropes. There is some light scrambling here as the trail gets more and more challenging.
Around 8 km into the hike, the forest starts to become sparser, but you will find some giant trees around. Keep climbing.
You will come to a lookout where you can see far to the east – Mount Martyn, Mount Robie Reid, and others can be spotted.
The higher you climb the views keep getting better. You will start to get partial views of mountains in all directions. You will get a view of Golden Ears and the ridge you'll be climbing to approach it – Panorama Ridge. The trail here is generally heading due north.
At one opening, you'll have almost 360-degree views, with Mount Baker to the south.

There are a few side trails as you gain the ridge, so be sure to keep following the pink flagging.
More expansive views will open on your right as you get into the sub-alpine, with Golden Ears on your left.
At roughly 9.5 km, you will come to a clearing where you can see north towards Mount Garibaldi and Atwell Peak in the distance. There are numerous mountains visible to the north, and too many to name. A keen eye might be able to spot Mount Bishop, Coquitlam Mountain, and some other familiar peaks.
Cool fact: "The park was named after the twin peaks of Mount Blanshard near the peak's western boundary. Originally part of Garibaldi Provincial Park, the establishment of Golden Ears Park in 1927 recognized the almost impenetrable mountain barrier between the two areas." Source
The trail then goes to the left. You may see a false trail leading to the right and arrows in the trees pointing left, so follow the direction of the arrows if you see them.
Views of Pitt Lake will open up to your right, as the trail is now carrying along due west. You will come to a wooden ladder that will take you down a steep drop. There's a marker at the bottom of the ladder that says 10 km. The trail then carries on and you continue to have incredible views to your right, including of Garibaldi Provincial Park.

Soon, the trail will begin climbing up Panorama Ridge. As this is alpine, the trail is now an exposed rocky path. There are views in all directions, with Golden Ears directly ahead of you. Behind you, Raven Lake can be found nestled down below Raven Peak. To the south, you will see Mount Baker.
There are orange markers in the rocks for you to follow.
At 1,370 m elevation and 10.5 km into the hike, you will reach the emergency hut, and the tenting platforms. There is a composting toilet here. The hut is not to be used except in emergency situations.
The views here are incredible, and most people will not proceed further than the emergency shelter area.
That said, if the conditions are favourable, and you have the time and fitness, you can proceed to the summit from here. Please heed the advice in the intro section of this guide about attempting the summit. You should budget at least 45 minutes to reach the summit (one-way) from the hut.
From the camping area, the trail keeps pushing up the ridge along loose rock.  
There is no real path to speak of, but there are cairns, so find your route up. After some hard climbing, you will come to the crest and get a backside view of Edge Peak. You can also get a glimpse into the Fraser Valley.
Once you're at that lookout, you're going to turn to your right and climb up. From here, things get very steep, very exposed, and very dangerous. If you are low on energy, time, or confidence, this is the spot to turn around.
"If going back makes sense, you're going forward ~ Wendell Berry".
If you are going to the summit, you will want to take your time. There are some parts you need to be careful and use both hands – a fall could be tragic. There is some flagging but you'll need to carefully select your route up.
As you climb, the views keep getting more spectacular. Finally, after all that effort, you will emerge at the summit of Golden Ears.
You can see the other prominent summit of Golden Ears nearby which has a height of 1,691 m.
Now, all that's left is the long, painful slog back to the parking lot. Carefully navigate down from the summit to the emergency hut, to Alder Flats, and back to your car.
Cool fact: Golden Ears has two distinctive summits which from certain angles do loosely resemble ears. The mountain was originally known by the natives as the 'Golden Eyrie', the place where the golden eagles nested.Source
---
Download the PDF version of this guide for offline use
Enter your email to receive the free PDF version of this guide. You will receive the file immediately in your email, and will also gain access to the monthly Outdoor Vancouver newsletter.
---
Camping at Golden Ears
There are two backcountry camping sites available on the West Canyon / Golden Ears Trails. Both campsites are walk-in backcountry campsites and require a backcountry camping permit from B.C. Parks. They offer no amenities except pit-toilets, and the campsites have little-to-no privacy.
There are also two other walk-in sites along the East Canyon Trail – Viewpoint Beach and Half Moon Beach.
No open fires are permitted in the backcountry.
Alder Flats Campground
Alder Flats can be reached within about 5.5 km from the West Canyon parking lot. There is an outhouse here.
This is the most popular spot to camp, as all the heavy gear can be left here, making for a lighter ascent to Panorama Ridge.
Panorama Ridge Campground
At 1,400 m elevation and about 10.5 km into the hike, you will reach the emergency hut and the tenting platforms of Panorama Ridge. It is difficult to reach this campsite with camping gear, but it rewards with the potential for incredible sunsets and sunrises in clear conditions.
Sleeping is NOT permitted within the emergency shelter (unless, of course, you're in an emergency situation).
Front-country Camping
There are three front-country (car camping) campsites available within Golden Ears Provincial Park. They are the Gold Creek Campsite, Alouette Lake Campsite, and the North Beach Campsite.
There are, as of 2019, some first-come first-served sites are available. Most spots fill up quickly by reservation as this is a popular park for camping. Reservations can be made through Discover Camping.
---
Directions and Parking
Take Trans-Canada Hwy/BC-1 E. Take the Mary Hill Bypass/BC-7B (exit #44) to Pitt Meadows along Lougheed Highway. Exit from Lougheed Hwy/BC-7 E onto Golden Ears Way, northbound.
Use the left 2 lanes to turn left onto Golden Ears Way (signs for Abernethy Connector).
Golden Ears Way will change into 128 Ave, and then to Abernethy Way. Turn left onto 224 St.  Turn right onto 132 Ave. Turn right onto 232 St. At the roundabout, take the 2nd exit onto 132 Ave/Fern Crescent. Turn right onto Fern Crescent. Turn left onto 128 Ave. Turn left onto Fern Crescent. Continue onto Golden Ears Pkwy.
Shortly after the front-country camping registration booth, you'll take a left to the West Canyon Trail parking lot. There will be signs.
Google Map directions are here.
---
Help Us Create New Hiking Guides!
Advertising revenue is falling quickly across the internet, and independently-run sites like Outdoor Vancouver are hit hardest by it. We are committed to keeping Outdoor Vancouver free and independent, but we need to find other ways to continue operating this site.

If you like our hiking guides and would like to help, please consider making a contribution with the PayPal or Patreon links below – any amount helps! There is also a list of other ways you can support Outdoor Vancouver here!
Becoming a Patron through Patreon unlocks membership benefits and rewards. Learn More.
A one-time donation through PayPal helps with monthly website hosting costs.
---
Other great hikes in this area
---
Download the PDF version of this guide for offline use
Enter your email to receive the free PDF version of this guide. You will receive the file immediately in your email, and will also gain access to the monthly Outdoor Vancouver newsletter.
---
360° Photosphere (click and drag to look around)
Outdoor Vancouver Apparel