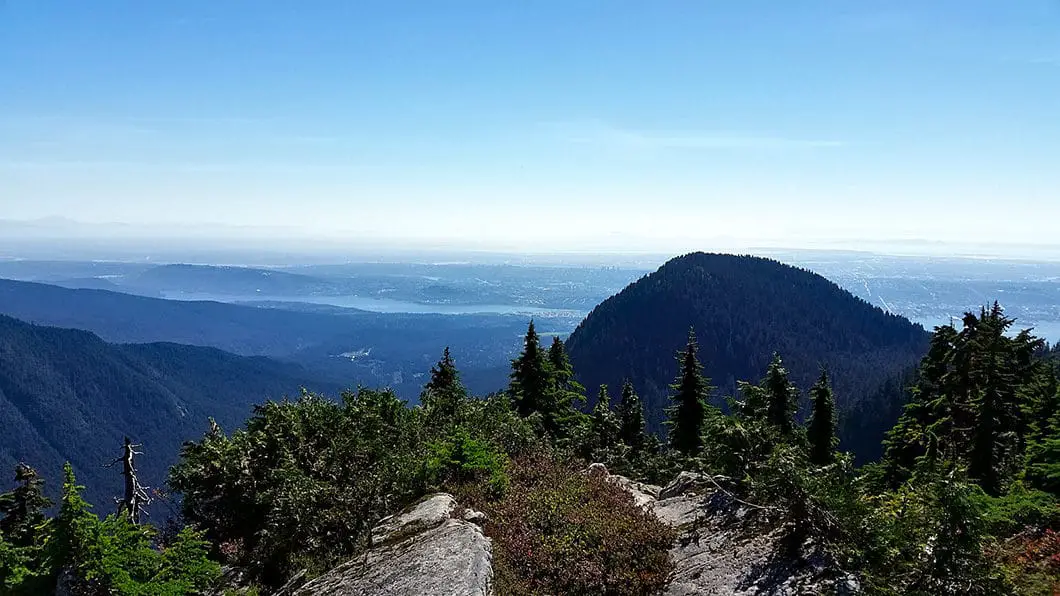 Goat Mountain (Ridge) – Table of Contents
Goat Mountain Hike Intro
Lynn Headwaters Backcountry Winter Closure
This hike and all backcountry routes at Lynn Headwaters Regional Park are now CLOSED due to hazardous winter conditions. This applies to routes beyond Norvan Falls (e.g. Hanes Valley, Coliseum Mountain and Lynn Lake) as well as routes in the Grouse subalpine (e.g. Dam Mountain, Thunderbird Ridge, Crown Mountain, Goat Mountain, Little Goat & Goat Ridge). See more from Metro Vancouver.

Unpredictable and rapidly changing hazardous mountain weather conditions may include:
– Snow, ice and slippery conditions in steep terrain
– Heavy rainfall
– Rock and ice fall
– Lack of visibility (whiteout caused by fog and/or snow)
– No trail markers
Goat Mountain is a fun hike starting at the Grouse Mountain Resort. The trail is well-marked, with a few steep and challenging sections near the summit. The route takes you through forest filled with yellow cedar and hemlock before emerging to great views of Crown Mountain, Hanes Valley, Vancouver and much of the Fraser Valley all the way down to Mt. Baker.
You also have the option of extending the hike a few extra kilometers by meandering along Goat Ridge for more amazing views and a different perspective of Hanes Valley.
While the hike starts atop Grouse Mountain Resort, Goat Mountain itself lies within Lynn Headwaters Regional Park. A trail map for the park can be found here.
---
Goat Mountain-Only Hike Stats
Rating: Moderate
Distance: 8 km
Net Elevation Change*: 275 m
Highest Point: 1,401 m
Time Needed: 4 – 5 Hours
Type: Out-and-back
Season: July to October
Dogs Allowed: No
Est. Driving Time from Vancouver: 30 min
Trailhead Coordinates: 49.383954, -123.078566
---
Goat Ridge Hike Stats*
*(This includes also completing Goat Mountain summit)
Rating: Moderate
Distance: 11 km
Net Elevation Change*: 275 m
Highest Point: 1,401 m
Time Needed: 5 – 7 Hours
Type: Out-and-back
Season: July to October
Dogs Allowed: No
Est. Driving Time from Vancouver: 30 min
Trailhead Coordinates: 49.383954, -123.078566
*For a better understanding of the stats and difficulty rating, check out the Hiking Guides page for details. Always carry The Essentials and fill out a trip plan.
---
Goat Mountain Video
Here is a 2-minute video of our experience on this hike!
---
Goat Mountain Hike Map and Elevation
Profile
Minimum elevation:
No data
Maximum elevation:
No data
Duration:
No data
---
Goat Mountain Hiking Route
This hike typically starts atop the Grouse Mountain Skyride. However, if you don't want to pay the Skyride fee, you can start at the Grouse Mountain parking lot and hike up the Grouse Grind or BCMC trails. These trails are arduous and will add approximately 1 hour and 3km to your hike. But Goat Mountain is not so difficult a hike that starting your hike via the Grind or BCMC is a terrible idea.
From the top of the gondola, follow the paved path towards the grizzly bear enclosure. Spend a few minutes watching the bears frolicking about if they are visible before heading towards the trailhead. From the bear pen, head north to the service road directly under the Peak chairlift, and you will see a signboard with information about the hikes in the area and a map (this spot is marked by the trailhead coordinates above).
Continue along the service road, and you'll quickly get some nice views of Vancouver and the Capilano Lake Reservoir to your left, as you skirt alongside Grouse Mountain proper on your right. After about 15 minutes, the service road will end, and a singletrack trail will begin.
Start climbing up the hill and follow several switchbacks. Within 20 minutes, you'll come to a junction for Dam Mountain (via the Ridge Trail) and Crown Mountain/Goat Mountain (via the Alpine Trail).
Sidenote: You can detour to Dam Mountain if you want. This adds a bit of time and distance to the hike, though not a lot. The most direct route to Goat Mountain is via the Alpine Trail. However, if you take the Ridge Trail you will carry up over Dam Mountain and then on to Little Goat Mountain, before merging back with the Alpine trail just before the Goat Ridge Trail. The option is yours, but I'll describe going directly via the Alpine Trail.
Follow the signs for Goat Mountain along the Alpine trail. Continue along the Alpine Trail, passing by another junction for the Thunderbird Ridge Trail. The trail is not very steep but there are lots of rocks and roots underfoot. At some points along the trail you can catch a glimpse of Kennedy Lake below. There are many sidetrails along this part of hike, so it can be worrisome that you are on the right path. Don't worry too much, for as long as you don't head down the Thunderbird Ridge trail, you will eventually come to the junction for Crown Mountain and Goat Mountain at the top of Crown Pass. This is a well-marked and obvious junction.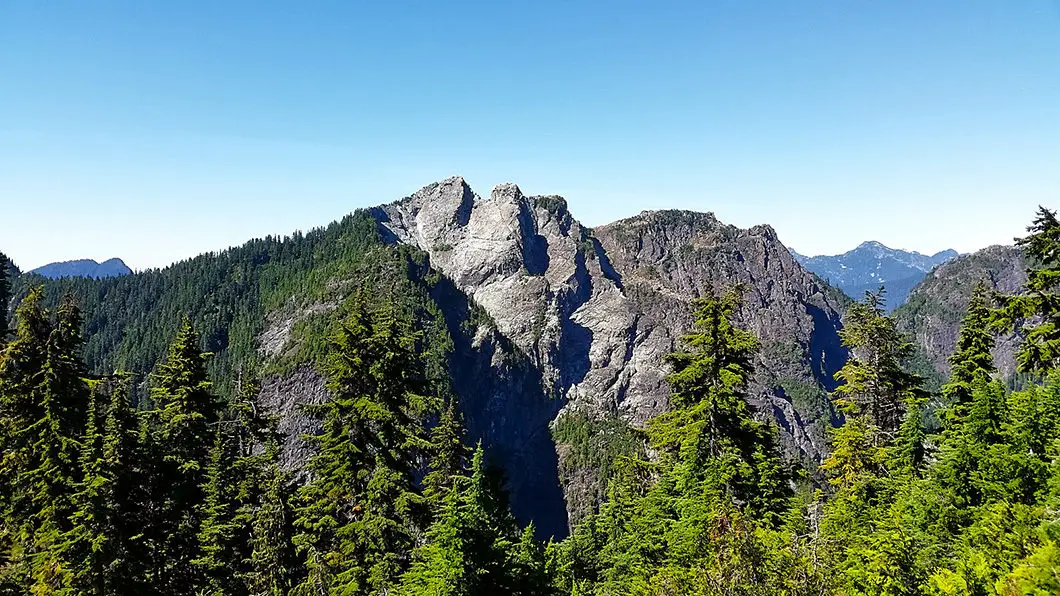 From the junction near Crown Pass it is less than 1km to reach the summit. Head north along the trail marked for Goat Mountain. The trail will remain relatively flat for about 15 minutes before you enter into the trees and start climbing more directly up Goat Mountain. On the ascent, there are several very steep, technical sections with ropes and chains.
These sections are difficult climbing up – and even harder coming back down. After one such climb, you will come to a very worn, make-shift sign pointing you right to "Goat Ridge and Mtn" or left to "Goat Mtn Steep". Going left is quicker, but a much more difficult scramble to the top. Only go left if you want a challenging climb. Instead, head right and follow the trail for about 15 minutes to the next signpost.  Here is the junction for Goat Mountain/ Goat Ridge. Go left. Climbing up from here, its a 10 minute steep climb to the summit of Goat.
Once you've reached the summit, there is plenty of room to find a nice spot to enjoy lunch. The summit is exposed, and provides a spectacular panoramic view. Most prominent is the view of Crown Mountain and the Camel, just across Hanes Valley to the north. To the west you can see the Straight of Georgia and Vancouver Island. And to the southeast on a clear day is Mount Baker and the Cascades.
Cool fact: Goat Mountain received it's name in 1894 by the first party to summit, after they killed a mountain goat on it. [Source: Dawn Hanna's "Best Hikes and Walks of Southwest BC"]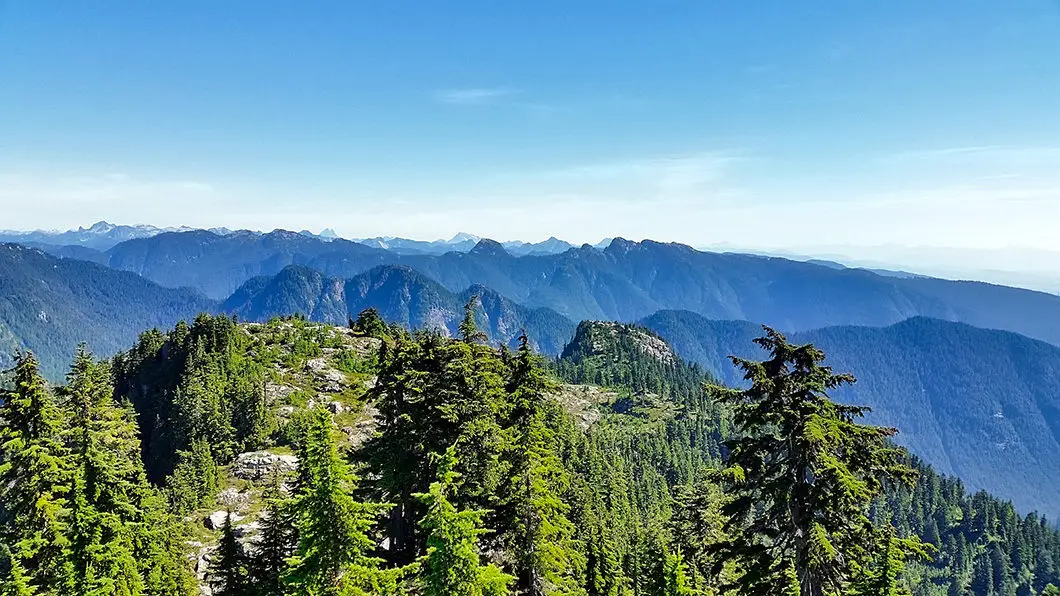 Hiking to Goat Ridge
After you've soaked up the amazing views, you have two options. Return the way you came, or carry along the trail to Goat Ridge. Going along Goat Ridge will add about 3km to your trip, and while the trail does not have much total elevation gain, it is a technical, winding trail and is slow going.
From the Goat Mountain summit, climb back down to the junction for Goat Mountain/ Goat Ridge, and this time follow the trail east towards the ridge.
The ridge trail itself is a beautiful open path which wends by several ponds and is filled with plenty of blueberry bushes.
The trail is fairly easy to follow, but there are scrambly sections where you will need to carefully look for the path and/or cairns to stay on your way. However, as you are on a ridge, there are truly only two directions to go and you really cannot get too lost. Follow the trail east, up and over several hills and eventually you will reach the short climb to the end of the ridge.
Again, you are rewarded with amazing scenery. Directly east, there are great views of Coliseum Mountain, the Needles, and Lynn Peak. To the south, you can again see the Fraser Valley. And to the north, there are more mountains than you can name, and you can even catch a glimpse of Sky Pilot all the way in Squamish, near the Sea to Sky Gondola.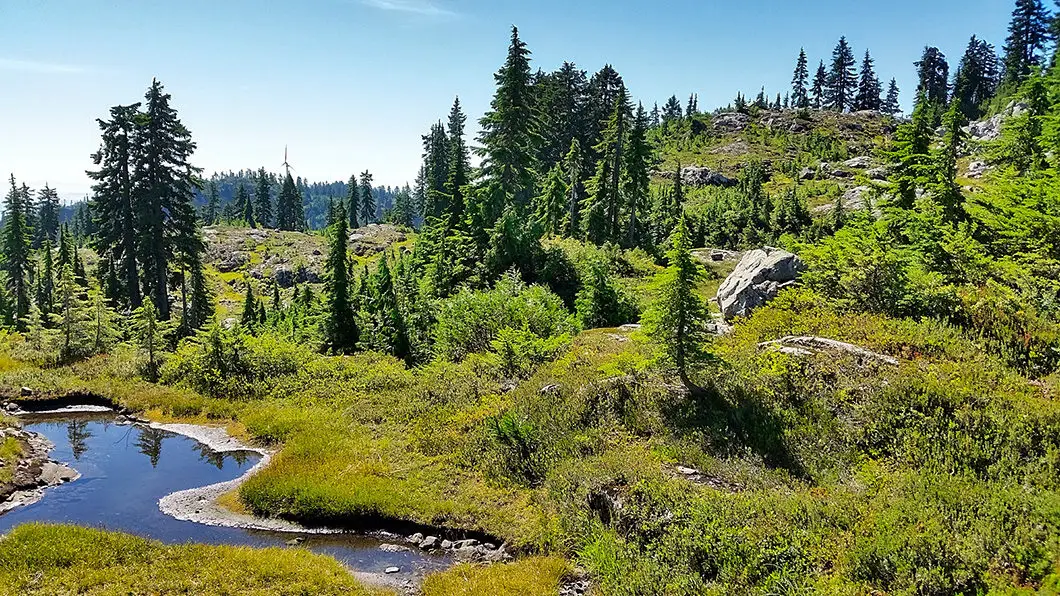 To return you will retrace your steps to the junction for Goat Mountain Summit. Follow the marker for the Grouse Mountain Skyride, and the route back out.
If you opted to avoid Dam Mountain and Little Goat Mountain on the way up, you can certainly detour on the way back if you have the time and energy.
Back at Grouse Mountain Resort you have one final choice – take the Skyride back down, or hike down the BCMC trail to the parking lot.
Download the free PDF version of this guide for offline use
Enter your email to receive free PDF version of this guide. You will receive the file immediately in your email, and will also receive the free monthly Outdoor Vancouver newsletter.
---
Directions and Parking
From Highway #1, take the Capilano Road exit North. Follow Capilano Road all the way north up the hill. It will turn into Nancy Green Way, and just follow the road until it terminates at the parking lot by the Skyride.
Google Map directions are here.
---
Help Us Create New Hiking Guides!
Advertising revenue is falling quickly across the internet, and independently-run sites like Outdoor Vancouver are hit hardest by it. We are committed to keeping Outdoor Vancouver free and independent, but we need to find other ways to continue operating this site.

If you like our hiking guides and would like to help, please consider making a contribution with the PayPal or Patreon links below – any amount helps! There is also a list of other ways you can support Outdoor Vancouver here!
Becoming a Patron through Patreon unlocks membership benefits and rewards. Learn More.
A one-time donation through PayPal helps with monthly website hosting costs.
---
Other great hikes in this area
Download the PDF version of this guide for offline use
Enter your email to receive free PDF version of this guide. You will receive the file immediately in your email, and will also receive the free monthly Outdoor Vancouver newsletter.
---
Outdoor Vancouver Apparel