Hiking Safety – Table of Contents
Basic Preparation and Courses
Each year in the province of British Columbia there are over 1,600 search and rescue missions initiated. That is more than all the other Canadian provinces combined. Most of these missions are necessary because of a lack of preparation by those heading into the backcountry. Vancouver is a beautiful city where you can enjoy some spectacular hiking, but please be cautious and prepared before heading out. Do not be fooled by your proximity to civilization. Once you step into the backcountry, you are truly on your own.
The information provided here is meant to be a basic overview of outdoor safety. Hands-on experience is ultimately the best way to make sure you are prepared for the outdoors, and your best bet is to take a few courses (Canada West Mountain School, Spiritus Training, MEC and Slipstream offer great courses locally). In case of injuries, you may want to be better prepared by taking the St. John's Ambulance's Wilderness First Aid Course.
Depending on your activities, there are no shortage of courses you can take – avalanche safety training, wilderness first aid, wilderness survival, orienteering and navigation, and so on. Not only do these courses prepare you for the outdoors, but they are fun in themselves!
Before heading out on any trip you must be prepared – even if you are heading to a familiar location on a short hike. The unexpected can occur, including sudden weather changes, injuries, getting lost, and wildlife attacks. Here are the basics you should do before every hike.
At a minimum, the most basic things you need to do before going on a hike are:
1. Research the hike.
Read from multiple sources about your hike. Read guide books, online resources, and check current conditions reports. Ask your friends if they've done the hike before. Check the current weather report and sunset times. There are some links on our general Resources page that will help you with this research.
2. Fill out a trip plan.
It is important to always fill out a Trip Plan and leave it with someone you trust. This way, they can know when to expect your return and have all the information they need to provide to the authorities if you don't return.
3. Bring the proper gear.
See the 'The Essentials' section below for a minimal starting point. But the proper gear includes other items you may need, specific to your hike. It also means having proper footwear (don't wear street shoes).
When going back makes sense, you are going ahead

~ Wendell Barry
---
Daylight and Weather
As Vancouver is on the 49th parallel north, the amount of daylight the area receives varies greatly from season to season. At the summer solstice Vancouver receives over 16 hours of daylight, and during the winter solstice, it receives just over 8 hours of daylight. You must know roughly how long your hike will take, and be prepared for when to expect nightfall.
Weather can also vary greatly, not only from season to season but from hour to hour. Just because the day starts off clear and sunny, it is no guarantee your hike will end in the same conditions. There is an old saying in Vancouver – 'If you can't see the mountains, it's raining. If you can see the mountains, it's going to rain'.
As the wind comes in from the Pacific Ocean and meets with the tall Coast Mountains of southwestern British Columbia, clouds can form in a hurry, bringing heavy rain, thunder, and lightning. Be sure to check the weather forecast shortly before leaving on your hike, but also expect that the forecast may not hold true throughout the day.
Links
---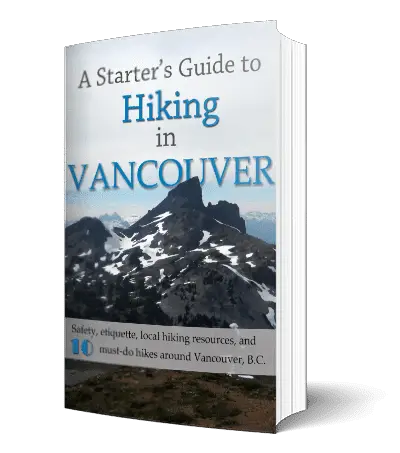 A Starter's Guide to Hiking in Vancouver.
Guides for 10 amazing hikes near Vancouver
Hiking safety and trail etiquette
Resources, hiking gear overview, and more!
---
Navigation
You're never lost; you're just exploring. However, exploring grows old very quickly if you are cold, hungry and exhausted

~ Cam Honan
It's never a good idea to assume the trail will be easy to follow and that you'll be able to stay on track during your hike. One of the common reasons people need Search and Rescue help is because they end up in a place they didn't intend to be, either trapped in precarious terrain or unable to find their way back on track. Many beginner hikers are amazed to learn how quickly you can leave civilization behind and just how easy it is to get lost in the dense forests of southwest B.C..
The best thing you can do to help with your navigation is to carry an old-fashioned topo map and a compass (these are part of the The Essentials). However, using a map and compass requires a bit of practice and training. I encourage you to check out some of the courses offered from the companies above on wilderness navigation. MEC periodically offers a free Intro to Map and Compass 101 seminar.
A good, dedicated wilderness GPS device, such as the inReach/Roadpost, can be invaluable also. However, be wary of relying entirely on electronics as they can fail and batteries die. A GPS device is a good supplement to carrying a map and compass.
A mobile phone does not qualify as a dedicated GPS device.
Coquitlam SAR Manager Michael Coyle has a detailed post explaining why relying on a cellphone for navigation is a terrible idea: Why you shouldn't use Smart Phones for Backcountry Navigation.
If you are a hiker, then you should not use the smart phone as your general navigations device. It should be held in reserve to to call for help and to communicate with SAR if there is a problem. Using the phone runs down the batteries and makes your best chance at calling for help less and less useful. Navigation is best done with a purpose-built wilderness GPS with updated maps, or a paper map and compass.
---
Wildlife
You should know how to handle an encounter with bears or cougars in case you come across any during your hike.
We have a page dedicated to bear and wildlife-specific safety here.
---
Winter Safety
Traveling in the winter carries a whole new set of risks.
We have a page dedicated to winter-specific safety here.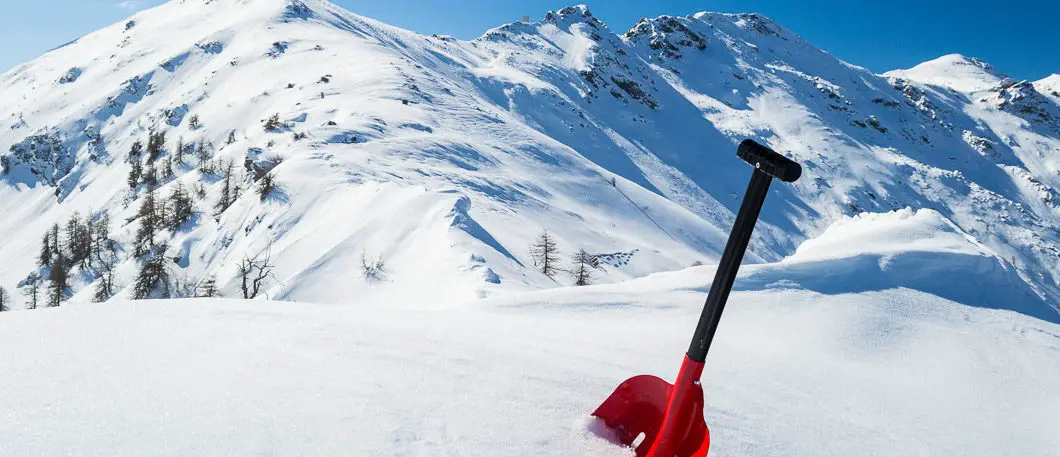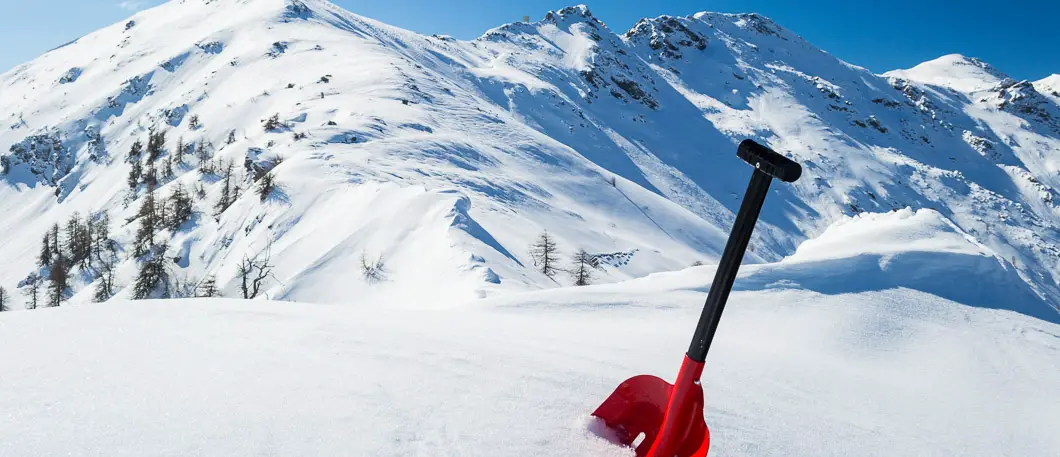 ---
The Essentials
The Essentials are a MUST for any outing. The Essentials are a minimum required amount of gear to take on all your hikes. The easiest thing is to put most of the items in a single, waterproof bag that stays in your backpack and never comes out.
The Essentials include:
Other gear that is good to have
Cell phone – Keep it turned off until you need it to save the battery
Bug repellent
Guidebook or printed description of trail
Water filtration/ purification
Napkins or toilet paper
Ziploc bag to carry out waste
Hand Sanitizer
Chapstick
Binoculars
Camera
Thermos with a hot drink
Waterproof pencil & paper
Trekking Poles
---
Below are two videos on the The Essentials, and both are worth taking a few minutes to watch.
The first video is a short overview of the The Essentials and why the items are important.
The second video is a bit longer but very informative and helpful. The video was made by local ultra runner Gary Robbins and features everything he carries with him on all his outings. Gary has run the West Coast trail in just over 10 hours and has traveled the world competing in 100+ mile endurance events, so its safe to say he knows his stuff! And it's also worth noting that Gary is running with all these items with a much smaller backpack than most day-hikers would have – so there's no excuse for not having this stuff with you!
---
---
---
Hiking Vancouver: Exploring Southwest British Columbia's Most Beautiful Trails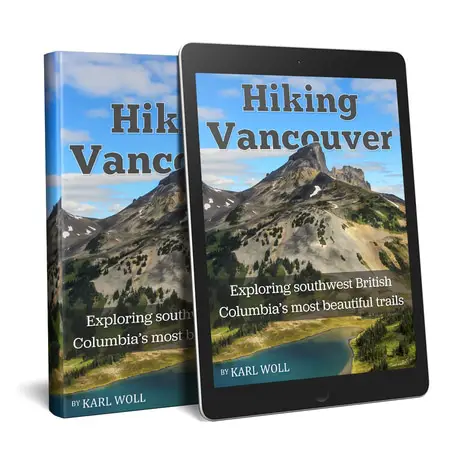 Want all 120+ of Outdoor Vancouver's hiking guides in one eBook? From the classics like The Chief and Black Tusk to the hidden gems, they're all here in over 500 pages!

Hiking Vancouver is your guide to the best hikes in southwest British Columbia.
Only $8.99 (or included with OV Patron membership)
---
Hiking Gear
There is no bad weather, only inappropriate clothing

~ Ranulph Fiennes
Aside from the The Essentials, proper gear is important. This means buying some decent, sport-specific gear. For example, proper footwear for good grip and to avoid blisters, and layered clothing to regulate body temperature. You don't have to break the bank on the best gear, but you will appreciate having proper outdoor gear. Avoid cotton materials as these will draw heat from your body when wet and take a long time to dry.
Bring water, and bring extra water. It is also a good idea to have a purification or filtering system for longer journeys. Sports drinks are also a good idea as they work to replenish the electrolytes, carbs, and other nutrients you lose in sweat.
---
Online Canadian Outdoor Gear Retailers
If you're looking for outdoor gear, there are a number of great online retailers in Canada. Most provide free shipping with a minimum purchase. We have compiled a few trusted online retailers below.
---