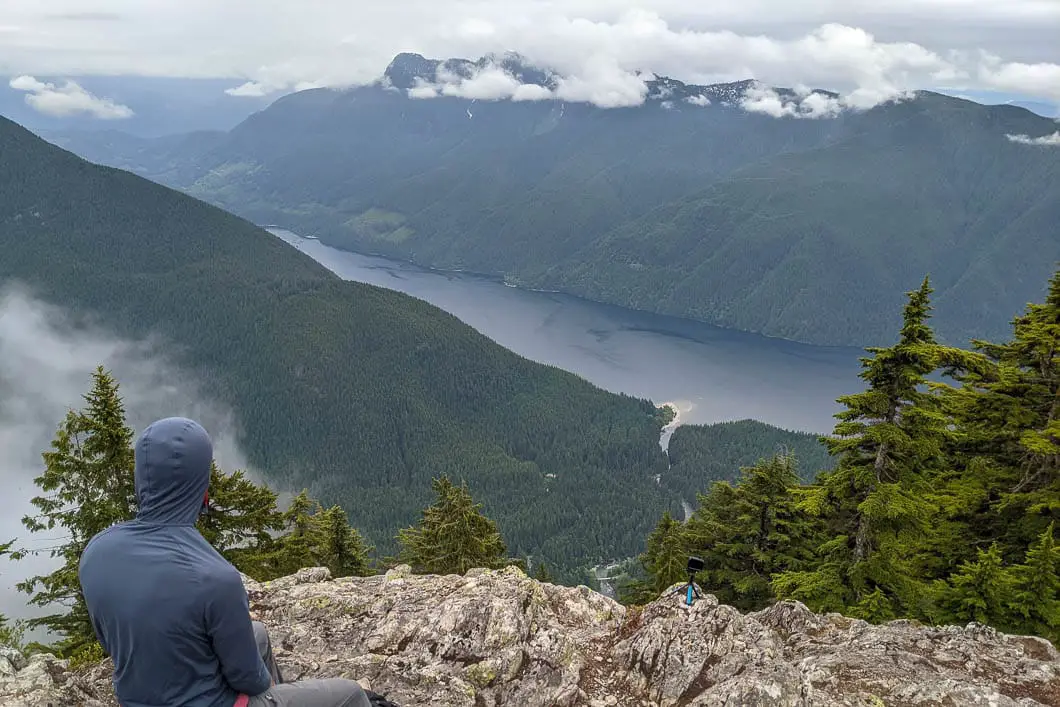 Evans Peak – Table of Contents
Evans Peak Hike Intro
2023 Day Use Pass Required for this Hike
Day-use passes are required June 14 to October 9, 2023, for visitors to Golden Ears Provincial Park.
More details can be found here from B.C. Parks.
Evans Peak is a steep and challenging hike in Golden Ears Provincial Park, Maple Ridge.
While Evans Peak is not quite as long or as difficult as the nearby Golden Ears Summit hike, it should not be underestimated. 
Much of the hike is steep, and there is a section of scrambling as you approach the summit. The effort is well worth it, however, as the summit of Evans Peak offers incredible views in all directions. 
Evans Peak is a great option for those camping in Golden Ears Park. Though it is no longer the hidden gem it once was, Evans Peak still sees less traffic than the popular Gold Creek Falls route within the park. 
Another nice thing about Evans Peak is that it sits at a lower elevation than Golden Ears Summit, making it hikeable in the spring and fall. A trip to Evans Peak can also be combined with a hike up Alouette Mountain, but that is beyond the scope of the guide below.
Interesting fact: "The peak is named for a father and son, Leslie and John Evans, who vanished in the valley between Edge Peak and Blanshard Peak in the spring of 1966. An extensive search failed to find them". [Source]
---
Evans Peak Hike Stats
Rating: Difficult
Distance: 9 km
Net Elevation Change*: 940 m
Highest Point: 1,132 m
Time Needed: 5 – 6 Hours
Type: Partial-loop
Season: May – October
Dogs Allowed: Yes (but difficult sections)
Est. Driving Time from Vancouver: 90 Minutes
Trailhead Coordinates: 49.327226, -122.463092
*For a better understanding of the stats and difficulty rating, check out the Hiking Guides page for details. Always carry The Essentials and fill out a trip plan.
---
Evans Peak Video
Here is a 6-minute video of our experience on this hike!
---
Evans Peak Hike Map and Elevation
Profile
Minimum elevation:
No data
Maximum elevation:
No data
Duration:
No data
---
Evans Peak Hiking Route
From the parking lot (directions), the trail begins near the outhouse. As you begin the trail, you'll see Evans Peak directly ahead of you, and you can gauge the challenge that lies ahead. 
The trail is a wide, groomed double-track trail that goes uphill slightly. This is the West Canyon Trail. You'll pass by a green water tank on your right. Soon after, you'll cross a wooden bridge over a small creek. Just past that bridge, there's a junction on your left with a sign that reads Viewpoint Trail. There's an orange marker in the tree marked at 0.0 km. Go left here, onto the single-track trail. (If you went straight, you'd be carrying on towards Golden Ears Summit).
From the junction, the trail becomes technical with tree roots and rocks. There are some short switchbacks as you carry along the trail, and you'll cross over a small bridge. 
Keep climbing up the trail and you'll reach a creek crossing. You should be able to scramble across without getting your feet wet. About ten minutes past the creek crossing, there's a junction. This is roughly 2 km or 40 minutes into the hike.
This junction can be easy to miss, so make sure you keep your eyes peeled. There was no trailmarker / signage here when we hiked this trail in 2021, but the sign may be replaced by now. There is a notch cut into a tree that sits at the junction. The trail is well-defined and heads uphill sharply from here.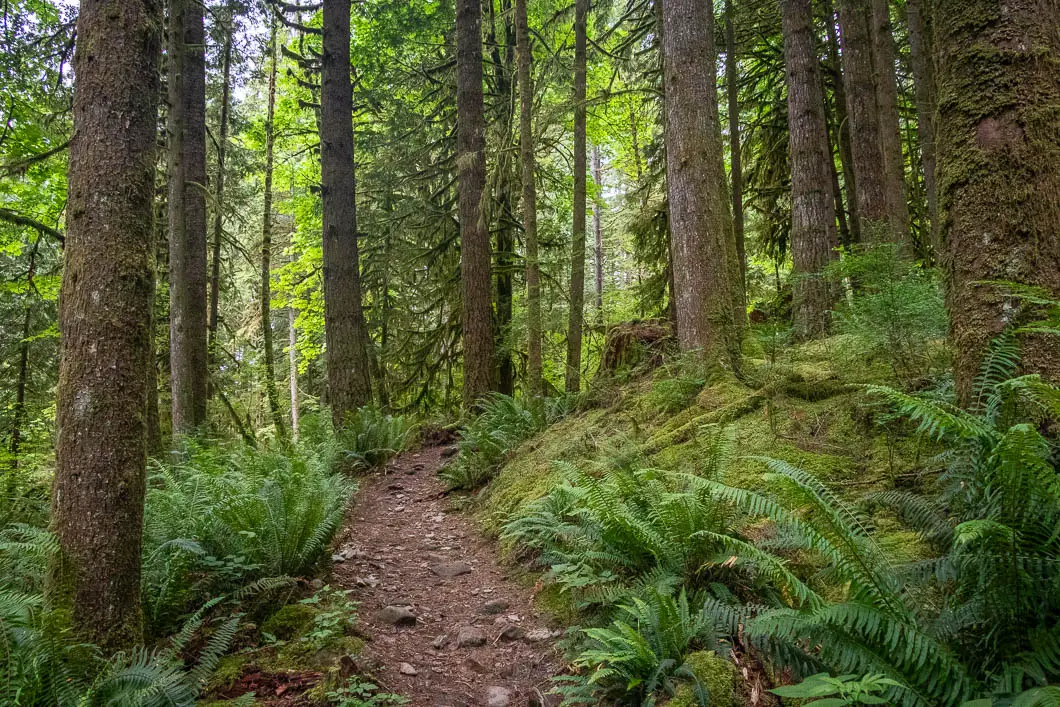 Now, the hard work begins, and you'll head straight up, following the trail. After about another kilometre of hiking, at 600 m of elevation, you'll come to a flat area with partial views of Alouette Lake below. Through the trees here, you can also see Evans Peak. 
Take a well-earned break here if you wish, and then carry along uphill. After leaving the lookout area, you'll pass a waterfall on your right-hand side. 
Shortly after the waterfall, you'll come to a second, smaller waterfall on your right. A short side trail gives you a nice view of the falls.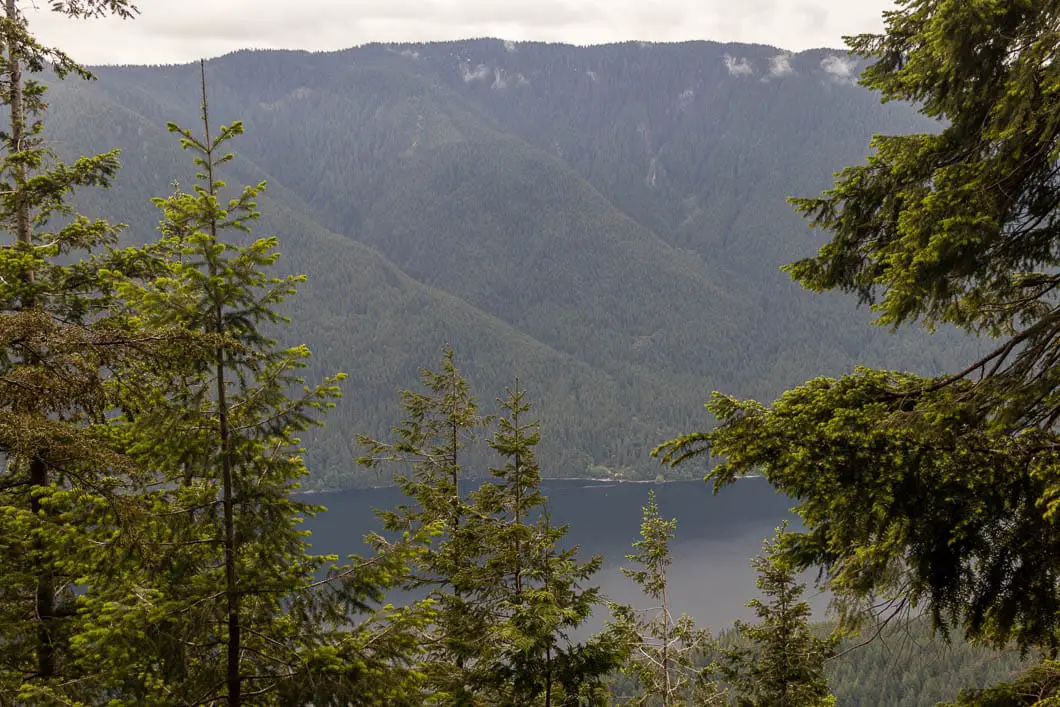 Just a few minutes further up the trail, you'll reach a junction where the trail splits between Alouette Mountain and Evans Peak. Make sure you head right, in the direction marked for Evans Peak. This junction is roughly 3.6 km into the hike.
Once you take the trail to Evans Peak, the path flattens out a little, giving your legs a brief break. In the springtime, there might be sections of mud here.
Next, you'll reach a rock wall with a rope to help you climb. This section is the most difficult part of the hike and the final bit of climbing before reaching the summit.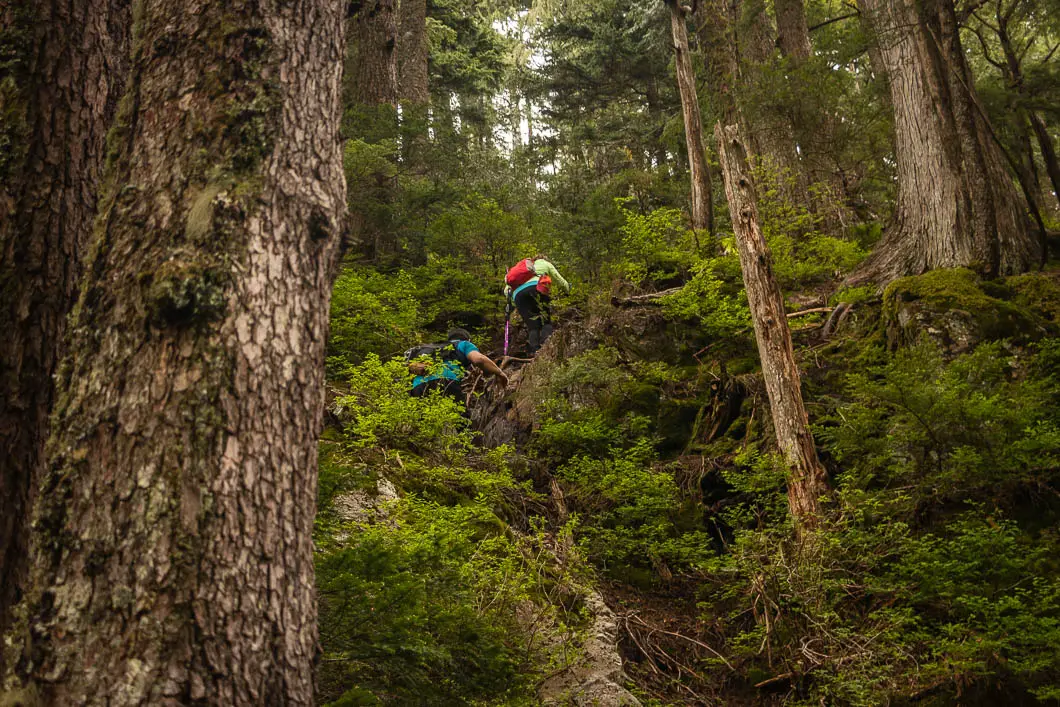 Take your time, find good holds, and carefully climb up the rock. 
As you come out onto the summit area, there is a terrific view of Alouette Lake down to the right. Directly above the lake is Mount Crickmer and Schiedel Ridge. 
On the near side of Alouette Lake, you can see the parking lot for the Gold Creek Falls hike and the small beach popular with campers.
Carrying further along the ridge to the true peak, you'll come to fantastic views to the north. On a clear day, you can see as far as the glorious mountains of Garibaldi Provincial Park. You'll also have views of mountains that are nearby, like Alouette Mountain, Edge Peak, Blanshard Peak, and Mount Robie Reid.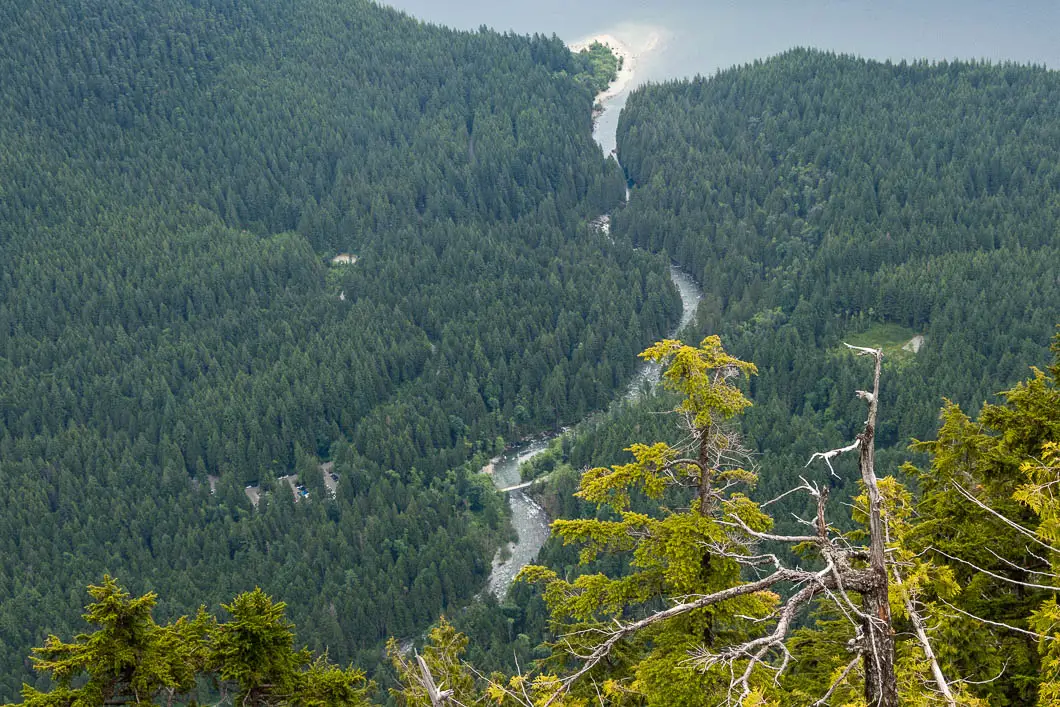 Near the summit of Evans Peak, you'll find a plaque that explains the name of the mountain. 
"Evans Peak was named after Mr. Lesley Evans and his elder son John after they went missing in the area on the 6th June 1966. The search lasted for two weeks and employed some 200 people from RCMP, Search & Rescue, CFB Chilliwack, Corrections, and local residents. It was among the province's largest searches to date… The original cross and plaque were placed on the peak by his sons Sgt George Evans and Sgt David Evans and members of the signals platoons from the First Battalion Grenadier Guards in June 1989…"
When ready, retrace your steps to the parking lot. To add some variety on the way back, once you reach the Viewpoint Trail, head right instead of heading left. You'll be able to find a looping trail that connects back to the Menzies Trail, and onward back to the parking lot. This route has a lookout of Alouette Lake as well.
---
Download the PDF version of this guide for offline use
Enter your email to receive the free PDF version of this guide. You will receive the file immediately in your email, and will also gain access to the monthly Outdoor Vancouver newsletter.
---
Help Us Create New Hiking Guides!
Advertising revenue is falling quickly across the internet, and independently-run sites like Outdoor Vancouver are hit hardest by it. We are committed to keeping Outdoor Vancouver free and independent, but we need to find other ways to continue operating this site.

If you like our hiking guides and would like to help, please consider making a contribution with the PayPal or Patreon links below – any amount helps! There is also a list of other ways you can support Outdoor Vancouver here!
Becoming a Patron through Patreon unlocks membership benefits and rewards. Learn More.
A one-time donation through PayPal helps with monthly website hosting costs.
---
Directions and Parking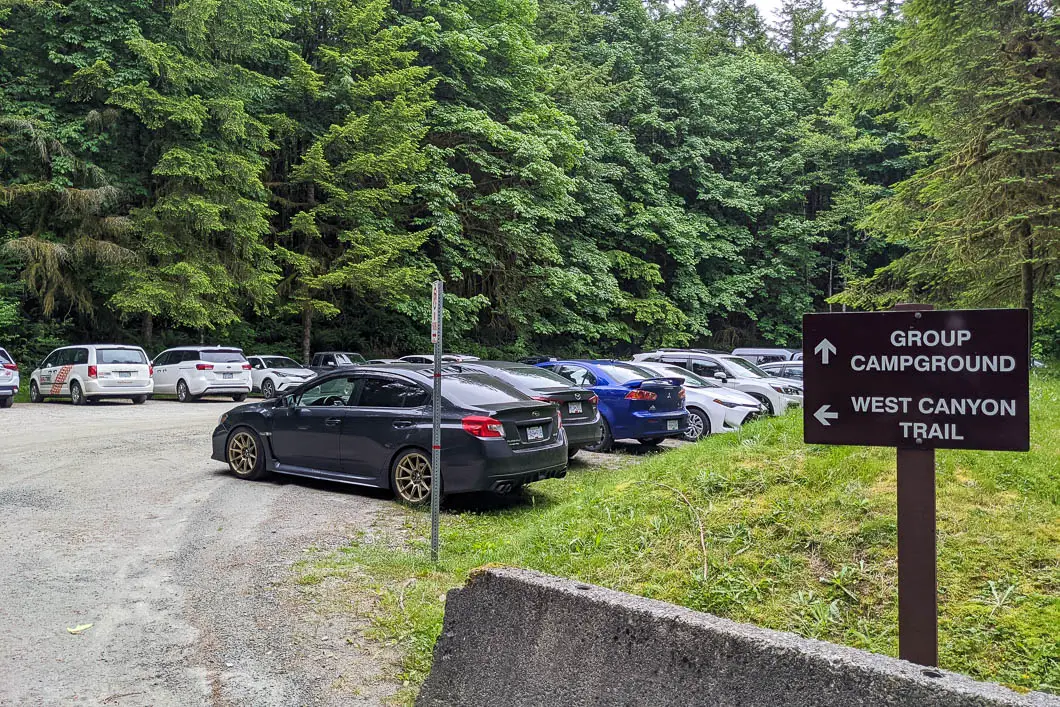 Take Trans-Canada Hwy/BC-1 E. Take the Mary Hill Bypass/BC-7B (exit #44) to Pitt Meadows along Lougheed Highway. Exit from Lougheed Hwy/BC-7 E onto Golden Ears Way, northbound.
Use the left 2 lanes to turn left onto Golden Ears Way (signs for Abernethy Connector).
Golden Ears Way will change into 128 Ave, and then to Abernethy Way. Turn left onto 224 St.  Turn right onto 132 Ave. Turn right onto 232 St. At the roundabout, take the 2nd exit onto 132 Ave/Fern Crescent. Turn right onto Fern Crescent. Turn left onto 128 Ave. Turn left onto Fern Crescent. Continue onto Golden Ears Pkwy.
Shortly after the front-country camping registration booth, you'll take a left to the West Canyon Trail parking lot. There will be signs.
Google Map directions are here.
---
Other great hikes in this area
---
Download the PDF version of this guide for offline use
Enter your email to receive the free PDF version of this guide. You will receive the file immediately in your email, and will also gain access to the monthly Outdoor Vancouver newsletter.
---
360° Photosphere (click and drag to look around)
Outdoor Vancouver Apparel