Cascade Falls – Table of Contents
Cascade Falls Hike Intro
Cascade Falls is a scenic waterfall which plummets 30 metres into an emerald pool. It is located in Cascade Falls Regional Park in Mission, B.C..
It is more of a short walk than a 'hike' to the viewing platform. But, Cascade Falls is still worth the drive out. Cascade Falls Regional Falls park is a 22 hectare park with lush forest and a beautiful creek which winds through a ravine. A 300 metre walk and some stairs are all it takes to reach the gorgeous falls.
At the top of the trail, there is a suspension bridge which takes visitors to a close-up viewing platform of the falls.
Cascade Falls is a great off-season hike and one that is perfect for the full family. Save it for a lazy, overcast Sunday when you want to get outside but don't feel like an epic day-hike.
---
Cascade Falls Hike Intro Hike Stats
Rating: Easy
Distance: 0.75 km
Net Elevation Change*: 40 m
Highest Point: 180 m
Time Needed: 30 Minutes
Type: Out-and-back
Season: Year-round
Dogs Allowed: Yes
Est. Driving Time from Vancouver: 2 Hours
Trailhead Coordinates: 49.274257, -122.215524
*For a better understanding of the stats and difficulty rating, check out the Hiking Guides page for details. Always carry The Essentials and fill out a trip plan.
---
Cascade Falls Video
Here is a 1-minute video of our experience on this hike!
---
Cascade Falls Hike Map
Profile
Minimum elevation:
No data
Maximum elevation:
No data
Duration:
No data
---
Cascade Falls Hiking Route
The hike to Cascade Falls from the parking lot is quick and easy. In the parking lot, you'll find a park map and information board. There is also a pit toilet and some picnic tables.
From the parking lot, walk past the yellow gate and find where the trail narrows into the trees and begins climbing uphill.
For those with strollers, you can continue on the wide, gravel road to reach the falls. That route is slightly longer and less scenic. But the road will still reach the falls at the top so you can still access the viewing platform without navigating the stairs.
Following the trail, it only takes about 15 minutes and 300 metres to reach Cascade Falls. The trail climbs uphill and quickly comes to some wooden stairs. In all, there are about 50 stairs to climb up.
As you climb up the wooden stairs, you will see Cascade Creek and a ravine off to your right. As you approach the top of the stairs, you'll see the suspension bridge of Cascade Falls crossing over Cascade Creek. At the top of the stairs, Cascade Falls and its torrent of water will emerge.
The water falls 30 metres into the pool below. The water then spills under the suspension bridge and cascades down another 18 metres through the ravine.
You can walk across the suspension bridge for a closer view of Cascade Falls. The bridge is 35 metres long and is suspended 20 metres above Cascade Creek.
As beautiful as this area is, it can be deadly. The website for Cascade Falls Regional Parks warns:
WARNING! This area has steep cliffs, slippery rocks, and unstable ground. For your own safety, remain on designated trails, obey posted signs and do not cross fences. Cascade Creek is very cold, varies in depth, and is very swift. Loss of life and serious injury has occurred in areas outside of designated trails.
Like all waterfalls, there is danger of being held under water. There are also undertows and back currents that can pull a swimmer under water. So stay on the trail.
Once you've had your fill of the falls, retrace your steps back to the parking lot.
It is also possible to continue to follow the gravel road to a trail that reaches the Cascade Creek above the falls. If you feel like getting some more hiking in, it can be a worthwhile extension. But, traveling down the creek to the top of the falls is extremely dangerous and not recommended. The rocks are slippery and serious injury can occur. And, of course, if you went close enough to the top of the falls, the current can push you over.
Cool fact: Cascade Falls was featured in the final scene of the film Big Bully, as the location of a fight between characters played by Tom Arnold and Rick Moranis. [source]
Download the PDF version of this guide for offline use
Enter your email to receive the free PDF version of this guide. You will receive the file immediately in your email, and will also gain access to the monthly Outdoor Vancouver newsletter.
---
Help Us Create New Hiking Guides!
Advertising revenue is falling quickly across the internet, and independently-run sites like Outdoor Vancouver are hit hardest by it. We are committed to keeping Outdoor Vancouver free and independent, but we need to find other ways to continue operating this site.

If you like our hiking guides and would like to help, please consider making a contribution with the PayPal or Patreon links below – any amount helps! There is also a list of other ways you can support Outdoor Vancouver here!
Becoming a Patron through Patreon unlocks membership benefits and rewards. Learn More.
A one-time donation through PayPal helps with monthly website hosting costs.
---
Directions and Parking
Take Lougheed Highway / Hwy #7 east towards Mission. Drive through Mission and turn left onto turn left onto Sylvester Road. You will see a sign pointing you to Cascade Falls Regional Park just before this intersection. Follow Sylvester Road for about 15 km and then take a right on Ridgeview Road. The parking lot is a short drive down Ridgeview Road.
Google Map directions are here.
---
Other great similar hikes
Flood-Hope Falls (Chilliwack)
Brandywine Falls (Whistler)
Cypress Falls (West Vancouver)
Download the PDF version of this guide for offline use
Enter your email to receive the free PDF version of this guide. You will receive the file immediately in your email, and will also gain access to the monthly Outdoor Vancouver newsletter.
---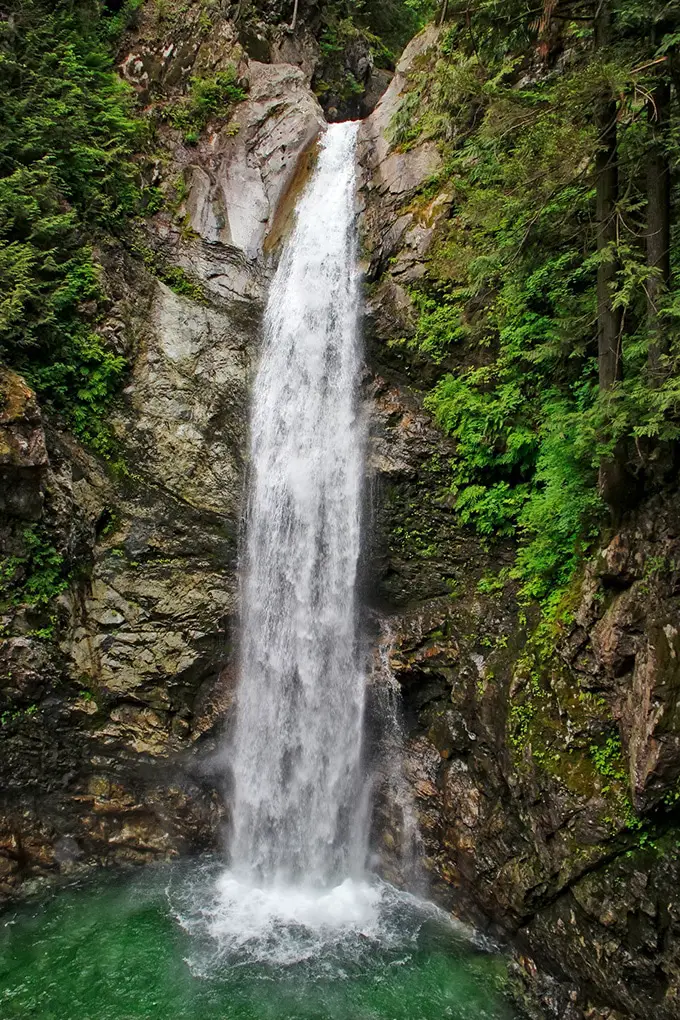 Outdoor Vancouver Apparel