With the COVID-19 Coronavirus it has been a confusing time for all of us to find suitable hiking trails. Some trails never closed. Some trails closed but have now reopened or have partially reopened. And some trails are remaining closed for a while yet.
We have received some comments on our COVID-19 trail closures page, that while it is helpful to list what trails are closed, it would be nice to have an idea of what trails are actually OPEN. Where can we still hike during COVID-19? To help with that, we have created this list of some suggested hikes you can tackle until everything opens back up.
Not all the hikes listed below have our endorsement as being one of our 'favorite' hikes or the 'best' hikes around, but they meet a few key criteria:
They are currently open to the public, without any major restrictions on parking, or access (though parking may have some limitations and you may have to walk further than usual to the trailhead).
They are lower elevation hikes (to ensure they are mostly snow-free considering it is still early in the hiking season).
They are typically not the most popular or heavily trafficked trails (to make physical distancing easier).
If you are going hiking right now, please make sure you are mindful of the current recommendations for helping to reduce the spread of Coronavirus. This not only helps our parks and public places stay open, but it keeps everyone safe and healthy. 
As a reminder:
Keep 2 meters distance from others on the trails. It can be inconvenient but it is very important. 
Wash hands frequently (bring hand sanitizer with you).
Wear a mask (or an Outdoor Vancouver buff).
Double-check the park you are going to is open (we are doing our best to keep current but our page may not be 100% accurate every day, so it's worth checking multiple sources). So check social media, BC Parks, BC Hydro, Metro Vancouver Regional Parks, or the local municipality.
If you are sick, be respectful of others' safety and stay home.
While we have some suggestions below, there are tons of other hikes you can do. We recommend using the search filter on our list of hiking guides, and searching for trails that have a 'low' level of traffic (you can also filter by city, dogs-allowed, waterfalls, and many more hike features).

You can also read this post from Happiest Outdoors which has great advice:  15 Ways to Avoid Crowded Hiking Trails.

Some of these are also difficult trails – so do your regular homework and take regular safety precautions.
---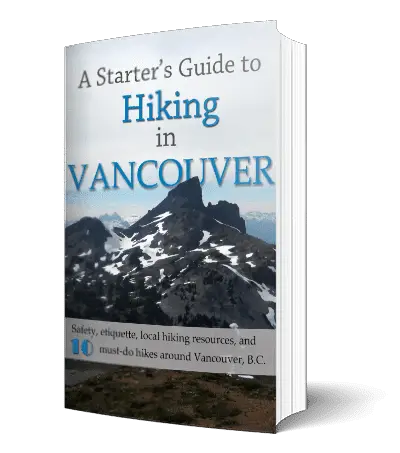 A Starter's Guide to Hiking in Vancouver.
Guides for 10 amazing hikes near Vancouver
Hiking safety and trail etiquette
Resources, hiking gear overview, and more!
---
Whistler
Brandywine Falls

The main gates will open at 8:00 am and close at 7:00 pm through May 31. Please note that parking has been reduced by 50% to maintain physical distancing due to COVID-19 response; plan to arrive early or on weekdays to ensure a parking spot.
Squamish
West Vancouver
Lighthouse Park

Parking lot is currently closed but the park is open. It is transit-friendly.
North Vancouver
Maplewood Flats

Facilities are closed but the trails remain open.

Lynn Peak

The parking lot is closed as is the road in. You will need to park outside the park and walk in.

Norvan Falls

The parking lot is closed as is the road in. You will need to park outside the park and walk in.
Burnaby
Coquitlam
Maple Ridge
Fraser Valley
We hope this helps give you a few ideas of some of the many great local trails that are currently accessible.
Please stay safe, and happy hiking!
---
Hiking Vancouver: Exploring Southwest British Columbia's Most Beautiful Trails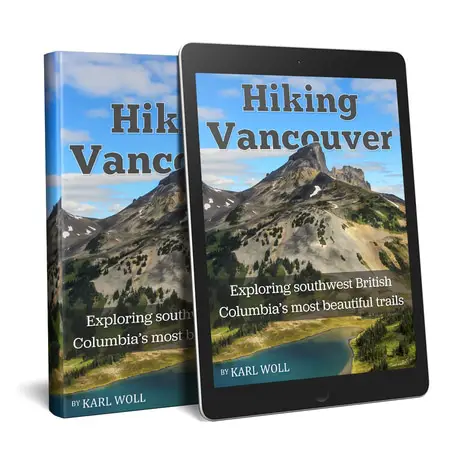 Want all 130+ of Outdoor Vancouver's hiking guides in one eBook? From the classics like The Chief and Black Tusk to the hidden gems, they're all here in over 500 pages!

Hiking Vancouver is your guide to the best hikes in southwest British Columbia.
Only $8.99 (or included with OV Patron membership)