---
Current Trail Closures around Vancouver and Southwest B.C.
Last update: 7:05 am, Dec 2, 2021
On this page we will do our best to keep a current list of all known trail and park closures in and around Vancouver. We'll also use this page to keep track of any trail restrictions that are seasonal or temporary (ie, winter closures, trail maintenance, or B.C. Parks' day-use passes).
If you are aware of a trail closure that isn't listed below, please let us know by emailing info [at] outdoorvancouver [dot] ca or sending us a message on Twitter. You can also leave a comment at the bottom of this page. Thanks, and safe hiking!
---
Current Trail Closures
Metro Vancouver Regional Parks
Due to flooding and hazardous conditions as a result of the Nov 14/15 storm, many Metro Vancouver parks are currently CLOSED or partially closed. A few of the impacted parks are Grouse Mountain, Kanaka Creek, and Colony Farm. See the current list here.
North Vancouver
Lynn Headwaters Regional Park
Quarry Rock – The trail is currently closed with no scheduled reopening date.
Grouse Mountain Regional Park – The entire park is currently CLOSED due to heavy rainfall and hazardous conditions. Details.

BCMC Trail – "Heavy rain has washed out a portion of the BCMC Route and Baden-Powell Trail, causing a debris slide which makes access dangerous. For now, the lower portion of the trails are CLOSED. A geotechnical assessment is underway to determine damage and needed repairs. To access either the BCMC or the Baden-Powell for now, a detour is in place using the Baden-Powell Trail and the Larsen Trail that allows hikers to connect with the upper part of the BCMC around marker 29/50. The detour will add an extra 30 minutes to the one-way BCMC trip". Updates from Metro Vancouver.

Capilano River Regional Park (Pacific Spirit Trail) – A section of the trail remains impassible due to landslide and it may takes months or years to restore.
Vancouver
Pacific Spirit Regional Park – "Many trails are closed and trees are down in a number of areas in the park due to the recent storm. Please avoid trails in the following areas for now:

area between University Boulevard and Chancellor Boulevard

Douglas Fir Trail (east of south campus area)
Canyons area (north of Chancellor Boulevard)

Park staff are assessing all trails and clearing downed trees. Please use extra caution on trails as there may be downed trees or debris". More from Metro Vancouver.
Tri-Cities
Buntzen Lake > Swan Falls Trail – "Due to a rockslide, there's no pedestrian access on Powerhouse Road between North Beach and Buntzen Dam. Swan Falls trail is also inaccessible to hikers at this time." Read the current updates on the B.C. Hydro website.
Buntzen Lake Loop > The suspension bridge near north beach has been closed as it is in need of replacement. There is currently no timeline for this to be completed. B.C. Hydro website.
Colony Farm – "​The western perimeter trail at Colony Farm Regional Park is closed until early 2022 to serve as a temporary staging and storage area for the Trans Mountain Expansion Project." More details on Metro Vancouver website.
Chilliwack & Hope
Othello Tunnels (Coquihalla Canyon Provincial Park )- CLOSED for the winter due to hazardous conditions and rockfall. The area sustained significant damage during the Nov 2021 storm. A timeline for re-opening is unknown. BC Parks has been slow to update their website, but you can always check here.
Mt Thom. CLOSED for repairs after recent damage.
Squamish & Whistler
Rainbow Lake Trail – and surrounding area is closed due to grizzly activity. (unclear if still in effect).
Rubble Creek Parking Lot – "The Rubble Creek trail is closed until further notice due to flooding, washouts, and unstable debris. BC Parks will re–evaluate opening the trails once debris has settled". This affects access to Garibaldi Lake. More details from B.C. Parks here.
Pemberton
Stein Valley Nlaka'pamux Heritage Park – Fully closed due to COVID-19. Latest details from B.C. Parks here.
B.C. Recreation Sites and Trails
See here for a full list of current closures across the province.
---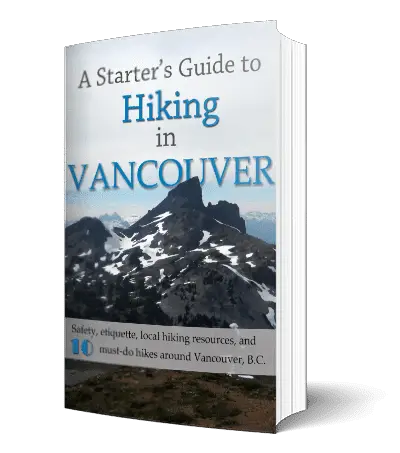 A Starter's Guide to Hiking in Vancouver.
Guides for 10 amazing hikes near Vancouver
Hiking safety and trail etiquette
Resources, hiking gear overview, and more!