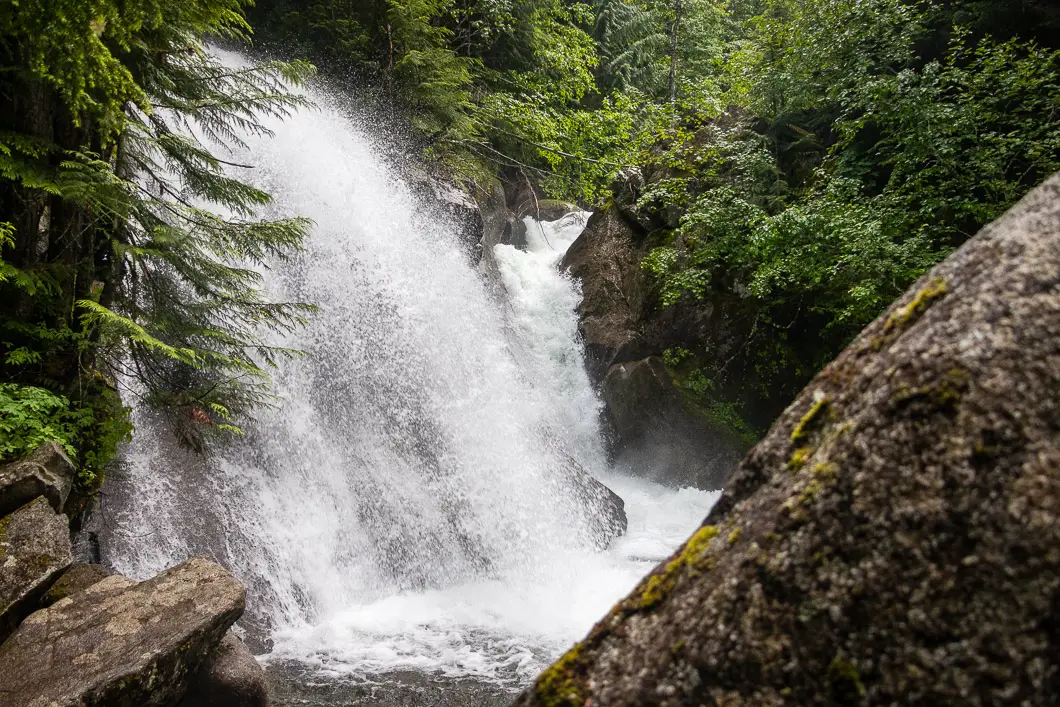 Rainbow Falls – Table of Contents
Rainbow Falls Hike Intro
Rainbow Falls in Whistler is a quick and easy hike that is suitable for the whole family.
The hike to Rainbow Falls starts at the same trailhead as the hike to Rainbow Lake, Hanging Lake, and Madeley Lake, but it is much shorter and easier than those.
The Rainbow Falls hike can be completed in a loop. It is a good option when you're looking for a short hike in Whistler with rewarding scenery that gets you into the forest.
Rainbow Falls is actually slightly hidden off the Rainbow Lake Trail so it can be tricky to find. The guide below describes a scenic loop that takes about 1 – 1.5 hours to complete at an easy pace.
---
Rainbow Falls Hike Stats
Rating: Easy
Distance: 2.8 km
Net Elevation Change*: 105 m
Highest Point: 774 m
Time Needed: 1.5 Hours
Type: Loop
Season: Year-round
Dogs Allowed: Yes, on leash (no dogs allowed at Rainbow Lake)
Est. Driving Time from Vancouver: 1 Hour 30 Minutes
Trailhead Coordinates: 50.130152, -122.985193
*For a better understanding of the stats and difficulty rating, check out the Hiking Guides page for details. Always carry The Essentials and fill out a trip plan.
---
Rainbow Falls Video
Here is a 2-minute video of our experience on this hike!
---
Rainbow Falls Hike Map and Elevation
Profile
Minimum elevation:
No data
Maximum elevation:
No data
Duration:
No data
---
Rainbow Falls Hiking Route
The Rainbow Lake Trail starts at the parking area off Alta Lake Road, which has room for about 16 cars (directions).
At the trailhead, there is a sign with information on the trails in this area. Walk past the sign and into the forest, along the Rainbow Lake Trail.
The start of the Rainbow Falls Trail is well-groomed and free of debris. As you start the trail, there's a zero kilometer marker. In a tree, there is also a 688 m elevation marker.
Twentyone Mile Creek is running on your right and can be seen through the trees. You'll be walking upstream, with a steep embankment to your right. The trail begins climbing uphill slightly, into the forest.
The trail zig-zags its way along and continues to climb gently.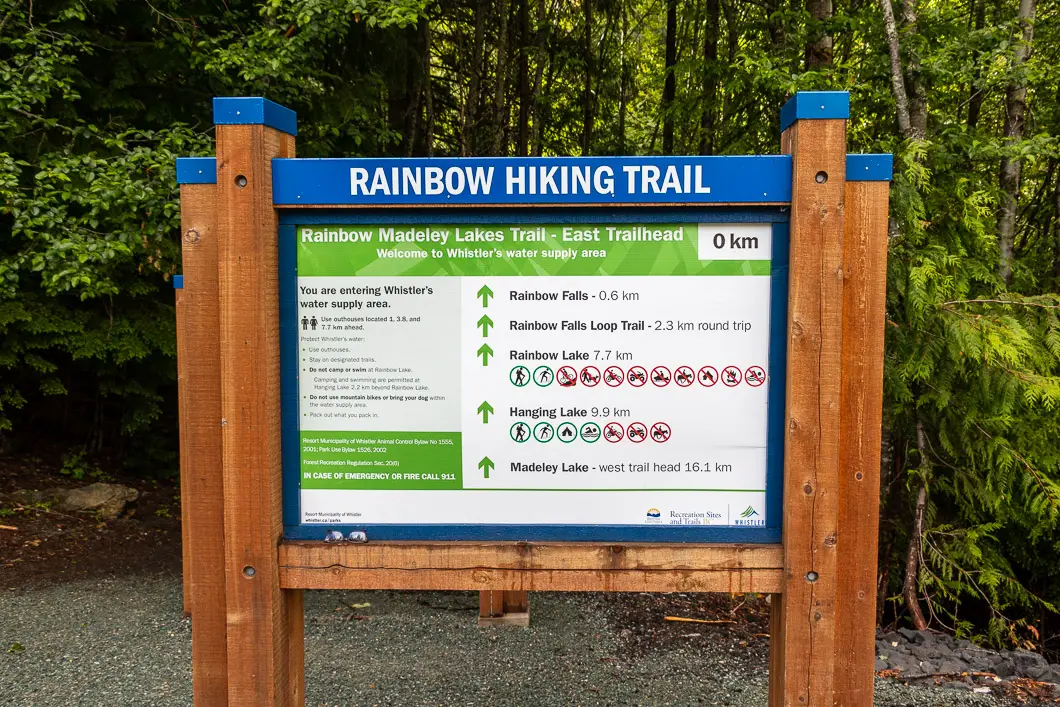 After half a kilometer or about ten minutes, you will pass by a forest service road on your left. You'll notice some felled trees here, but the trail continues to the right along the road. The trail is marked by orange flagging and the creek will still be on your right.
You will continue to hear the rushing water of Twentyone Mile Creek below. There are tiny orange markers in the trees, but even without them, the trail is easy to follow.
You will come to a junction. You can go right here to detour towards a smaller waterfall that lies below Rainbow Falls along the creek.
Check out the small falls along the detour, then head back to the main trail. You will walk another 200 metres or so along the trail that hugs the bank of the creek. Soon, you will reach Rainbow Falls itself.
Rainbow Falls is unique, in that it is actually two converging waterfalls.
With most waterfalls, spring is the best time to view them in full glory. However, Twentyone Mile Creek is strong enough that Rainbow Falls is great to see even in the late summer.
From the falls, you can head straight back to your car if you want, but making a loop by taking the Flank Trail is much more interesting and not much further.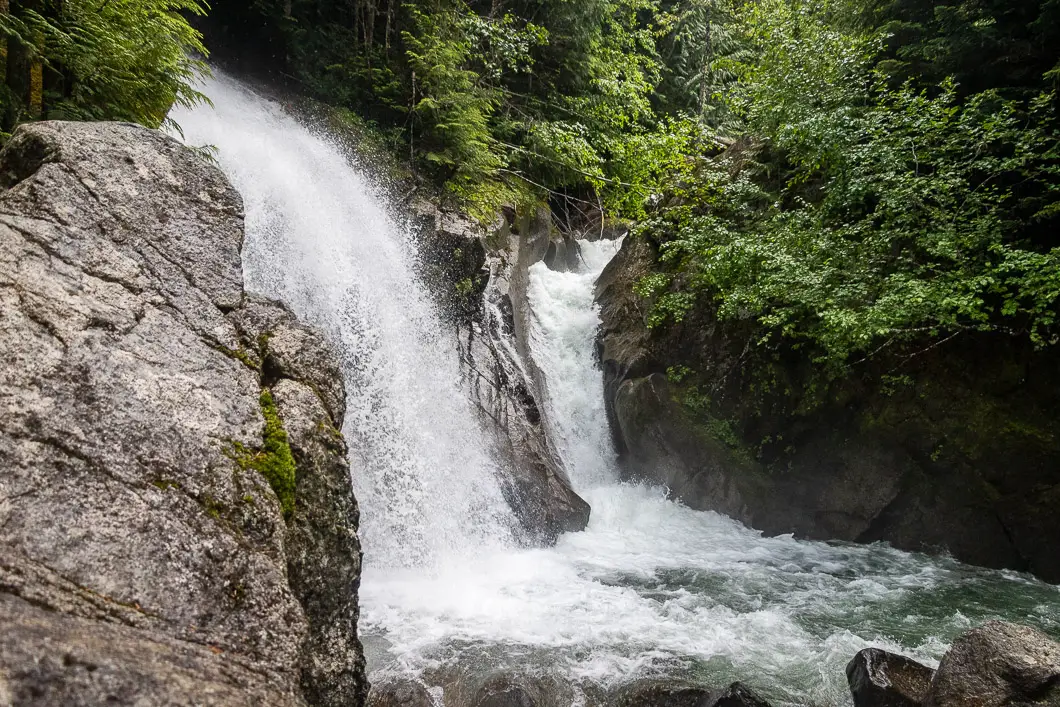 Between the first detour lookout (lower falls) and Rainbow Falls itself, there's a trail that splits sharply up a hill.
Walk up that trail for a few minutes and you will come to a gated building that says "Welcome to Whistler's water supply area". There's a service road here and the Rainbow Lake Trail splits off to the left (marked for 7 km). Instead, go right, where the sign says you can take the Flank Trail. It is another 1.5 kilometers from this point back to the parking lot.
At this point, you'll be walking on a wide, gravel road. Again, the creek is down on your right through the trees. The trail here is flat, and you will come to a point where you notice a wooden pedestrian bridge over the creek.
Keep walking, and a view of the valley will open to your right.
The road will come to an end, and there will be a fence. But you'll see a marked sign for the Flank Trail which directs you off the road down to a single-track trail.
You will double back, with the creek now on your left. After a minute or two, you'll come to the wooden bridge which will take you over Twentyone Mile Creek.
Cross the bridge, which gives you a nice view of the powerful creek.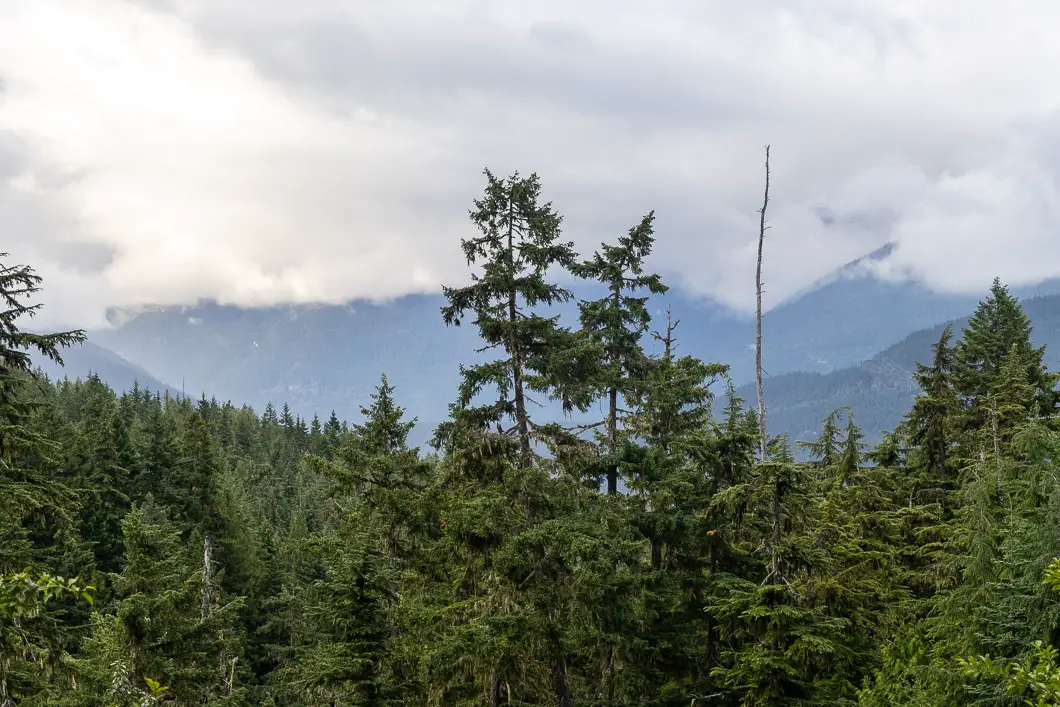 After the bridge, you'll come to the top of Rainbow Falls, where you have a different perspective on the falls than before.
From the top of the falls, the trail climbs uphill. The trail here is well-maintained.
You will come to a sign that says 'Rainbow Falls Trail – Recreational Trail'. It is easy to stay on track as the trail zig-zags around.
The trail will begin dropping in net elevation and you'll hear the creek off to your right. You will cross a small footbridge over a stream.
After about five minutes or so, you will come to a junction. Stay to the right (the left is marked for Bob's Rebob Trail). Stay right on Flank / Rainbow Loop Trail and it will continue to drop.
It takes another five minutes or so before you reach Alta Lake Road and emerge out at the parking lot, completing the hike.
---
Download the PDF version of this guide for offline use
Enter your email to receive the free PDF version of this guide. You will receive the file immediately in your email, and will also gain access to the monthly Outdoor Vancouver newsletter.
---
Help Us Create New Hiking Guides!
Advertising revenue is falling quickly across the internet, and independently-run sites like Outdoor Vancouver are hit hardest by it. We are committed to keeping Outdoor Vancouver free and independent, but we need to find other ways to continue operating this site.

If you like our hiking guides and would like to help, please consider making a contribution with the PayPal or Patreon links below – any amount helps! There is also a list of other ways you can support Outdoor Vancouver here!
Becoming a Patron through Patreon unlocks membership benefits and rewards. Learn More.
A one-time donation through PayPal helps with monthly website hosting costs.
---
Directions and Parking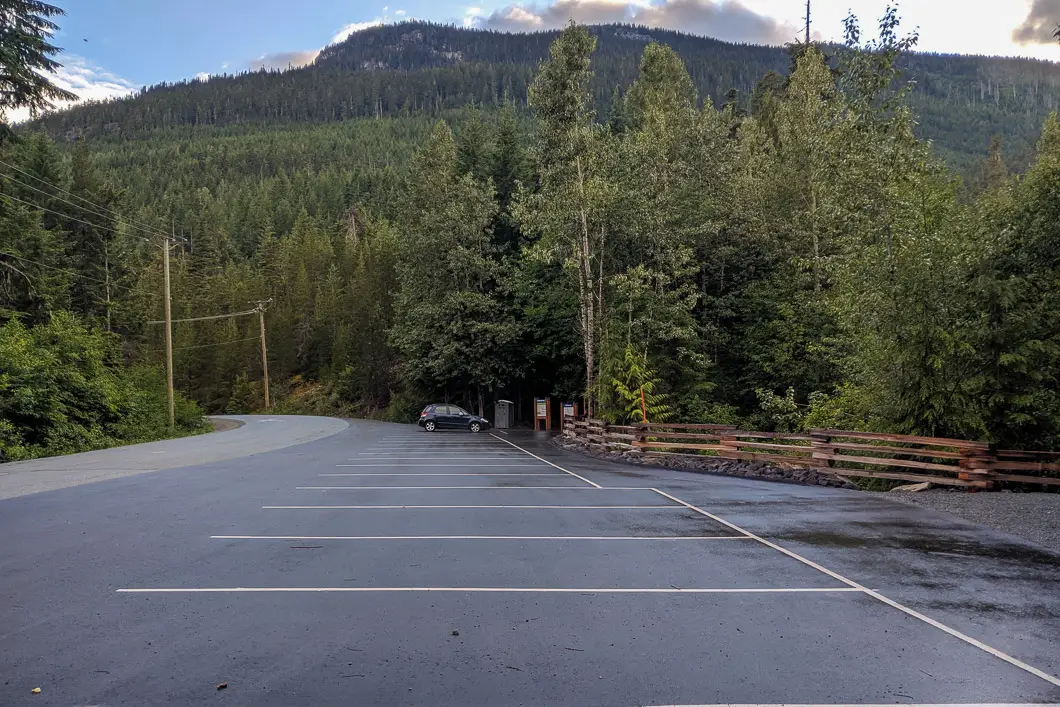 Take the Sea to Sky Highway north, towards Whistler.
In Whistler, exit the highway taking a left onto Alta Lake Road.
Follow Alta Lake Road for 6 km. You will pass Alta Lake on your right. Just before the parking area, you will pass Whistler Cemetery on your left. Pull into the paved parking area off the side of the road.

Google Map directions are here.
---
Other great hikes in this area
---
Download the PDF version of this guide for offline use
Enter your email to receive the free PDF version of this guide. You will receive the file immediately in your email, and will also gain access to the monthly Outdoor Vancouver newsletter.
360° Photosphere (click and drag to look around)
---
Outdoor Vancouver Apparel