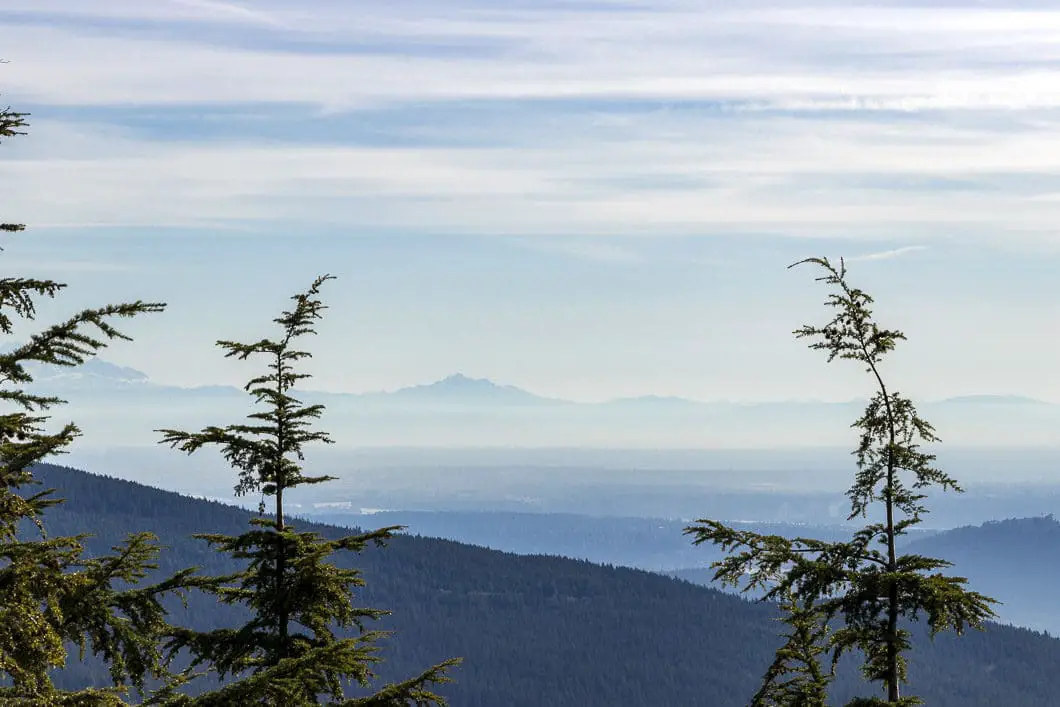 Lynn Peak Hike – Table of Contents
Lynn Peak Hike Intro
Lynn Peak is a well-traveled hike in Lynn Headwaters Regional Park in North Vancouver. This is a very steep trail, sometimes drawing comparisons to the Grouse Grind, and there is a great view of Vancouver from the peak.
The hike itself is normally done only to the lookout, and not to the actual summit of Lynn Peak – which lies a several hundred meters further up the ridge. The stats below reflect the distance and elevation to the lookout, and not Lynn Peak proper.
From Lynn Peak you can access The Needles (South Needle, Middle Needle and North Needle) – a very challenging hike.
TRAIL CLOSED – Lynn Headwaters Park Winter Backcountry Closure in Effect

Unpredictable and rapidly changing hazardous mountain weather conditions may include:

~ Snow, ice and slippery conditions in steep terrain
~ Heavy rainfall
~ Rock and ice fall
~ Lack of visibility (whiteout caused by fog and/or snow)
~ No trail markers
---
---
Lynn Peak Hike Stats*
*To the lookout area only
Rating: Moderate
Distance: 8.3 km
Net Elevation Change*: 721 m
Highest Point: 921 m
Time Needed: 4 hours
Type: Out-and-back
Season: May to October
Dogs Allowed: Yes
Est. Driving Time from Vancouver: 30 Minutes
Trailhead Coordinates: 49.359619, -123.027950
*For a better understanding of the stats and difficulty rating, check out the Hiking Guides page for details. Always carry The Essentials and fill out a trip plan.
---
Lynn Peak Video
Here is a 5-minute video of our experience on this hike!
---
Lynn Peak Hike Map and Elevation
Profile
Minimum elevation:
No data
Maximum elevation:
No data
Duration:
No data
---
Lynn Peak Hiking Route
From the parking lot, there is an information board with a map and details about the hiking trails in the area. From the signboard, you will cross the bridge over Lynn Creek. Immediately, you'll come to a hiker registration station where you can fill out a form and drop it in the box (just in case), and keep a stub to drop in on your return.
From the registration box, head to your right. Follow the wide, gravel road and after a few hundred meters you will come to a large junction which is well-marked. Head left, up the trail marked for Lynn Loop (heading straight would take towards Rice Lake and the Lower Seymour Conservation Reserve).
From this fork, the wide Upper Lynn Loop Trail begins climbing upwards, and is marked by yellow tree-markers. Follow the trail for about 800 m and keep and eye out for the Lynn Peak junction. You'll see a sign for Lynn Peak Trail where you will head right, leaving the Lynn Loop Trail.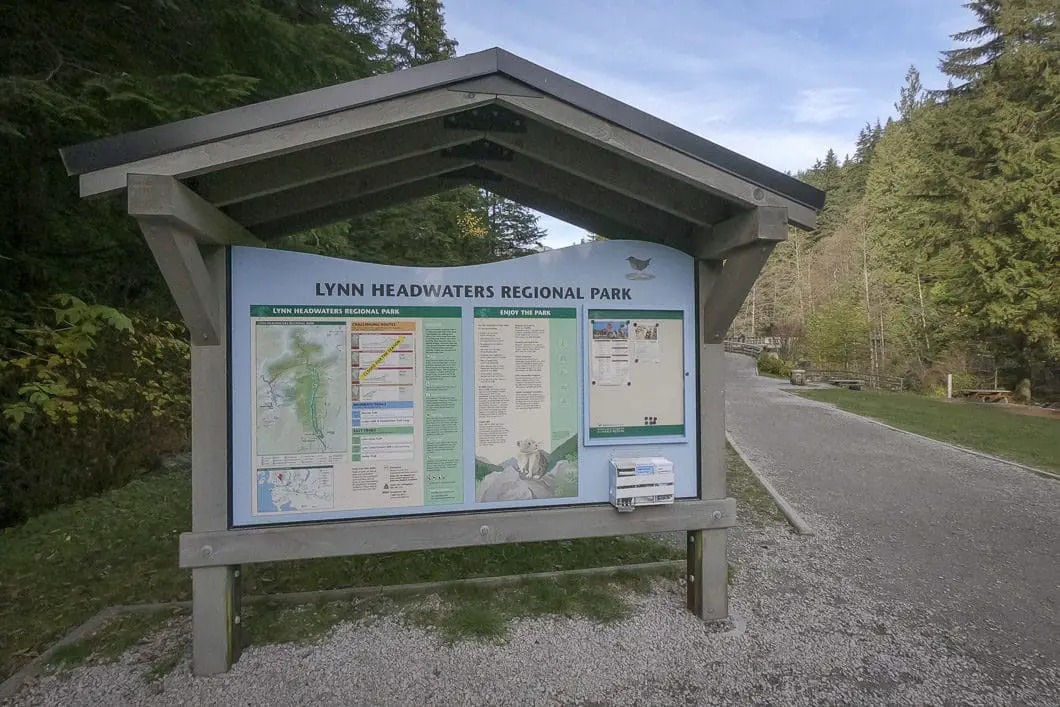 From this point, the trail will become even steeper and it will continue like this until the lookout is reached. The trail is well-marked and there are no further junctions, so navigation is easy. As the trail climbs, it will become rocky, making footing a slight challenge in places. If you are hiking after a recent rainfall, there will also likely be water pouring down the lower portion of the trail, so be prepared for wet feet.
There are a few lookout points along the way that offer partial views of Mount Seymour. The first one is about 3.4 km in, or about 30 minutes after leaving the Lynn Loop Trail. Here you will have a view across to Mount Seymour and to the Seymour River valley below.
Continuing along the trail, you will come to the so-called 'enchanted forest' – a grove of old-growth trees which escaped the massive logging that took place in the area – starting at an elevation of about 650 m. After about 40 minutes from the first lookout, you will come to another clearing in the trees with a view east towards Mount Seymour known as Blimp Lookout.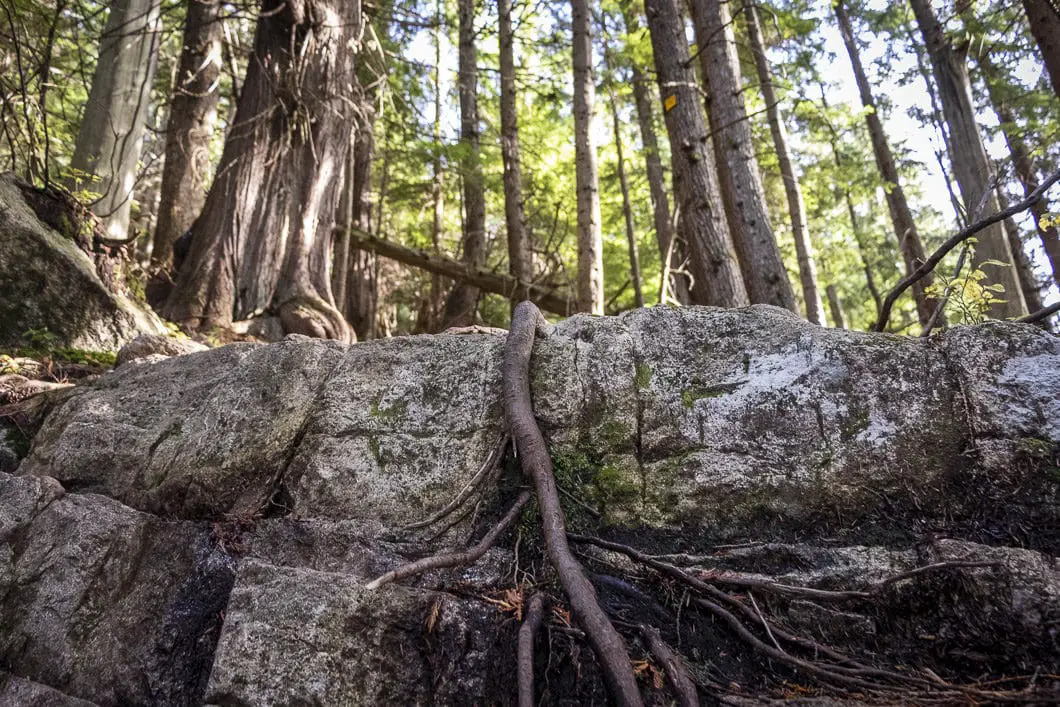 Cool fact: "[The lookout] was once a blimp tethering station. No effort was spared logging Lynn Peak; 40 years ago, the blimp was used to lift logs off the mountain". [source]
It's only another 30 – 40 minutes from here before you reach the Lynn Peak Lookout. There is a quick split in the trail near the lookout – going left or right doesn't matter as both routes are marked, and take you quickly to the stunning view.
When you get to the bluff, you will look onto Mount Elsay and Mount Seymour to the east, the Seymour Demonstration Forest below you, and Vancouver and beyond to the south. How far south you can see is only limited by the day's visibility. Your view to the west is limited by the trees, however, and you can't see downtown Vancouver.
From here, you can rest up and get ready to head back out the way you came.
If you wish to continue further along the trail, further details are below.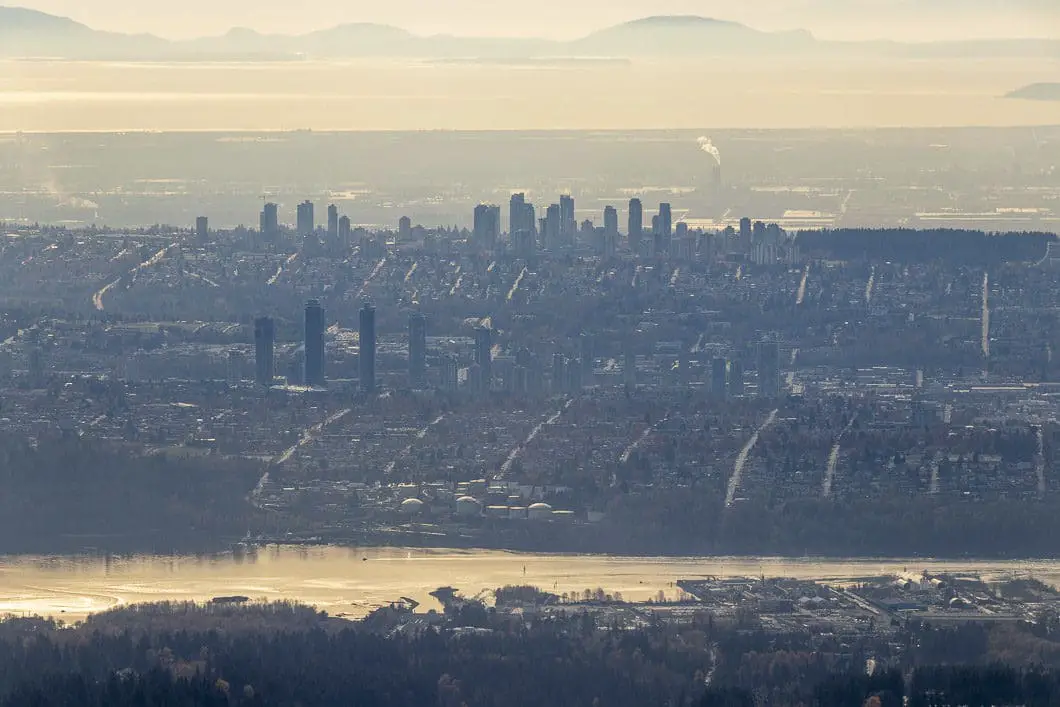 ---
Download the PDF version of this guide for offline use
Enter your email to receive free PDF version of this guide. You will receive the file immediately in your email, and will also get access to the monthly Outdoor Vancouver newsletter.
---
Hiking from the lookout to Lynn Peak proper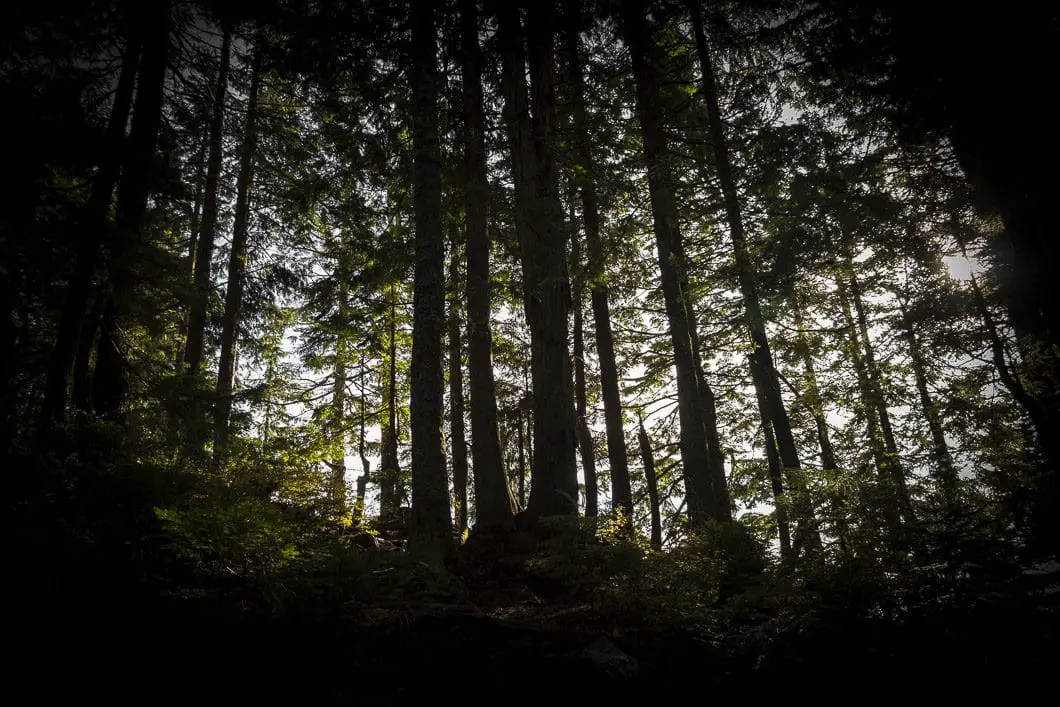 99% of the people who do this hike will stop at the Lynn Peak lookout area and turn around. It's hard to blame them; the trek to the lookout is a solid workout, and the views further along the ridge at Lynn Peak summit are very limited. However, if you want to extend your hike by about 4 kilometers, you can continue further up the hill to reach the actual summit.
Leaving the lookout area, you will head to the right (north), and walk passed the sign directing you back to the parking lot. Behind it, you will see a well-defined trail, marked with blue flagging.
As you hike, the flagging will change from blue to orange, but the trail itself is easy enough to navigate without the flagging. Follow the trail, and it will drop sharply. You will climb quickly back up and about 600 m from the lookout you will be at South Lynn Peak an elevation of 999 m. As you climb the narrow ridge there are partial views on either side, but no open lookout spots.
Continuing on from South Lynn Peak, it's roughly 1.1 km to Lynn Peak which has an elevation of 1,015 m. The trail will drop down sharply again and level off for about 300 m before doing another drop. The final 500 m are an upward push to Lynn Peak. The peak is not marked, and there is no jaw-dropping, rewarding viewpoint. You can simply note the summit as 'bagged' and return back the way you came.
Beyond Lynn Peak, the trail continues along the ridge towards the South Needle – a more challenging hike. If you reach a junction marked for South Needle and Hydraulic Creek you've gone too far beyond Lynn Peak and can turn around.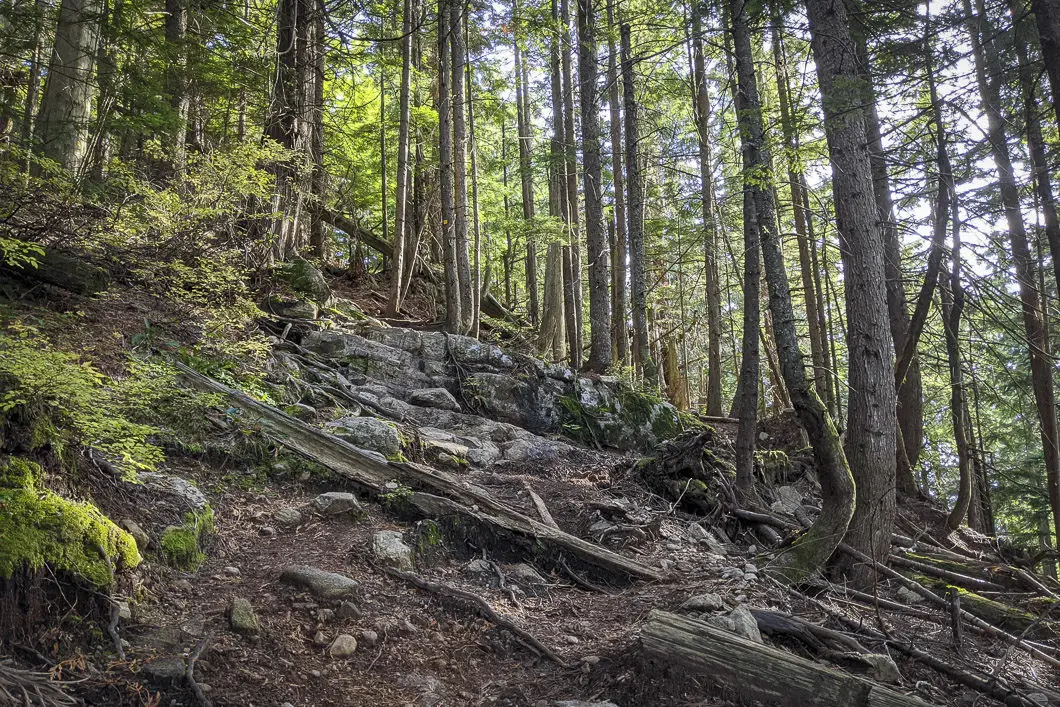 ---
Directions and Parking
From Highway 1 take the Lynn Valley Road (exit #19 north) in North Vancouver. Follow the road all the way up the the Lynn Headwaters Regional Park parking lots.
Google Map directions are here.
You can also start this hike from the Lower Seymour Conservation Reserve by taking the Lynn Headwaters Connector Trail to the Upper Lynn Loop Trail.
---
Help Us Create New Hiking Guides!
Advertising revenue is falling quickly across the internet, and independently-run sites like Outdoor Vancouver are hit hardest by it. We are committed to keeping Outdoor Vancouver free and independent, but we need to find other ways to continue operating this site.

If you like our hiking guides and would like to help, please consider making a contribution with the PayPal or Patreon links below – any amount helps! There is also a list of other ways you can support Outdoor Vancouver here!
Becoming a Patron through Patreon unlocks membership benefits and rewards. Learn More.
A one-time donation through PayPal helps with monthly website hosting costs.
---
Other great hikes in this area
---
Download the PDF version of this guide for offline use
Enter your email to receive free PDF version of this guide. You will receive the file immediately in your email, and will also get access to the monthly Outdoor Vancouver newsletter.
---
360° Photosphere (click and drag to look around)
---
Outdoor Vancouver Apparel