Norvan Falls – Table of Contents
Norvan Falls Hike Intro
Norvan Falls is a spectacular waterfall hike located in Lynn Headwaters Regional Park, in North Vancouver. The trail to Norvan Falls runs parallel to Lynn Creek and is relatively flat.
It is also accessible for most, if not all of the year, making it a great hike for the months where other trails at higher elevations are buried in snow. For this reason, this trail is also a favorite for early season trail running.
While there is no sweeping vista to enjoy on this hike, the waterfall is beautiful, and the trail through the forest is itself rewarding. This is also a great trail for dogs, as the trail has only a gentle grade and there are plenty of water opportunities along the way to Norvan Falls.
---
Norvan Falls Hike Stats
Rating: Moderate
Distance: 14 km
Net Elevation Change*: 195 m
Highest Point: 375 m
Time Needed: 5 Hours

Type: Out-and-Back
Season: Year-round
Dogs Friendly: Yes
Est. Driving Time from Vancouver: 30 Minutes
Trailhead Coordinates: 49.359619, -123.027950
*For a better understanding of the stats and difficulty rating, check out the Hiking Guides page for details. Always carry The Essentials and fill out a trip plan.
---
Norvan Falls Video
Here is a 2-minute video of our experience on this hike!
---
Norvan Falls Hike Map and Elevation
Profile
Minimum elevation:
No data
Maximum elevation:
No data
Duration:
No data
---
Norvan Falls Hiking Route
At the end of the parking lot, there is an information board and park brochures you can take, if available. There is also a large map and some details about the hiking trails in the area – along with their estimated completion times.
From here, head north to the bridge that goes over Lynn Creek. Immediately, you'll come to a hiker registration station where you can fill out a form and drop it in the box (just in case). Go left from the registration station, onto the wide path. The first part of the hike is easy. You will follow the flat, wide Lynn Loop Trail north through second-growth forest for 1.8 km until you come to a junction and a trail sign.
Going right here would take you up to Upper Lynn Loop and Headwaters Trails, which is a possible alternative route you can take to Norvan Falls, but adds more elevation and difficulty to the hike. Instead, keep heading north along the Lower Lynn Loop Trail. After about 1.8 km you will connect onto the Cedars Mill Trail, staying left and following the creek.
Cedars Mill Trail is aptly named; during this hike you will walk by many pieces of evidence of the extensive logging that took place in Lynn Valley in the early 1900's, including a four-wheel log transporter.

Follow Cedar Mills for about another 2.1 km until you come to an open area, known as Third Debris Chute, where you will join up with the Headwaters Trail. This is a good rest point, as you soak in the great view of Goat Ridge and Mount Fromme.

Walking up the loose rocks at the debris chute, you will see the junction where the trail joins Headwaters Trail. Follow the junction to the north. From here the trail narrows into singletrack and becomes more challenging.
---
Help Us Create New Hiking Guides!
Advertising revenue is falling quickly across the internet, and independently-run sites like Outdoor Vancouver are hit hardest by it. We are committed to keeping Outdoor Vancouver free and independent, but we need to find other ways to continue operating this site.

If you like our hiking guides and would like to help, please consider making a contribution with the PayPal or Patreon links below – any amount helps! There is also a list of other ways you can support Outdoor Vancouver here!
Becoming a Patron through Patreon unlocks membership benefits and rewards. Learn More.
A one-time donation through PayPal helps with monthly website hosting costs.
---
From Third Debris Chute
Keep going north, following the numerous yellow trail markers. The trail will cut away from Lynn Creek and begin to roll up and down a bit. You will also pass over several rocky streams.

After about 3 km from the 3rd Debris Chute, you will come to a junction where you can go right to Coliseum Mountain – an ambitious undertaking. Stay left. Just beyond this point is another junction where you can head left to the Hanes Valley Trail and also to Lynn Lake (also ambitious hikes for another day) by crossing over the metal suspension bridge.

Go right, in the direction marked for Norvan Falls. From here, there are only a few hundred meters remaining, and it's a quick uphill climb to reach the 30-meters tall Norvan Falls.
There is a viewpoint at the very top of the trail, but be careful not to get too close to the edge of the cliff. If you want to scramble down into Norvan Creek for a different view of the falls, there are a few safer spots to do so a little further back down the trail, but caution must be taken.
Cool fact: "The area was, in fact, home to mining activity in the early 1900s. The old Mountain Lion and Copper Duke claims explored zinc and copper deposits just south of Norvan Creek. The trails leading to the claims are long overgrown. But some remnant tunnels, shafts, and cuts lie just below the forest floor, so it's best not to go off-trail."[source]
From the view of the falls, you can rest up and get ready to head back out the way you came.
If you wish to add some variety to the hike back, instead of taking the Cedars Mill Trail, you can take the previously mentioned Headwaters Trail and Upper Lynn Loop from the Third Debris Chute all the way back to the parking lot, but this will add some distance and time to the trip.
You can check out the Metro Vancouver website for the Lynn Valley Regional Headwaters park for the latest trail conditions.
Lastly, if you want to add even more distance to this hike, you can also start at the Lower Seymour Conservation Reserve and access Lynn Headwaters Regional Park via the Lynn Headwaters Connector Trail, which skirts the west side of Rice Lake.
Download the PDF version of this guide for offline use on any device
Enter your email to receive the free PDF version of this guide. You will receive the file immediately in your email, and will also receive the free monthly Outdoor Vancouver newsletter.
---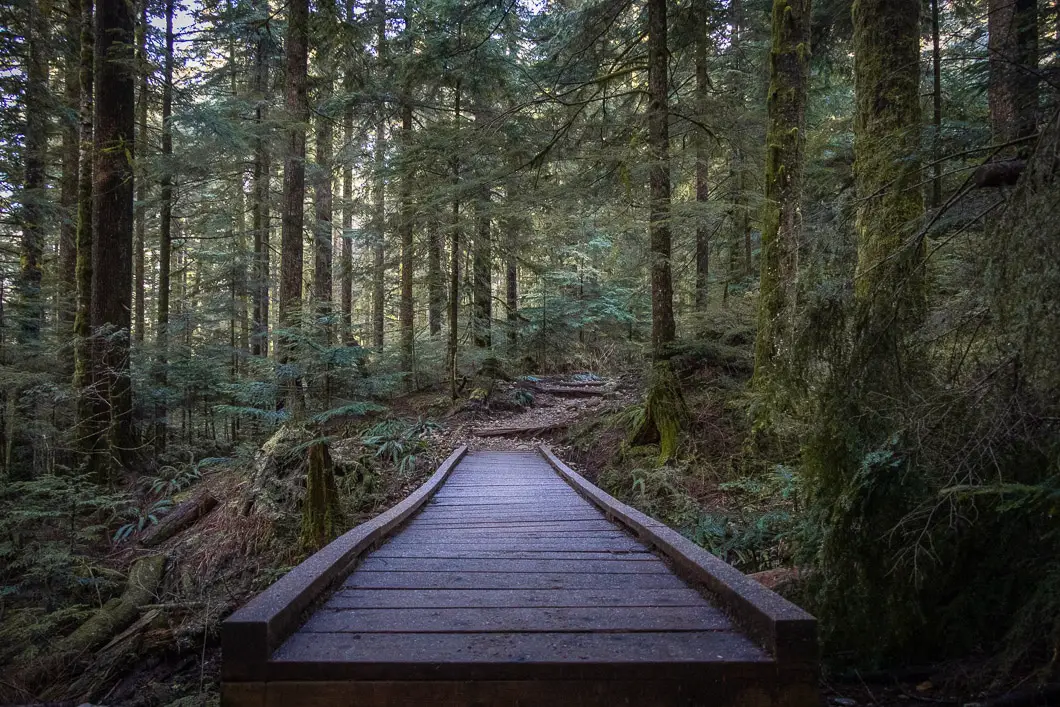 Directions and Parking
From Highway #1 westbound take the Lynn Valley Road (exit #19 north) in North Vancouver. Simply follow Lynn Valley Road all the way up into the Lynn Headwaters Regional Park parking lots, which are located on Lynn Valley Road, just beyond the End of the Line Cafe. The park gates are closed at different hours depending on the season, so make sure to note the closing time to avoid being locked in.
Google Map directions are here.
---
Other great hikes in this area
Download the PDF version of this guide for offline use
Enter your email to receive the free PDF version of this guide. You will receive the file immediately in your email, and will also receive the free monthly Outdoor Vancouver newsletter.
360° Photosphere (click and drag to look around)
---