Mount Seymour – Table of Contents
Mount Seymour Hike Intro
Mount Seymour trail offers three different peaks of stunning views. These peaks are commonly referred to as Pump Peak, Tim Jones Peak, and Mount Seymour Peak. While Pump Peak and Tim Jones Peak can be destinations of their own, it is most common to hike to the third and final peak, the summit of Mount Seymour.
From the summit of Mt. Seymour there are views of Vancouver, the Lower Mainland, the Indian Arm and of what appears to be a never-ending stretch of coastal mountains. On a clear day you can even see Vancouver Island.
As these incredible views are available on a moderately difficult hike and from an easily accessible trailhead, Mount Seymour is one of the most popular North Vancouver hiking spots. As such, be prepared for crowded trails if going on the weekend.
---
Mount Seymour Hike Stats
Rating: Moderate
Distance: 9 km
Net Elevation Change*: 450 m
Highest Point: 1,449 m
Time Needed: 5 Hours
Type: Out-and-back
Season: July to October
Dogs allowed: Yes, on-leash
Est. Driving Time from Vancouver: 30 Minutes
Trailhead Coordinates: 49.367516 -122.949211
*For a better understanding of the stats and difficulty rating, check out the Hiking Guides page for details. Always carry The Essentials and fill out a trip plan.
---
Mount Seymour Video
Here is a 2.5-minute video of our experience on this hike!
---
Mount Seymour Hike Map and Elevation
Profile
Minimum elevation:
No data
Maximum elevation:
No data
Duration:
No data
---
Mount Seymour Hiking Route
Because Mount Seymour is such a popular hike, the trail is well marked and staying on track is relatively easy as long as you follow the signs, tree-markers, and rocks marked with orange paint. That said, there are numerous side trails on Mt. Seymour, so always keep a keen eye out for trail markers to make sure you're staying on the main route.
The trail begins just north of the Mount Seymour ski resort parking lot. At the end of the parking lot there is an information board and map of the numerous trails, so you can get your bearings. To begin, head north up the trail that runs parallel to the Manning ski run. (If you take the trail bearing left, you'll be heading to Dog Mountain – a good, easier, hike for another day).
In about 500 m you will come to a junction marked for Dinky Peak Lookout. Keep straight here, and you'll come to the First Lake Trail junction in another 90 m. Again, keep going straight. Both junctions will be clearly marked with signs to keep you on track.
Keep following the orange markers, and at roughly 1.2 km into the hike, you'll come out on a dirt road – which is once again the Manning ski run. Follow the ski run/ road uphill briefly before getting back on the trail past Sugar Bowl Pond in about 300 m. Make sure you get back onto the singletrack trail and don't inadvertently go up the steep road to the right, which is Mystery Peak.
From here, the trail becomes steeper. You will come to a junction where you can do a quick detour on a rocky point on your left. This is Brockton Point, and it's worth the quick climb for the view.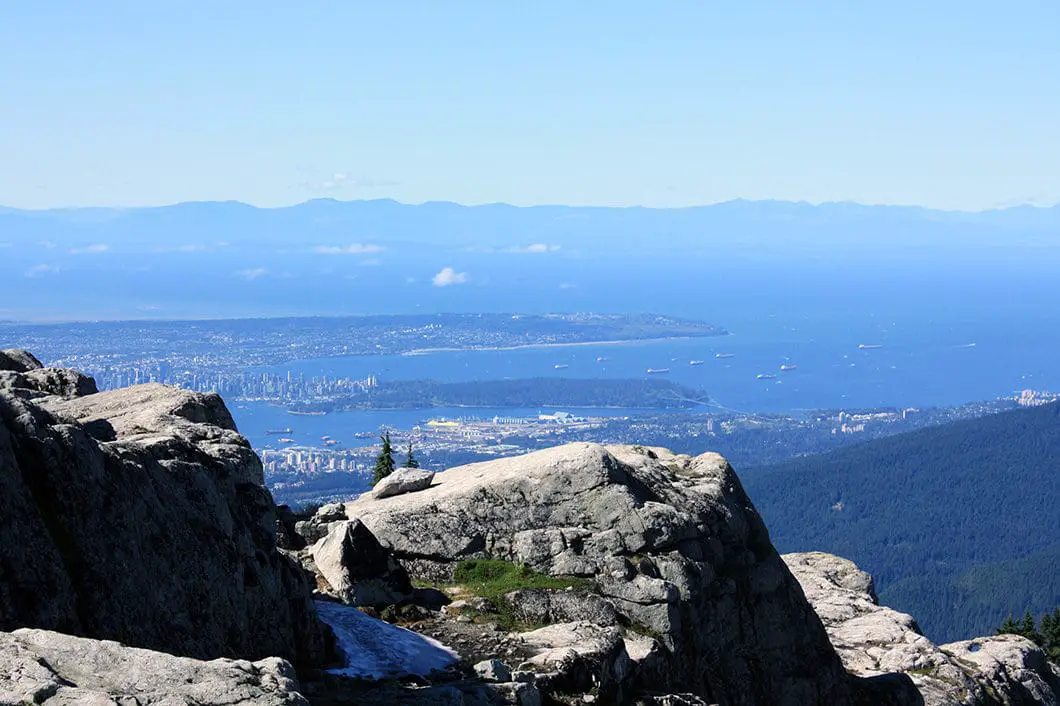 About 15 minutes past Brockton Point, and 3 km into the hike, you'll come to the turnoff for Elsay Lake and Mount Elsay, which is a much more ambitious undertaking than the trail to Mount Seymour. Following the trail left and up a steep section for a while longer, you'll soon be at a crest between Pump Peak and Tim Jones Peak. If you'd like, you can do a quick scramble up the rocks to your left to get a sneak-peak view of the Lower Mainland from the first peak. For many, the detour to Pump Peak is enough and marks the turnaround point for the day.
After a few photos and a quick rest, you'll follow the trail down a short way as it heads north towards Tim Jones Peak. Follow the orange paint on the rocks. The ascent up to Tim Jones is probably the most tiring part of the hike. You will come to a junction which marks the detour to the Time Jones Peak, 70 m away.
Here, there is a nice view of Coliseum Mountain, Crown Mountain, Lynn Peak and South Needle. From Time Jones Peak, you'll also be able to look north to the final destination of the third and final peak.
Cool fact: Tim Jones Peak was officially named by the B.C. government in 2017. It was previously known as 'Second Pump Peak'. The mountain was named in honor of the former North Shore Rescue leader, Tim Jones, who passed away in 2014. "Tim participated in more than 1,400 missions and he helped more than 1,600 people". [source]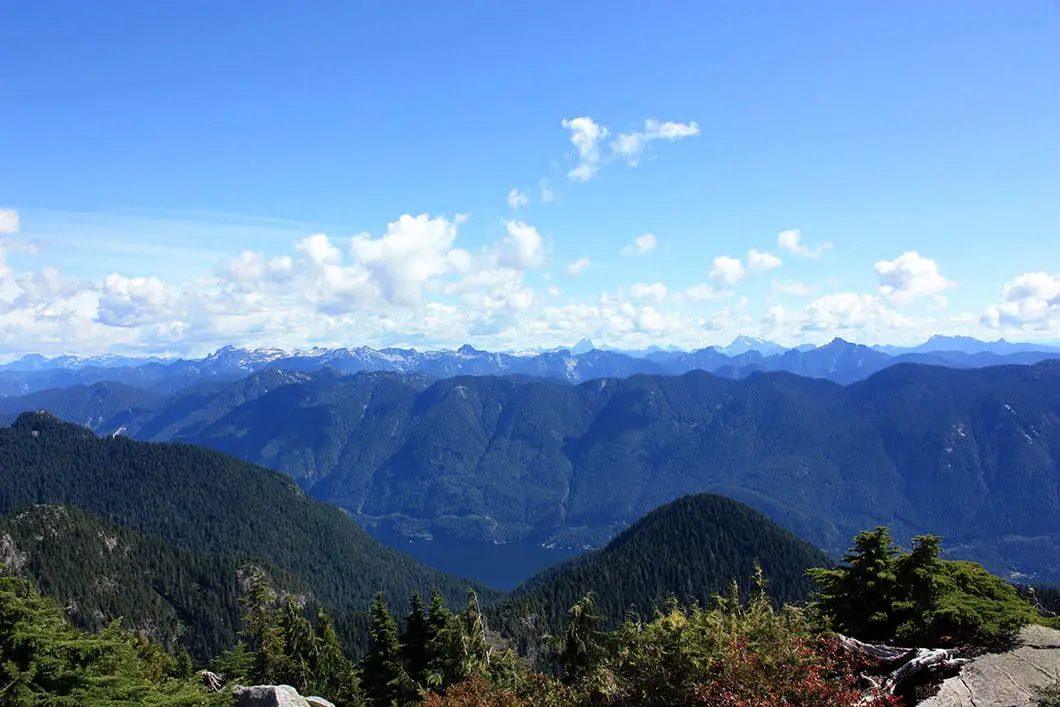 It looks close, but depending on the amount of snow or ice, the ascent to Mount Seymour can be dangerous with some very steep and technical sections. You will drop about 100 m of elevation in this section. Please be prepared, and don't take any unnecessary risks if there is still snow on the trail during a shoulder-season hike. You can always come back later in the summer when all the snow is gone and push on to the Mount Seymour summit.
The trail drops down to a saddle and carries on before reaching an exposed section of rock you will need to scramble up. (Sidenote: From the saddle there is a somewhat hidden trail that carries on a very difficult route to Mount Elsay). As you climb up the final ascent towards Mt. Seymour, a nice view of Vancouver opens up behind you.
Once you've reached the summit you can enjoy the rounded plateau with ample space for everyone to stretch out, grab a snack and soak in the 360-degree views.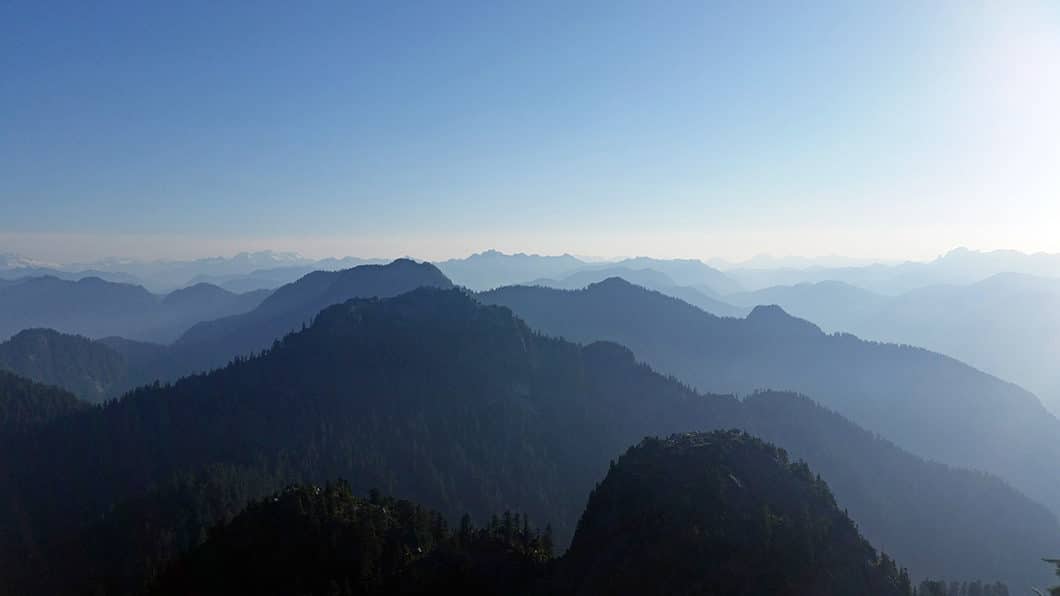 To the west, you can see Lynn Ridge, South Needle, Mount Fromme, Crown Mountain, and all the way to Vancouver Island if it's clear. To the east, you can see as far as Golden Ears. And directly north you can see Mount Elsay and Mount Bishop immediately in front of you. And off in the distance you can even spot the recognizable landmarks of Mount Garibaldi and Sky Pilot.
It's a spectacular view. Once you've soaked enough of it in, carefully retrace your steps back to the parking lot.
---
Download the PDF version of this guide for offline use
Enter your email to receive the free PDF version of this guide. You will receive the file immediately in your email, and will also gain access to the monthly Outdoor Vancouver newsletter.
---
Directions and Parking
Take the Mount Seymour exit off Highway #1 in North Vancouver. Take Mount Seymour Parkway until you come to sign for Mount Seymour Road. Take a left onto Mount Seymour Road and follow it up to the ski hill area. Park your car at the northern end of the top parking lot. Google Map directions are here.
---
Help Us Create New Hiking Guides!
Advertising revenue is falling quickly across the internet, and independently-run sites like Outdoor Vancouver are hit hardest by it. We are committed to keeping Outdoor Vancouver free and independent, but we need to find other ways to continue operating this site.

If you like our hiking guides and would like to help, please consider making a contribution with the PayPal or Patreon links below – any amount helps! There is also a list of other ways you can support Outdoor Vancouver here!
Becoming a Patron through Patreon unlocks membership benefits and rewards. Learn More.
A one-time donation through PayPal helps with monthly website hosting costs.
---
Other great hikes in this area
---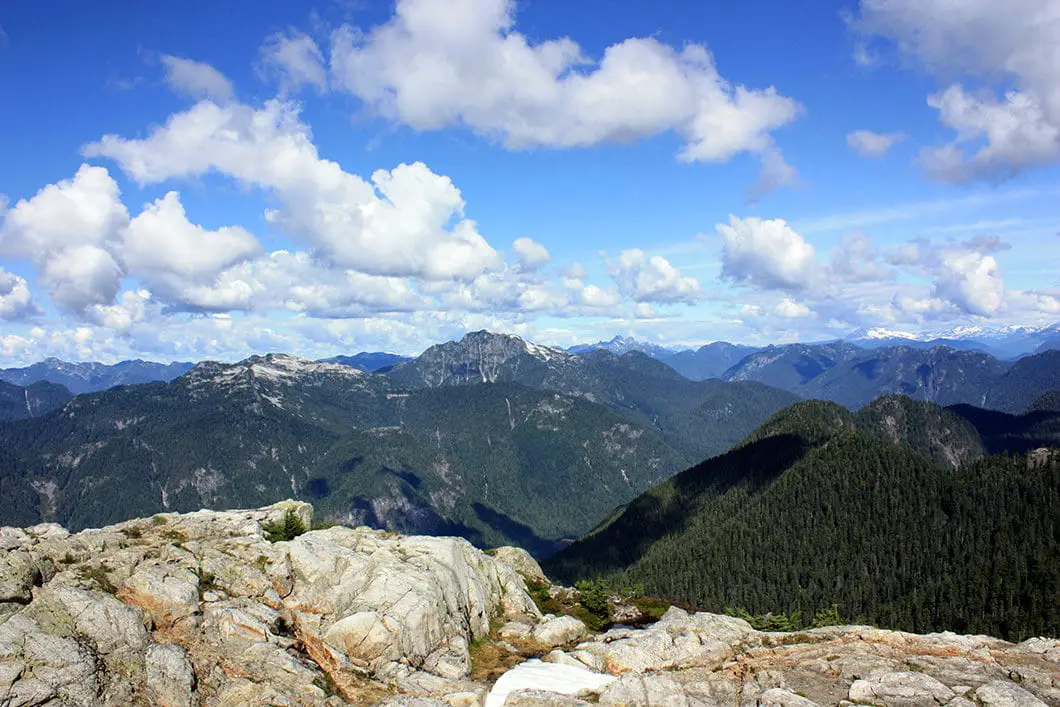 Download the PDF version of this guide for offline use
Enter your email to receive the free PDF version of this guide. You will receive the file immediately in your email, and will also gain access to the monthly Outdoor Vancouver newsletter.
---
Outdoor Vancouver Apparel