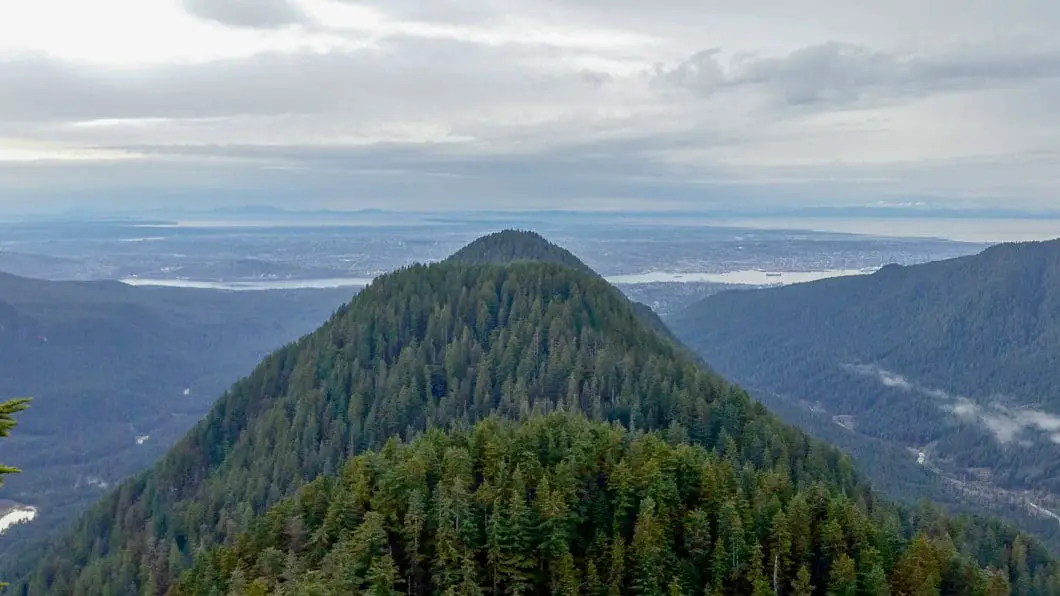 South Needle – Table of Contents
South Needle Hike Intro
Lynn Headwaters Backcountry Winter Closure
This hike and all backcountry routes at Lynn Headwaters Regional Park are now CLOSED due to hazardous winter conditions. This applies to routes beyond Norvan Falls (e.g. Hanes Valley, Coliseum Mountain and Lynn Lake) as well as routes in the Grouse subalpine (e.g. Dam Mountain, Thunderbird Ridge, Crown Mountain, Goat Mountain, Little Goat & Goat Ridge). See more from Metro Vancouver.

Unpredictable and rapidly changing hazardous mountain weather conditions may include:
– Snow, ice and slippery conditions in steep terrain
– Heavy rainfall
– Rock and ice fall
– Lack of visibility (whiteout caused by fog and/or snow)
– No trail markers
South Needle is a challenging hike in Lynn Headwaters Regional Park, which flies under the radar compared to a lot of the other nearby hikes like Norvan Falls and Coliseum Mountain. The hike takes you up to the popular Lynn Peak lookout, but then pushes further along Lynn Ridge and beyond Lynn Peak itself to a spectacular view at an elevation of 1,160 m at the summit of South Needle.
From South Needle you look over Lynn Ridge below, Lynn Valley to the west, and the Seymour Valley to the east. The hike is difficult, but navigation is relatively easy and it is well-worth the effort if you're looking for a strenuous day-hike.

Once you are beyond the Lynn Peak lookout, you are away from the crowds, and this is a hike you can also enjoy in relative isolation. The view is one of my favorites on the North Shore, for the unique perspective it provides of Lynn Peak and Lynn Creek.
A word of caution: This hike is not an officially maintained trail within Lynn Headwaters Regional Park. Once you are beyond Lynn Peak, there are no official trail markers, and the terrain is more difficult. I've been told by Metro Vancouver that many people get into trouble in this location and require help from Search and Rescue.
---
South Needle Hike Stats
Rating: Difficult
Distance: 16 km
Net Elevation Change*: 963 m
Highest Point: 1,163 m
Time Needed: 8 hours
Type: Out-and-back
Season: July to October
Dogs Allowed: Yes
Est. Driving Time from Vancouver: 30 minutes
Trailhead Coordinates: 49.359619, -123.027950
*For a better understanding of the stats and difficulty rating, check out the Hiking Guides page for details. Always carry The Essentials and fill out a trip plan.
---
South Needle Video
Here is a 3-minute video of our experience on this hike!
---
South Needle Hike Map and Elevation
Profile
Minimum elevation:
No data
Maximum elevation:
No data
Duration:
No data
---
South Needle Hiking Route
Sidenote: This guide will describe summiting South Needle via Lynn Ridge. It is also possible to complete this hike via the Lower Seymour Conservation Reserve, or by doing a loop of the two routes. The LSCR route is briefly described at the bottom.
Park at one of the Lynn Headwaters Regional Park parking lots and walk to the trailhead, located just over the Lynn Creek Bridge. Just across the bridge you will find an information board, along with a hiker registration station. You can register here, filling out your details and dropping the form into the box (holding onto the stub for your return).
From the registration station, walk along the wide gravel path to the right. Follow this road for a few hundred meters before coming to a large junction. Go left here, in the direction marked for the Lynn Loop Trail. The trail will climb up and within 15 minutes you will notice another well-marked junction. Here you will go right, in the direction marked for Lynn Peak.
The trail begins immediately climbing uphill at a fairly steep grade, and will remain steep until you reach the Lynn Peak lookout area. It will take you about 1.5 hours to reach the Lynn Peak lookout, and there isn't really any relief from the climbing. The trail is very well-defined and easy to follow, with no junctions to take a wrong turn on. You will simply follow the yellow tree-markers all the way to Lynn Peak lookout.
Once you hit an elevation of about 650 m along Lynn Peak Trail you will enter what is dubbed the Enchanted Forest – a beautiful stretch of large old growth forest filled with western hemlock, and yellow and red cedar. About 3.4 km into the hike you will come to a lookout on the right, overlooking Seymour Mountain. 600 m further along the trail you will come to another nice viewpoint, just to your right off the trail.
Once you hit the Lynn Peak lookout at an elevation of 921 m it's worth stopping a few minutes to enjoy the view and have a quick rest.
For a more detailed route description for Lynn Peak see the Lynn Peak hiking guide.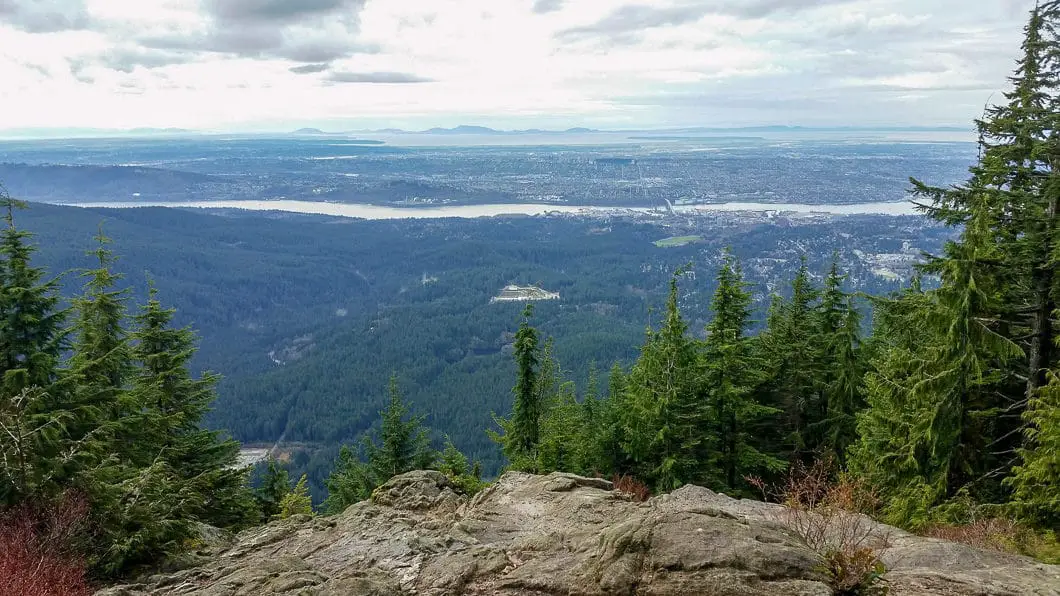 Continuing from Lynn Peak lookout
Once you're ready to leave the Lynn Peak lookout, head to the right (north) once you enter back into the trees. You will notice a sign with a large arrow pointing you back towards the parking lot. Ignore this sign, and just behind it you will see where the trail carries on along the ridge. There will be some blue and orange flagging you will follow to the next destination of South Lynn Peak. The trail will be flat for a while before actually dropping down sharply, and then climbing up quickly again.
The trail is not as well-marked beyond Lynn Peak but it is still well-defined and easy to navigate with the exception of a few spots where deadfall has created slight diversions of the route.
South Lynn Peak sits at 999 m elevation and has partial views through the trees on either side, but no open lookout spots. Moving passed South Lynn Peak, the trail once again drops sharply, before levelling off and dropping again. Finally the trail will begin climbing onwards to Lynn Peak. From South Lynn Peak to Lynn Peak all-told it's about 1.1 km of moderately difficult trail. The final 500 m are a difficult climb up to the Lynn Peak summit, which is unmarked and sits at 1,015 m. There is no spectacular viewpoint here. But don't worry, the view is coming once you reach South Needle.
Moving beyond Lynn Peak, the most technical stretch of trail awaits. The trail will drop very steeply on eastern side of Lynn Ridge. As you turn north to carry along the ridge again, you'll catch a glimpse of South Needle ahead of you.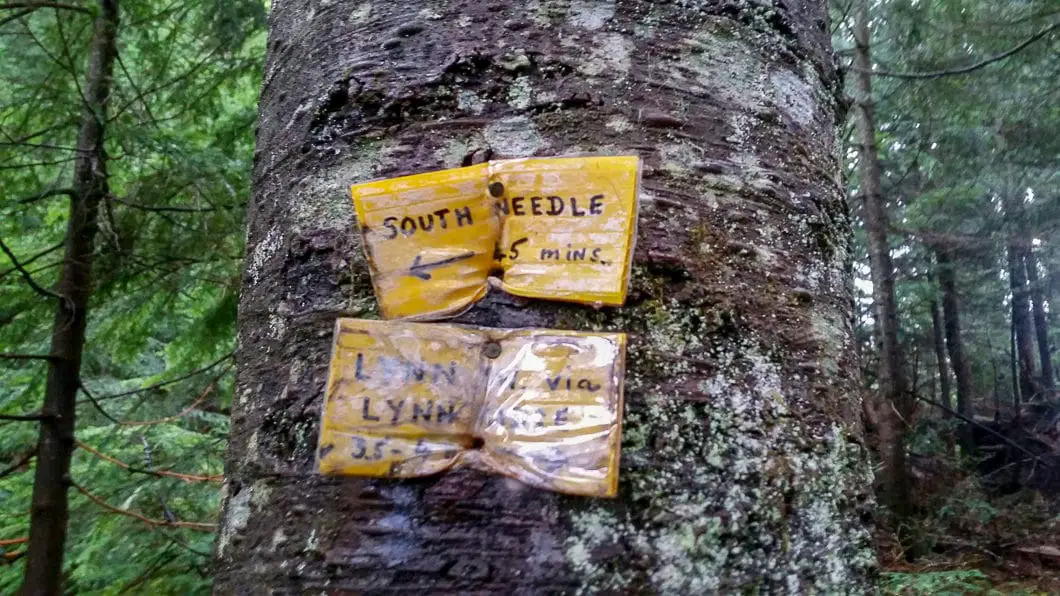 About 6.8 km into your hike you will come to a big junction for Hydraulic Creek Trail (the alternative route to tackle South Needle via the Seymour Demonstration Forest). Go straight. It's not too far from here, but there is some light scrambling ahead. Continue to follow the trail until you reach the exposed climb up South Needle.

You will emerge from the trees with an amazing view of Lynn Ridge directly below you to the south, and you can see the 'bumps' in the ridge you have just traversed. You will come out on a rocky bluff with a spectacular view, but don't stop here. Follow the flagging upwards into the trees again to be sure you reach the summit of South Needle where the views are even more amazing, and less-restricted to the north and east.
From the summit of the South Needle you can see Crown Mountain, Grouse Mountain, Mount Fromme and Lynn Creek to the east. Directly south you can see Lynn Ridge, Vancouver, Point Roberts, and perhaps Mt. Baker on a clear day. To the east you will see Mount Elsay, Mount Seymour and the Seymour Valley.
Directly to the north you will see another peak – Middle Needle. Behind it lies North Needle and beyond that the col to connect to Norvan Pass and Coliseum Mountain. Both Middle and North Needle can be bagged but it is strongly advised against. There is no defined trail to these mountains, and while there is some flagging, it is a very treacherous and dangerous route to only be undertaken by those with vast backcountry experience and confidence.

North Shore Rescue has plucked more than a few people from this 'route' who thought they could handle it only to get lost and stranded on steep cliffs. It really is treacherous terrain where mistakes could be fatal.
Soak up the amazing views from South Needle, eat lunch, and then head back out by retracing your steps. As mentioned earlier, if you do not wish to exit via Lynn Ridge you can take the Hydraulic Creek Trail down to the Seymour Valley Trailway, and navigate your way back to Lynn Headwaters, or have a second car waiting in the LSCR parking lot.
Download the PDF version of this guide for offline use
Enter your email to receive the free PDF version of this guide. You will receive the file immediately in your email, and will also gain access to the monthly Outdoor Vancouver newsletter.
---

---
Going via Hydraulic Creek Trail
It is possible to start this hike from the Lower Seymour Conservation Reserve, although I have not done this route personally. To go from this route, you would take the paved Seymour Valley Trailway 5.5 km to the bridge marked for Hydraulic Creek. About 10 m beyond the bridge there will be flagging in the trees on the north side. This trail will lead you up to the junction between Lynn Peak and South Needle, where you would go right to reach South Needle.
---
Directions and Parking
From Highway #1 heading west over the Ironworkers Memorial bridge, take exit #19 north, towards Lynn Valley Road. Follow Lynn Valley Road all the way to Lynn Headwaters Regional Park where the road ends. There are a few parking spots near the trailhead, and overflow parking a few hundred meters away.
Google Map directions are here.
---
Help Us Create New Hiking Guides!
Advertising revenue is falling quickly across the internet, and independently-run sites like Outdoor Vancouver are hit hardest by it. We are committed to keeping Outdoor Vancouver free and independent, but we need to find other ways to continue operating this site.

If you like our hiking guides and would like to help, please consider making a contribution with the PayPal or Patreon links below – any amount helps! There is also a list of other ways you can support Outdoor Vancouver here!
Becoming a Patron through Patreon unlocks membership benefits and rewards. Learn More.
A one-time donation through PayPal helps with monthly website hosting costs.
---
Other great hikes in Lynn Headwaters
---
Download the PDF version of this guide for offline use
Enter your email to receive the free PDF version of this guide. You will receive the file immediately in your email, and will also gain access to the monthly Outdoor Vancouver newsletter.
---
Outdoor Vancouver Apparel