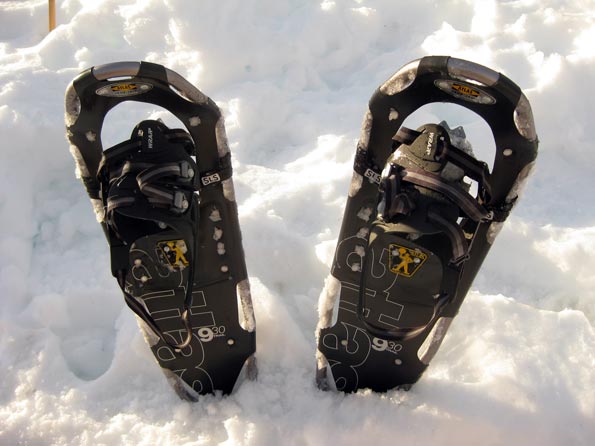 I started snowshoeing this season and am loving it. Being able to get up into the mountains on snow covered trails has helped me deal with the hiking withdrawals I used to go through during the winter. I picked up the Atlas 930 snowshoes after looking at some options and have been very happy with them. My girlfriend picked up the women's Elektra version and has found them to be great as well. They are a good all-around snowshoe, that do reasonably well in different terrains at a great price-point. They are easy to fasten, and I have not had any problems with needing to readjust straps or having them come loose.
Atlas 930 Review
One of the unique features of the Atlas 9 Series snowshoes is the Free-Rotating Suspension (FRS), which allows "for natural articulation of the foot over uneven and sidehill terrain with minimal resistance – providing the most comfortable, forgiving stride". Coupled with the spring-loaded suspension, the Atlas 930 provides a nice set of features for an entry-level set of snowshoes which make negotiating rolling and flat terrain terrain easy. They are not, however, all that great on very steep terrain or in excessive powder. The traction just isn't aggressive enough to handle very steep hills well, but they do have a heel cleat, however, which does help with descent.
Made with a durable 6061 Aluminum V Frame, these snowshoes will last for seasons to come. And perhaps one of my favorite things about the Atlas 9 snowshoes is that they are very easy to put on. You simple slip your boot in, and pull the webbing until the bindings are at your desired tightness and you're ready to go. They slip off easily as well, without coming loose during walking.
The Atlas 9 Series snowshoes are great for the beginner showshoer who wants to try out the sport, or get out each winter one some established snowshoeing terrain.
---
Atlas 930 Features
V-frames are made of 6061 Aluminum.
Durable Nytex decking stays flexible even in extreme cold, and sheds snows to prevent accruing weight as you walk.
Wrapp trail bindings are easy to tighten and cradle feet securely.
Separated ankle straps keep the bindings secure.
Tempered steel toe crampons and tri-cleats add traction.
Atlas 930 Specs
Weight: 2.07kg
Type: Trail
Length: 76cm (30in.)
Width: 22cm (8¾in.)
Load: 68-113kg (150-250lb.)
Heel Lift: No
---
Overall, I recommend the Atlas 9 Series (and Women's Elektra model) for anyone looking for a good starting pair of snowshoes. They are durable, easy to wear and comfortable. They also offer a good set of features from a entry-level model. They are available on Amazon.
---
---
Other Reviews and Related Posts
---