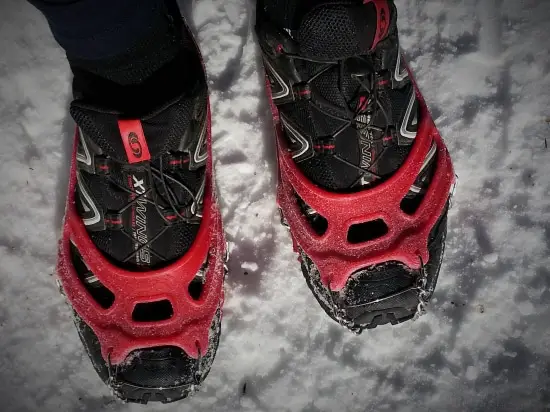 MICROspikes Overview
Last winter I signed my son up for ski wee lessons at Grouse Mountain. With several hours to kill each Saturday while he was skiing, I had an opportunity to get some marathon training in. So I hit the trails up to Dam Mountain (aka the Grouse Snowshoe Grind). Since the trails were so well used, and there hadn't really been fresh snow at the time, I found snowshoes were an overkill and even more burdensome than just running shoes. So I took to running the trails in my Salomon XT Wings and had a blast in the snow. However, I didn't have enough traction on the uphills and steep downhill sections to run confidently. Later, at Costco, I saw some Yak Trak knock-off traction devices. 2 pairs for $10! Perfect, I thought….
Well, you get what you pay for. They were basically useless as they would slip off over the front toe on every uphill section. After that experiment I resolved to buying a proper slip-on traction system for this season. I asked around and heard great things about both Yak Trax and Kahtoola MICROspikes. In the end I decided to go with the MICROspikes and I haven't looked back.
Kahtoola MICROspikes have a simple design. You stretch and slip a flexible rubber ring over the toe and heel of your shoe to secure them. You can stare at them for 30 seconds the first time and quickly figure out how they mount.
They have series of chains that run under the shoe, with a series of 3/8 inch spikes. The spikes are pretty small. You might even say they're micro. There are 4 under the heel and 8 under the front of the foot.
The nice thing about the MICROspikes is they are nice and light, fold-able, and easily fit into my hydration pack when I don't need to wear them. They'll even fit into a pocket. To be cautious, it might be a good idea to place them in a small bag to prevent tearing any other gear in your pack.
Traction
Running compact snow in these puppies is incredibly fun. The traction is amazing. Much better then I expected, even after I had already heard great things about them. With the total lack of snow our local mountains have had this winter I was able to also find a few patches of thick ice and they held up very well.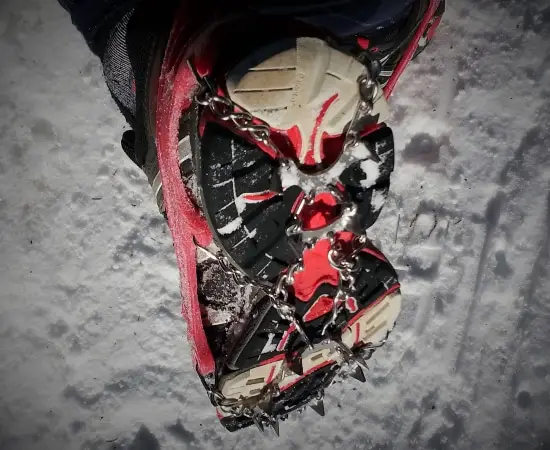 I find I am able to run with total confidence, and without changing my regular running stride. Planting for corners, steep uphills, steep downhills, it doesn't matter. They seem to just stick nicely. The chain doesn't jangle at all, and the mount has held perfectly for me every time I've used them. Which means I don't need to stop periodically to readjust them.
The spikes themselves are heat-treated 400-series stainless steel. I'm not really sure what that means, but it sounds impressive.
MICROspikes Specs
• 3/8 Inch spike length (1 centimeter)
• 12 Spikes per foot (size small – extra large)
• 10 Spikes per foot on extra small
• Weight per pair:
Small 12.2 OZ.
Medium 13.6 OZ.
Large 14.4 OZ.
XL 15.6 OZ.
• 2 YEAR WARRANTY
Conclusion
The only downside I can think of is the MICROspikes are awkward on hard surfaces. Walking on gravel, pavement, wood flooring, or a rocky, rooty trail is not enjoyable. So, if you were running on a trail that was intermittently covered in snow you would get tired of putting them on and off. With Yak Trax (I'm assuming) this would be much less of a problem as you could leave them on and probably run fine for a good distance on rocky trail, concrete, whatever.
Bottom line, unless you're going to be in powder or spending considerable time a variety of surfaces, the MICROspikes are amazing. The traction is surprisingly good. They are lightweight and packable. They aren't exactly cheap (~$80), but I think they are well worth it.
Shop current prices here on Amazon.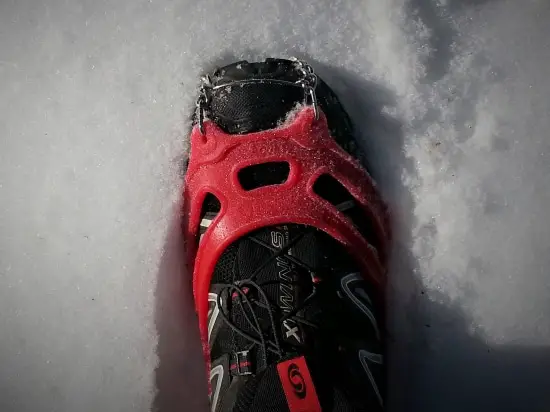 ---
Other Hikes and Related Posts
---