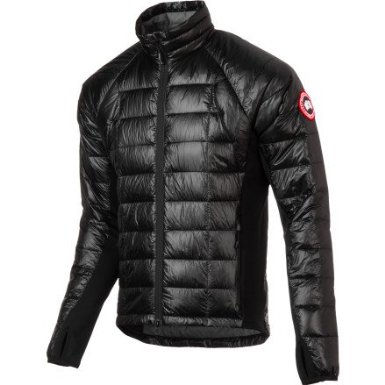 The Canada Goose Hybridge Lite Jacket is a great addition to any outdoor-lovers winter gear collection. Rated for temperatures of -5 to +5 Celsius, this 800-fill white duck down-insulated jacket is great for active wear or layering. Canada Goose jackets have been used by arctic and antarctic researchers and explorers for over 50 years (just envision those big bright red parkas). The jackets are designed and manufactured in Canada with performance in mind, and the Hybridge Lite doesn't disappoint.
The first thing you'll notice when you pick up this jacket is that it weighs less than half a pound! This makes it great for throwing into your pack if you get too hot, and makes it easy to carry along as an extra layer. In other words, this jacket is ideal for fast packing. The pockets are large and warm. There is also a mesh pocket on the inside lining, which which is great for stuffing your mits or toque into. The left outside pocket is actually designed as a 'pocket pillow'. Because the insulation is so thin, and jacket so light, this allows you to stuff the entire jacket into a zippered pocket. The result is a tiny zippered 'pillow' that fits in your hand and can be packed away. I like this feature a lot. And hey, if you are fast packing, this could actually be used as a pillow, although a bit firm.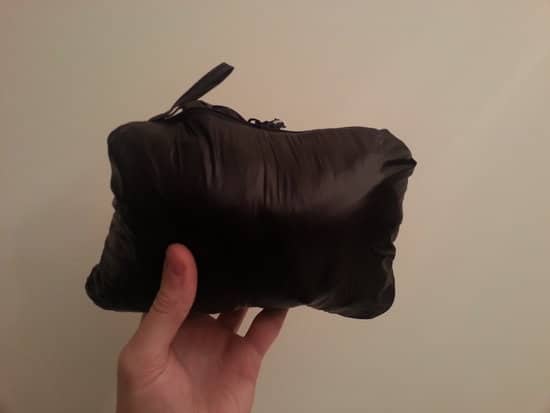 Another thing I like – The jacket has continuous side panels from wrist to waste of the jacket so it very flexible and allows you to move freely during your sport of choice. I would see no problem skiing or running in this jacket. One slight downside to the side panels is they can let some breeze into the jacket in windy conditions. However, the jacket keeps you plenty warm and the front and back panels do an excellent job of breaking the wind.
One thing to consider with this jacket is the very slim fit. It's designed to fit very snug to the body, and the length of the jacket is relatively shorter than other jackets, so you might want to consider going up a size if that isn't your thing.
For functional outdoor clothing, it doesn't get much better than this jacket. Overall, the Hybridge Lite is absolutely perfect for snowshoeing, hiking, and the like. This jacket has instantly become my favorite piece of clothing, and I find myself wearing it around the city as well, since it is so lightweight, comfortable and warm. With the rating to -5 Celsius its more than enough for our mild winters in Vancouver. But as mentioned above, if you were going to be getting deep into the backcountry during the winter, the jacket is slim enough to be a comfortable mid layer under another jacket as well.
On the negatives of this jacket; well, it's very expensive. So much so that I honestly don't see myself wearing this out on any trail runs for fear of ripping the fabric on rocks or trees. But I guess the price comes with being one of the highest quality products out there. Its not hard to see why the Hybridge was awarded "Editors Choice for Best Back Country Jacket" by Outside Magazine.
To learn more about this jacket visit the Canada Goose website.