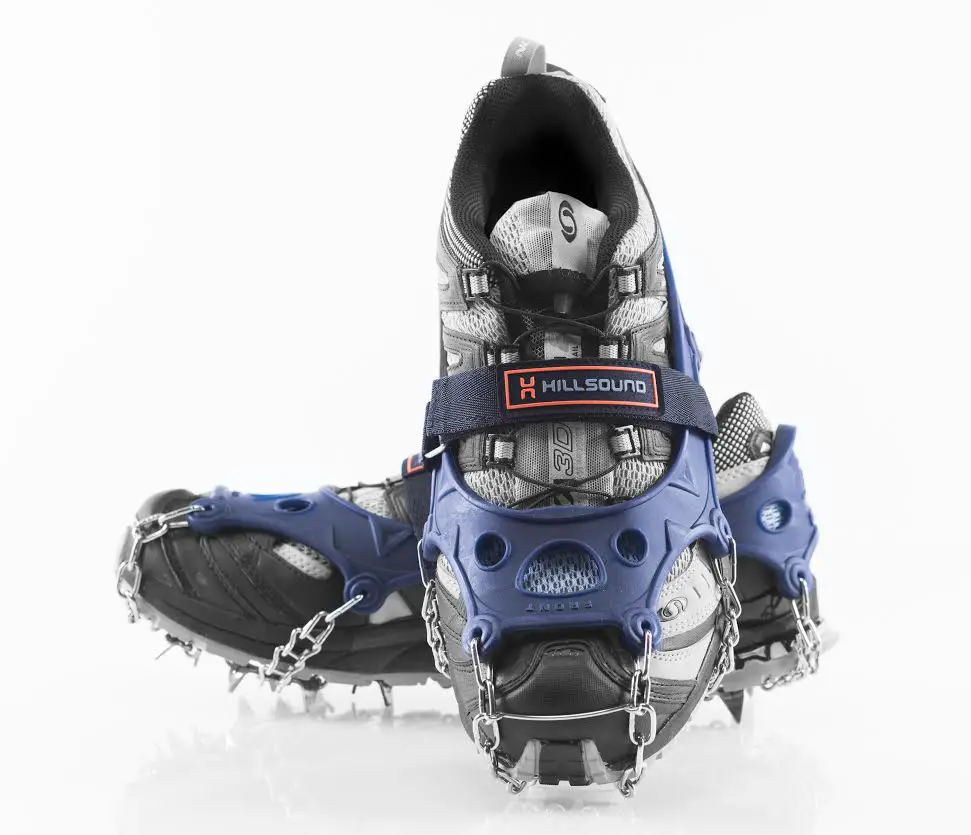 ---
Whether it's from discomfort of the cold or for safety concerns, many people end their hiking season when the snow starts falling. But it doesn't have to be that way. There are plenty of great, safe winter trails in our local mountains (some suggestions are at the bottom of this post). With the proper gear, you can easily get out into the mountains during the winter and enjoy the crisp air and amazing views. One piece of gear that is extremely useful for getting out is a crampon, such as the Hillsound Trail Crampon Ultra.
Whether hiking or running, if you're on a glacier or on snow that is compact, these crampons make getting around a snap. Small and light, they can be carried in your pack until needed. At which point, they are quickly slipped over whatever shoes you are wearing. (Worth noting – these are designed for recreational activities like winter hiking, and are not intended for use as a mountaineering crampon!)
Unless in fresh powder or conditions conducive to postholing, I always prefer getting around in these type of crampons over snowshoes.
Hillsound Trail Crampon Ultra Features
This Hillsound Trail Crampon Ultra is tested in varied weather conditions and comes with a set of attractive features. Some of its features are:
It is a perfect product to be used for hiking during winter, trail running. They can be used for regular outdoor running and as hiking and insulated boots.
The product guarantees stability and the well placed spikes do not shift during movement.
Assured secure footing in the snow due to the 1.5 cm spikes that dig hard into the ice/snow. It is effective in reducing muscular fatigue as well.
Easily packable, lightweight material (comes with carrying base to prevent damage to your bag and gear).
Stainless steel chains which withstands torque and friction.
They have a Velcro strap to make putting them on a very relaxed experience.
Can be easily put on and off.
Maintenance
These crampons are very easily maintained and can be handled with very little care. They need to be cleaned and dried well after use. Store them in a cool dry place. To prevent the stainless steel base from rusting, proper oiling needs to be done after use and thorough drying. You should also take care not to wear them on stairs, rocks or river crossings, to ensure you don't dull or damage the spikes.
Warranty and Price
The Hillsound Trail Crampon Ultra come with a 2 year warranty on poor workmanship or defective materials. The manufacturer also provides you a 90 day guarantee on defect wherein the product does not perform the features listed.
The Hillsound Trail Crampon Ultra can be found around the price of $70, which is comparable to (actually, less than) similar competing crampons.
---
Conclusion
In short, Hillsound Trail Crampon is effective in preventing slipping and other risks associated with icy conditions. It is a great companion during backpacking and shoulder season hiking during winter. For the trail runner looking to get into the mountains during the winter months, they will quickly become an invaluable piece of gear.
I've previously reviewed the Kahtoola MICROspikes, which are another great product. Between the two, I'd lean towards getting the Hillsound Trail Crampon Ultra for two reasons. One, Hillsound is a Vancouver company and I know they actively sponsor local athletes and help out in local charitable events. Two, the velcro strap – missing on the MICROSpikes – gives just that extra bit of stability and confidence they won't slip off while running. There are also 18 spikes on Hillsound's offering compared to 12 on Kahtoola's. I was a big fan of the MIRCROspikes when I first wore them, and I'm a big fan of Hillsound's crampon now. At a lower price point, and arguably better design, they're a great purchase if you need a winter hiking or trail running crampon.
To find a store which carries the Trail Crampon Ultra, go here.
---
Great Local Winter Hiking Trails