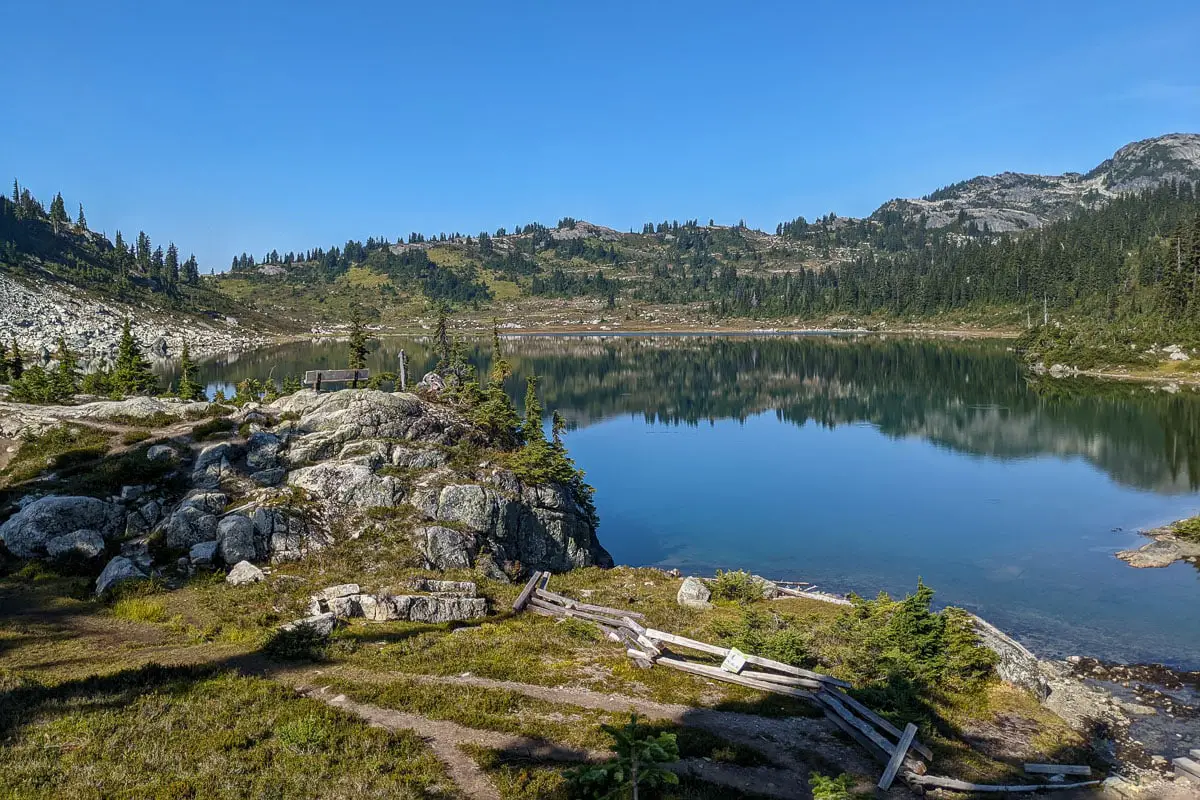 Rainbow Lake – Table of Contents
Rainbow Lake Hike Intro
Rainbow Lake is a scenic alpine lake in Whistler. The Rainbow Lake Trail is a popular hike and is moderately difficult, with an average completion time of around 6 hours.

The Rainbow Lake Trail is largely within the 21 Mile Creek Watershed. Because of this, dogs, bikes, and camping are not permitted in the area. Those wanting to camp can do so at nearby Hanging Lake, which can be found along a rough trail a few kilometres beyond Rainbow Lake.

The trail has about 800 metres of elevation and rises gradually, but consistently up to the lake. There are a few junctions near the beginning, but overall, the trail is well-marked and easy to follow.

The route to Rainbow Lake is scenic. There are several cable and suspension bridges, 21 Mile Creek, a large waterfall, scenic old-growth forest, and views of Blackcomb before reaching the lake itself. However, snow often persists well into July, so be prepared if hiking early in the summer.

While it is always important to be prepared for bear encounters, the Rainbow Lake area has been known for grizzly activity in recent years. And there have been several occasions where the trail has been temporarily closed due to bear activity.

As part of the Whistler Watershed, the area is managed by rangers, and you will find a signboard near the start of the Rainbow Lake Trail. Here, the rangers will post recent bear activity, so it's worth checking and being well-prepared for bears.
---
Rainbow Lake Hike Stats
Rating: Moderate
Distance: 16 km
Net Elevation Change*: 793 m
Highest Point: 1,462 m
Time Needed: 6 Hours
Type: Out-and-back
Season: July – September
Dogs Allowed: No
Est. Driving Time from Vancouver: 2 Hours
Trailhead Coordinates: 50.130145, -122.985018
*For a better understanding of the stats and difficulty rating, check out the Hiking Guides page for details. Always carry The Essentials and fill out a trip plan.
---
Rainbow Lake Video
Here is a 6-minute video of our experience on this hike!
---
Rainbow Lake Hike Map and Elevation
Profile
Minimum elevation:
No data
Maximum elevation:
No data
Duration:
No data
---
Rainbow Lake Hiking Route
Park at the Rainbow Falls pullout along Alta Lake Road (directions). There's an information board at the trailhead and an outhouse. You can get your bearings on the map and start onto the trail. The trail goes into the forest with Twenty-one Mile Creek on your right as you begin walking up the trail.

The trail begins climbing uphill a slight grade. It's a groomed, doubletrack trail. There are some offshoot trails as you begin so be sure to follow the main trail, ignoring any smaller trails that branch off.

After a few minutes, the trail will pass a logging road on your left. Stay on the trail as it keeps climbing up.

After about 10 minutes or 500 meters into the hike, you'll come to a split. There's a junction here where you can go right to Rainbow Falls. It's about a 15-minute detour to reach the falls and back. Rainbow Falls is a nice waterfall and worth checking out.

A little further along the trail, you'll come to a green water treatment building with signs for 'Whistler's Water Supply Area'. Going right takes you on the Rainbow Falls Loop (a shorter and easier loop you can save for another day). Instead, go left. It's marked at the junction for Rainbow Lake at 7 km away. Here, you'll be on a gravel road, which will do a hairpin turn to the right.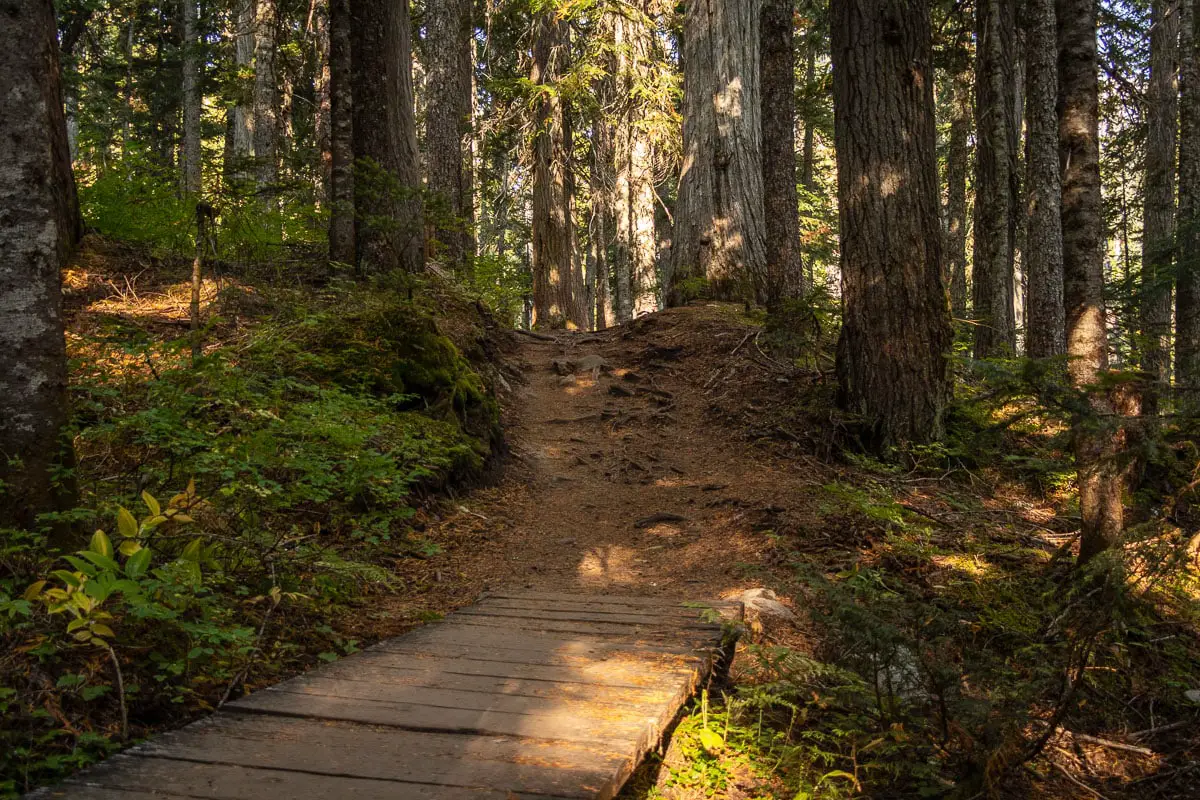 There's a junction at the hairpin. A sign indicates going on the trail (off the road) would take you to Rainbow Park in two kilometres. Instead, take the hairpin turn, staying on the road, and continue walking up the service road at a slight uphill grade.
You'll pass by another outhouse along the trail. It has a 1.1-kilometre marker on it. Just past this outhouse, there's a junction on the left marked for the Flank Trail. Continue straight to stay on the route to Rainbow Lake. 
There are warning signs that you're entering the community watershed. No dogs are allowed, no camping is allowed, and no fires are allowed in the area.
After two kilometres or a little more than half an hour into the hike, you'll come to the trailhead of the Rainbow / Madeley Lake Trail itself. There's a signboard here with an update from the rangers. They will note any recent bear activity and any other points about the current trail conditions.
From here, the trail leaves the road and becomes a single-track trail. The trail continues uphill but now becomes a bit more tree-rooty, rocky and technical.
You'll come to a marker in a tree on the left-hand side of the trail which marks three kilometres and 1,065 m elevation. At an average pace, it should take about an hour to reach this point.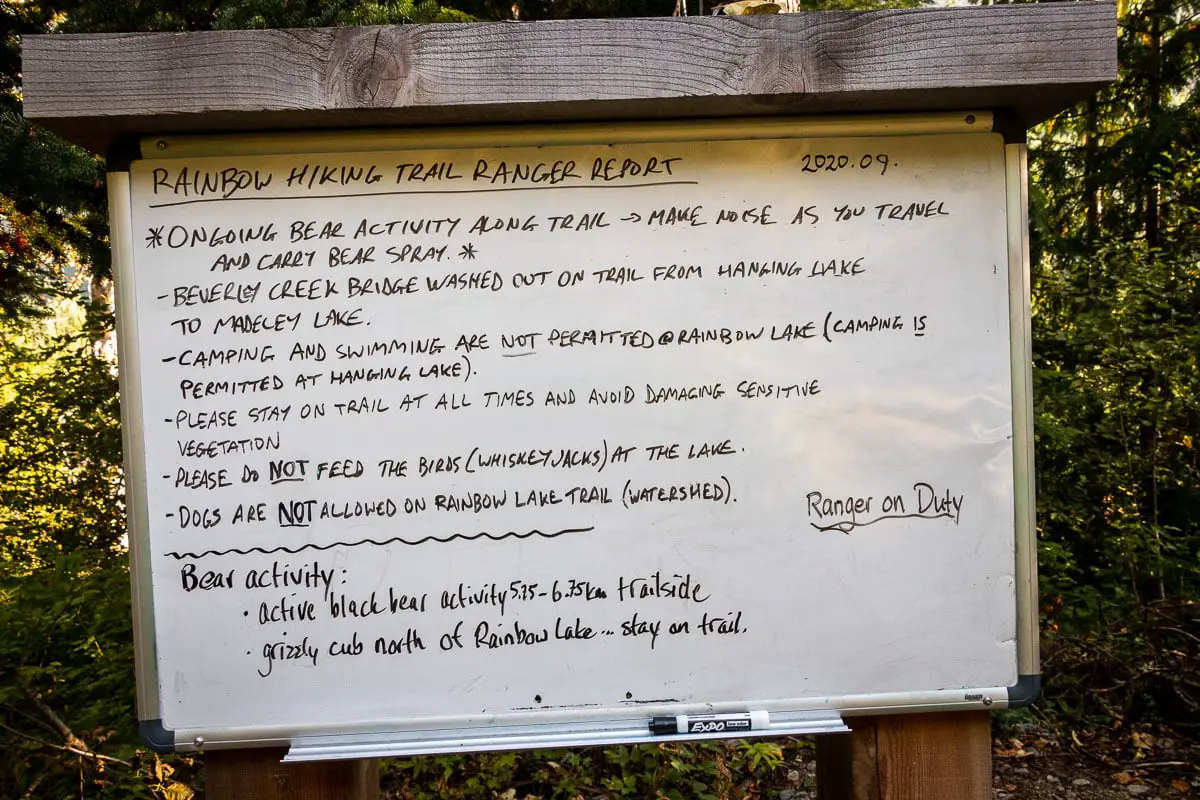 You will pass by another sign in the tree shortly after where it says 4.5 kilometres further to reach Rainbow Lake. The forest is very scenic here, and you will cross over a wooden bridge over the creek.
Keep following the trail. It's well-maintained and easy to follow. There are orange trail markers in the trees frequently. The trail climbs gradually with some sections of up and down. You can still hear 21 Mile Creek on your right and you'll have partial views to the other side of it on your right. 
At roughly 4.4 kilometres you'll come to a large cable bridge. There's another outhouse here. Take a break and use the outhouse if needed. When ready, cross the bridge and carry on. 
Just after the bridge, there's a large waterfall on your left. There's a little lookout just off the side of the trail, so make sure you don't miss it.
After roughly 5.5 kilometres, you'll emerge from the trees and have clear views across the valley to some of the lesser peaks of Rainbow Mountain.
As you carry along the trail, you will continue to get views of the mountains to your right. The trail is mostly flat for a while, then you will reach a marker (if you notice it) on your right in a tree. It marks 6 kilometres. It takes about 2 hours or longer to reach this point at an average pace.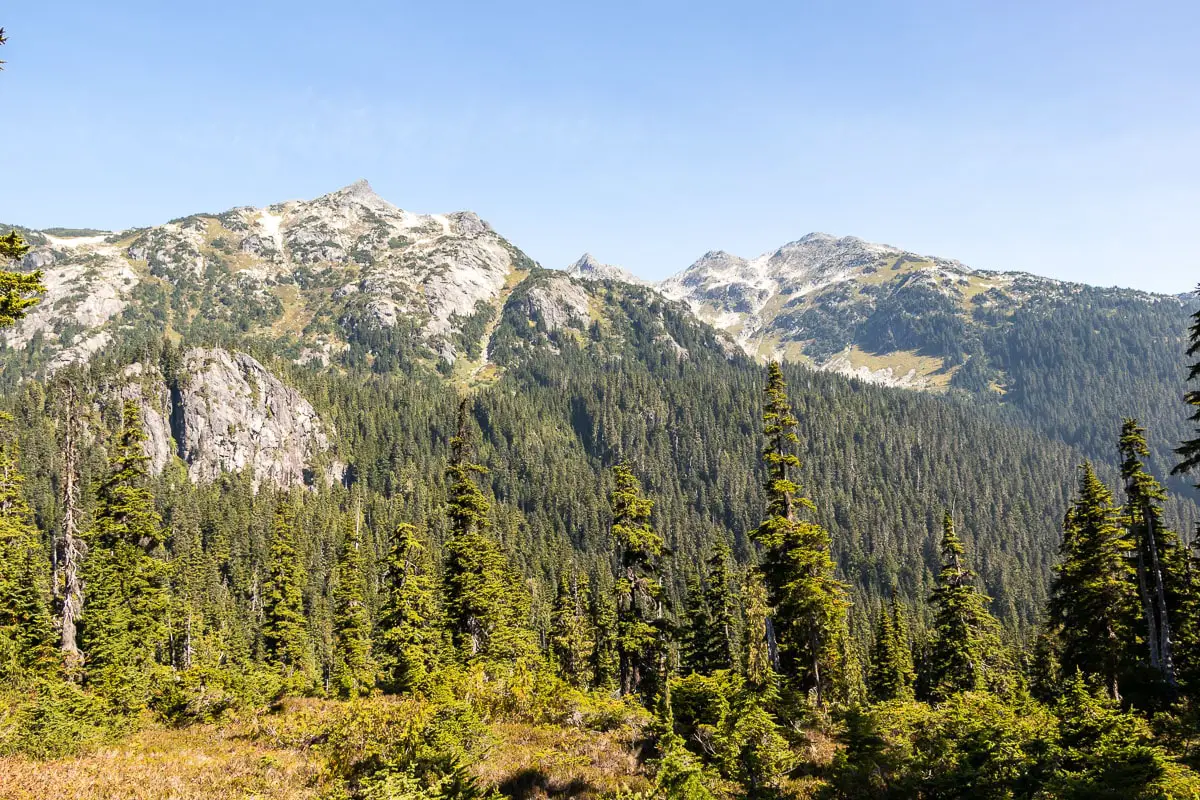 Soon after, you'll come to a suspension bridge crossing over Gin and Tonic Creek.
Before long, you'll begin to emerge into the sub-alpine. You'll have views of Gin Peak, which sits at 1,802 m, to your left. Rainbow Mountain is visible to your right with a diamond-shaped peak. Keep following the trail as you're on the final approach from here.
You'll finally reach Rainbow Lake nestled between the two peaks, with Rainbow Mountain on your right. When you follow the trail down to the lake, there's another outhouse. Again, this area is a watershed so if you need to use the bathroom, make sure you use the outhouses.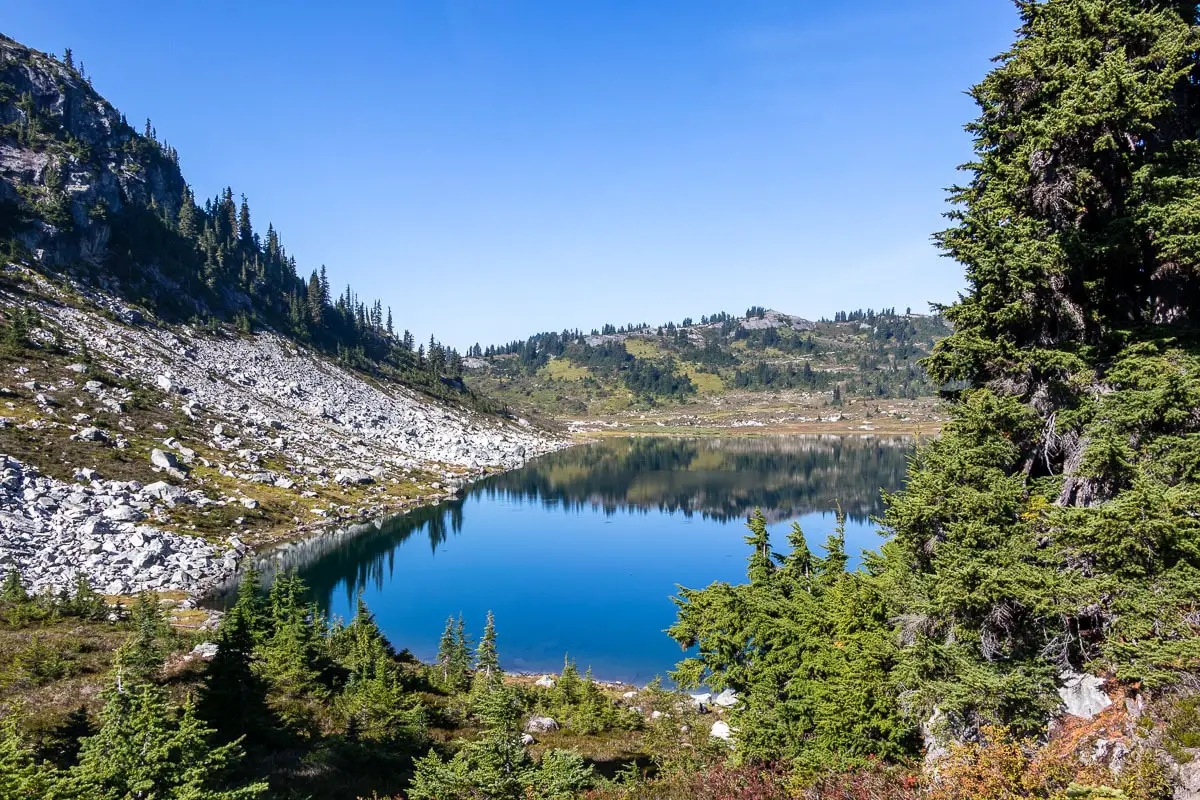 There's one final bridge and a little boardwalk you can rest on and enjoy the view overlooking the lake. In the distance to the east, you have great views of Blackcomb, Whistler, and Wedge Mountains.
You can continue to follow the trail around the far side of the lake. From there, you'll have more views across the Whistler valley to Wedge Mountain in the distance. You can continue to follow a rough trail to Hanging Lake, or scramble the summit of Rainbow Mountain, but those routes are beyond the scope of this guide.
When ready, return along the same path.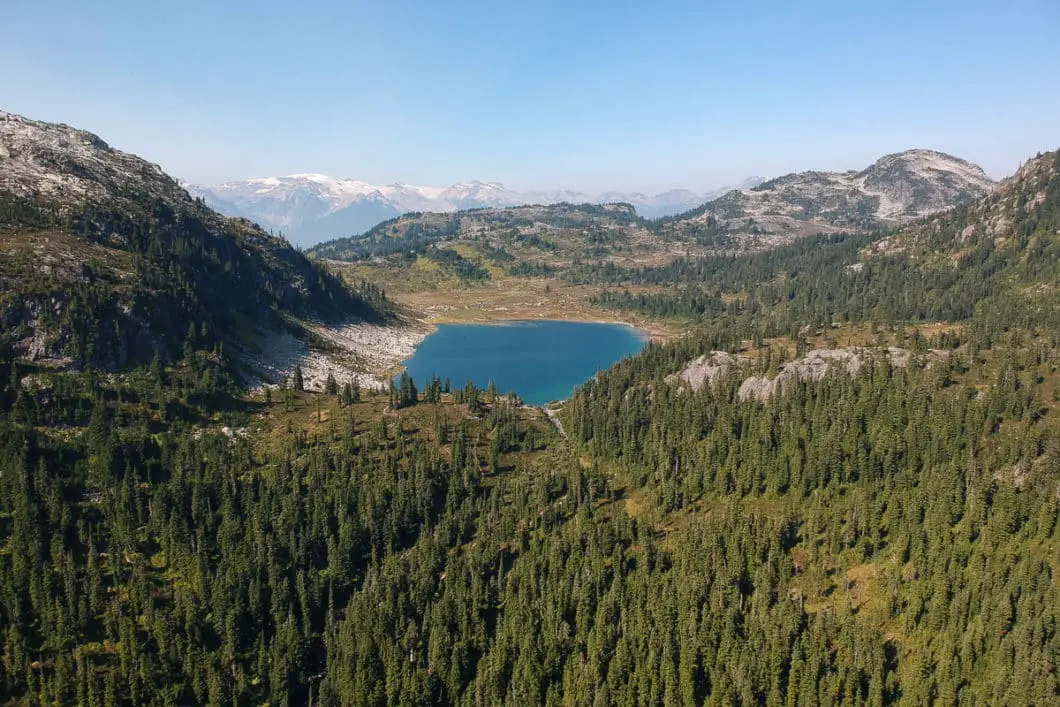 ---
Download the PDF version of this guide for offline use
Enter your email to receive the free PDF version of this guide. You will receive the file immediately in your email, and will also gain access to the monthly Outdoor Vancouver newsletter.
---
Help Us Create New Hiking Guides!
Advertising revenue is falling quickly across the internet, and independently-run sites like Outdoor Vancouver are hit hardest by it. We are committed to keeping Outdoor Vancouver free and independent, but we need to find other ways to continue operating this site.

If you like our hiking guides and would like to help, please consider making a contribution with the PayPal or Patreon links below – any amount helps! There is also a list of other ways you can support Outdoor Vancouver here!
Becoming a Patron through Patreon unlocks membership benefits and rewards. Learn More.
A one-time donation through PayPal helps with monthly website hosting costs.
---
Directions and Parking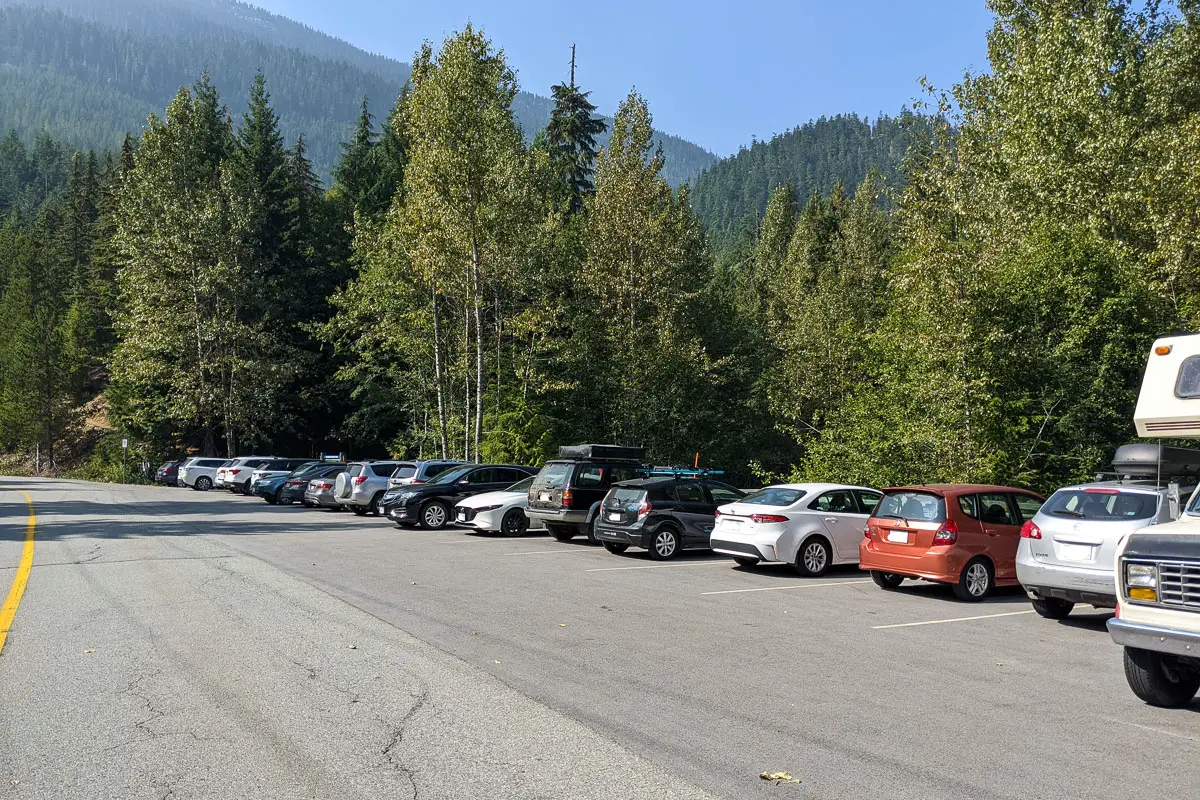 From Vancouver, take the Sea to Sky highway north to Whistler. Before reaching Creekside village, turn left onto Alta Lake Road. Drive past Alta Lake and past the Whistler cemetery. Just beyond the cemetery, you'll see the parking area on your left.
If the parking area is full, there is an overflow parking area on the other side of the road.

Google Map directions are here.

---
Other great hikes in this area
---
Download the PDF version of this guide for offline use
Enter your email to receive the free PDF version of this guide. You will receive the file immediately in your email, and will also gain access to the monthly Outdoor Vancouver newsletter.
---
360° Photosphere (click and drag to look around)
Outdoor Vancouver Apparel