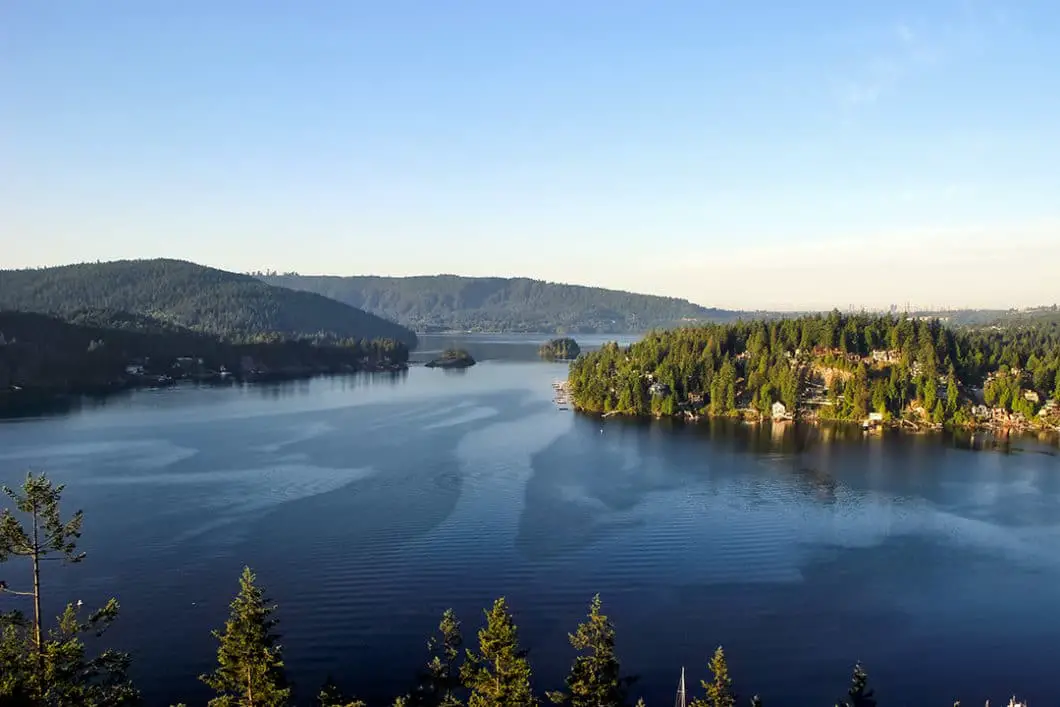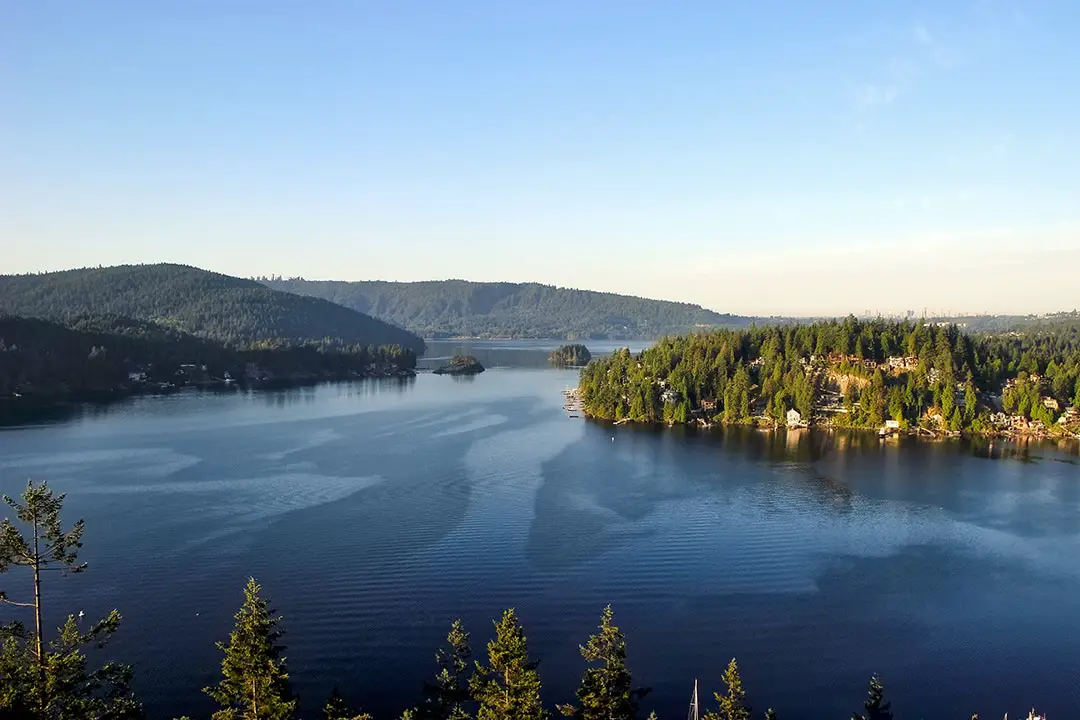 Quarry Rock – Table of Contents
Quarry Rock Hike Intro
Quarry Rock is undoubtedly one of the most popular day hikes in North Vancouver. It is short enough to make it available to even the most novice of hikers, yet has enough climbing and variation to make things interesting for the weekend warrior also. Within one hour of beginning your hike, you have access to one of the best views of the Indian Arm you could wish for (rivaled only by some of the views along the Diez Vistas Trail).
Any excuse to grab a coffee and doughnut in Deep Cove Village is worth it, and hiking Quarry Rock is the perfect way to start a weekend morning. An all-season hike, you can tackle Quarry Rock on almost any day of the year. But it's best to do this one on clear day, or at least one when the Indian Arm isn't socked in with fog.
Quarry Rock is also a great hike for children and dogs.
---
Quarry Rock Hike Stats
Rating: Easy
Distance: 3.8km
Net Elevation Change*: ~100 m
Highest Point: 123 m
Time Needed: 2 Hours
Type: Out-and-back
Season: Year-round
Dogs Allowed: Yes
Est. Driving Time from Vancouver: 30 min
Trailhead Coordinates: 49.330205 -122.949835
*For a better understanding of the stats and difficulty rating, check out the Hiking Guides page for details. Always carry The Essentials and fill out a trip plan.
---
Quarry Rock Video
Here is a 2-minute video of our experience on this hike!
---
Quarry Rock Hike Map and Elevation
Profile
Minimum elevation:
No data
Maximum elevation:
No data
Duration:
No data
---
Quarry Rock Hiking Route
The Quarry Rock hike (sometimes called Grey Rock, or Indian Arm Lookout Trail) starts along the first 2 km of the famed Baden-Powell trail, which stretches nearly 50 km across the North Shore all the way to Horseshoe Bay. From the Panorama Park parking lot, walk north along Panorama Drive. On your left, beside a driveway (literally, someone's driveway), you'll see a Baden-Powell Trail sign and a staircase which marks the trailhead.  On the white and blue trailhead post, you will see a fleur de lis. This logo is on the orange "BP" markers that span the entire stretch of the Baden-Powell trail, and you will follow these markers to Quarry Rock. Walk up the stairs into the forest, and be ready to get your heart pumping.
While there is only roughly 100 m of elevation gain along the Quarry Rock hike, much of it occurs over this first kilometer of trail. Climb up the trail, which is wide and very rooty at this point. Before long, the trail will merge into a narrower, single-track trail, but will continue to be rooty and technical. Once the trail levels, you will go through various ups and downs and cross several ravines.
After about 20 minutes from the start, you will come to a large bridge marked Cove Creek. A few minutes beyond this bridge there is a junction. On your right is a massive old-growth Douglas Fir tree, estimated to be over 600 years old and documented in the District of North Vancouver's heritage tree registry. Keep going straight at this junction.
Cool fact: This stretch of Baden-Powell Trail from Quarry Rock down to Panorama Park marks the final few kilometers of the annual "Knee Knackering North Shore Trail Run" which takes place in July. The KKNSTR takes racers 48 km along the entire length of the Baden-Powell, from Horseshoe Bay to Deep Cove. So if you get tired on this hike, consider how the runners feel after having been on their feet for 6-plus hours and are running down this technical terrain to the finish line! More details about this local favorite and long-standing trail race can be found on the Knee Knacker website.
---
In recent years, the District of North Vancouver has added many wooden stairs along the trail. There are also bright, orange emergency markers in the trees every so often. They are sequenced from number 1 to number 12, along the way up to Quarry Rock. If you need to call 911 for any emergency, you can give them the number of the closest marker so help knows where to find you.
Within another 20 minutes or so, you will descend to another large bridge and cross over Francis Creek. From this bridge, it's a short uphill climb to Quarry Rock. You will reach a junction, where going left is a continuation of the Baden-Powell trail, emerging to Indian River Drive. Go right, and you will emerge on the large Quarry Rock outcrop with amazing views of Indian Arm, Burnaby Mountain, Deep Cove, and the Eagle Ridge and Belcarra mountains.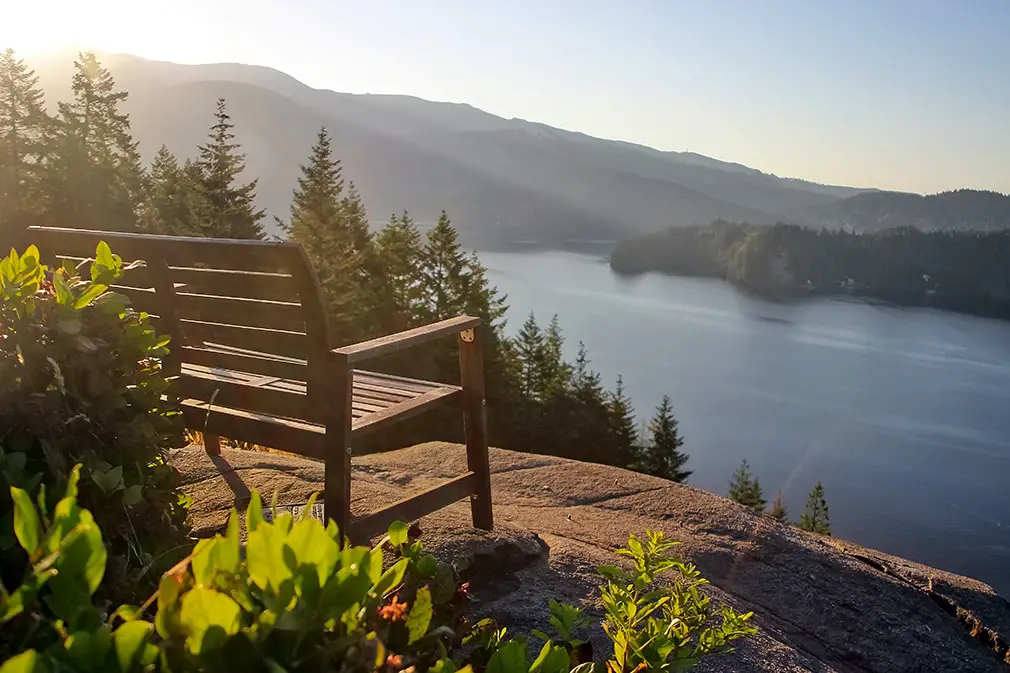 The Indian Arm itself is a 20 km glacial fjord which was formed during the last ice age. The slopes on both sides of the fjord are extremely steep and as such have stayed mostly undeveloped, maintaining one of the most scenic wilderness areas around Vancouver. If you wish, just a few minutes further along the Baden-Powell is another lookout point underneath a power pylon. That area is perfect for catching the morning sunrise over the mountains, but otherwise the view isn't as good.
Soak up the views and have a snack before re-tracing your steps back down to Panorama Park.
Once you're back at the parking lot, you'd be remiss to not grab a maple doughnut from Honey's Cafe before leaving Deep Cove.
---
Download the PDF version of this guide for offline use
Enter your email to receive free PDF version of this guide. You will receive the file immediately in your email, and will also gain access to the monthly Outdoor Vancouver newsletter.
---
Directions and Parking
Starting in Vancouver, drive over the Ironworkers Memorial bridge heading north along Highway #1. After crossing the bridge, take exit 22B marked for Mount Seymour Parkway. Turn right onto Mount Seymour Parkway and follow this road for about 5kms until your reach Deep Cove Road. Turn left on Deep Cove Road, until you will eventually curve right into Deep Cove.
At the 4-way stop, turn left onto Panorama Drive and immediately on your right is a parking lot for Panorama Park. Parking here is free, but very limited (especially on a sunny summer day). You may find additional street parking on Rockcliff Road, or by the Cove Cliff Elementary School. It is just a short walk to the trailhead from there.
Taking the bus is another great option for this hike to avoid parking.
Google Map directions are available here.
---
Help Us Create New Hiking Guides!
Advertising revenue is falling quickly across the internet, and independently-run sites like Outdoor Vancouver are hit hardest by it. We are committed to keeping Outdoor Vancouver free and independent, but we need to find other ways to continue operating this site.

If you like our hiking guides and would like to help, please consider making a contribution with the PayPal or Patreon links below – any amount helps! There is also a list of other ways you can support Outdoor Vancouver here!
Becoming a Patron through Patreon unlocks membership benefits and rewards. Learn More.
A one-time donation through PayPal helps with monthly website hosting costs.
---
Other Great Hikes in this Area
Download the PDF version of this guide for offline use
Enter your email to receive free PDF version of this guide. You will receive the file immediately in your email, and will also gain access to the monthly Outdoor Vancouver newsletter.
---
360° Photosphere (click and drag to look around)
Outdoor Vancouver Apparel