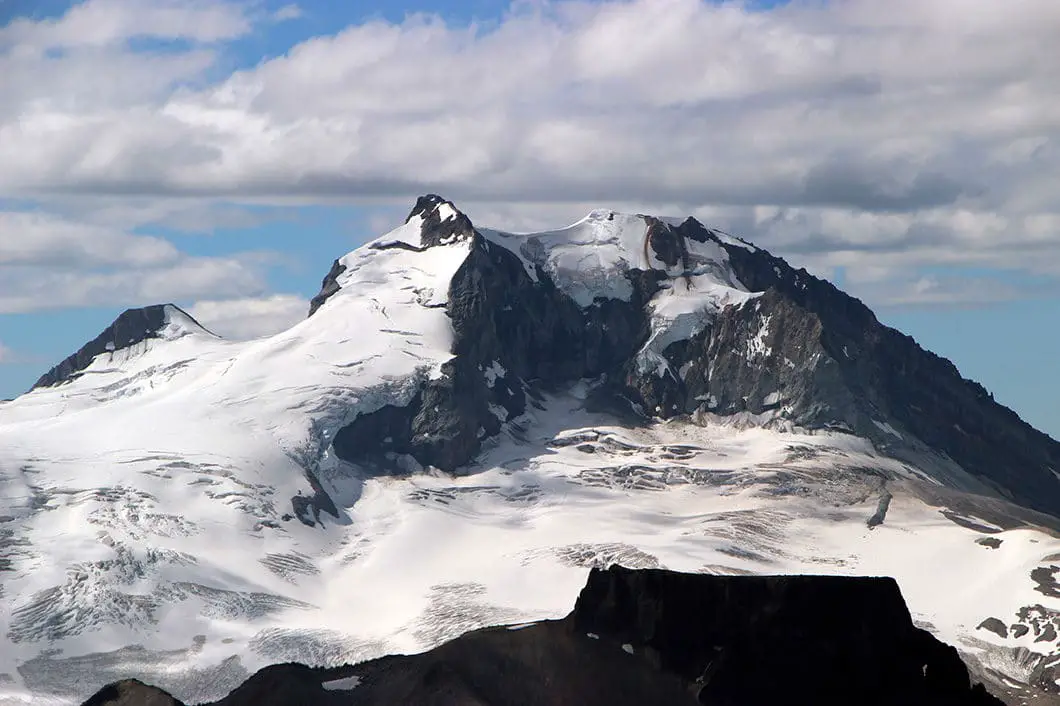 Panorama Hike – Table of Contents
Panorama Hike Intro
2023 Day Use Pass Required for this Hike
Day-use passes are required June 14 to October 9, 2023, for visitors to Garibaldi Provincial Park.
More details can be found here from B.C. Parks.
Panorama Ridge is one of several amazing hikes within Garibaldi Provincial Park, located between the towns of Squamish and Whistler. The trail to Panorama Ridge takes you up through a forest of Western Red Cedar and Douglas Fir trees, through meadows full of blooming wildflower, and provides one of the most incredible panoramic views you could wish for at the summit. For many who have done extensive hiking around Vancouver, the hike to Panorama Ridge remains a favorite year after year.
The peak of Panorama Ridge sits at 2,133 m and provides breathtaking views of Mt. Price, Mt. Garibaldi, Black Tusk, The Table and Garibaldi Lake (among a myriad of other mountains). It is easy to see where its name is derived. For those in good shape and willing to push themselves, this hike can be accomplished as a day hike. But you can also make this a multi-day hike and start with fresh legs from the campground at Garibaldi Lake or Taylor Meadows.
---
Rating: Moderate
Distance: 12 km
Net Elevation Change*: 630 m
Highest Point: 2,133 m
Time Needed: 5 Hours
Type: Out-and-back
Season: July – October
Dogs Allowed: No
Est. Driving Time from Vancouver: 90 Minutes
Trailhead Coordinates: 49.946139 -123.056792
---
Panorama Ridge Hike Stats (From Rubble Creek Parking Lot)
Rating: Difficult
Distance: 30 km
Net Elevation Change*: 1,563 m
Highest Point: 2,133 m
Time Needed: 10 – 12 Hours
Type: Out-and-back
Season: July – October
Dogs Allowed: No
Est. Driving Time from Vancouver: 90 Minutes
Trailhead Coordinates: 49.957294 -123.120259
*For a better understanding of the stats and difficulty rating, check out the Hiking Guides page for details. Always carry The Essentials and fill out a trip plan.
---
Panorama Ridge Video
Here is a 2-minute video of our experience on this hike!
---
Panorama Ridge Hike Map and Elevation
Profile
Minimum elevation:
No data
Maximum elevation:
No data
Duration:
No data
---
Panorama Ridge Hiking Route
The trail to Panorama Ridge begins on the Garibaldi Lake Trail from the Rubble Creek parking lot. The initial climb takes you up beside Rubble Creek itself, which you can hear rumbling nearby. The first 6 km of the trail lead you up a series of switchbacks on the Garibaldi Lake trail. It is a steady, uphill climb, with no relief from flat or downhill sections. The trail, however, is wide and well maintained, so there is no worry about technical climbing or getting lost. There are markers every kilometer along this initial stretch of climb through a forest filled with Western Red Cedar and Douglas Fir trees.
Once you reach the 5 km marker, you will quickly after come to a nice view of 'The Barrier'. The 300 m thick wall of The Barrier is a lava dam that contains the Garibaldi Lake system above. The sheer cliff you see was formed during a massive landslide in 1885, which is also how Rubble Creek received its name.
Crazy fact: "Should the Barrier completely collapse, Garibaldi Lake would be entirely released and downstream damage in the Cheakamus and Squamish Rivers would be considerable, including major damage to the town of Squamish and possibly an impact-wave on the waters of Howe Sound that would reach Vancouver Island" [1].
Continuing on to the 6 km marker there is a major junction, with a fork for the Taylor Meadows and Garibaldi Lake campgrounds. This is a good spot to take a break, before taking the trail towards Taylor Meadows. Alternatively, if you have chosen to camp at Garibaldi Lake, you can head that way to set up your campsite and drop your gear, before continuing on to Panorama Ridge via the Black Tusk/ Cinder Flats connector trail. However, this guide will continue to describe the route for a direct ascent via Taylor Meadows.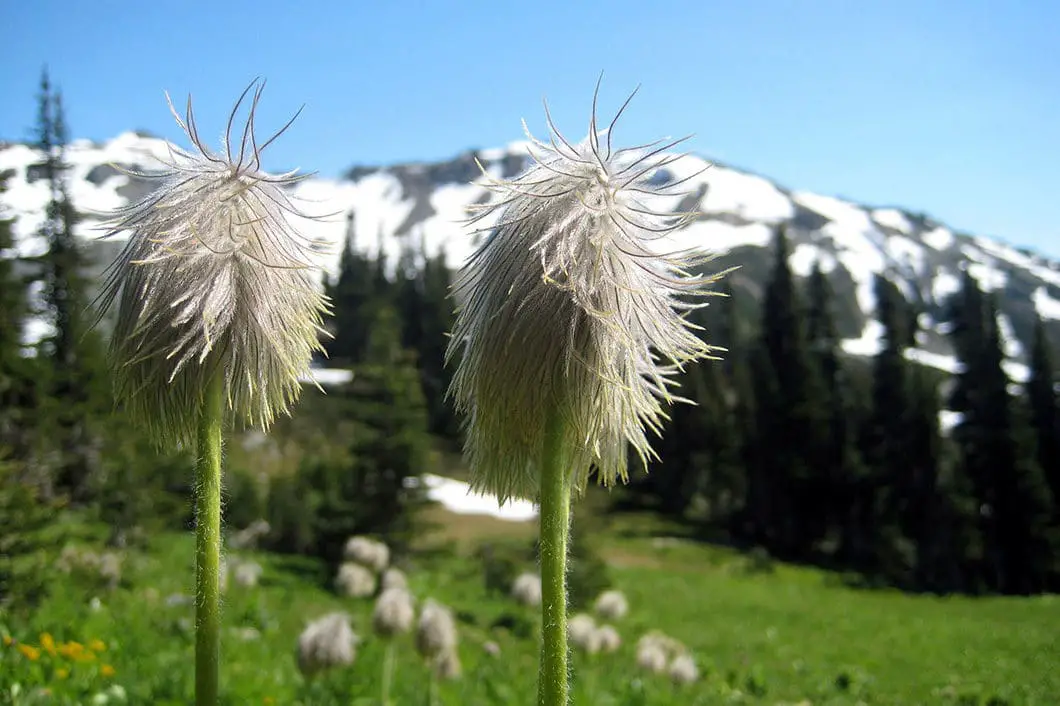 From the 6 km junction, go left onto the Taylor Meadows Trail, and it's 1.5 km to reach the Taylor Meadows campground, another great spot to camp for the night, though less scenic than the lake. If you are camping here, you can set up your site before continuing on along the Taylor Meadows Trail. Immediately after leaving the campground, you will cross Taylor Creek. This is a great spot to replenish your water supplies.
A few minutes beyond the creek, you will come to a junction, and going right here will take you down to Garibaldi Lake. Continue straight along the Taylor Meadows Trail, enjoying the beautiful open meadow and wildflowers if they are in bloom (July and early August). 2 km past the previous junction, you will come to another major junction, this one called Outhouse Junction, with yet another trail connecting directly from Garibaldi Lake. Unsurprisingly, there is an outhouse here.
As with all the major junctions, there are markers clearly stating which trail you are on, and pointing you in the right direction for your destination – whether it's Black Tusk, Garibaldi Lake or Panorama Ridge.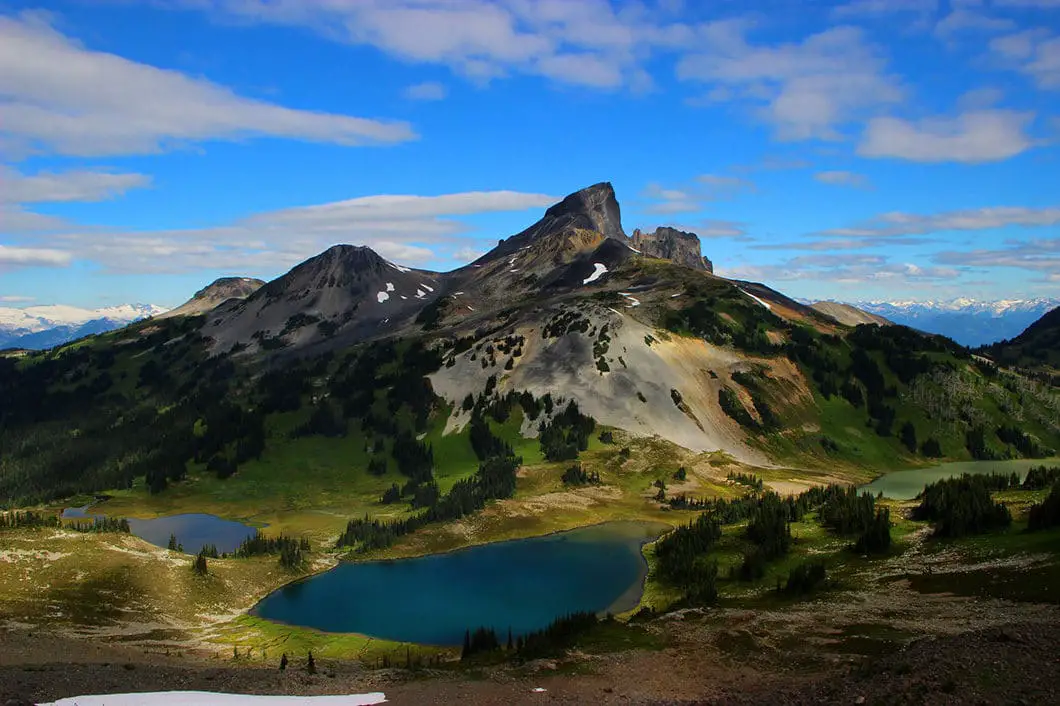 In our case, continue along the trail and within a matter of minutes you will pass by the trail junction for Black Tusk – another amazing hike for another day. You are now in Black Tusk Meadows, and as you meander along the trail you can catch glimpses of Garibaldi Lake and Mount Price to the south, and the mountains of the Tantalus Range to the west. The trail through these meadows is much flatter than the initial 7 km of the hike, making for happier legs and a quicker pace through the scenic landscape.
About 2 km beyond the Black Tusk junction you will get views of Mimulus Lake and Black Tusk Lake below. As you approach Black Tusk Lake, there is a junction to Cheakamus Lake (Helm Creek Trail), continuing to the north, and you can see Helm Lake in that direction. As an aside, it is also possible to drop a second car at Cheakamus Lake and exit the park that way, making this a point-to-point hike.
Stay on the Panorama Ridge Trail, make your way around Black Tusk Lake, and get ready to begin a steep climb up the ridge. As you start to ascend Panorama Ridge, you'll have views of Black Tusk dominating the skyline behind you, and Black Tusk Lake and Mimulus Lake beside you. East of Black Tusk you have a great perspective on Helm Lake and Cinder Cone. This will be the most challenging part of the trail, partly on loose rock scree, and continually up and up. Snow persists here late into the summer.
There isn't an obvious route in sections here, so carefully follow the cairns and whatever worn tracks you see to work your way up the ridge until you finally crest the summit. You will immediately forget about your tired legs as you soak up the view is all directions from the top of Panorama Ridge.
Then it's just a matter of getting back on the trail and retracing your steps to the Rubble Creek Parking lot. If you wish for the return route, you can also detour down to Garibaldi Lake at the Outhouse Junction, adding a little distance, but variety. From the lake, you can carry along the Garibaldi Lake Trail back to your car.
Download the PDF version of this guide for offline use
Enter your email to receive the free PDF version of this guide. You will receive the file immediately in your email, and will also gain access to the monthly Outdoor Vancouver newsletter.
---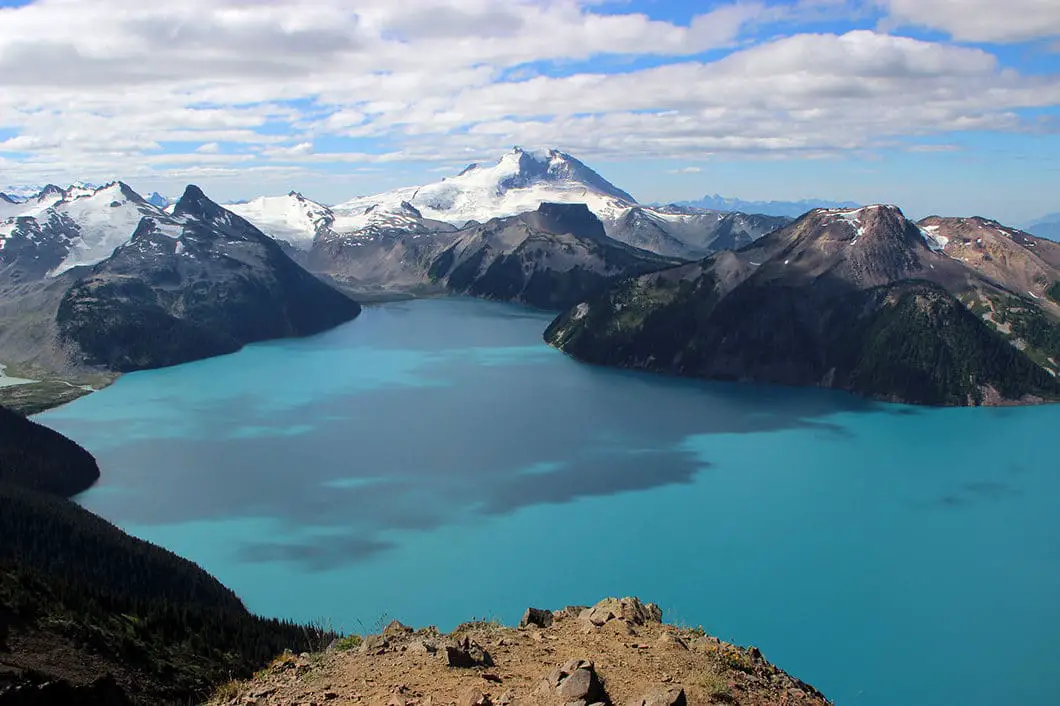 Camping at Garibaldi Park
Camping is permitted in Garibaldi Provincial Park in designated areas. Garibaldi Lake and Taylor Meadows are the two main campsites near Panorama Ridge.
As of 2018, reservations are required for all overnight stays in Garibaldi Provincial Park, year-round, and can be made up to 4 months in advance.
Self-registration stations are no longer be available at the trailheads as they used to be. All campers must pay in advance using the online system.
More details on the camping in Garibaldi Park and backcountry camping permits can be found here.
---
Directions and Parking
Take Highway #99 heading north past Horseshoe Bay towards Squamish. Keep driving along the Sea to Sky highway all the way to Squamish. Once you've hit downtown Squamish, watch your odometer and keep head north for about another 37 km. Keep a sharp eye out for the Garibaldi Provincial Park sign on your right. Just over the Rubble Creek Bridge you will take a right onto a small paved road that is not hard to miss.
Just continue on for a few kilometers until you reach the parking lot.
Google Map directions here.
---
Help Us Create New Hiking Guides!
Advertising revenue is falling quickly across the internet, and independently-run sites like Outdoor Vancouver are hit hardest by it. We are committed to keeping Outdoor Vancouver free and independent, but we need to find other ways to continue operating this site.

If you like our hiking guides and would like to help, please consider making a contribution with the PayPal or Patreon links below – any amount helps! There is also a list of other ways you can support Outdoor Vancouver here!
Becoming a Patron through Patreon unlocks membership benefits and rewards. Learn More.
A one-time donation through PayPal helps with monthly website hosting costs.
---
Other great hikes in this area
---
Download the PDF version of this guide for offline use
Enter your email to receive the free PDF version of this guide. You will receive the file immediately in your email, and will also gain access to the monthly Outdoor Vancouver newsletter.
---
Outdoor Vancouver Apparel