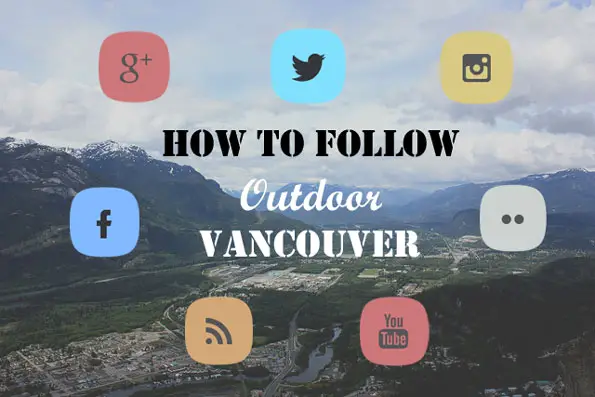 Do you frequently visit Outdoor Vancouver, looking to see if something new has been published?
Do you enjoy the top-notch hiking trail guides, gear reviews and other content and constantly find yourself wondering what you can do to help support the site?
Well then, this post is for you!
Below you'll find a list of the platforms Outdoor Vancouver can be found on. By following one or two of them, you'll be notified when new content is on the site instead of manually coming to the website and having a look. I also share of lot of interesting related videos and articles that I don't post on the website, so its a good way to stay even more in tune with what's going on around Vancouver.
If you want to support OV, the best thing you can do is follow the site and share the content with your friends via Facebook, Twitter, email, etc to help spread the word. (tip – It's super easy to do with the buttons hovering above all posts).
---
The Facebook page gets updated almost daily. Either with a cool video, interesting article, a new post from the website or sometimes I post something from the archives (like I did recently with the Tips for Buying a Sleeping Bag post). Facebook only shows you a fraction of the posts from the pages you follow on your news feed, so be sure use the Get Notifications feature to see all updates from OV.
---
I post the exact same content on Google+ as I do on the Facebook page, so its a matter of preference between the two platforms. Personally, I find Google+ has a much cleaner interface, and I prefer to follow companies, brands, and websites on G+ much more than I do on Facebook. Its also easy to group similar pages into different circles and determine how many posts you want to see from each circle.
If you're a Google Pluser, please +1 the site and posts, as the more +1's posts get they higher they show up in Google's search results.
---
The OV Instagram is probably our most active. The feed is a mix of original photos and also reposts a lot of great photos that are tagged #outdoorvancouver. The #outdoorvancouver hashtag has grown quickly over and there are over 75,000 photos tagged!
If you want your own photo featured on the OV Instragram feed, be sure to use the hashtag also.
---
We share articles about recent outdoors news (like SAR rescues), new website updates and links to other interesting articles.
As far as interaction goes, this is the easiest way to send us a message!
Follow @outdoorvan.
---
Each month I send out a newsletter. It's mostly related to what's going on around Vancouver. But hey, people from all around the world have signed up for it – so don't be shy. It's a no BS newsletter. Typically it goes like this. I'll feature something new and noteworthy. Either  a big update from the website, something on my mind, or a great article I've come across that month. Then I'll link to the 10-20 news articles from around the Lower Mainland pertaining to the outdoors for that month. Lastly, there is another update on what's new on the website, and links to some of the upcoming events around town. That's it. Once a month, no spam and complete privacy for your email. Sign up here.
---
The OV Flickr Group has been going since 2008 and there are almost 1,000 photos from the community in the group!
And the photos are ridiculously good. There's very recent examples above and below. If you use Flickr – and with 1 TB of free photo storage you're crazy not to –  join the group and add some shots. I frequently grab a few of them for feature on the website (as I just did)!
---
Youtube is also fairly new for Outdoor Vancouver. I only recently started creating overview videos for all the hikes I post to the trail guides page, like the one above for the Kennedy Falls. It's not my fault, GoPro's didn't exist 5 years ago! Anyways, I'm adding more videos now, and will be re-doing some of the old hikes to make videos for those, so it's worth subscribing to the channel to see the new ones as they come out.
---
Pinterest is the newest platform for Outdoor Vancouver. We're active there, though. We post nature quote images, our hiking guides, outdoor photos from the Vancouver archives, and recommended outdoor gear and book.s
---
Good 'ol RSS. The easiest way to keep up to date with all the new content published on all your favorite sites. (If you're not sure what RSS Feeds are check this out).
Yes, Google Reader is dead, sadly, but RSS feeds are alive and kicking. Personally, I've been using Digg Reader and find it does the job. The OV RSS is here.