Below you'll find a list of the platforms Outdoor Vancouver can be found on. On these platforms we share our new hiking trail guides and local outdoor news stories. We love connecting with our readers, so please reach out and say hi!
If you want to support Outdoor Vancouver, the best thing you can do is follow us on your platform(s) of choice, and tell your friends about us if you like our content and trail guides.
If you would like to support us financially to keep the site going and growing, we have some info on that below as well.
Where to connect with and follow Outdoor Vancouver
---
The OV Instagram is probably our most active feed. The feed is a mix of original photos and also reposts a lot of great photos that are tagged #outdoorvancouver. The #outdoorvancouver hashtag has grown quickly over and there are over 175,000 photos tagged!
If you want your own photo featured on the OV Instragram feed, be sure to use the hashtag also!
---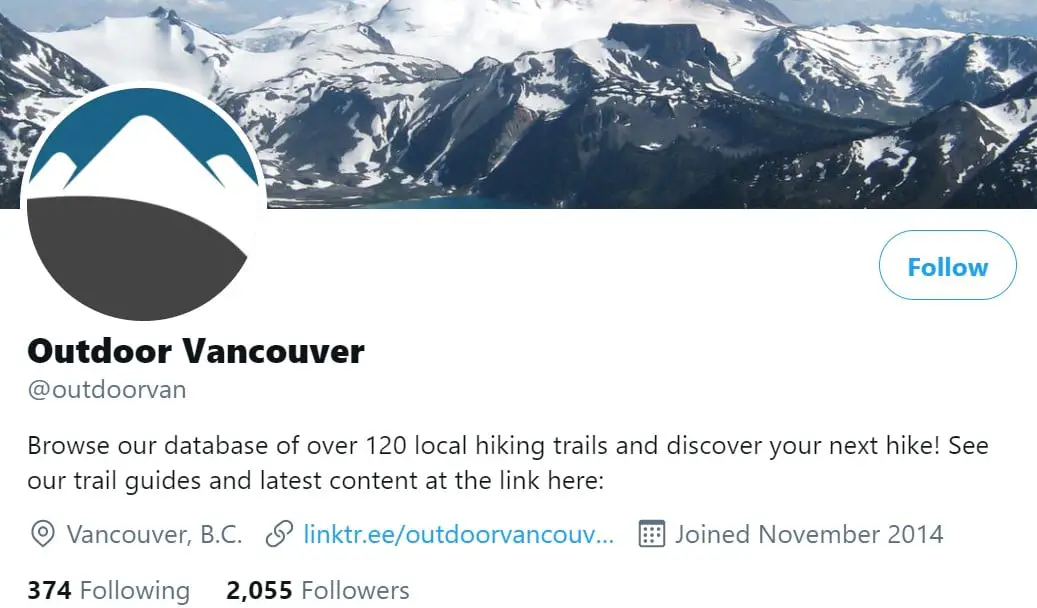 We share articles about recent outdoors news (like SAR rescues), new website updates and links to other interesting articles.
As far as interaction goes, this is the easiest way to send us a message!
Follow @outdoorvan.
---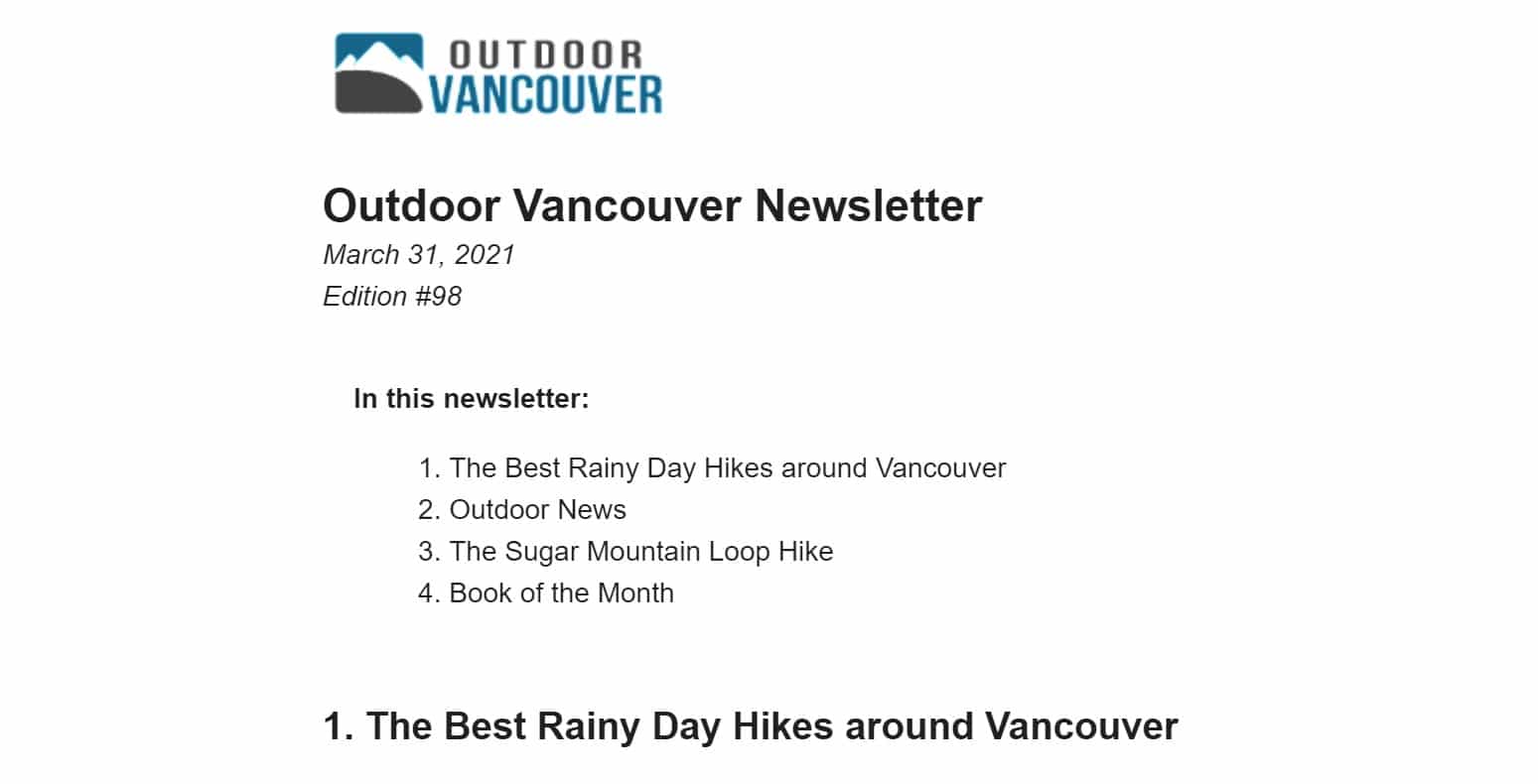 At the end of each month we send out a newsletter. It's mostly related to what's going on around Vancouver. But hey, people from all around the world have signed up for it – so don't be shy. The newsletter has been active since 2013 and has over 10,00 subscribers!
Typically it goes like this: We'll feature something new and noteworthy. Usually the latest hiking guide on the website the website, or a great article we've come across that month. Then we'll link to the 10-20 news articles from around the Lower Mainland pertaining to the outdoors for that month. Lastly, there is another update on what's new on the website, and links to some of the upcoming events around town. That's it. Once a month, no spam and complete privacy for your email. Sign up here.
---
---
We create a trail overview video for all the hikes we post to the trail guides page. They're typically short videos 4 – 6 minutes long, that give you an overview of what the hike is like, potential pitfalls to watch out for, what we like about the hike, etc. Once in a while we post something a little different, like the short film for the Juan de Fuca Marine Trail above, which is a 20-minute overview of our trek in 2020.
Be sure to subscribe to the channel to see the newest videos as they come out!
---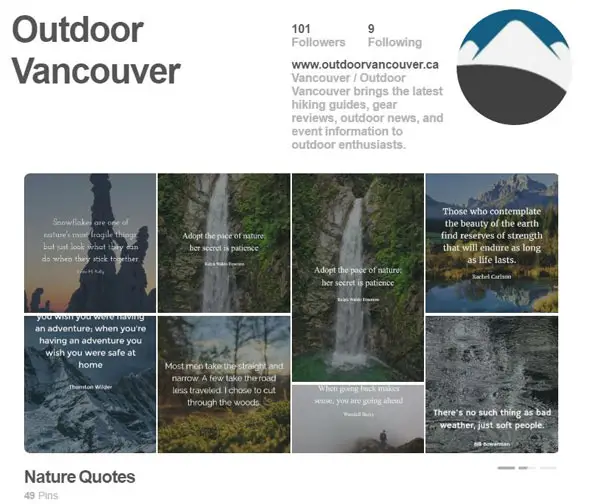 You can give us a follow if you're on Pinterest as well! We post nature quote images, our hiking guides, outdoor photos from the Vancouver archives, and recommended outdoor gear and books.
---
Good 'ol RSS. The easiest way to keep up to date with all the new content published on all your favorite sites. (If you're not sure what RSS Feeds are check this out).
Yes, Google Reader is long dead, but Feedly does a good job. The Outdoor Vancouver RSS is here
---
---
How to contribute to Outdoor Vancouver
Running the website costs upwards of $400 each month. On top of this, we spend countless hours creating new content and hiking guides every single week. We do this because we love the outdoors, and want to encourage everyone to get outside and get hiking. Financial contributions help us cover our costs, and keep us motivated to keep growing and improving the site. Below are some ways you can support us.
We have a line of locally inspired and top-quality apparel and accessories. Tees, longsleeves, toques, hoodies, tanks, neck gaiters, stickers, prints… there's tons of cool gear to check out! Proceeds from the purchases help support the site (we also kick back a small amount to Take a Hike Youth at Risk Foundation on all apparel purchases). The shirts make great presents, so keep the store in mind the next time you're trying to find that perfect something for that friend or family member! Shop here.
---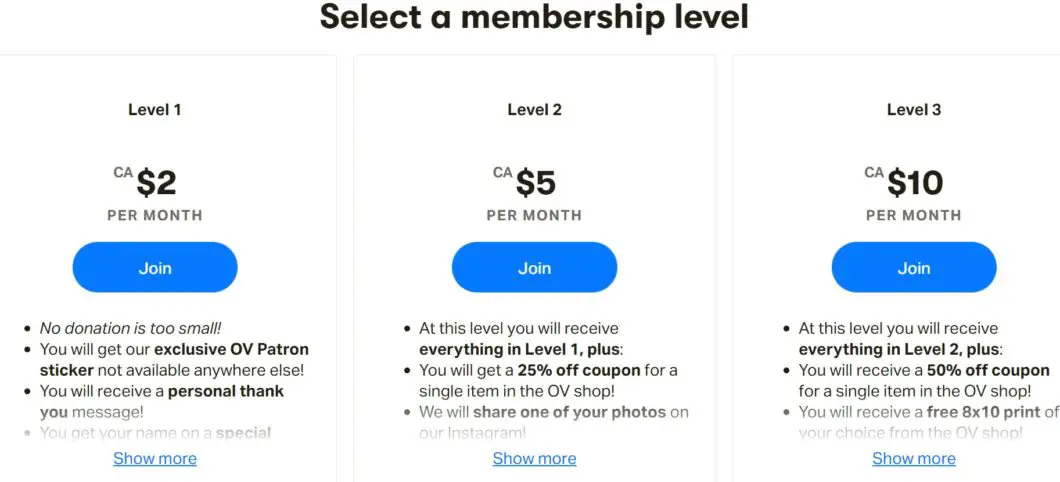 Patreon is a crowd-funding platform that allows you to support Outdoor Vancouver with small monthly contributions, while getting cool rewards in return!
By becoming a Patron of Outdoor Vancouver and making small monthly financial contributions, you'll receive exclusive perks, including Outdoor Vancouver merch, eBook, and more!
---
If you want to make a one-time financial contribution, PayPal may be the easiest way. You can send direct transfer to us here. If you do, consider including your name and email in the 'Note' field so we know who the contribution is coming from and can send you our thanks!
---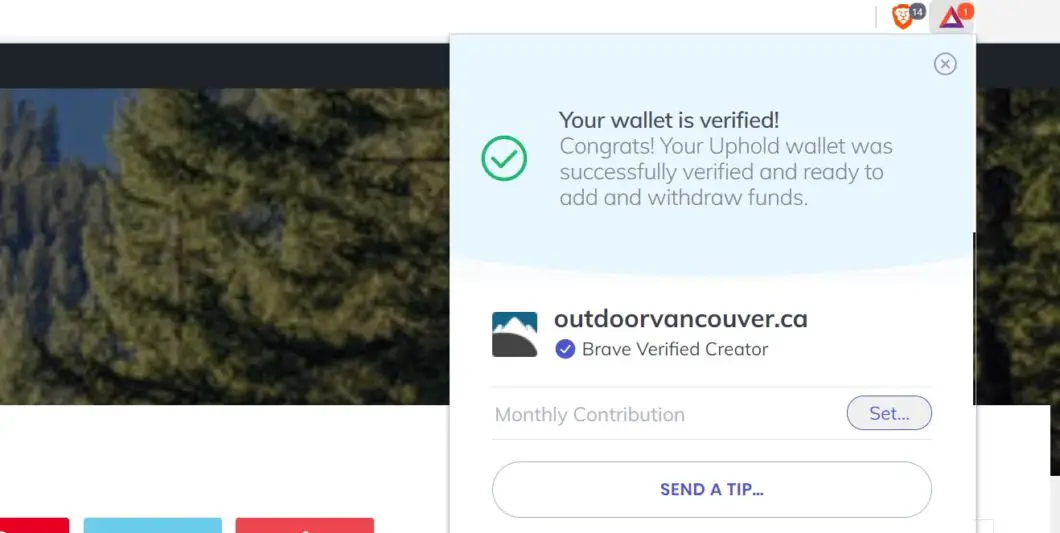 The Brave Browser is three times faster than Chrome, offers better privacy by default than Firefox, and uses 35% less battery on mobile. Its a browser built with a privacy-first mentality. It also has a built in ad-blocker. Generally speaking, ad blockers hurt small, independent websites like Outdoor Vancouver, as we rely on running ads to support the cost of hosting, maintenance, email lists, and so on. But the neat thing about Brave Browser, is that you can earn tokens (called BAT) as you browse, and can choose to tip those BAT to websites you enjoy! If you're a Brave user, we'd be glad to receive and tips you might want to give! You can do that by clicking the little triangle in the top search bar of the browser.
---