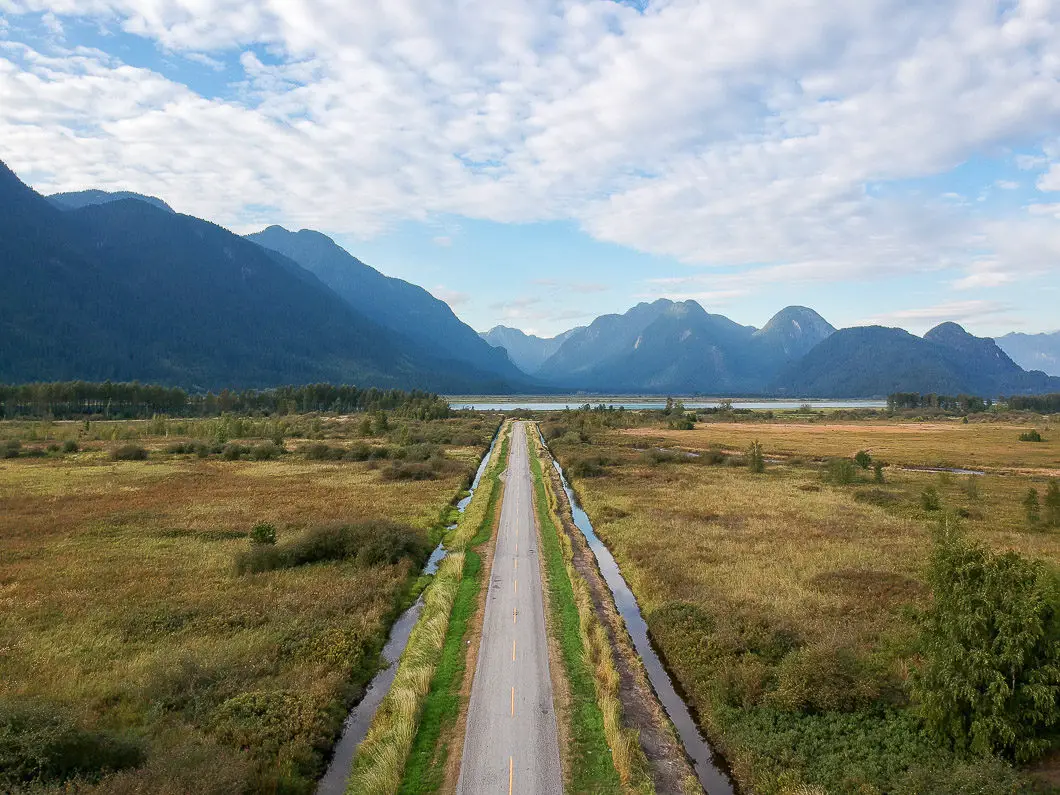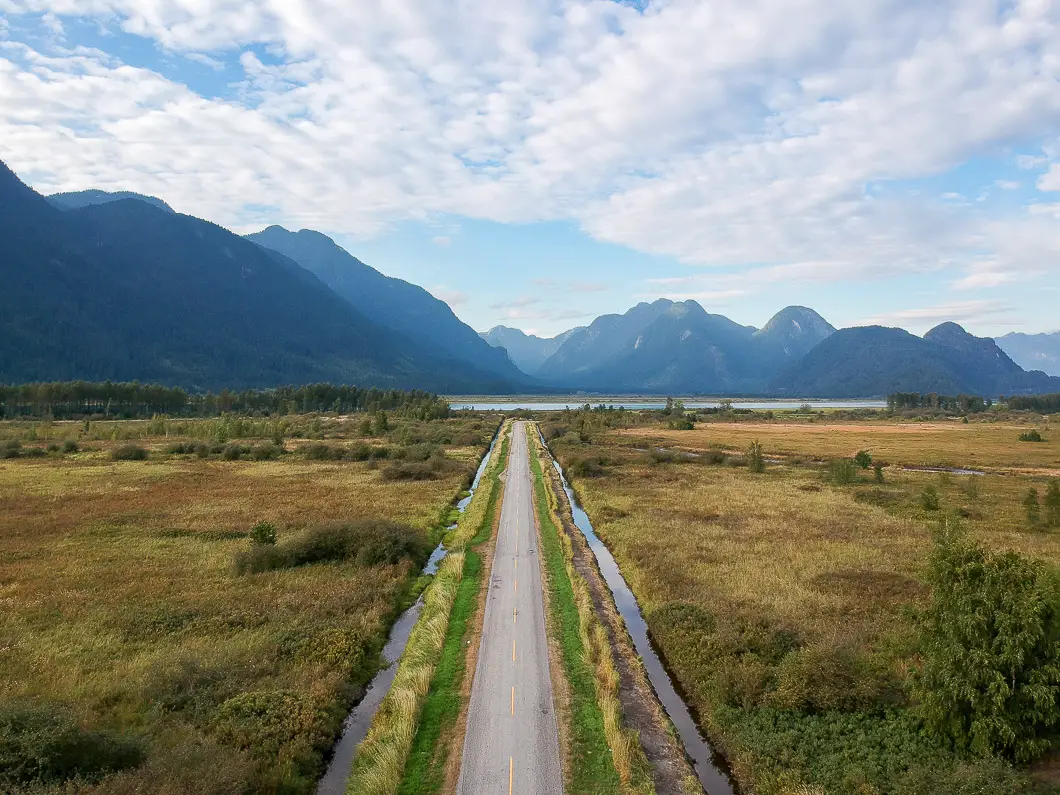 Widgeon Falls – Table of Contents
Widgeon Falls Hike Intro
Widgeon Falls is a popular day-hike, with a fun twist. You need to take a canoe or kayak to reach the trailhead.
Located on the north side of Pitt Lake, within Pinecone Burke Provincial Park, Widgeon Falls is a terrific way to spend a summer day. The trail is open year-round and is also a good option in the shoulder seasons.
Kayaks and canoes can be rented outside of the winter months at the dock from Pitt Lake Canoe Adventures. The paddle across Grant Narrows and up the Widgeon Slough takes about 60 to 75 minutes. The paddle to the trailhead is scenic, as you wend your way through the peaceful and shallow waters of Widgeon Slough.
The hike portion is mostly flat and easy-going, taking about 2.5 hours, return. In total, the entire trip, including return, takes about 5 – 6 hours.
The hike itself isn't too difficult, making this a fun, full-day outing for families.
Camping is also an option. There are user-maintained facilities (outhouse, food cache, tent sites) at the trailhead area. More details on camping can be found below.
Be bear aware on this hike.
---
Widgeon Falls Hike-only Stats
Rating: Easy
Distance: 6 km
Net Elevation Change*: 85 m
Highest Point: 95 m
Time Needed: 2.5 Hours
Type: Out-and-back
Season: Year-round
Dogs Allowed: Yes, on leash
Est. Driving Time from Vancouver: 1 Hour
Trailhead Coordinates: 49.375448, -122.642743
Widgeon Falls Hike Stats (Including Paddle)
Rating: Easy
Distance: 15 km
Net Elevation Change*: 85 m
Highest Point: 95 m
Time Needed: 5 – 6 Hours
Type: Out-and-back
Season: Year-round
Dogs Allowed: Yes, on leash
Est. Driving Time from Vancouver: 1 Hour
Trailhead Coordinates: 49.349211, -122.616474
*For a better understanding of the stats and difficulty rating, check out the Hiking Guides page for details. Always carry The Essentials and fill out a trip plan.
---
Widgeon Falls Video
Here is a 2-minute video of our experience on this hike!
---
Widgeon Falls Hike Map and Elevation
Profile
Minimum elevation:
No data
Maximum elevation:
No data
Duration:
No data
---
Canoe Rental Details
Kayaks and canoes can be rented from Pitt Lake Canoe Adventures located at the end of the parking lot by the boat launch area. Rentals are first-come-first-serve. In 2017, our canoe rental was $55 for the day or $85 for overnight. Cash only.
The hours are 6 am to 8 pm during the busy season, but they don't operate in the winter months, so call during the shoulder season to make sure they are open (604-836-7117).
Further tips for the paddle:
Wear sandals, as you may have to get out and drag your canoe in a few shallow spots.
Wear the provided PFD.
If it's going to be your first time canoeing, do a quick online search for some beginner canoeing tips.
Place electronics and sensitive gear in a dry sac.
Bring sun protection as you will be exposed to the sun, and its rays will reflect off the water.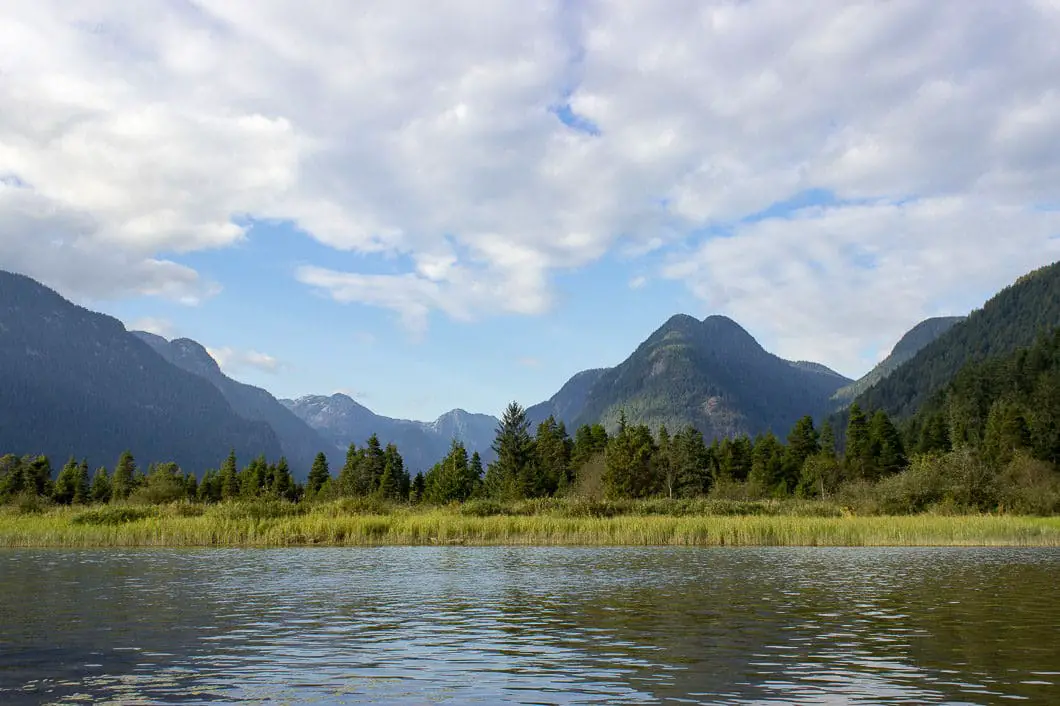 Paddling Route
Depart from the dock in your canoe/ kayak and paddle north, across Pitt Lake/ Grant Narrows. You can see the entrance to Widgeon Slough, almost directly across from the dock. Don't doddle crossing Grant Narrows as many motor boats rip up and down here.
As you reach the entrance to Widgeon Creek, Siwash Island is on your left. As you enter Widgeon Slough the water will get shallow. It is easier to make the paddle at high tide, so if possible, time your trip accordingly. If you are paddling at low-tide, you may have to hop out of your canoe at a few spots and shuffle it over a few sandbars, depending on the water levels. Particularly in the late summer.
Cool fact: "[Pitt Lake] is one of the world's relatively few tidal lakes, and among the largest. In Pitt Lake, there is on average a three-foot tide range; thus Pitt Lake is separated from sea level and tidal waters during most hours of each day during the 15-foot tide cycle of the Pitt River and Strait of Georgia estuary immediately downstream. [source]
The paddle should take about 60 to 75 minutes at an easy or beginner pace. The entire paddle is scenic and peaceful, with gorgeous views all around into the Widgeon Valley. Many types of birds, deer and maybe even bear or coyote can be seen in this marshland.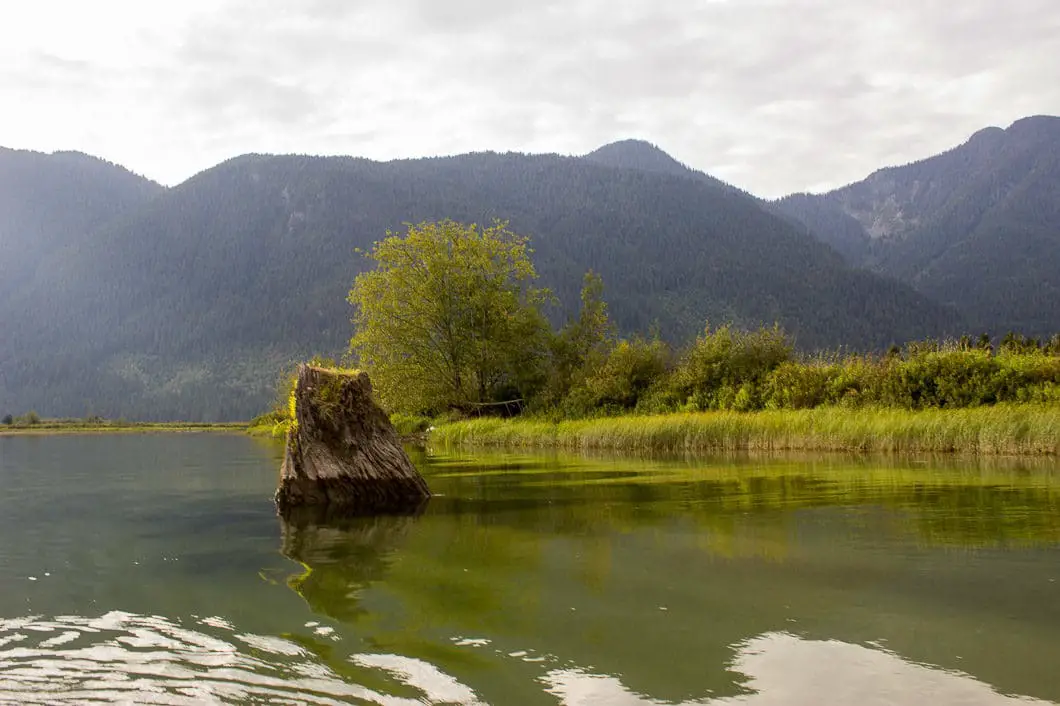 After about 30 minutes of paddling, there is a fork in the creek and you may notice the small sign for Widgeon Falls. Stay left at this fork.
Follow the creek up, as it becomes narrower and narrower. Eventually, you'll see the shore of the campsite, which you can't miss once you reach it.
Once you reach the campsite, you can flip your canoe/kayak upside down to drain out any water and leave it up on the shore. Pull it well up off the beach, safely away from any rising tide.
Just inland there is a trail map and park information board. You'll also find a pit toilet here if needed. Stretch out, dry out, grab a bite, and start hiking up the path when you're ready.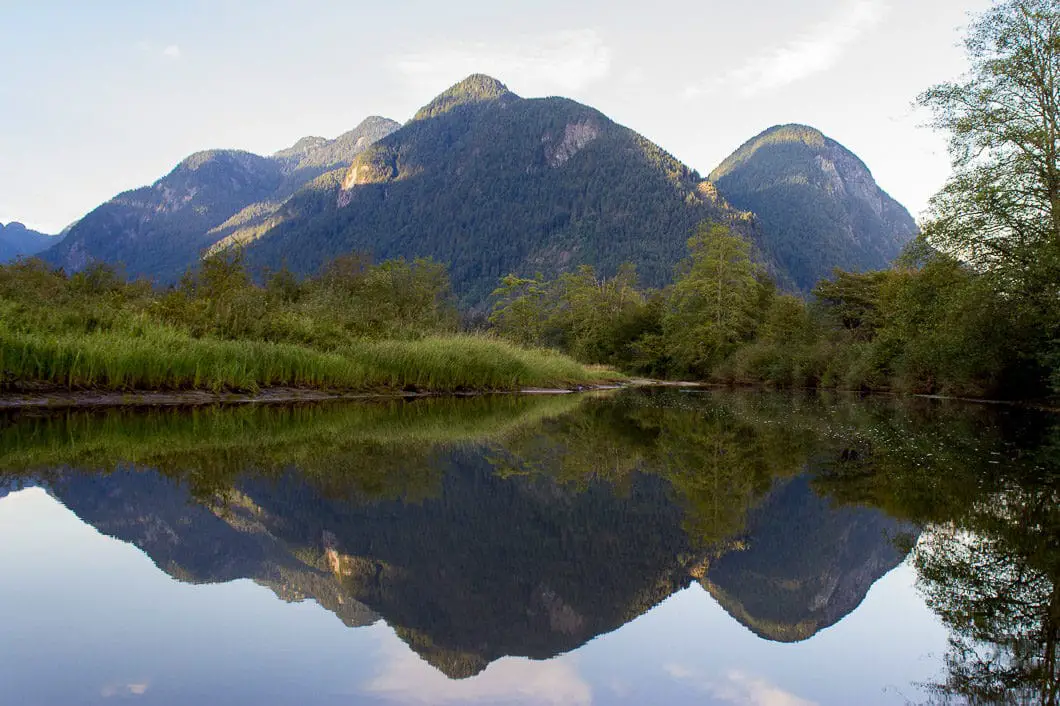 Widgeon Falls Hiking Route
Straight up from the shore, and to your right, you'll find the trailhead for the hike to Widgeon Falls. You'll notice the trail continues in the other direction (south). That is Quarry Road (an old logging road), that is blocked off to traffic. Quarry Rd begins in Coquitlam near Minnekhada Regional Park (and hikes like High Knoll and Munro & Dennett Lake).
You want to walk north along the trail, where it begins near the outhouse. The trailhead is marked by the standard, green B.C. Parks trailhead marker. From here, it is 2.9 km to Widgeon Falls, and 2.4 km to Widgeon Lake Trail connector.
The trail/ gravel path is wide and perfectly flat to begin. There are orange, square markers in the trees to guide the way. Maple trees are plentiful here.
There is not much to describe for the first 1 km. You walk easily along the path through the heavily forested area. You will be shaded by the green, mossy trees.
About 1.5 km, or 20 minutes into the hike you will come to a creek – usually dry. The trail drops down the loose rocks and up the other side.
Immediately after the creek, you will come to a junction. Going straight will take you along the path to Widgeon Lake. Widgeon Lake is a much tougher, longer hike, usually done as an overnight trip from the campsite.
The junction is also marked for Widgeon Falls via road. If you're short on time, or with little children, you can continue to take the road to save a bit of time. But, the trail is much more scenic so that is the way we will go.
Go right at this junction, to Widgeon Falls via trail.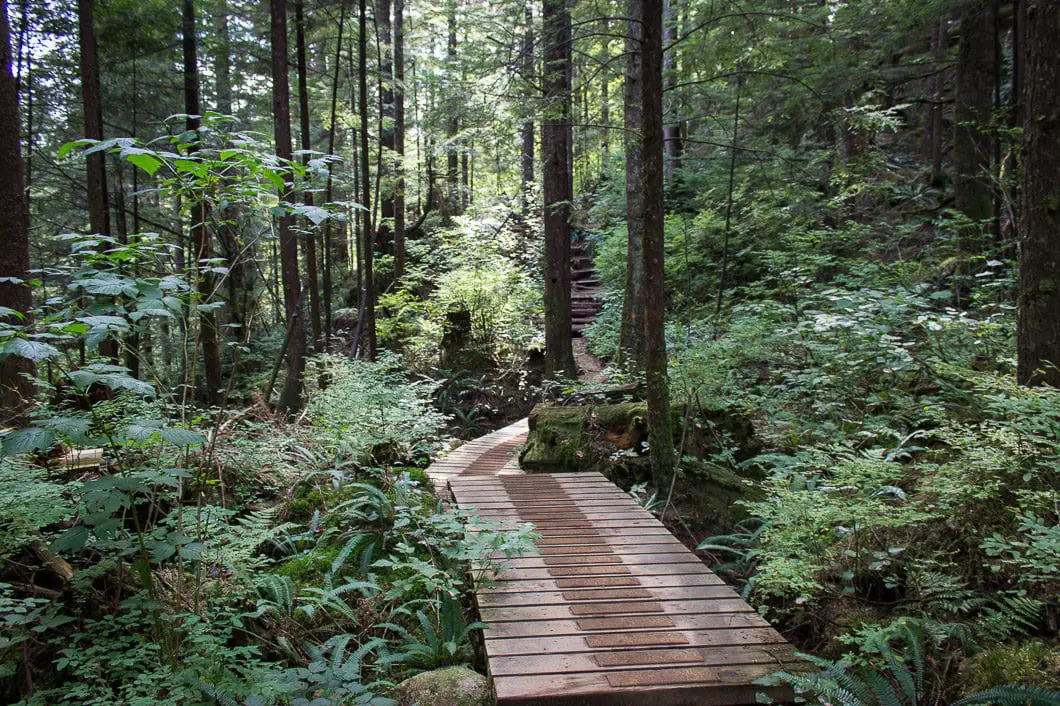 There will be more orange markers in the trees. The path now becomes an actual trail but is still well-defined and easy to follow, with a few tree roots.
You'll soon come to a view of Widgeon Creek and a big sign that says 'Trail' pointing to the left. The trail narrows a bit here but is still flat. It is very scenic in this area and feels more like a real hike now. Keep walking along the trail, with the forest on your left, and creek on your right.
After a few minutes, you'll cross over a wooden bridge. In the late summer, the stream will be completely dry. You'll begin crossing over several smaller wooden bridges.
After roughly 2.1 km or 30 minutes, you'll cross a third bridge. Keep following the trail, and you will come to a spot where you can actually access the creek. A good spot for dogs to take a drink. Take a quick look at the beautiful green water and carry on.
The trail continues to follow the creek across a few more log and wooden bridges. It gradually becomes a bit more rooty, but nothing overly challenging.
At 2.3 km, the trail climbs up a set of wooden stairs. It's a quick two-minute climb. Once you're up the stairs, the trail flattens out again and follows the creek upstream.
At roughly 2.7 km, you will reach the junction for the old trail to Widgeon Falls.
A sign here reads: "Due to very hazardous conditions, the Widgeon Falls Trail is closed beyond this point". The old trail was re-routed west here in 2015.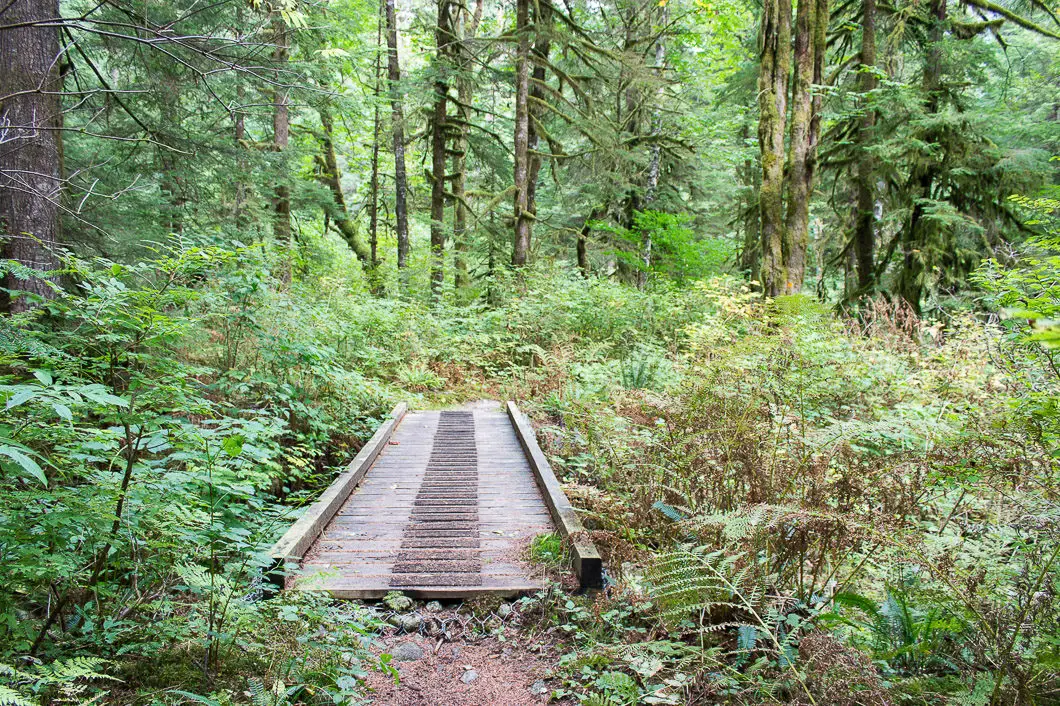 The old trail has many slippery and dilapidated wooden bridges and stairs. Much of the trail is overgrown, and the hiking is much slower and more hazardous, with slippery rocks and roots.
Stay left at the sign, staying on the newer, well-maintained trail with orange markers. It's only about 20 more minutes to reach the waterfall from here.
There are several short wood bridges over small streams, which are new and in good shape as of 2017.
The trail here is more-or-less flat, with some ups and downs for about 10 minutes. There are plenty of bright orange markers.
Approaching the final junction is an uphill climb. Nothing too challenging, but a few minutes of climbing. You'll come to a junction with a trail sign reading: "Widgeon Creek Falls 50 m". Go right at the junction.
The final stretch of trail drops down a set of wooden stairs and you'll be able to hear the falls. You emerge from the trees onto a wide-open rocky area. You can find a spot to enjoy the falls and eat lunch. It's possible to scramble up the large rocks to the top if you wish, taking caution and of course keeping distance from the water.
Late in the summer, when the rushing water is calmer, you can find some areas downstream suitable for taking a dip. Don't forget to bring your bathing suit. The water is cold but wonderful on a hot summer day. Pick your spot wisely, the currents can be incredibly strong and there can be undertows.
When you've had your fill of Widgeon Falls, take the same trail back to the beach to get your canoe. Be mindful of the hours of the rental shop if you've rented a canoe/ kayak. If you want to save some time on the hike back, go to the previous junction and find your way to the road. From there, go left (south), following the road all the way back to the Widgeon Creek campsite.
For the very adventurous, and those not wanting to paddle, you can access the Widgeon Creek campsite via a very long and difficult hike over the Burke Summit Trail and down the Burke-Widgeon Connector Trail (advanced hikers only). There is no access from Quarry Road, as it is gated and private.
Download the PDF version of this guide for offline use
Enter your email to receive the free PDF version of this guide. You will receive the file immediately in your email, and will also gain access to the monthly Outdoor Vancouver newsletter.
---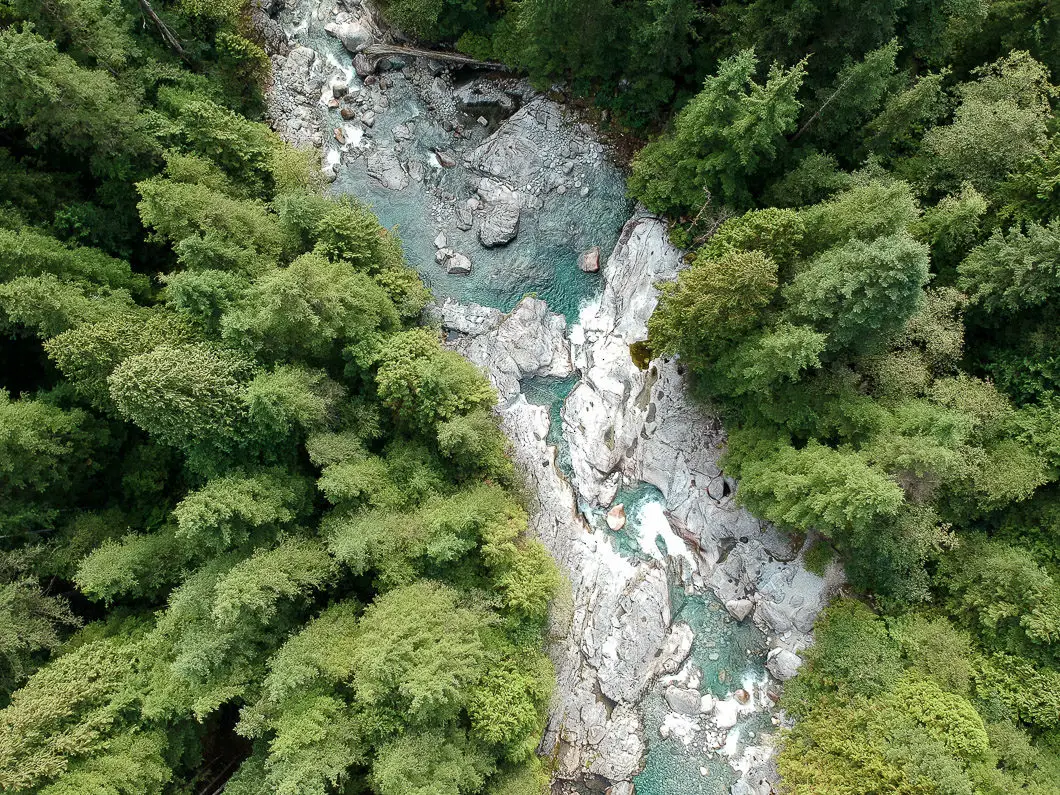 ---
Widgeon Creek Campsite
The Widgeon Creek campground has 12 campsites, a pit toilet, and a food cache. Water can be filtered from the creek 400 m south of the campsite along Quarry Road. Overflow camping is available in the large grassy area near the beach. There are no campfires permitted at Widgeon Creek campsite any time of year.
As of 2018, there are no fees or reservations to use the Widgeon Creek campsite.
Directions and Parking
Take Hwy 7 E towards Pitt Meadows/ Maple Ridge. Just after crossing the bridge, turn left onto Dewdney Trunk Road. Turn left onto Harris Road, and then right onto McNeil Road. Turn left onto Rannie Road and follow it all the way to the parking lot near the docks.
Day parking is free and overnight parking is $5 per night.
Google Map directions are here.
---
Help Us Create New Hiking Guides!
Advertising revenue is falling quickly across the internet, and independently-run sites like Outdoor Vancouver are hit hardest by it. We are committed to keeping Outdoor Vancouver free and independent, but we need to find other ways to continue operating this site.

If you like our hiking guides and would like to help, please consider making a contribution with the PayPal or Patreon links below – any amount helps! There is also a list of other ways you can support Outdoor Vancouver here!
Becoming a Patron through Patreon unlocks membership benefits and rewards. Learn More.
A one-time donation through PayPal helps with monthly website hosting costs.
---
Other great hikes in this area
Download the PDF version of this guide for offline use
Enter your email to receive the free PDF version of this guide. You will receive the file immediately in your email, and will also gain access to the monthly Outdoor Vancouver newsletter.
---
Outdoor Vancouver Apparel