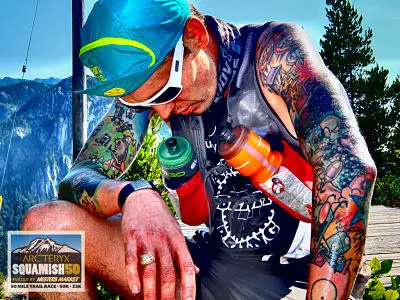 Photo by Rob Shaer.
It was another big month of races in the local trail running scene, with the second annual Arc'teryx Squamish50 being the 'main event'. I was up in Squamish for the race running the 50km course, and it was a great weekend, albeit a very hot race day. Every runner came across the line, simultaneously ecstatic for the accomplishment, while also cursing out the RD's for designing such a punishing, relentless course. (The difficulty of the course is brilliantly summed up in the top photo by Rob Shaer, which was captured at the top of Mount Phlegm, the final climb of the day).
At the elite level Adam Campbell had a big month, winning both the Squamish50 and 5 Peaks Whistler. A big congrats to Adam for rebounding off a recent string of injuries and coming back in a big way. It's great seeing Adam back in top-form.
Gary Robbins was off to UTMB and, although primed to have the race of his life, came across some incredibly tough luck with food poisoning on race day. I think its fair to say everyone around Vancouver was rooting for Gary, and it was heartbreaking to see the tweets come in from France that Gary had to drop the race, after going in with such high expectations and on such a hot-streak. But I guess a year where you win H.U.R.T. 100, the Knee Knacker, launch a brand new trail running series, co-RD the Squamish 50, and get married ain't all that bad. So we can't feel too sorry for him, can we? Gary will bounce back from a minor speedbump as he always does, and we all know he was set to kick some major ass in that race.
And Ellie Greenwood was back at it after recovering from a fractured ankle, doing her thing, you know, winning a road marathon in the UK. Because only dominating on trail gets boring.
And yes, Meet your Maker took place a few days ago, but I'm saving that for September's recap. Relax, will ya'?
News and Articles from the month:
Campbell wins second annual Squamish 50
Campbell takes top spot in 5 Peaks Whistler stop
Trail Roundup Sept 1.13.
Kilian Jornet – The Matterhorn Summit Interview. <–INSANE ALERT
August Race Results:
Squamish Days – August 4, Squamish. 10km. (RESULTS)
Arc'teryx Squamish 50 – August 10, Squamish. 50miles/ 50km/ 23km.  (RESULTS)
5 Peaks Whistler Blackcomb – Aug 24, Whistler. 6.5km / 10.6km.  (RESULTS)
Capilano Canyon Night Run – North Vancouver, Aug 24 ~90 minute course.  (RESULTS)
Go Home Via the Hanes Valley – Aug 31, North Vancouver. 14km / 18km / 30km.  (RESULTS)
Squamish50 Race Reports
Runners of all 3 courses (23k, 50k and 50m) all came in simultaneously cursing the race directors, and reveling in Congratulations to all the winners: Adam Campbell, who won the 50 miler in an amazing 7:37:23 and first female, Kristin Moehl, who came in at 9:37:13.  Congrats also to the 50 km winners Eric Carter and first woman, Catrin Jones, and to the 23km winners Brad Schalles and Anne-Marie Madden. Here's a link to a great article in the Squamish Chief.
Races in September!
Meet your Maker – September 1, Whistler. 50m.
Mountain Highway Madness (Fall) -September 8, North Vancouver. 15km laps – as long as you can last.
Grouse Grind Challenge – Sep 15, North Vancouver. 2.9km.
Frosty Mountain Trail Race – Sep 21, Campbell River. 15km Frosty Mountain – September 21, Manning Park. 50km/ 27km / 13km.
5 Peaks, Buntzen Lake – September 28. 10km / 15km.
Muthas Nature Trail Run – September 29. 50km / 25km / 10km.
Trail Video(s) of the Month:
2 Great ones from Squamish50:
ARC'TERYX 2013 SQUAMISH 50 from ARC'TERYX on Vimeo.
Science Corner:
How Exercise Helps (and Hurts) Sleep
"That initial study produced the expected result: a group of sedentary older adults with persistent insomnia did three days a week of aerobic exercise for 16 weeks, and by the end they reported better sleep quality and were getting an extra 45 minutes of sleep per night compared to the control group. Wonderful.But a closer look at the data reveals some surprises…"
Happy trails until next month!