This article was originally published Apr 26, 2013. Harvey Nelsen passed away in 2016. Please see the comments section at the bottom for a note from Harvey's son, Vin.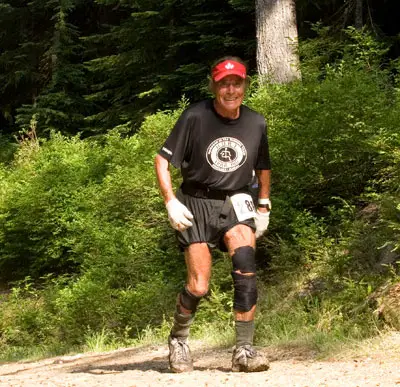 Who is Harvey Nelsen?
Harvey Nelsen is not somebody who holds any course speed records, but if you've ever done any local trail races he's probably someone you'll recognize. Over the last two decades or so Harvey has relentlessly been tackling some of the most challenging races in Vancouver and abroad.
Here's a sampling of his athletic resume:
Has completed over 50 marathons (including Vancouver 13 times, and Boston twice)
Completed the North Shore Knee Knackering Trail Race 5 times
Did the Grouse Grind 54 times over a 9 day period
Did the Grouse Grind 9 times in a single day
Has a fastest Grind time of 37 minutes
Has completed roughly 400 endurance events
And, oh yeah….
Harvey didn't start competing in endurance events until he was 58 years young.
If you've ever been into North Shore Athletics, you may have seen this collage dedicated to Harvey.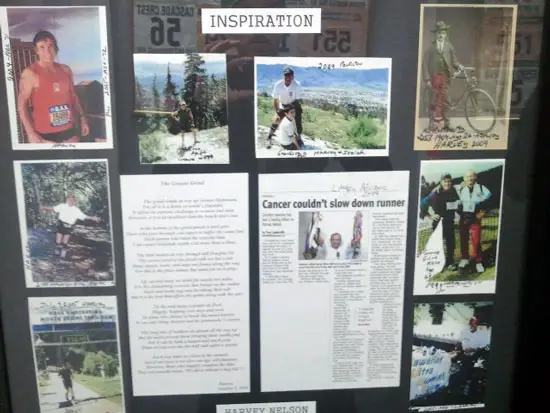 ---
The Early Years
I recently met up with Harvey at his house in Langley. "Story of my life is 'if you think about doing it, you can do it if you put your mind to it'," he told me.
And even though Harvey didn't start competing in endurance events until later in life, he was no stranger to an active lifestyle in his early days. Harvey was born in Saskatchewan and spent a lot of time working on his father's farm where he would constantly challenge himself to see how much work he could get done in a day. Harvey also had a stint as a competitive boxer and was putting in lots of hours running and weight training, in addition to his physically demanding job.
Later, Harvey worked for Saskatchewan Power for seven years as a lineman where he continued to push himself.  Pushing himself, and constantly striving to do his best, is a theme that would continue throughout his life in all his endeavors. This became evident to me as Harvey recalled the different chapters of his life. Regarding his time as a lineman, Harvey says "I was the best, I could get up and down the poles the fastest. I was always competing with myself. A fifty foot pole, I'd come down in 3 steps."
Harvey left Saskatchewan at age 25 and found work at a sawmill in Blue River, B.C.. "When I left the prairies I had no high school degree, just grade 7. It was tough working in the sawmill for 5 years." He soon heard about a woman who had completed her high school degree in one year as an adult, and decided to do the same himself. Harvey went on to get his high school degree and a masters degree in education so he could become a teacher.
While he was in school earning his teaching degree, Harvey worked a year at the historied Oakalla Prison in Burnaby as a guard. Even there, he not only wanted to do his best, but he wanted to motivate those around him. "That was tough, trying to work with the inmates to keep them motivated, to do better than just sitting in their cells. I'd turn them on to life, to give them a motive to do the best they can".
---
Finding Running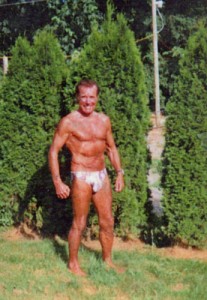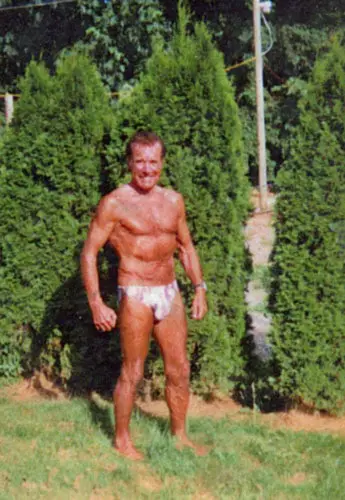 As a teacher Harvey taught a variety of classes and did a lot of physical education. His classes were more about motivating the students than they were about teaching the subject. To Harvey, the subject was simply the conduit to reach and inspire the children. After school Harvey also trained the Langley Lords hockey club for two hours on weights and running. During our talk, Harvey produced an old photo of his sculpted body to prove he knows his way around a weight room.
Upon retiring from teaching, Harvey didn't want to slow down. This is when the next chapter of his life, his career with endurance sports, began.
"The local, active people people were running," Harvey says of his start with endurance running. "There were so many people doing it, I thought I'd join the crowd. But when I joined the crowd, I wanted to be the best." Harvey started running with the Semiahmoo Sunrunners. Even on Saturday training runs with the club, Harvey was pushing himself, trying to be better each week. Before long, Harvey decided to try running a marathon and signed up for the 1991 Victoria Marathon.
From that point forward, running became an integral part of his life. This is immediately evident when you glance at the hand-written timesheet of the marathons Harvey went on to complete over the next 20 years (these are just MARATHONS):
But Harvey didn't stop with marathons. He has also completed about a dozen ultra-marathons, which are races longer than a 42km marathon, typically run in the mountains.
"A lot of these races are over 10 hours, they were tough. A lot of the times I felt like giving up. In most races, most people feel like giving up. I just said 'no, no I'm gonna' go'. That was from when I was younger doing farm-work. We used to walk all day doing work on the field. So I was born with that intuitive, never give up idea. I had to prove something to myself. Being the oldest, I wanted to keep up [running] with the young guys. I think that's mental telepathy. I was always 30 years older than the other guys. They're mostly in their 20's and 30's. I was always the oldest in any race I did, except for the marathons."
The below video shows Harvey at start line of the 2007 Knee Knacker 30mile ultramarathon – courtesy Enzo Federico:
---
Becoming Rambo
When asked about a favorite memory of all his races, Harvey immediately answers "China [the 2003 Beijing Marathon]. There was a 5 hour cut-off. It was hot and about two miles from the end a guy came up behind me and said 'there's a 5 hour cut-off, you gotta hurry up'." Harvey finished that race with a time of 4:59:52, beating the cut-off by 8 seconds.
It was this never-give-up and go-get-em attitude that earned Harvey his nickname; Rambo. "Because I was so aggressive, some friends started calling me that." Harvey also came to be known as the 'King of the Grind'. "I earned those nicknames, and I'm proud of them."
And earn them he did. For those unfamiliar with the Grouse Grind, it is a trail that takes you 2.9km and 2,798 vertical feet from the base of Grouse Mountain to the top. It is affectionately called Mother Nature's Stairmaster, and any self-respecting North Vancouverite can proudly tell you their 'Grind Time'. Most do the Grind, have a Gatoraide or beer at the chateau, and take the gondola back down to the parking lot, spent for the day. That's not Harvey's style though.
Harvey became known as King of the Grind for completing the Grind 54 times over a 9 day period. "I felt so good, I never got tired seven to nine times a day. I was competing with myself."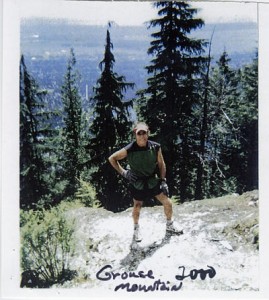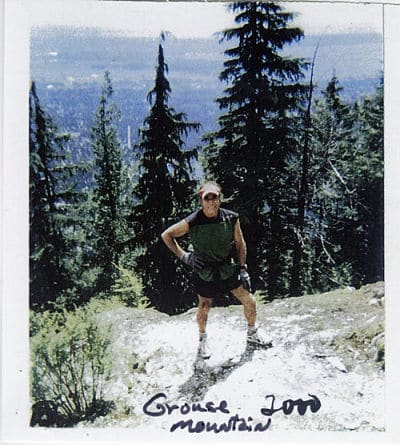 Another one of Harvey's favorites was the Sea 2 Summit Adventure Race, an agonizing two-day race from Deep Cove, North Vancouver to Whistler. Now defunct, the Sea 2 Summit was a 100-mile race that included paddling, running, mountain biking and orienteering.
"The [Sea 2 Summit] was the most spectacular – You had to carry your bike and run and carry your bike more over logs and stumps. Getting to Whistler was just like a dream. That was the toughest race. You couldn't predict what was going to happen next. With a marathon you can predict, it's one step after another."
After a string of hard luck, Harvey has been forced to slow his pace in recent years.
In 2008, a routine x-ray after a car accident revealed cancer. "I had to run through it. Never give up. It was a part of my life. I had it in my mind never give up, never let cancer defeat me", Harvey says. He kept running through it, the tumor was removed in 2009 and he was declared cancer-free. "Physically it didn't stop me".
But if that wasn't enough, Harvey fractured his leg in 2011 when he tripped on the sidewalk curb while talking to a friend. In early 2013, against doctors suggestions, Harvey had the pins removed and has begun walking again more easily. He even has hopes to slowly start running again, and would like to do another 5 Peaks race.
"Running is part of my life, but in all other parts, I always wanted to do the best."
And he's not kidding. Harvey's life has been full of many different chapters. "Phases of my life where I can say 'I did it'."
Just ask him about the time he got his hairdressers license and bought a beauty salon, or his Christmas tree farm, or the time he got his electrician's license. Or ask him about his pilots license. He'll tell you the story of how he turned his plane over while he was still in training against the instructors wishes. "Didn't have a clue if it was going to work but it did. The instructor just shook his head. I shake my head now and wonder why I did it."
And for those considering writing a running chapter into their own lives, Harvey offers the following advice.
"You gotta do gym work before you start running. Get your whole body in shape before you push it, because you need every muscle you got when you're running a marathon. Think about it before you do it, make sure you're in shape. I've found so many people start a marathon and quit before they finish [the race]".
And he finishes our talk with this.
"When I look over these medals, I just have the thought I'm glad I did it."
Click here to read Harvey's poem about the Grouse Grind.