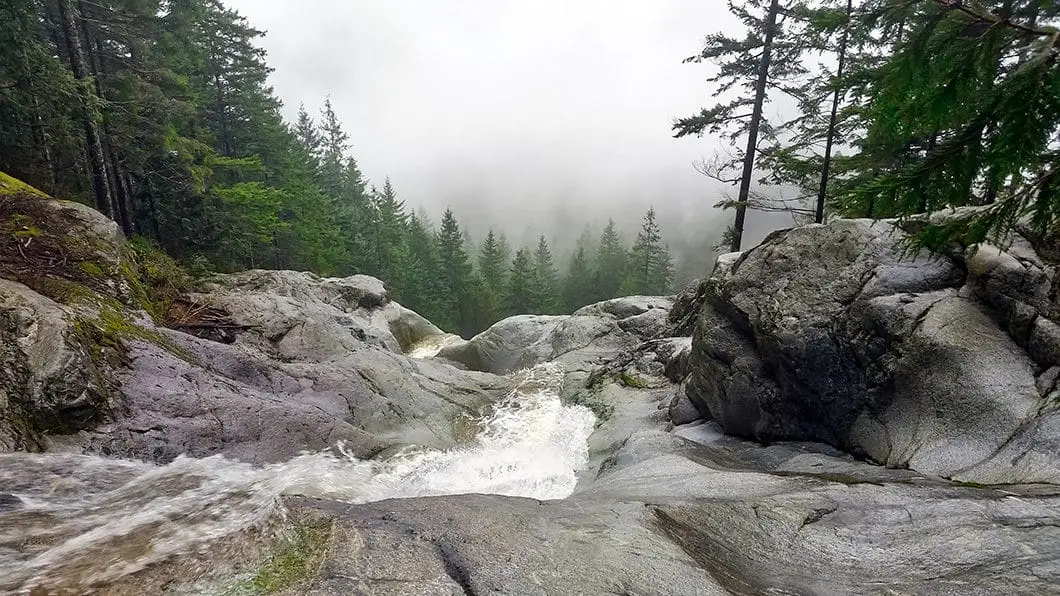 Swan Falls – Table of Contents
Swan Falls Hike Intro
Advance Parking Passes Required
From May 16 until September 4, all vehicles, including busses will need to book a free parking pass before arriving at Buntzen Lake. Parking passes are available starting at 7 a.m. the day before your planned visit. There will be no first come, first serve parking, and those who arrive without a parking pass will not be able to enter.

More details from B.C. Hydro are available here.
Swan Falls Loop (aka Halvor Lunden Trail) is a hike near Buntzen Lake in Anmore, which takes you along Eagle Ridge, past a waterfall (Swan Falls), tarns, lakes, and over an amazing summit (Mount Beautiful). It's a fantastic, lesser-travelled alternative to the Diez Vistas route for those wanting a challenging hike with lots of elevation gain, and some spectacular views.

The hike follows the Buntzen Lake Trail to the north end of Buntzen Lake, then sharply climbs up to the ridge on the east side of Buntzen Lake, and past Swan Falls up to Mount Beautiful. You then carry back south along Eagle Ridge, past Lindsay Lake, and back down to the parking lot – completing one long, challenging loop.
In terms of difficulty, compared to the nearby hikes, it is harder than doing the Lindsay Lake loop, yet easier than completing the full Dilly Dally Loop. It is also more difficult than the Diez Vistas Loop. BC Hydro, who manages the area, says of this hike: "It is very steep in places and is only recommended for experienced and fit hikers".
The hike is described below as completing the loop in a clockwise fashion, however, it can just as easily be completed in the other direction. The section from Buntzen Lake up to Swan Falls Loop is very steep, so whether or not you prefer to do the steepest section on the way up, or on the way down, may affect your decision of direction.
---
Swan Falls Hike Stats
Rating: Difficult
Distance: 18 km
Net Elevation Change*: 1,150 m
Highest Point: 1,280 m
Time Needed: 8 – 10 Hours
Type: Loop
Season: July to October
Dog Allowed: On-leash
Est. Driving Time from Vancouver: 50 minutes
Trailhead Coordinates: 49.339970, -122.855493
*For a better understanding of the stats and difficulty rating, check out the Hiking Guides page for details. Always carry The Essentials and fill out a trip plan.
---
Swan Falls Video
Here is a quick video of our experience on this hike!
---
Swan Falls Hike Map and Elevation
Profile
Minimum elevation:
No data
Maximum elevation:
No data
Duration:
No data
---
Swan Falls Hiking Route
From the large parking lots walk down to Buntzen Lake. There are bathrooms here if needed before you get started. To the right, just past the off-leash dog area, the Buntzen Lake Trail begins on the east side of Buntzen Lake. Get on the Buntzen Lake Trail and begin following the trail towards 'North Beach' at the other end of the lake. The trail is wide and rolling. This is the easiest hiking of the day, so use this time as a chance to warm up your legs.
It's about 4 km of easy walking to reach North Beach from the parking lot. Once you get to the north side of the lake, you don't actually want to stay on the trail to North Beach itself. Instead, you want to take the trail up to the BC Hydro Service Road and keep walking north, towards McCombe Lake. If you go over a bridge, you've gone too far.
Follow the service road and you will cross over Trout Creek (from which Swan Falls resides further up) and then come to an area with a huge scree slope on your right, along with a sign indicating is a rockslide hazard area. Just before you approach the scree slope, there will be a sign on your right which reads "Halvor Lunden Trail (Swan Falls Trail)". This is the trail you want to take.
From here, the trail begins its long, difficult upward climb to towards the summit of Mount Beautiful. Roughly speaking, from the trailhead here to Mount Beautiful is 1,100 m of elevation gain over 3.5 km distance. The climb up the trail is difficult, and there will be ropes to assist your climb in several sections. The good news is you have the scenic Swan Falls to look forward to along the way.

The trail is also easy to follow, aside from a few sections of deadfall, and there aren't really any junctions to go astray on. About 30 minutes into the climb, and around 5 km into the total hike you will reach lower Swan Falls with a great view onto the lake.
Swan Falls is the perfect place to stop for a few minutes, snap some photos and rest up before carrying on. There are actually two separate points you can view the falls. After the first falls, simply carry up the trail for a few more minutes to the second falls. Take caution near the powerful water along the slippery rocks.
Many people stop here, and return to the parking lot from the falls instead of completing the full loop.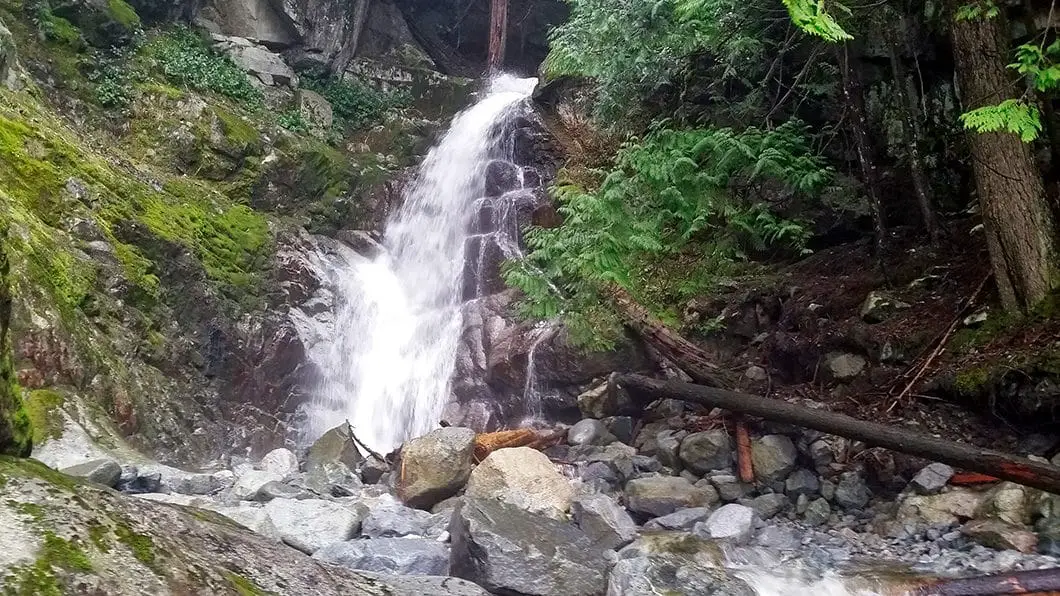 Cool fact: "Swan Falls was named for Gordon Swan by Dr. Simon Priest. Both were instrumental in trail building at Buntzen in the late 1970s on behalf of the Simon Fraser University Outdoor Club". [Source]
Carrying on from Swan Falls, the trail manages to get even steeper. There will likely be some deadfall, but nothing too hard to get around. About 5.3 km in you will reach an area marked 'Lower Gully' – a creek bed you will traverse. Keep following the flagging, and about 30 minutes later you will reach 'Upper Gully'. Traverse the gully here and continue on to the upper basin. You will pass through a lush meadow, at which point you are about fifteen minutes away from the Swan Falls Junction.
Once you start to emerge into the alpine there is a junction, marked as Swan Falls Junction. You will go right, and see another marker with an arrow reading '500 m to Mt. Beautiful'. If you were to head left here, you would be carrying along to Dilly Dally Peak.
Follow the trail up the final 500 m and enjoy the amazing panoramic view. From the summit of Mount Beautiful you can see the Fraser Valley, the Indian Arm, Lake Coquitlam, Mount Seymour, Mount Baker and much more. Mount Beautiful has had a bit of an identity crises over the years and is also sometimes referred to as Eagle Peak or Tangled Summit.
You can also see Lake Coquitlam below to the east, which is a protected watershed area. There is a 2.4 mile water pipe, built in 1902, which connects Lake Coquitlam to Buntzen Lake.

After soaking up the views you will continue southward along Eagle Ridge, in the direction marked for Lyndsay Lake which is 2.8 km away. From Mt. Beautiful to Lyndsay Lake takes about an hour of hiking.
Reaching Lyndsay Lake is another good resting point, and depending on the time of year can be a great spot to eat some wild blueberries. From Lyndsay Lake, it's about 10 more km to get back to the parking lot. There are two possible routes from the lake. Going left will take you on the 'Lower Lakes' route and going right will take you along the 'Viewpoints' route. Both routes will connect back at a major junction, named the El Paso Junction. To quickly summarize the options:
Lower Lakes Route: This route is more direct and takes you through lush terrain with a series of beautiful tarns. There are plenty of blueberries on this trail in the late summer.
Viewpoints Route: This route drops you down around the west side of Eagle Mountain and gives you several great lookouts of Buntzen Lake, the Burrard Inlet and the general landscape out to the west. This trail is more difficult terrain and will take a bit longer.
Take the route of your choice, until the trails connect at the well-marked El Paso Junction. From the El Paso Junction, your next major landmark will be the Polytrichum Lookout. The trail between El Paso and Polytrichum will be relatively flat, and you will pass through a brief clearing in the trees. Polytrichum Lookout is marked and provides your final view for the day. From here, you can see Buntzen Ridge (Diez Vistas) and over to the North Shore.
From the Polytrichum Lookout only about 2.5 km of hiking remains, but the trail is very steep back down to Buntzen Lake as you drop roughly 550 m of elevation over that distance. Continue to follow the trail all the way back down, and you will emerge just adjacent to the parking lot at Buntzen Lake!
Download the PDF version of this guide for offline use
Enter your email to receive free PDF version of this guide. You will receive the file immediately in your email, and will also gain access to the monthly Outdoor Vancouver newsletter.
---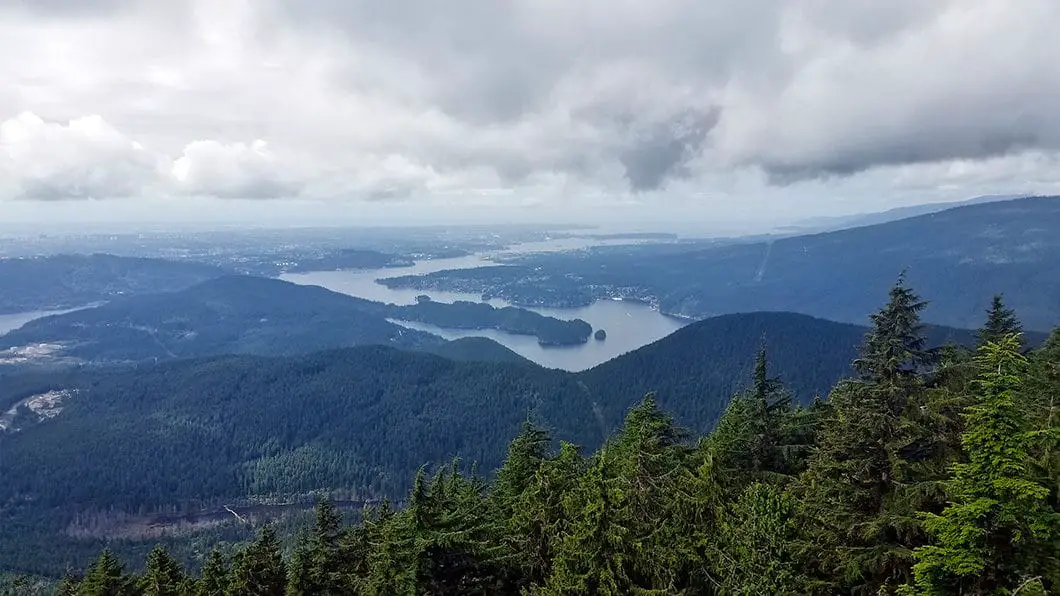 Directions and Parking
The trail begins from the Buntzen Lake parking lot. The easiest way to get there is to take Highway 7A (Barnet Highway) and turn north onto Ioco Road. At the second major intersection on Ioco, the street will bear left, paralleling the inlet. Follow Ioco Road until you come to a stop sign at 1st Ave. Turn right onto 1st Ave and then bear right immediately at the fork for Sunnyside Road. Follow the Sunnyside Road up the hill to its end, which will take you right into the park.
Google Map directions are here.
---
Help Us Create New Hiking Guides!
Advertising revenue is falling quickly across the internet, and independently-run sites like Outdoor Vancouver are hit hardest by it. We are committed to keeping Outdoor Vancouver free and independent, but we need to find other ways to continue operating this site.

If you like our hiking guides and would like to help, please consider making a contribution with the PayPal or Patreon links below – any amount helps! There is also a list of other ways you can support Outdoor Vancouver here!
Becoming a Patron through Patreon unlocks membership benefits and rewards. Learn More.
A one-time donation through PayPal helps with monthly website hosting costs.
---
Other great hikes in this Area
---
Download the PDF version of this guide for offline use
Enter your email to receive free PDF version of this guide. You will receive the file immediately in your email, and will also gain access to the monthly Outdoor Vancouver newsletter.
---
Outdoor Vancouver Apparel