Opal Cone – Table of Contents
---
Opal Cone Hike Intro
Like many of the hikes in Garibaldi Provincial Park, the hike to Opal Cone is one that seems to provide endless breathtaking views. At 35 km, the hike is a very long day-hike, however, the trail is not overly challenging or technical. Many of the kilometers covered are on rolling, wide trail. Best of all, this hike can easily be accomplished from the beautiful Elfin Lakes campground.
If starting from the Elfin Lakes campground, Opal Cone is a more manageable hike of 6.5 km (one-way). Given the opportunity to hike not only Opal Cone, but other hikes such as Mamquam Lake and the Gargoyles in the area, camping at Elfin Lakes is the recommended option for this hike.
The panoramic view from the summit of Opal Cone is nothing short of spectacular. You have views of The Gargoyles, Columnar Peak, Pyramid Mountain and even Elfin Lakes, just to name a few. The Garibaldi Neve and several glaciers are also prominently on display. And it's not just the summit that provides the rewarding views. Along the entire hike you are bombarded with meadows full of wildflowers, moraines, ridges, expansive valleys and all-around stunning scenery.
This is a hike you definitely want to do with clear skies to soak it all in. However, it is worth noting that there relatively little protection from the sun on this hike, so take common sense precaution to avoid heatstroke and bring plenty of water.
Cool fact: Opal Cone itself is an extinct cinder cone volcano1. It feels like you're on a different planet as you approach the summit.
---
Opal Cone Hike Stats
Rating: Difficult
Distance: 35 km
Net Elevation Change*: ~750 m
Highest Point: 1,736 m
Time Needed: 10+ Hours
Type: Out-and-back
Season: July to September
Dogs Allowed: No
Est. Driving Time from Vancouver: 90 Minutes
Trailhead Coordinates: 49.750175, -123.053186
*For a better understanding of the stats and difficulty rating, check out the Hiking Guides page for details. Always carry The Essentials and fill out a trip plan.
---
Opal Cone Video
Here is a 3-minute video of our experience on this hike!
---
Opal Cone Hike Map and Elevation
Profile
Minimum elevation:
No data
Maximum elevation:
No data
Duration:
No data
---
Opal Cone Hiking Route
(The first section of this hike takes you to Elfin Lakes. For a more detailed description of the hike to Elfin Lakes be sure to check out the Elfin Lakes trail guide)
To start this hike you will embark from the Diamond Head parking lot, through the yellow gates. The first 5 km take you along the remnants of an old access road up to Red Heather Meadow and the Red Heather shelter. This portion of the hike is a relatively uneventful and steady uphill climb until you reach Red Heather Meadow, where you can take a break and use the outhouse if needed. It's about an hour and a half to reach the meadow/shelter from the parking lot. From the meadow, the trail continues up and is quickly marked at a junction separating mountain bikers from hikers. As a hiker, you will go left here – but both trails rejoin before long on Paul Ridge.
While the first portion of the hike was within the forest and meadow, you soon emerge from trees along Paul Ridge. You will start to get a sense of the amazing views you will see during this hike. From this spot you will most prominently see Atwell Peak off to the north. Continue climbing along Paul Ridge and you will soon max out at an elevation of 1,590 m before you begin to drop down towards Elfin Lakes.
From Red Heather Meadow to Elfin Lakes it is 6 km and about an hour and a half's effort. As you approach Elfin Lakes, directly behind the hut and the lakes themselves you will see your final destination of Opal Cone looming directly behind in the distance.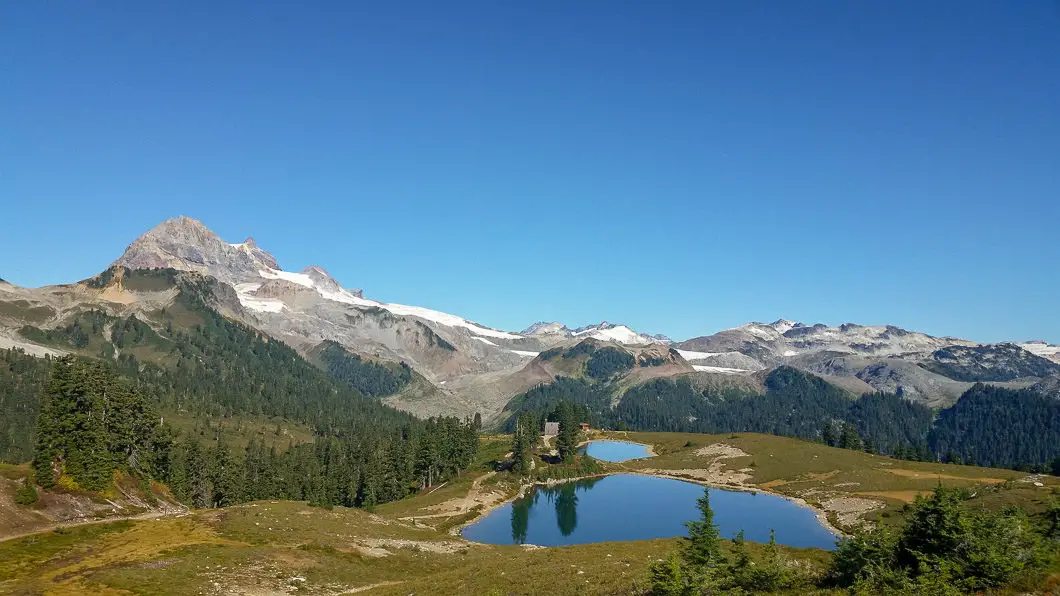 To Opal Cone from Elfin Lakes
If you are camping at Elfin Lakes you can drop your gear here. Or, you can also sleep in the Elfin Lakes shelter, which will surely have open bunks available in the summer months. When you are ready to carry on and tackle Opal Cone, you will find the trail junction clearly marked directly in front the Elfin Lakes shelter.
Follow the trail downward, to the west, and within 10 minutes you will come to a junction. Stay on the trail in the direction marked for Opal Cone/ Mamquam Lake as it continues to roll along. There is soon large creek crossing (dry in the late summer) – and soon after that another creek bed crossing. The trail will enter into the trees again, which may be some welcome protection from the sun if you're out on a hot, summer day.
The trail will roll up and down before emerging to a view of Ring Creek in an expansive valley which was carved out by the retreat of an ancient glacier. You will see Opal Cone rising off to your right on the other side of Ring Creek. You will be crossing Ring Creek you see below, and if you look closely you can see the trail you will take to ascend up the side of Opal Cone. The terrain now becomes exposed once more, but the trail remains easy to follow.
There are cairns and the odd orange flagging to keep you on track but the trail is well-established. Carry on along the trail as it drops sharply towards the creek. There is (or should be) a bridge which was rebuilt in 2014 allowing you to safely cross the rapidly moving glacial meltwater of Ring Creek, however, take caution as there are no handrails on the bridge. This is a good spot to replenish water if you are low or did not do so back at Elfin Lakes.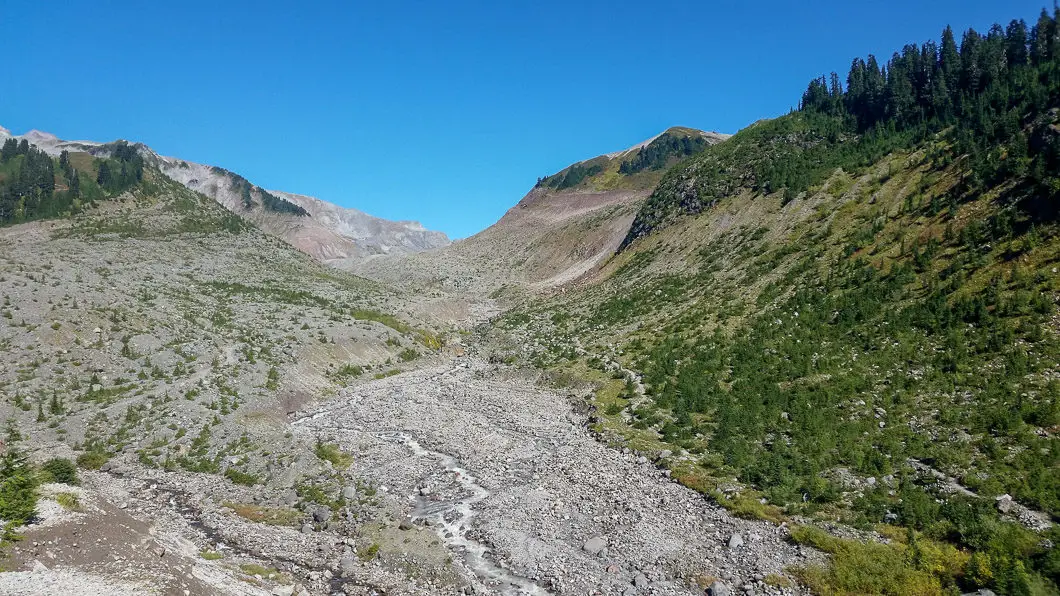 Once you are on the other side of Ring Creek, you have the task of climbing up the moraine slope awaiting you. The trail climbs up steadily and without respite for some time. Eventually, the trail will begin to switchback along the ridge, before spitting you out briefly into a lush meadow which may be filled with wildflowers depending on the time of year.
After you pass through the meadow you will come out into what resembles a moon-like landscape. There is an inviting, turquoise lake ahead of you in a flat, expansive area, and very soon on your left will be a trail-marker. The sign marks the way up to Opal Cone and indicates the way to Mamquam Lake 5 km to the east. Mamquam Lake can also be hiked before or after you summit Opal Cone if you have an extra hour or two to spare – and it is worth the visit. For now, go up the steep slope following the trail marked for Opal Cone.
Download the PDF version for offline use on any device
Enter your email to receive the free PDF version of this guide. You will receive the file immediately in your email, and will also get access to the monthly Outdoor Vancouver newsletter.
---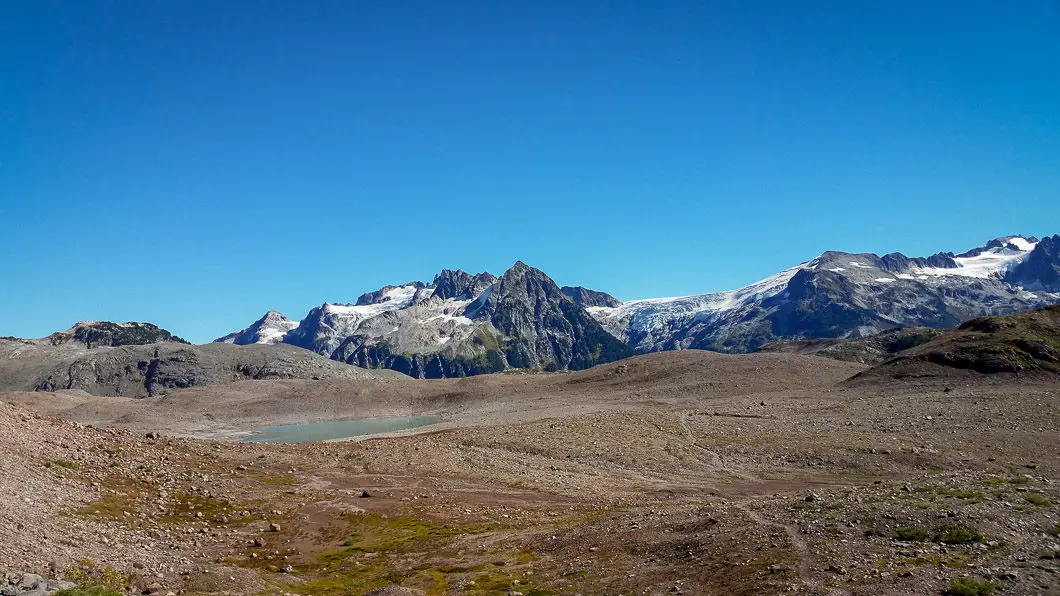 From this point forward is the most difficult terrain of the entire trek, but you are not too far from the summit. The trail ascends up a very steep section of loose dirt and will funnel you out towards a large boulder. Some route finding is required in this part, but with the help from some cairns you can find your way up the trail. From the large boulder, cairns will take you along the 'trail' to the left, and you will be able to see the final stretch of path you must follow to reach Opal Cone.
After you've made your way to the summit, you can actually make the trek around the entire rim of the crater (cinder cone) of this extinct volcano if you wish. While it is worthwhile exploring the rim, the views don't get any better than from this spot on the summit.
To the west you will get a magnificent view of Mount Garibaldi, Atwell Peak and Little Diamond Head. You can see the impressive Garibaldi Neve at the foot of Garibaldi to the northwest. To the southwest you can see Gargoyles and Columnar Peak. Directly south you can see the Elfin Lakes campsite where you came from. And to the southeast you can see Pyramid Mountain and the Mamquam Massif looming behind the turquoise lake which starkly contrasts the barren, rocky landscape.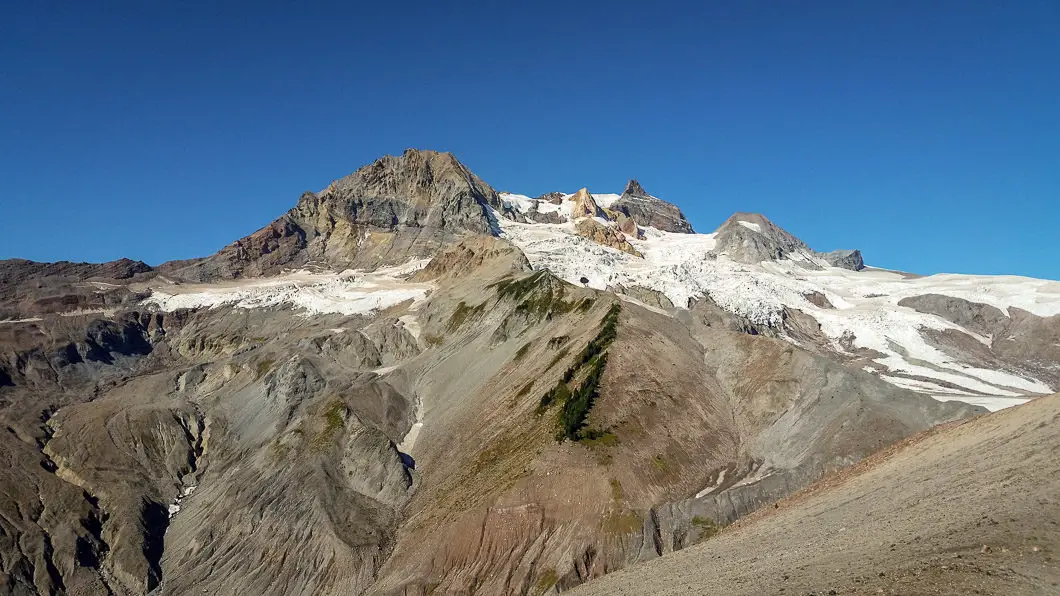 Camping at Garibaldi Park
Camping is permitted in Garibaldi Provincial Park in designated areas. As of 2018, reservations are required for all overnight stays in Garibaldi Provincial Park, year-round, and can be made up to 4 months in advance.
Self-registration stations are no longer be available at the trailheads as they used to be. All campers must pay in advance using the online system.
More details on the camping in Garibaldi Park and backcountry camping permits can be found here.
---
Directions and Parking
Take Hwy #99 north to Squamish. In Squamish exit right at the B.C. Parks sign marked for'Garibaldi Park Diamond Head' onto Mamquam Road. It is about 16 km to reach the trailhead from Highway 99, mostly on a narrow, gravel road. The road will steepen and you will pass Quest University. You will eventually see another sign pointing you left, for Garibaldi Park Diamond Head. From this sign its about 10 minutes of further driving to reach the parking lot.
Unfortunately, burglars have been known to target this parking lot as people are camping overnight, so be sure not leave anything in your car.
Google Map directions are here.
---
Help Us Create New Hiking Guides!
Advertising revenue is falling quickly across the internet, and independently-run sites like Outdoor Vancouver are hit hardest by it. We are committed to keeping Outdoor Vancouver free and independent, but we need to find other ways to continue operating this site.

If you like our hiking guides and would like to help, please consider making a contribution with the PayPal or Patreon links below – any amount helps! There is also a list of other ways you can support Outdoor Vancouver here!
Becoming a Patron through Patreon unlocks membership benefits and rewards. Learn More.
A one-time donation through PayPal helps with monthly website hosting costs.
---
Other great hikes in this Area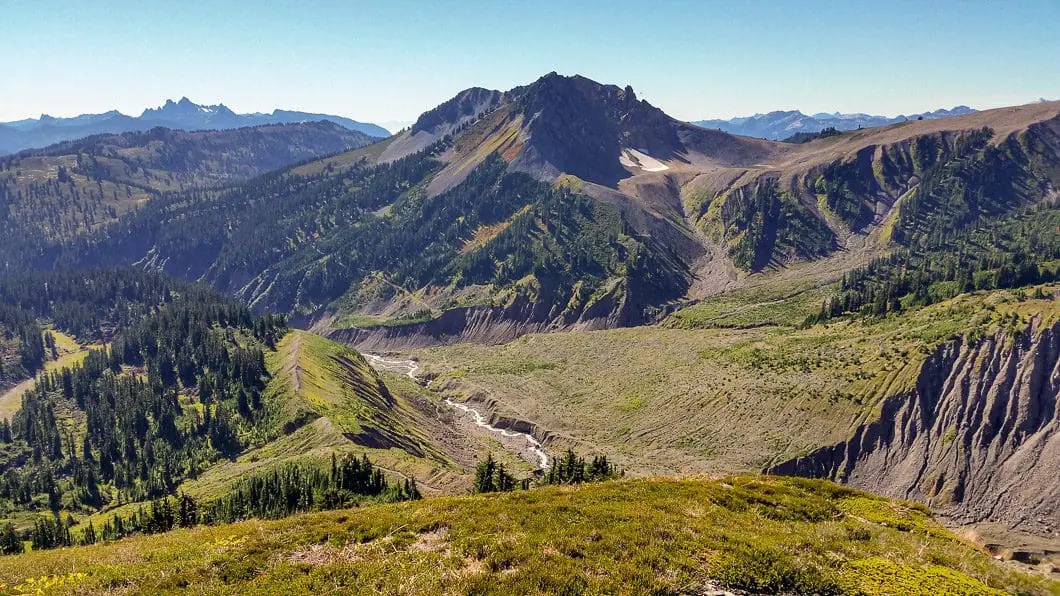 ---
Download the PDF version of this guide for offline use
Enter your email to receive the free PDF version of this guide. You will receive the file immediately in your email, and will also get access to the monthly Outdoor Vancouver newsletter.
---
Outdoor Vancouver Apparel