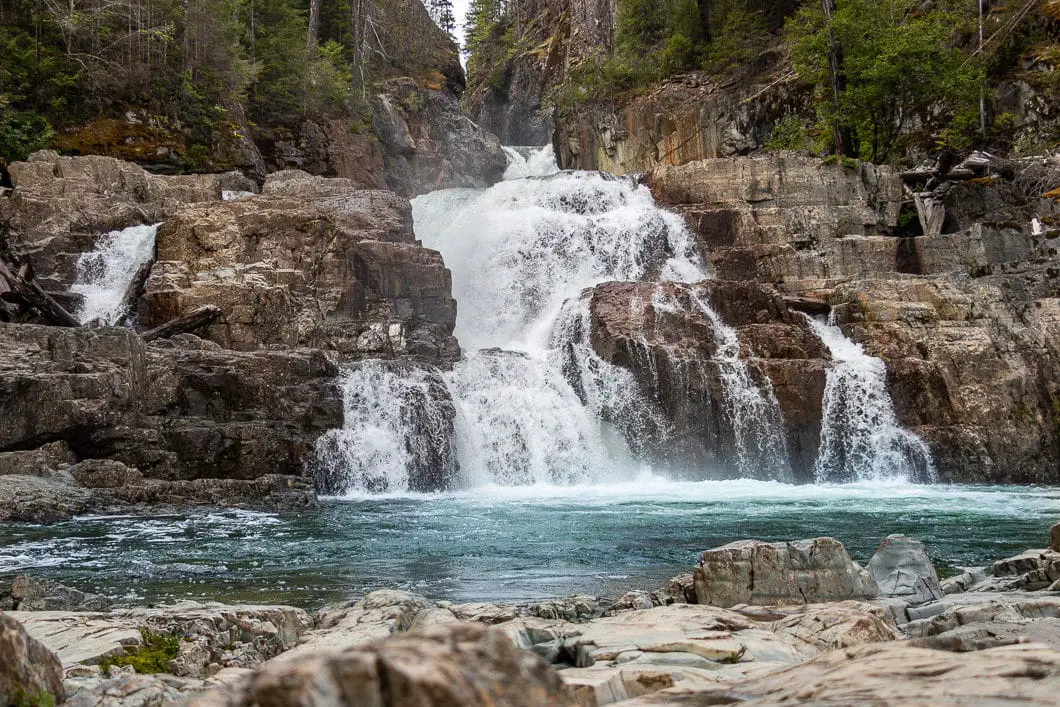 Lower Myra Falls – Table of Contents
Lower Myra Falls Hike Intro
Lower Myra Falls, in Strathcona-Westmin Provincial Park, is a short hike which leads to a beautiful waterfall. Lower Myra Falls has upper and lower viewing areas.
Located at the southern tip of Buttle Lake, Lower Myra Falls is remote but well worth the stop for anyone visiting or camping in Strathcona Park.
Shorter and easier to hike than nearby Upper Myra Falls, Lower Myra Falls is kid-friendly and makes for a terrific family outing.
Please note, Lower Myra Falls and Upper Myra Falls are two distinct waterfalls, not different portions of the same waterfall. Our guide for Upper Myra Falls is coming soon.
---
Lower Myra Falls Hike Stats
Rating: Easy
Distance: 1.5 km
Net Elevation Change*: 54 m
Highest Point: 308 m
Time Needed: 45 Minutes
Type: Partial-loop
Season: Year-round
Dogs Allowed: Yes, on leash
Est. Driving Time from Vancouver: 7 Hours
Trailhead Coordinates: 49.577395, -125.565523
*For a better understanding of the stats and difficulty rating, check out the Hiking Guides page for details. Always carry The Essentials and fill out a trip plan.
---
Lower Myra Falls Video
Here is a 1.5-minute video of our experience on this hike!
---
Lower Myra Falls Hike Map and Elevation
Profile
Minimum elevation:
No data
Maximum elevation:
No data
Duration:
No data
---
Lower Myra Falls Hiking Route
From the parking lot, you'll find an outhouse and a B.C. Parks signboard. The sign has some information about the waterfall and the area.
The trail begins down to the right on a flat, groomed path. Soon, the trail begins dropping downhill.
After about 200 meters or three minutes down the trail, you will come to a junction for the upper and lower viewpoints. Stay straight, heading for the lower viewpoint.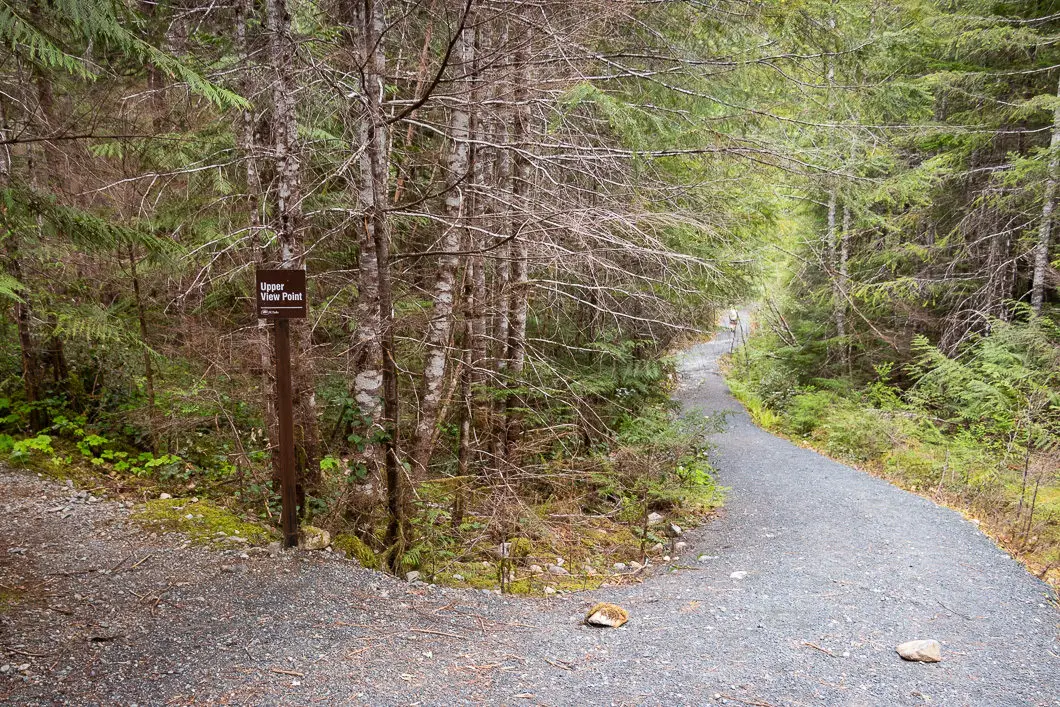 Trees along the trail include Douglas-fir, western red cedar, western hemlock, and grand fir.
After 400 meters, or five minutes, you will come to a sign marked for Myra Falls. Just past this sign, there's a little junction and the trail splits left or right. Left is where we'll go later to loop to the upper lookout. First, take the path on the right-hand side, and within another minute you'll come to the lookout of Lower Myra Falls.
You can walk out onto the rocks below the falls to get the best view. Please be mindful of slippery rocks, especially with children. Also be sure to stay back from any edges, as a slip into the powerful current could sweep you over the lower falls as it plummets into Buttle Lake.
The water is a beautiful color and remarkably clear. There are several nice spots where you can sit on the rocks and relax while you enjoy the view of the falls. Bringing a picnic and towel might be a good idea.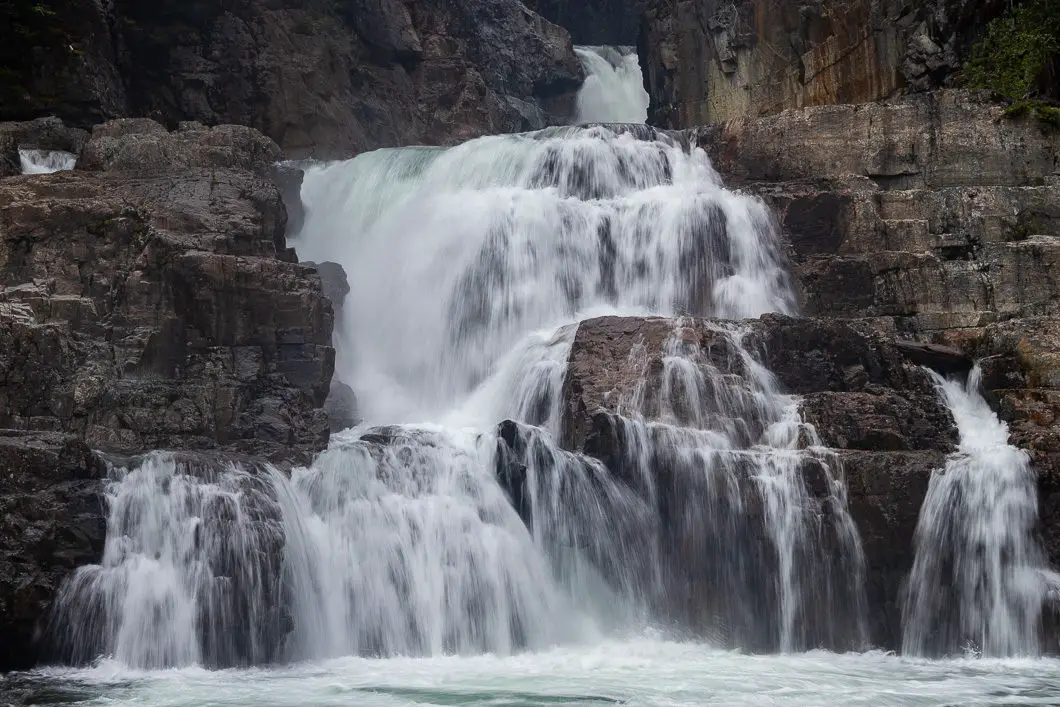 Behind you, Buttle Lake can be seen through a clearing in the trees further down the falls. You can also see Syd Watts Peak and a portion of Mt. Albert Edwards across the lake.
Cool fact: "Here at Myra Falls, the creek plunges nearly 70 meters in three cascades, each marking a shift in the crust and reminding us of the forces at work deep inside the earth" [Source: B.C. Parks sign]
After you check out the lower viewpoint of Lower Myra Falls, go back to the previous gravel junction by the sign marked Myra falls, and go up to your right. There's a short series of switchbacks that lead to another junction. Go right, and follow the trail a few minutes to a viewpoint of the upper portion of Lower Myra Falls.
There's a small viewing platform with a concrete wall, from which you can see the waterfall from above. You'll have a great vantage point of a large pool of green water. It is not as impressive as the lower viewpoint, but it provides a different perspective where you can appreciate just how powerful the falls are.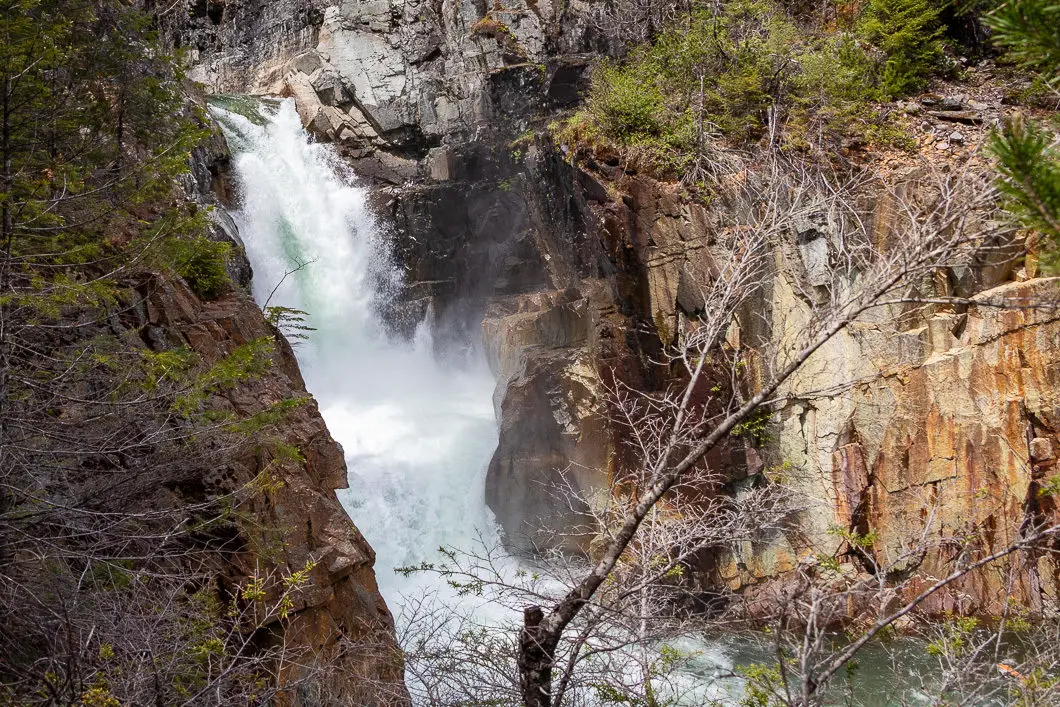 From here, you can do a partial-loop (a route sometimes called a lollipop or lasso) back to the main trail. Heading back, stay straight at the trail which comes out from the switchbacks.
Once you hit the main, wide trail, turn right, and climb back up the hill to the parking lot.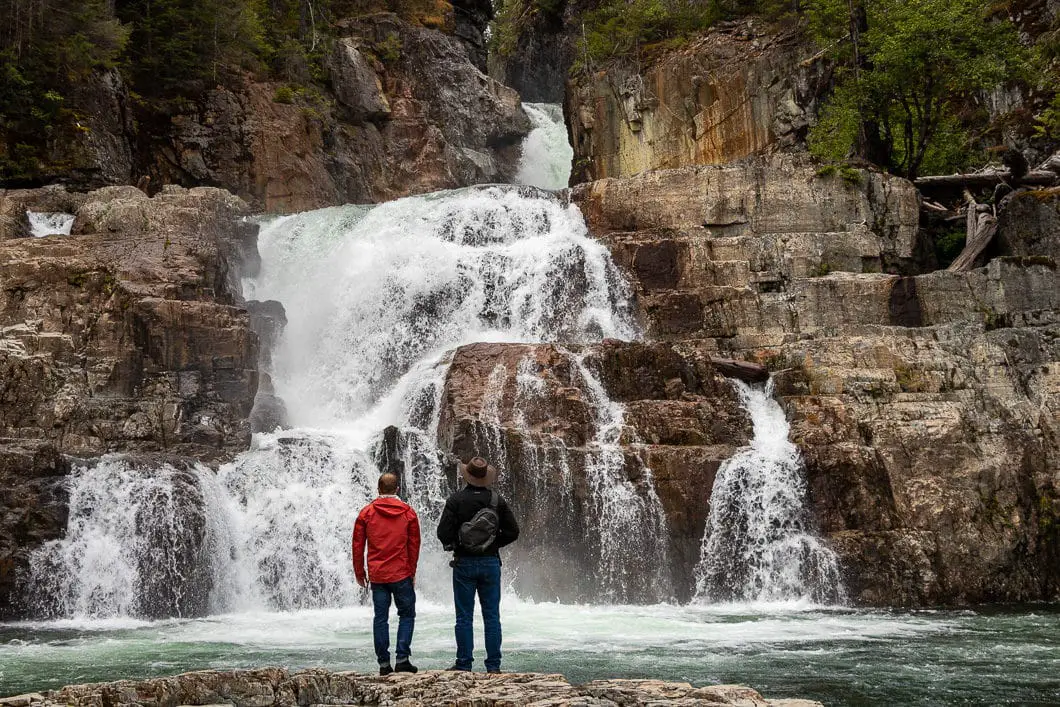 ---
Download the PDF version of this guide for offline use
Enter your email to receive the free PDF version of this guide. You will receive the file immediately in your email, and will also gain access to the monthly Outdoor Vancouver newsletter.
---
Directions and Parking
From Nanaimo, take BC-19 N towards Campbell River. Turn left onto BC-28 W when you reach Campbell River. Follow the winding highway into Strathcona Park. Carry straight passed the turnoff for Buttle Creek Campground and carry on to Westmin Road.
The road will hook around the southern tip of Buttle Lake and you'll see a sign on your right for Lower Myra Falls. Turn off Westmin Road and the parking lot is on this dirt road.

Google Map directions are here.
---
Help Us Create New Hiking Guides!
Advertising revenue is falling quickly across the internet, and independently-run sites like Outdoor Vancouver are hit hardest by it. We are committed to keeping Outdoor Vancouver free and independent, but we need to find other ways to continue operating this site.

If you like our hiking guides and would like to help, please consider making a contribution with the PayPal or Patreon links below – any amount helps! There is also a list of other ways you can support Outdoor Vancouver here!
Becoming a Patron through Patreon unlocks membership benefits and rewards. Learn More.
A one-time donation through PayPal helps with monthly website hosting costs.
---
Other great hikes in this area
---
Download the PDF version of this guide for offline use
Enter your email to receive the free PDF version of this guide. You will receive the file immediately in your email, and will also gain access to the monthly Outdoor Vancouver newsletter.
---
Outdoor Vancouver Apparel