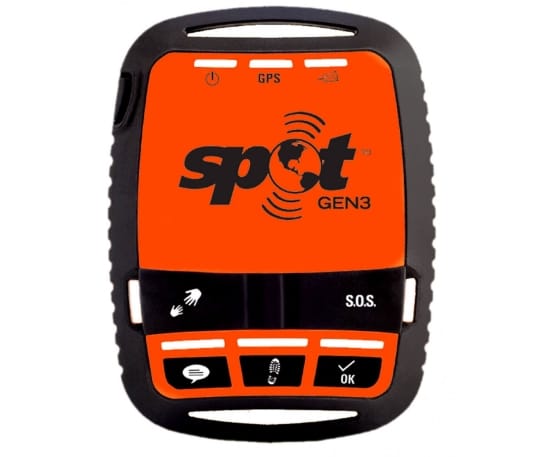 If you're heading out into the backcountry, its nice to have the reassurance that you can let search and rescue know your whereabouts if you're facing a life-threatening situation. SPOT has been a leader in GPS tracking technology, and the SPOT Gen3 is the latest addition to the SPOT family of personal GPS tracking beacons.
If you're not familiar with GPS tracking, the idea is simple. Through a handheld device you can send your exact location to emergency responders at the push of a button – without cell phone service, virtually anywhere in the world. With SPOT, in the event you send an SOS call, your location will be sent to GEOS Inc, who will in turn contact local authorities (ie, 911) for where you are (who will then in turn likely contact a local Search and Rescue team). And because SPOT runs on it own satellite system, you can also send custom messages and 'I'm OK' check-ins with friends and family members.
The SPOT Gen3 unit itself does not look all that different from the original 2007 version. It fits nicely in your hand, and has simple layout with 6 buttons to perform different actions. It does, however, have several improvements from its predecessors including new tracking options, multiple power options, and much longer battery life (about twice as long!).
1. On/off
2. Check In – Lets your pre-determined list of friends and family know you're ok when you're out of cell service range. When you use this button a SMS and/or e-mail will be sent along with a link to a Google Map with your location.
3. Tracking – Once you've activated tracking, the SPOT Gen3 will beging sending your coordinates at set intervals to your 'Shared Page'. Anyone with the URL can see your progress in real-time (if you have the URL public).
4. Custom Message – Similar to the 'Check-In', except you can pre-determine a different message and contact list.
5. Help/ SPOT Assist – Will send your pre-set help message to your contacts. This is to be used in non-life threatening situations. Your contacts will receive an SMS or email with your message and location.
6. S.O.S. – To be used in an emergency situation. Once activated, the unit will sends its position to GOES, who will contact 911 in the region.
A. On/ Off light
B. GPS Signal Light
C. Message Sending Light
Here's a great video overview of how the unit itself functions:
Other Features
As mentioned, the Gen3 has new power options. It can run off 4 x AAA Lithium, NiMH reusable batteries, or with a 5v USB connection. The claim is the Gen3's battery life is nearly double it's predecessor's, but I'm not sure how long the unit will last before new batteries are needed. I haven't used my unit enough to go through a set of batteries yet. And the good news it doesn't take much to carry some extra AAA batteries with you if you are doing a multi-day trip.
There are also new tracking mode options, which enable users to pre-set the device to send tracks every 2.5, 5, 10, 30 or 60 minutes. I'm not sure how useful it is to have the unit tracking at the higher frequency, given it would presumably drain the batteries faster. But, it is a new option and may have its use.
The visual feedback is also improved. Each button has its own indicator light, that does a much better job than the previous SPOT at telling you exactly what the device is doing (like sending a message), and if it has a GPS signal.
The SPOT Gen3 is also waterproof  up to a depth of 1 m for up to 30 minutes. These units are also very rugged and durable. They can handle the beating you might expect such a device to take.
Online Experience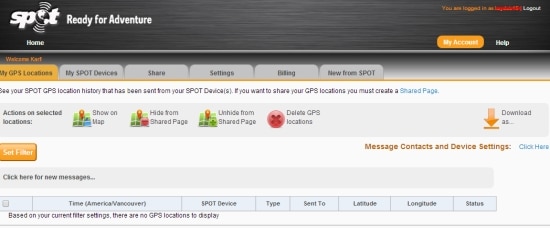 The online experience is not great, but you can be up and running fairly quickly through the website.
Initially, you must create an account, enter for device's unique ID numbers, register for a plan, and set up your emergency contact details and device preferences. The navigation isn't all that clean, but you can make your way though the process. On the up-side, once your account is activated, and your personal configurations are set, you will infrequently need to log onto the wesbite.
One feature I really like is the personal URL you can set up to share your activity and whereabouts with anyone that might care. As the unit tracks your movement, and you send Check In messages, anyone you want can follow your progress on a Google Map. Pretty cool stuff.
Once you've activated your unit, you want to take it out for a test-spin before you go out into the wild. Mine actually wouldn't send my test 'Check-ins' to my set up contacts. Upon later digging around the online settings I found a message stating 'Your device encountered a system failure configuring its features configuration during the activation process. Please contact customer care'. However, I didn't see this message when I first activated the device, and all the lights on the unit went green during the 'self-test' on boot-up. So, be sure you test your unit before your first real outing.
Costs
The SPOT Gen3 unit itself goes for around $160 as a one-time purchase which seems reasonable for such a durable device. To have the unit function, you also need an annual subscription of $150 for the basic features and tracking. There are additional service add-ons available, such as the enhanced tracking options.
Device Specs
 

 

 

 

4.0 oz (114g) with Lithium batteries

 

-30C to 60C (-22F to 140F)

 

-100m to +6,500m (-328ft to +21,320ft)

 

MIL-STD-810F, Method 507.3, 95% to 100% cond.

 

 

4 AAA Energizer™ Lithium Ultimate 8X
Or 4 AAA Energizer™ NiMH Rechargeable
Overall, if you're looking for some peace-of-mind while travelling in the backcountry, this unit is a great way to go – especially if you're ever travelling alone for whatever reason. Hiking, cycling, kayaking, ski touring – there are countless scenarios where having a GPS tracking unit would be useful, and potentially life-saving. The SPOT does what its designed to do, but if you're looking for something with more functionality something like the inReach Explorer might be a better option.