The first thing to consider when hiking is appropriate footwear. It is essential to have sturdy boots which protect the feet from the elements. Then a good, thick pair of socks will keep your feet warm and protected from blisters. Next, a thick pair of trousers to keep the legs warm. This has been the standard for a long time but it does have a serious drawback: When it rains, water and mud seep into the boots from the top; the socks very quickly become sodden, and at best you will arrive home with cold, wet and muddy feet and boots that take an age to dry, or worse you will have blisters. In addition to this, your pants can become soaked through with water and mud right up to your knee, especially if you have to negotiate long grass.
There is also the question of small burrs and bits of grass and seed that can get caught in the wool of your socks and be a devil to get out. All in all your walk can become a most unpleasant experience.
However, there is a simple way around this inconvenience. It is possible to walk in all types of terrain and weather and keep your feet and legs warm and dry and free from vegetation, mud and water. Gaiters, despite sounding like something only anglers wear, are becoming more and more popular for hikers. They generally roll up nicely into a backpack and can be fit quickly and easily when the rain or poor trail conditions come. They usually have a stirrup that wraps under the heel, and they cover the top of the boot all the way up to the knee.
I recently tried out some gaiters for the first time – the Hillsound Armadillo LT Gaiter – and was really impressed with the added comfort they provide, given the minimal weight and fussing around.
Hillsound Armadillo LT Gaiter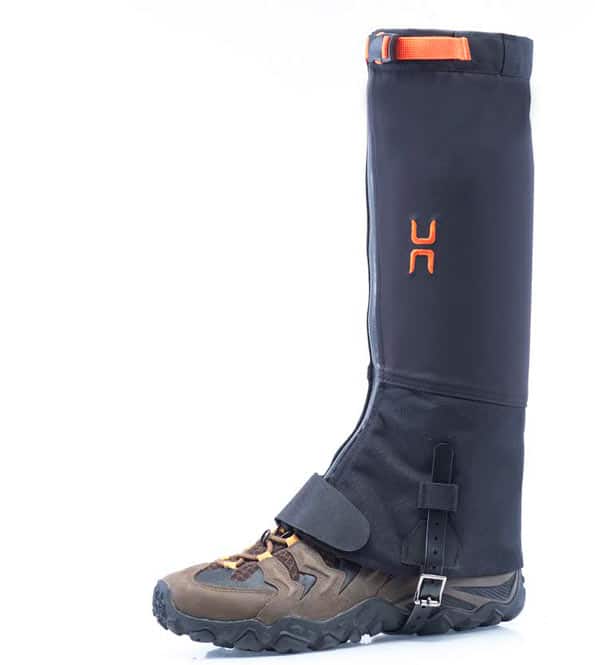 Hillsound, a Vancouver company, makes high-quality crampons and gaiters. The Armadillo LT is not the highest-end of the gaiters that Hillsound makes, but its perfect for my needs since I'm not doing serious winter climbing as some of their other models are designed for.
Made of Flexia three-layer, slash resistant and breathable fabric, the upper is lightweight and close-fitting, yet comfortable on the calves. The gaiters are secured with an easy access YKK waterproof zipper, which is a nice feature.
If you've worn velcro in the snow and/ or mud before, you know it can lose its stickiness over time as it builds up with junk. The lower is 1000 Denier, high-density Cordura nylon ensuring the utmost protection from the elements and tear-resistant. An adjustable stirrup, which is fully replaceable, combined with a convenient hook which connects the gaiter to your boot's laces ensure that the gaiter fits closely to your boot shape and avoid leakage.
An adjustable calf strap also ensures that the gaiter is firmly secured to your upper calf, protecting your whole lower leg from the elements without being too tight and restricting blood flow. At a mere 300g for the medium size pair, this is the lightest of the Armadillo range of gaiters. This gaiter is suitable for year-round hiking and snowshoeing.
Related Gear Reviews