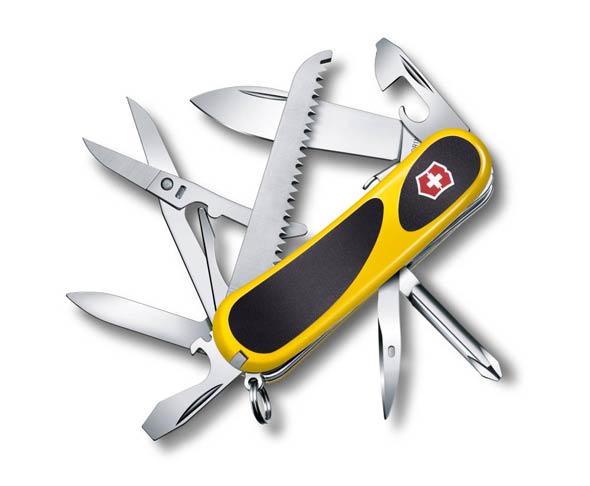 On any hike, whether a day hike or backpacking trip, a good knife is one of the 10 essential items you need to have with you. Knives are useful for countless situations from first aid to cutting rope to food preparation. And since you should be carrying a knife anyways, it makes sense to bring along a full multi-tool as you never know when it will make your life a lot easier in the outdoors.
The folks at Victorinox Swiss Army recently sent me the Wenger EvoGrip s18 Swiss Army Knife to review (and one to give away – more on that below), and I have found it fits the bill of everything you could need in a multi-tool for basic outdoor adventures.
Wenger EvoGrip S18 Knife Review
The Good
The word multi-purpose can surely be applied when talking about this knife as it has quite a handful of uses. From having a wood saw, Philips screwdriver, can opener, bottle opener toothpick, tweezers, scissors, knife, wire stripper and more. In a small, compact structure, the Wenger EvoGrip S18 provides all the tools that might come in handy when going for camping or on any other trip.
Coming with a rubber grip, the knife is super comfortable to hold and gives you the benefit of a good grasp. You no longer have to worry about sweaty palms or wet hands before holding the knife.
The locking blade is a helpful feature, and makes cutting with the knife much safer.
The knife is available in a few colors which gives you the choice of taking your pick and, the best part is that these bright colors are easily spotted which prevents the knife from getting lost in the midst of all the other stuff in your bag.
The Bad
In spite of being a good safety precaution, the tightness of the implements – given how compact this model is – can sometimes be too tight and a few of them refuse to unfold without considerable effort. I found after a bit of use this problem mostly went away.
The blade-lock release takes a bit of practice to get used to.
Specifications
Contains 11 Implements with 15 Different Functions
Ergonomic handles with rubber inlays that improve grip
Includes 2.5″ Locking Blade, Nail File, Serrated-edge Scissors, Can Opener, Cap Lifter, Large and Small Screwdriver, wood saw, Phillips Screwdriver
Lifetime warranty against defects
 Summary
The Wenger EvoGrip S18 Swiss Army Knife is a great knife to bring along into the backcountry. It's also the kind of knife I find handy laying around the house to open packages and tackle various little tasks. Having so many functions in a small design, it can also be kept in your car or purse when you're not out hiking with it.
Retailing for around $60-$70, it holds up well compared to other knives in the price-range, and has a few features like the rubber grip and locking blade that give it an advantage.
Basic folding knife maintenance and safety
If the knife becomes wet/ dirty during use, always wipe it off before folding the implement back into the handle. A rag or your pants will do the trick, but putting the blade away wet will only invite rust.
Dull blades are dangerous. Before leaving on a trip, make sure the blade is nice and sharp.
Similarly, test that the folding function of the knife has not loosened over time. If there is any wiggle to the implements, tighten up the knife to make sure everything is snug and secure.
NEVER cut toward yourself.
---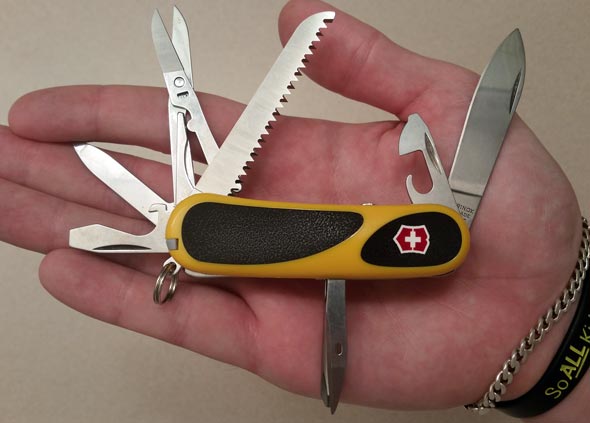 ---
Win a Wenger EvoGrip S18 Swiss Army Knife!
UPDATE: The contest is now over. Congrats to @becomingajock for winning the knife for his retweet!
As mentioned at the top, I have one yellow EvoGrip S18 to give away. To enter the contest you can do any or all of the things below (do all 5 for a total of 5 entries).
The contest will close at midnight Dec 31, 2014. Open to Canadian residents only. Good luck!
1. Follow Outdoor Vancouver and like, comment and/or share the EvoGrip post on the Facebook page (1 entry each/ 3 entries for doing all 3).
2. Follow @outdoorvan and Tweet the following (1 entry):
RT to enter to win a yellow Wenger EvoGrip S18 @SwissArmy Knife from @outdoorvan http://ow.ly/GjAfz
3. Send an email in from the contact page with 'EvoGrip' in the subject line (1 entry).
Good luck!