Joffre Lakes – Table of Contents
Joffre Lakes Hike Intro
2023 Day Use Pass Required for this Hike
Day-use passes are required May6 9 to October 9, 2023, for visitors to Joffre Lakes trailhead.
More details can be found here from B.C. Parks.
Joffre Lakes is a popular hike located just north of Pemberton in Joffre Lakes Provincial Park. Easy trailhead access and gorgeous views make this a busy and well-traveled trail during the summer. It is also a popular destination for ice climbers during the winter months for the same reasons.
The Joffre Lake hike offers a little bit of everything you could want in a day hike. At 10 km, the hike to Joffre Lakes not too long, but with a steady uphill climb and several technical sections, it still offers a challenge. There are three turquoise, glacier-fed lakes, each more spectacular than the last.
The lakes are aptly named Lower, Middle and Upper Joffre Lakes. Along the way, you are also rewarded with creek crossings, a waterfall, and several viewpoints of the surrounding mountain range. Finally, there's the scenery at the top, an up close view of the Matier Glacier and a rugged campsite for those wanting to spend the night.
Since 2013, a lot of trail maintenance has been done on the Joffre Lakes Trail – to mixed reviews. From the trailhead to Middle Joffre Lake, the trail is a groomed, dirt path, including the section which used to require scrambling over the moraine field. Steps have been placed in sections, and the trail takes a slightly different route than before in parts. The improvements have made it possible to reach Upper Joffre Lake faster than before, and the route is slightly shorter (closer to 10 km than the often advertised 11 km).
---
Joffre Lakes Hike Stats
Rating: Moderate
Distance: 10 km
Net Elevation Change*: 400 m
Highest Point: 1,600 m
Time Needed: 4 – 5 hours
Type: Out-and-back
Season: June to September
Dogs Allowed: No
Est. Driving Time from Vancouver: 3 hours
Trailhead Coordinates: 50.369517, -122.498688
*For a better understanding of the stats and difficulty rating, check out the Hiking Guides page for details. Always carry The Essentials and fill out a trip plan.
---
Joffre Lakes Video
Here is a 2.5-minute video of our experience on this hike!
---
Joffre Lakes Hike Map and Elevation
Profile
Minimum elevation:
No data
Maximum elevation:
No data
Duration:
No data
---
Joffre Lakes Hiking Route
From the trailhead, easily located from the parking lot, the Joffre Lakes hike is a 5 km upward climb through old growth forest of hemlock and spruce, over a boulder field, past the Lower and Middle Lakes and over Joffre Creek to the Upper Lake. Starting your hike, Lower Joffre Lake is a flat 5-minute walk and a quick diversion off the main trail. Lower Joffre Lake sits at an elevation of 1,240 m. The view from Lower Lake will give you a good vantage point of your end goal; the spectacular Matier Glacier that looms high above Upper Joffre Lake.
Quickly doubling back from the Lower Lake viewpoint will take you onto the main trail that leads to the Middle and Upper Joffre Lakes. You'll initially be walking on a gravel trail, that will turn into a dirt path, which will take you over your first crossing of Joffre Creek just below the lower lake.
After the initial 25 minutes of climbing, or 1.5 km in, you will come to a boulder field. Following the path over the boulders, you will get some views of the coast mountain scenery and hear the roaring sound of Joffre Creek violently rushing just east of you.
Side note: The boulder field is technically called a 'moraine'; "a mass of rocks and sediment carried down and deposited by a glacier".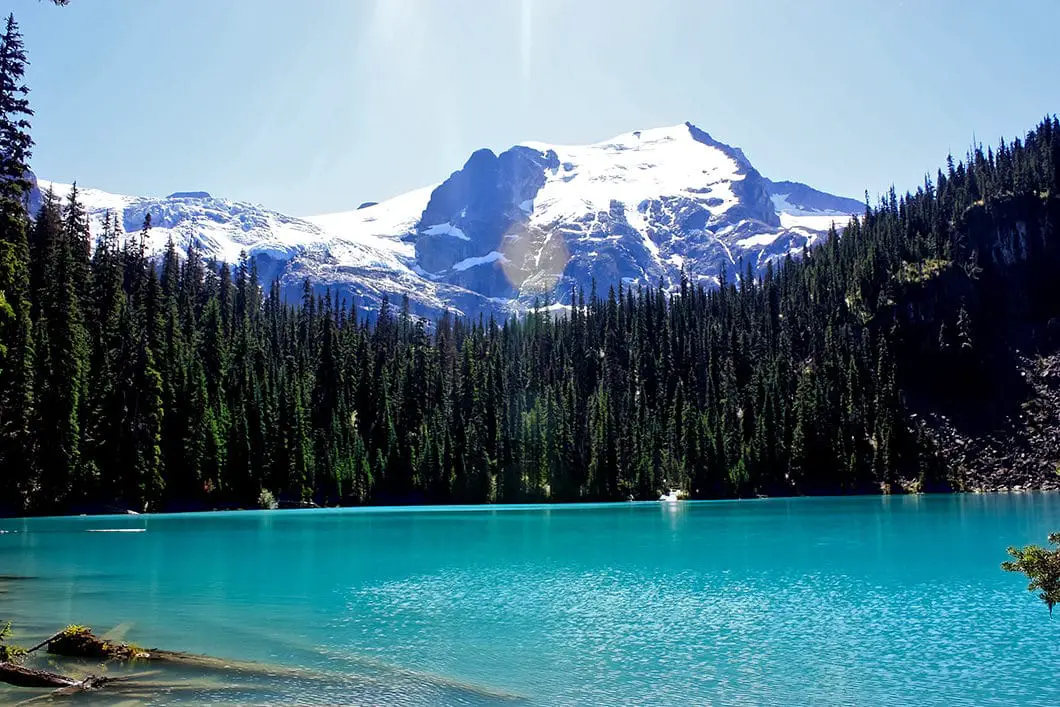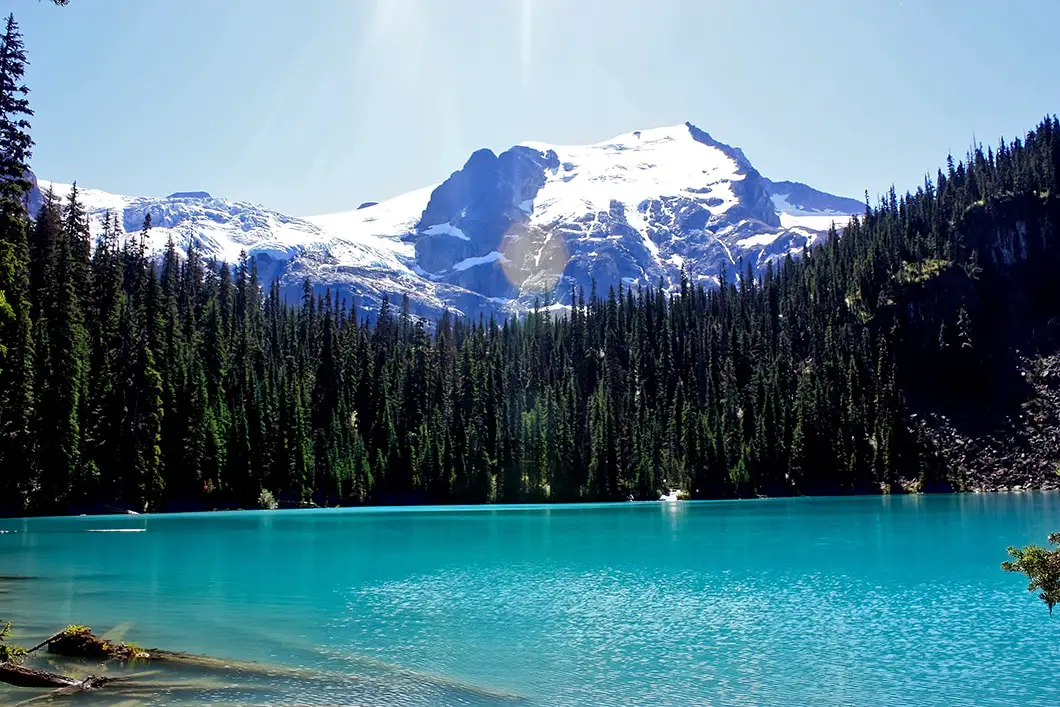 ---
Beyond the moraine, the trail climbs sharply uphill for about the next kilometer until you reach Middle Joffre Lake. Follow the trail up, arriving at Middle Joffre Lake at an elevation of 1,535 m. It is about 3 km to reach the Middle Lake. By this point, you have already covered most of the elevation gain and the final push to Upper Joffre Lake is fairly short. Regardless, the view at Middle Joffre Lake is beautiful and it is worth stopping here for a rest. There is also a toilet here.
From the viewpoint at the Middle Lake, following the trail, you will come to a beautiful waterfall called Holloway Falls.
From Holloway Falls, you will take a bridge over Joffre Creek. This final stretch of the hike is more technical (rooty and rocky) terrain, but relatively short and you will soon emerge from the trees alongside Upper Joffre Lake, at an elevation of 1,600 m. The trail carries around to the south tip of the lake for a close up view of Matier Glacier. It may be tempting to scramble up to the glacier, but this is not wise as large chunks of ice can sheer off at any moment, tumbling down to the lake.
---
Download the PDF version of this guide for offline use
Enter your email to receive free PDF version of this guide. You will receive the file immediately in your email, and will also gain access to the monthly Outdoor Vancouver newsletter.
---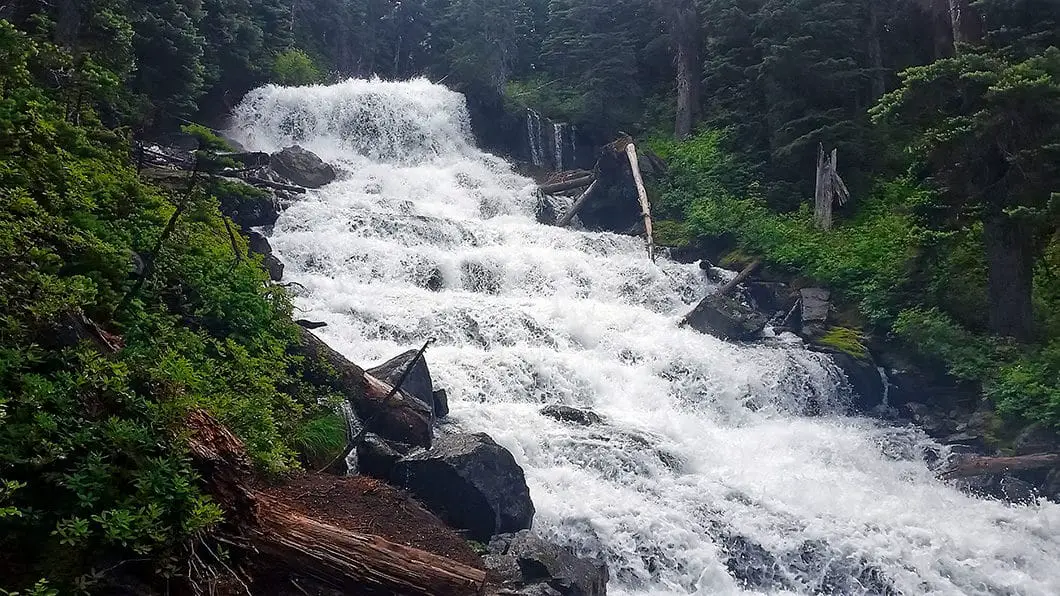 From here, there are also routes to Mount Matier and Mount Tszil – both of which require mountaineering experience to climb. At the tip of the lake, you can find a spot to rest, eat and soak up the view of the enormous glacier and the surrounding mountains. Mount Cayoosh looks spectacular off in the distance to the northwest.
There is a toilet at the Upper Lake, and camping is also permitted around the lake. Many people hike in with tents and sleeping bags to enjoy the scenery for a few days. As of 2019, a backcountry camping fee is in effect from June 1 to Sept 30, each year. You can get a backcountry camping permit here. Winter camping is allowed, but is discouraged due to avalanche risk.
"There are approximately 26 wilderness campsites, one urine diversion toilet, and a bear-proof food storage unit. The small gravel campsites are located on the far (south) end of the lake and accommodate small backcountry tents. The campground fills quickly on weekends so it is best to get there in the morning and make alternate plans in case it is full." [source]
After you have had lunch and snapped your photos of the glacier, you simply need to double-back on the trail back to the trailhead, allowing gravity to do most of the hard work this time.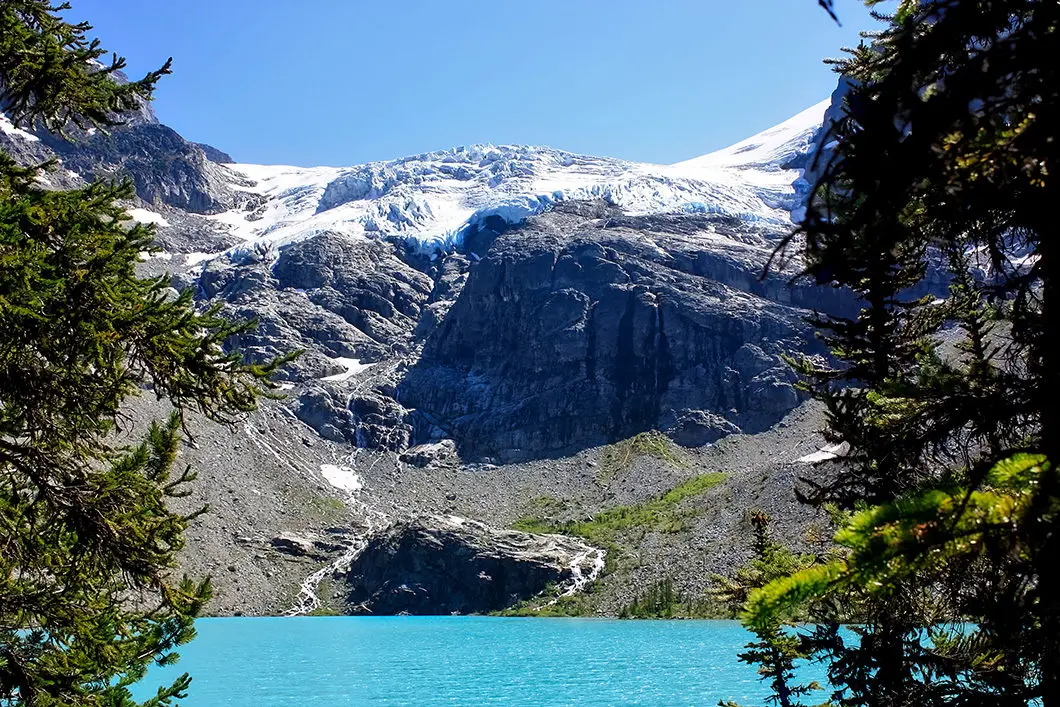 ---
Directions and Parking
Take the Sea to Sky highway north past Whistler to Pemberton. At the Pemberton Junction (Petro Canada gas station) follow the signs that take you bearing right, towards Mount Currie. After about 7 km, you will turn right on Duffey Lake Road. Once on Duffey Lake Road, you will switchback up the paved road for about 21 km before seeing the signs for the Joffre Lakes Provincial Park parking lot. The trail starts right from parking lot.
Google Map directions are here.
---
Help Us Create New Hiking Guides!
Advertising revenue is falling quickly across the internet, and independently-run sites like Outdoor Vancouver are hit hardest by it. We are committed to keeping Outdoor Vancouver free and independent, but we need to find other ways to continue operating this site.

If you like our hiking guides and would like to help, please consider making a contribution with the PayPal or Patreon links below – any amount helps! There is also a list of other ways you can support Outdoor Vancouver here!
Becoming a Patron through Patreon unlocks membership benefits and rewards. Learn More.
A one-time donation through PayPal helps with monthly website hosting costs.
---
Other great hikes in this area
Download the PDF version of this guide for offline use
Enter your email to receive free PDF version of this guide. You will receive the file immediately in your email, and will also gain access to the monthly Outdoor Vancouver newsletter.
---
Outdoor Vancouver Apparel