News
This category contains all posts related to outdoor news, with the most recent articles displayed first.
The Search and Rescue mission for missing 21 year old hiker Liang Jin made a lot of headlines this week. The 21-year-old resident of downtown Vancouver has been missing since Dec. 31, when he sent his father a text message saying he was going hiking, but failed to say where. Since then, police have searched […]
Are you new to hiking in Vancouver? Wondering what the best day hikes are and which gear you need to bring for your outing? If so, Fjallraven – a Swedish outdoor clothing retailer which recently opened its first Canadian store in Vancouver – is hosting a community night titled Day Hikes Guide for Beginners.
It seems like every month someone is out setting, or attempting to set, a new Fastest Known Time on one of our challenging local routes. Fastest Known Times, or FKTs, are a friendly competition of becoming the fastest person to complete a given route.
---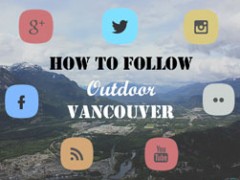 Do you frequently visit Outdoor Vancouver, looking to see if something new has been published?
Do you enjoy the top-notch hiking trail guides, gear reviews, and general content and constantly find yourself wondering what you can do to help support the site?
Well then, this post is for you!
I was recently flipping through Chuck Davis' amazing book The Chuck Davis History of Metropolitan Vancouver, and read the foreward… Chuck Davis had a story he liked to tell about his mania for trying to make the people of the Vancouver region more aware of their history. He was delivering a slide show to a class of grade four, five and six students and put up an image showing the statue of Captain George Vancouver, which stands in front of City Hall.
It was shocking to wake up this morning to the tragic news of the passing of Tim Jones. Tim was the team leader of North Shore Rescue, and the public face of the organization.