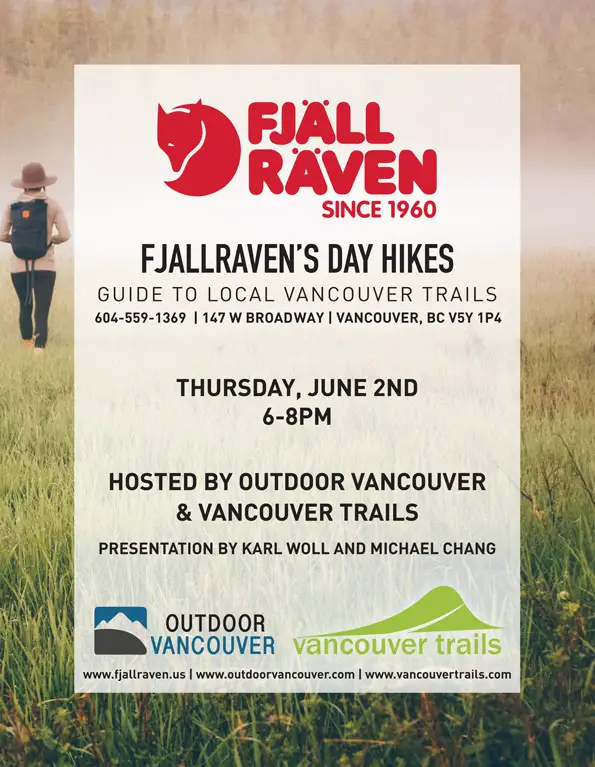 Are you new to hiking in Vancouver? Wondering what the best day hikes are and which gear you need to bring for your outing?
If so, Fjallraven is hosting a community night titled Fjallraven's Day Hikes Guide to Local Vancouver Trails.
I'll be speaking at the event, along with Michael Chang of VancouverTrails.com. We'll be presenting our top 5 picks for day hikes in the area, along with some basic safety tips and gear considerations. The hikes will cover a variety of difficulty levels (just because you're a beginner doesn't mean you can't tackle something challenging!) and locations from the North Shore to Pemberton.
If you want to learn some of the basics about hiking locally, this is a great opportunity. The event is free and it will be a casual evening on June 2, from 6pm – 7pm. The Juice Truck will be there as well. It should be a fun night!
Stay in the loop and get a reminder by RSVP'ing to the Facebook Event.
Hope to see you there! And if you have any questions about the event, or suggestions on a topic you would like to see covered, please let me know.
Fjallraven's Day Hikes Guide to Local Vancouver Trails

Date: Thursday, June 2, 2016
Time: 6pm – 7pm
Location: 147 W. Broadway St, Vancouver
Cost: Free!