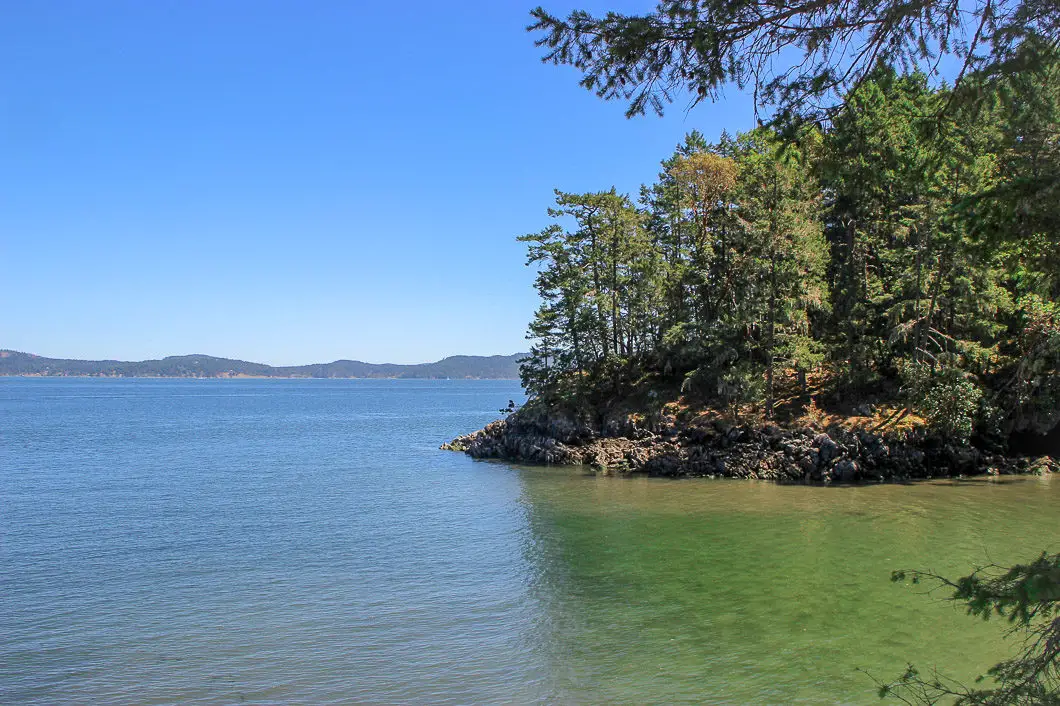 Yeo Point Hike – Table of Contents
Yeo Point Hike Intro
Yeo Point is a terrific hike in Ruckle Provincial Park on Salt Spring Island. The trail meanders through lush, old-growth forest of hemlock and cedar. The trail travels by small ponds and a quartz field before ending at a beautiful beach near Yeo Point. Yeo Point itself is a spectacular rocky outcrop with arbutus trees overlooking the ocean.
The trail is 9.6 km and is suitable for children if they can handle the distance. The trail itself doesn't have any significant elevation gain or overly technical sections.
Route finding can be a little tricky in sections, but overall the trail is easy to follow. Several of the key junctions within Ruckle Park are marked with small maps.
If you're visiting Salt Spring Island, this is a great hike to add to your list of things to do.
---
Yeo Point Hike Stats
Rating: Easy
Distance: 9.6 km
Net Elevation Change*: Minimal
Highest Point: 125 m
Time Needed: 4 Hours
Type: Out-and-back
Season: Year-round
Dogs Allowed: Yes, on leash**
Est. Time from Vancouver: 3 Hours
Trailhead Coordinates: 48.770150, -123.404566
**Dogs are allowed on the route described below, starting at Beaver Point Community Hall. However, dogs are NOT allowed on some other trails within Ruckle Park. This is due to potential interaction with the farm livestock within the park. Those trails are clearly marked, so please obey signs if hiking with dogs.
*For a better understanding of the stats and difficulty rating, check out the Hiking Guides page for details. Always carry The Essentials and fill out a trip plan.
---
Yeo Point Video
Here is a short video of our experience on this hike!
---
Yeo Point Hike Map and Elevation
Profile
Minimum elevation:
No data
Maximum elevation:
No data
Duration:
No data
---
Yeo Point Hiking Route
It is possible to access Yeo Point from within the Ruckle Park campsite area as a shoreline hike. But, the route we will take starts just outside the park, at the Beaver Point Park and Community Hall. This route takes us through a beautiful forest on a peaceful trek to the ocean.
B.C. Parks has a helpful Ruckle Park trail map. The route we will take follows points 7 > 6 > 5 > 3 > 4 on their map.
At the Community Hall (Point #7), there is a small parking lot and bathrooms. Across from the bathrooms, you will find the marked trailhead. Follow the trail to your right. There are orange markers that will guide you along the trail. You'll see a small playground and building off to your right. Almost immediately, the trail becomes singletrack.
Quickly after the start, the trail splits and you can go in one of two directions – both ways join back together. Let's go left, in the direction marked for Skunk Cabbage Pond.
The trail begins to climb up. It is a bit overgrown in sections, but there is a well-defined trail to follow with orange rectangular markers frequently. At Skunk Cabbage Pond, you go right by a large felled tree. It may take some searching but you will again find the path and the orange markers. Pick up the trail and continue to follow it up. At this point, you are about 400 metres into the hike.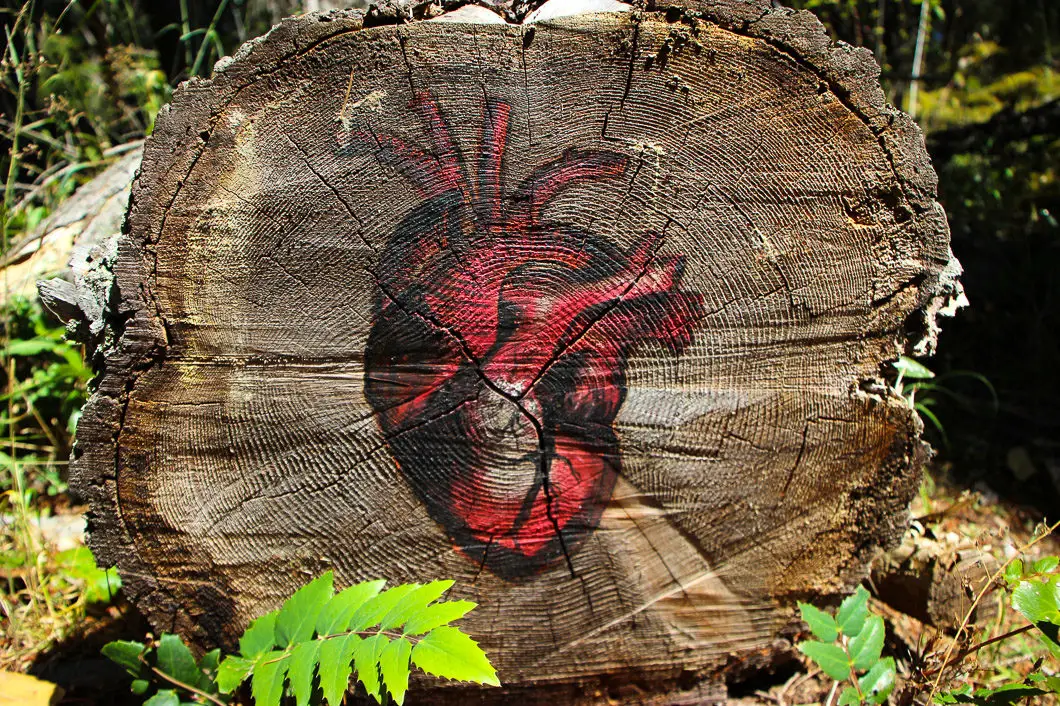 The trail will roll through lush green forest, full of moss-covered trees. At roughly 2.4 km, you come to point #6 on the map. Stay left at this junction and keep following the pleasant trail. The trail is mostly flat with some minor ascents and descents. It is easy to follow and makes for enjoyable walking.
After the #6 junction, the trail goes downhill and widens out. You will pass by the remnants of an old truck on your left. This is at roughly 2.8 km.
After about 3.3 km you will reach point #5 on the map. Shortly after, there will be a marshy area on your right.
Fun fact: Established in 1974, Ruckle Provincial Park is still home to a working farm run by the Ruckle family, which sold the land to the B.C. government in the 1970s. [source]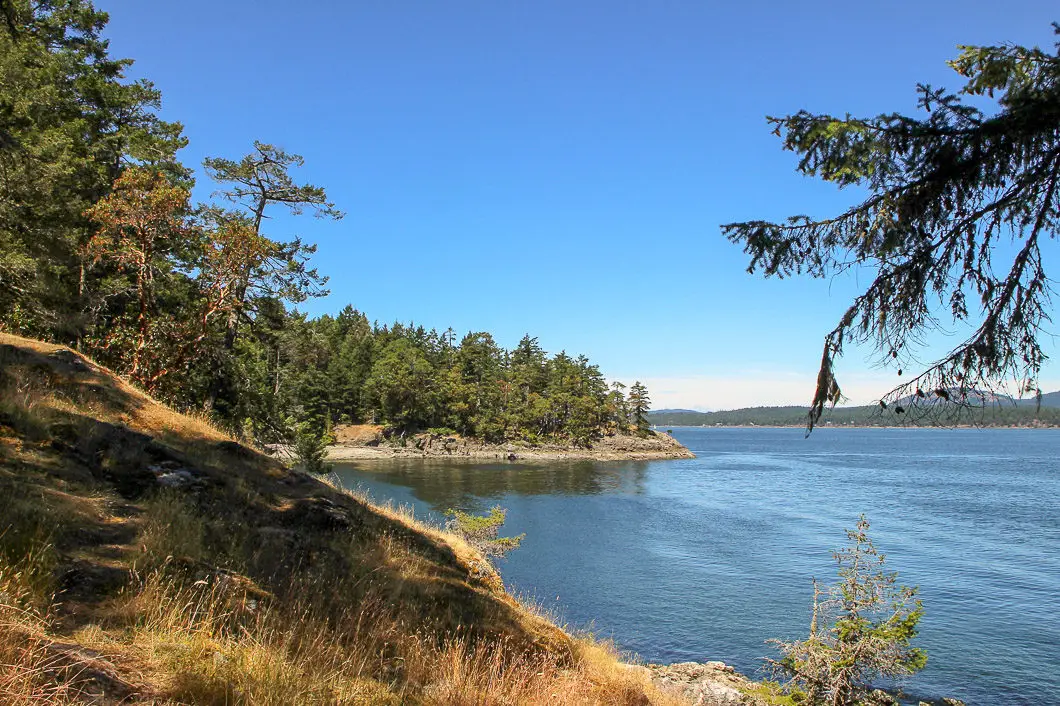 At 3.8 km, you will begin to approach the shore and King's Cove. This is point #3 on the map. Stay left at this junction. Just after the junction you will come out to the ocean and be at King's Cove. There is 1 km left to reach Yeo Point, and it's the most scenic part of the hike.
There is a bench here overlooking the ocean. Follow the trail to the left as it carries on above the shore. You can access a small beach down on your right if you wish. Keep following the trail on the cliff, enjoying the beautiful ocean views along the way.
At 4.8 km you will come to a junction with a small map. The trail to your right takes you down to a nice pebble beach, called Yeo Point Beach. The beach is a great spot to hang out for a while and beach comb, but it may be best to save it as a detour for the way back. It's just a few minutes more along the trail straight ahead to reach Yeo Point. If you head down to the beach, it's a nice spot to cool off if you bring swimwear. But you will want footwear for the sharp rock and barnacles.
Following the trail, just past Yeo Point Beach, you'll emerge onto the rocky ledge of Yeo Point, overlooking the ocean. It's a view that's hard to beat. You have 180-degree ocean views ahead of you across the Gulf Islands and surrounded by magnificent arbutus trees.
Enjoy the views, have lunch, and return on the same trail back to your car.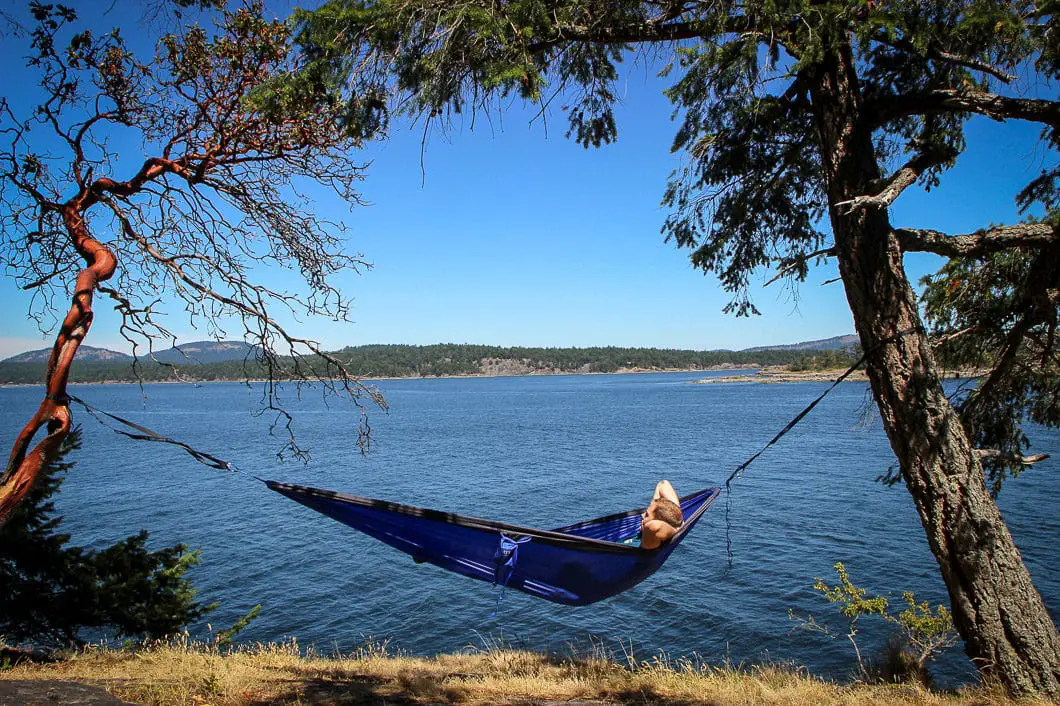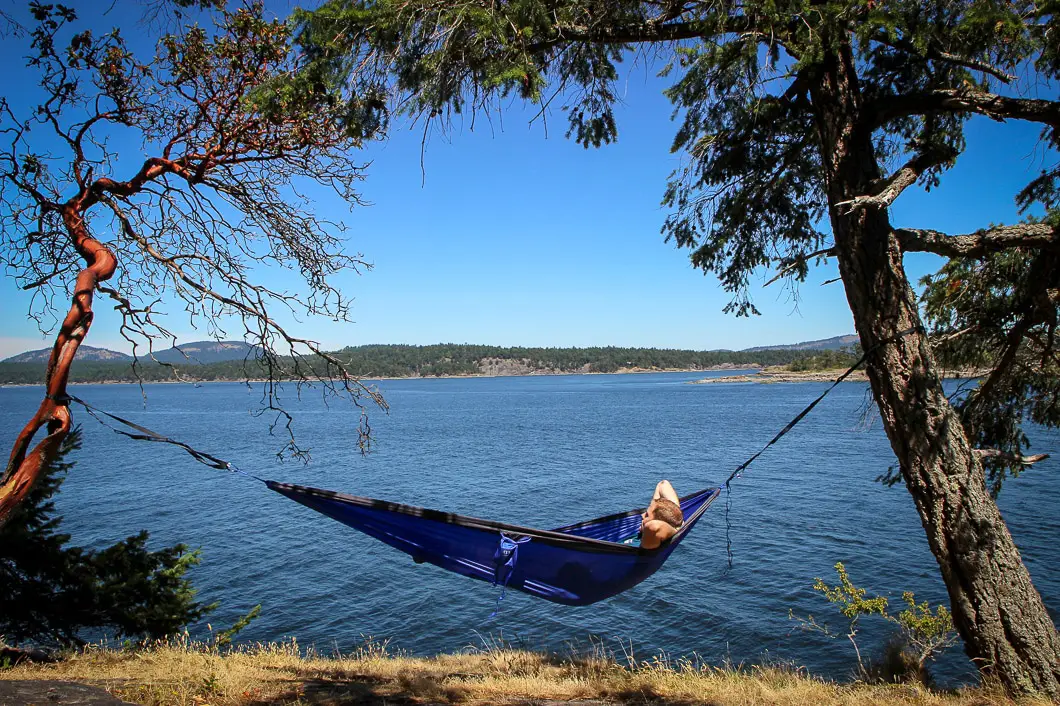 Camping at Ruckle Park
There is camping within Ruckle Provincial Park. Campsites are limited, however, and book well in advance.
There are 78 walk-in sites, 8 vehicle accessible sites, and 3 group campsites. If you can secure a spot, it's one of the best places to camp on the Salt Spring Island. You'll be right on a grassy field overlooking the Swanson Channel. The trails, shoreline, tidal pools and ocean wildlife all provide plenty to see and explore throughout the park.
Make sure you reserve in advance through B.C. Parks.
Download the PDF version of this guide for offline use
Enter your email to receive the free PDF version of this guide. You will receive the file immediately in your email, and will also gain access to the monthly Outdoor Vancouver newsletter.
---
Directions and Parking
You'll first need to get to Salt Spring Island, so check B.C. Ferries' current sailing schedule to Fulford Harbour or the Long Harbour ferry terminal. Ruckle Provincial Park is close to Fulford Harbour but is still a short drive from Long Harbour.
The route in this guide starts outside of Ruckle Provincial Park at the Beaver Point Community Hall. The hall is located at 1365 Beaver Point Rd, Salt Spring Island.
Google Map directions are here.
---
Help Us Create New Hiking Guides!
Advertising revenue is falling quickly across the internet, and independently-run sites like Outdoor Vancouver are hit hardest by it. We are committed to keeping Outdoor Vancouver free and independent, but we need to find other ways to continue operating this site.

If you like our hiking guides and would like to help, please consider making a contribution with the PayPal or Patreon links below – any amount helps! There is also a list of other ways you can support Outdoor Vancouver here!
Becoming a Patron through Patreon unlocks membership benefits and rewards. Learn More.
A one-time donation through PayPal helps with monthly website hosting costs.
---
Other great similar hikes
Download the PDF version of this guide for offline use
Enter your email to receive the free PDF version of this guide. You will receive the file immediately in your email, and will also gain access to the monthly Outdoor Vancouver newsletter.
---
360° Photosphere (click and drag to look around)
---
Outdoor Vancouver Apparel