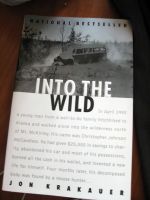 If you're looking to pick up some new books, NileGuidance: A Travel Blog, has created a list of 50 adventure books they deem worthy of reading: A few examples:
1 ) The Snow Leopard – Peter Mathiessen's seminal work about a journey of (re)discovery to the remotest Himalayan region of Nepal
2 ) Wind, Sand and Stars – an ode to the golden years of flying and adventure by the author of The Little Prince
3 ) The Long Walk – an epic tale of escape from a Russian prison camp followed by a 2,000 mile walk to freedom (so unbelievable that some have questioned its authenticity)
4 ) Three Cups of Tea – everyone's favorite book about a climber discovering his true calling by building schools in Afghanistan and Pakistan
5 ) No Picnic on Mount Kenya – Italian POW's reinvigorate their own humanity through adventure
6 ) A Soldier of the Great War – sure it's fiction, but this story set in the Italian Alps of World War I can't help but ignite the adventurous spirit within all of us
7 ) Seven Years in Tibet – the book is better than the movie (duh)
8 ) The Climb – get the perspective of one of the real heroes of the 1996 Everest disaster, the late Anatoli Bourkreev
9 ) Into the Wild – while the movie was good, the book was better still. Krakauer weaves in his own personal dramas to add perspective
10 ) The Worst Journey in the World – this polar adventure fulfills the definition of "epic" in every sense of the word
The following two tabs change content below.
Editor
at
Outdoor Vancouver
Karl Woll, born and raised in Vancouver's Lower Mainland, has been exploring the area's local mountains over the last decade. Beyond hiking, Karl likes to get into the outdoors by kayaking, cycling, scuba diving, snowboarding, and most frequently, trail running.