Tales from the Outdoors is an ongoing interview series featuring some of the most inspiring and motivational local athletes. Encompassing a multitude of outdoor pursuits across all skill levels, these are the stories of Vancouver's finest adventurers. To see previous interviews in the series, click here.
Who is Eric Carter?
Eric Carter, 27, started Nordic skiing at age 12 in his hometown of Minneapolis, Minnesota. Eric began racing in high school and continued racing at the University of Vermont as a member of the Nordic ski team.
In 2009 Eric began graduate school at UBC and fell out of skiing for a few years before discovering backcountry skiing – using skins on his skis to climb up mountains, before removing the skins and skiing back down – in the local mountains. Eric became immersed in backcountry skiing and then quickly progressed into ski mountaineering (or skimo, for short). Skimo can generally be described as a racing event that follows a defined route through steep and technical alpine terrain in which racers climb and descend using backcountry skiing equipment. But you can think of ski mountaineering as backcountry skiing on steroids.
Eric entered his first skimo race in 2012, in Golden, BC. Instantly, Eric knew he found a sport he loved and began training with a renewed intensity. "2013 and 2014 were breakout years as the training started to pay off. I performed well on the Canadian race circuit", Eric states on his current athlete fundraising page.
When he's not on his skis, Eric is also an exceptional trail runner. He holds several 'Fastest Known Times' on local routes such as The Black Tusk and Sky Pilot, and placed second overall at the 2014 Squamish 50 Km ultra race.
Eric is currently training and going through US National Team qualifiers. He was kind enough to answer a few questions about is journey into skimo and early success.
Interview with Eric Carter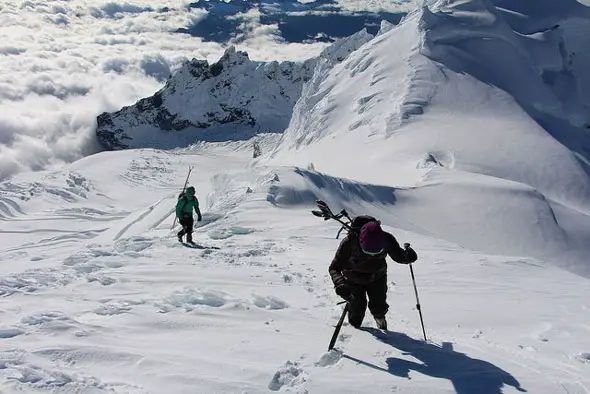 Outdoor Vancouver: Tell us a bit about your background. How did you end up in BC and doing skimo?
Eric Carter: I started as a Nordic skier. I'm from Minnesota so that is kind of the only real ski option there. Though I did learn to downhill ski at the same hill as Lindsay Vonn. So there is that. :) I raced through high school and went to the University of Vermont to race for the ski team there. After I finished my degree, I decided to do graduate school and thats what brought me to BC. I'm currently working on my PhD at UBC.
Nordic skiing on the Coast is not great. It is just too warm here. My competitive spirit had also taken a bit of a hit after leaving Vermont and the structured training environment there. I got more into rock climbing and alpine climbing and we use skis a lot for that and just for fun ski touring. The ski touring we were doing naturally got a bit competitive and someone suggested we try skimo racing – something that I didn't really know even existed – and the rest is history.
OV: For those of us who are unfamiliar with skimo, can you explain exactly what it is and what you enjoy about it?
EC: Difficult to describe. Skimo racing is the use of alpine ski touring equipment to climb and descend mountains on terrain that would be impossible on Nordic ski gear. Races typically take 1.5 to 3 hours and involve several ascents and descents. Skins that grip in one direction and glide in the other are used to climb snow slopes with a free heel. On technical terrain, skis may be affixed to a pack while climbing. At the top of a climb, skins are removed, binding heels are locked, and skiers descend difficult on- and off-piste slopes that frequently feature terrain of some consequence.
My true interest lies in actual ski mountaineering. That is, going into the backcountry with a climbing and ski objective that requires a full alpine skill set with a competent partner. Skimo racing is a homogenized, relatively safe, and competitive version of this (for better or worse). The competitive nature is really what draws me to the sport.
OV: Aside from skiing, what are some of your favorite sports to do?
EC: Rock and alpine climbing. Though I suppose I spend most of my dryland time running as that is the best training mode for skimo. A perfect example for me is a long day in the mountains moving light and fast (I know – getting to be kind of cliche) scrambling on semi-technical terrain. My partner (Nick Elson – fast and strong at freaking everything) and I tried to tick all 5 peaks that surround Wedgemount Lake in a day last summer. I don't think it has ever been done before. It features some really amazing, very technical, scrambling (especially on Weart Mtn.) and the classic climbing route up the NE Arete of Wedge. Unfortunately it also features a significant amount of scree. The scree was our undoing, after tagging the first three peaks, we were so demoralized by the scree that we pulled the plug and headed back down – still a 9 hour day in the alpine.
With the new gondi in Squamish, Sky Pilot Mountain is now one of my favourite training runs. It is a quick 3 hour out and back and gives access for really good scrambling. Blackcomb Buttress is another good mountain run.
OV: You hold several Fastest-Known-Times, on both skis and on foot. What do you enjoy about speed attempts, and do you have one that is your favorite so far?
EC: It's fun to be competitive on terrain that is not dictated by some land manager, race director, or insurance provider. No race course could stack up against some of the beautiful routes that are in the alpine surrounding us. The most exciting and aesthetic lines will unfortunately never be part of any official race. Competing for FKTs allows us to apply our competitive drive and utilize our skills to the maximum level on the best terrain.
Mt. Rainier and the ski speed ascents that Nick and I did there definitely had some meaning. It is a cool mountain with an interesting history and just perfect for applying skimo tactics. Again, the local peak Sky Pilot is a cool one. Waiting to hear about someone coming along and laying down a better time on that to give me something to work towards!
OV: You're currently training to race the  European World Cup circuit and qualify for the World Championships. What has that process been like so far, and what is your goal for the 2015 season?
EC: I'm from the US so I'm trying to qualify for the US National Team. There are more racers in the states so the field is a little deeper. I raced the first round of qualifiers last weekend in Crested Butte, Colorado. After Christmas, I'll head back down to Jackson, WY for the final races. The biggest challenge is training here at sea level and heading to the Rockies to race above 3000 meters. Its a huge difference and requires a long acclimatization period so I will travel to the race several weeks ahead of time.
In January, I'll head to Europe where I will race all the World Cup races and, assuming I qualify, the World Championships in Verbier, Switzerland. I know that the competition is on a whole different level in Europe but I do want to see where I stack up in that field. I will be my first time over there so I am excited just to experience it all. Finally, I'm pretty stoked just to get over there and ski my brains out. Chamonix is the epicenter of ski mountaineering and steep skiing – to get to live there for four months is a dream.
OV: Do you have any advice for anyone looking to get out in the mountains on skis?
EC: Hmmm… I guess one important thing worth mentioning is that while it might seem from Facebook/blogs and so on that we are pretty successful, we actually bail off of stuff a ton. It's pretty unusual that we actually do exactly what we set out to do. A lot of the time, the avy danger forces us to turn around, climbing conditions are crappy, its too cold, ski conditions are too slow to go fast, or one of us (usually me) is just scared. Successes are really a function of not just skill and fitness but also somewhat just luck that we have lots of time on our hands.
OV: Thanks Eric, and all the best with your goals for 2015!
If you want to follow along Eric's racing season, and help support his efforts, here's a few places to find him:
---
More Interviews with Local Athletes