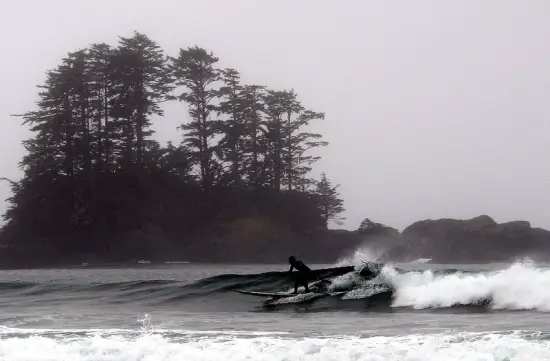 Tales from the Outdoors is an ongoing interview series featuring some of the most inspiring and motivational local athletes. Covering a myriad of outdoor pursuits across all skill levels, these are the stories of Vancouver's finest adventurers. To see previous interviews in the series, click here.
Lina Augaitis
Born in 1980 in Ottawa, Lina Augaitis spent much of her youth as a competitive gymnast. In 2003 Lina moved to Vancouver to complete her master's in Sport Psychology at UBC. Lina began rock climbing and then spent a few years in Whistler, where she started trail running, mountain biking and backcountry skiing. A lot. By 2007 Lina was competing in triathlons, marathons, and adventure races in exotic places like Trinidad, seeing how far she could push her body. In 2008 Lina moved to Vancouver. It was in the fall of that year that Lina discovered the sport of stand up paddleboarding (SUP) by chance, while visiting California. In her 2013 talk at FEAT Canada (video at bottom), Lina admits her first time on a SUP did not go smoothly. Since then, however, it's safe to say Lina has improved and she has been taking the SUP world by storm. After several years of training and racing at SUP races around the world and doing very well, Lina was curious to see much she could excel if she dedicated herself to the sport full-time. Just last fall Lina made the incredibly hard decision to quit her job as a teacher in Vancouver, and she is now trying her hand at a career on the pro circuit.
Lina is on a new and exciting chapter of her life, one of many exciting times she has had over her athletic career. Her blog is titled live, love, laugh,..DREAM!, but Lina is clearly more than a dreamer. She is a go-getter that will relentlessly pursue her dreams until they are reality, such as she did in 2011 when she became the first person to SUP the Yukon River. Her new journey as a pro athlete and her expedition on the Yukon River are a few of the things I was able to ask Lina about.
Interview
Outdoor Vancouver: Growing up what drew you to the outdoors and, outside of SUP, what are your favorite sports to do? Do you still do these activities for training or for fun?
Lina Augaitis: Growing up in Ontario we had a cottage like most other people living in Ontario but unlike others our cottage was a 100 year old farm house with 10 acres of land on a lake. That was my extent of outdoor fun growing up. I was a national level gymnast for most of my youth and that sucked up most of time. My last year at Queen's University I got into indoor rock climbing and the next year I found myself in Vancouver studying a masters degree and got really into climbing. Climbing is what initially got me into outdoor sports. From there I met some pretty rad folks that were into backcountry skiing, mountain biking, hiking, and camping… I fell in love with everything that was outdoors. Now, I still believe doing a variety of sports is great cross training, and love to go mountain biking, trail running, and backcountry skiing (to name a few).
OV: In 2011, you decided to try to be the first person SUP the 715km Yukon River. Why did you pick that challenge and how did it go?
LA: I have always wanted to race in the Yukon River Quest. They don't allow SUPs to race due to board dimensions. I was really into SUP at the time and was kind of annoyed I couldn't race the Yukon River on a SUP so I convinced Andrew (my husband) to join me in a kayak and we did the race route on our own. Andrew likes to take the time to really enjoy the area we are travelling and I am glad he does as we got to see some pretty amazing things along the river. If it was up to me I would have had my head down and gone as fast as I could. The river on a SUP was a great success. I would recommend anyone to go do it on a SUP.
OV: Why did you recently make the decision to go pro and how hard was it?
LA: I am not young for an athlete (not too old either:)) but I felt and saw this opportunity come to me. This summer I raced a ton and just got better and better without really focusing or putting more effort into it. It was winning 3rd in the distance event at a biggest event in the world that made me want to know how good I could really be. At the time, I wasn't training specifically for SUP, I was just doing lots of different things that I love to do. I got the bug in September/October to do it more. Its always been a dream of mine to be a pro athlete. I never thought it would actually happen and here I am living it. Determination and taking some risks made it happen…and a loving, amazing, and understanding husband.
Funny you ask if it was difficult decision because it was. It has taken me awhile to find a career that was right for me. I spent the last 3 years trying out something new, teaching. I had to return to school for a year to complete my teacher certification, and then lucked out with different jobs which eventually landed me this really great job with a private school. The staff at this school were unreal, the students inspirational and the parents so giving. I was teaching my favourite things: outdoor ed, PE, and science. I was in a good place. I really loved my job but I just knew inside I had to do this pro thing or it would eat at me for the rest of my life if I didn't at least give it a try. I cried for two weeks straight once I made the call, I was scared I was leaving a really great thing for a huge unknown that could be incredible or fail miserably… I have to thank my husband, the students, parents, and staff at my old school for their unbelievable support of my choice.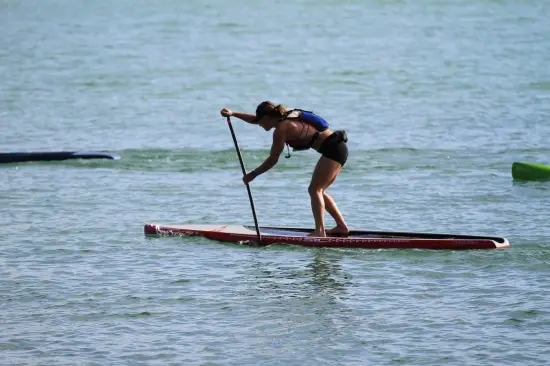 OV: You've won your first two races since then, so it seems like things are going well! But how has the adjustment been overall, and has it been like you expected?
LA: YES, I won some races, met some great folks and have been surrounded by an abundance of positivity. I have to say so far the experience has far surpassed my expectations. It is still the beginning so things can change but I have to say stepping out and taking the risk to follow my heart and dream is worth it. It has already been worth it. I have traveled, learned different skills, and met some inspiring and amazing people from around the world.
OV: On your blog you mentioned there is a new kind of pressure on you since you won at Paddle Royal – how have you been able to manage this?
LA: I am no longer the girl that nobody knows at races. There is expectations now not only from me but from sponsors, friends, family, followers… So yeah slightly more pressure than before. Exciting though, I now need to learn how to manage the expectations and pressures well.
OV: When I think of SUP I think of tropical waters, not the Indian Arm. What it is like training in Vancouver? Where is your 'home base' for training in 2014?
LA: Training in Vancouver definitely takes more mental desire, good clothing, and a proper knowledge of safety. It is beautiful but very cold throughout the winter. I most often wear a drysuit if the water is rougher (Kokatat make great drysuits) and there is a chance I might fall in. I wear a PFD, have a leash, and sometimes even carry a VHF radio. I often train on my own and I take safety on the water seriously. Throughout the winter if an accident were to happen and I was stuck in the water I would not have very much time until things could go very wrong for me. Better to carry some extra things, wear some extra clothing and maybe not look so cool but feel confident and safe. I am travelling a lot throughout 2014. I spend some time in Vancouver on the water as well as doing some crosstraining like mountain biking, trail running, yoga, crossfit, skiing etc. I have spent some time in Tofino and on the west coast of WA training in the surf. I wear a winter wetsuit and go out with friends. I am hoping to spend some time in California and Hawaii where the water is warmer and the waves more accessible but I love Vancouver for its beauty and variety of outdoor activities available at our doorstep.
OV: If anyone in Vancouver wants to get started SUPing, how would you recommend they go about it?
LA: We are lucky that we have relatively easy waters to learn. Deep Cove is beautiful and usually fairly flat which makes it a great place to learn, tour, or bring the whole family. There are some great instructors and board rentals available at Deep Cove Canoe and Kayak. You can take a lesson to learn the basics, enjoy the experience of SUPyoga, take a fitness class on water, come out and try a Tuesday Night Race or just rent some boards with friends. SunDog Adventures in White Rock also rent boards and provide lessons. Ecomarine in Kitsilano is another area where you can rent boards and take lessons for a more urban experience. So there are a number of options to get out on SUPs and enjoy the water environment.
OV: Thank you Lina and good luck with the rest of your season!
You can keep up with Lina's racing and training on her blog, live, love, laugh,..DREAM!, and follow her athlete page on Facebook. Below is Lina's talk from FEAT, where she recalls her start in the sport and the experience of paddling the Yukon River, self-supported with her husband.