I recently received a Samba Days gift experience, and I chose to head up to Whistler Bungee to enjoy a jump with a friend.
Whistler Bungee gives thrill seekers an unforgettable experience by jumping 160ft (50 meters) over the glacial fed Cheakamus River.

In one of the most unique settings for bungee jumping, surrounded by basalt column cliffs and old growth forest, combined with the breathtaking peak of Black Tusk in the background, you will see why Whistler Bungee is regarded as one of the most scenic bungee jumping sites in the world.

Opened in 2002, Whistler Bungee has a perfect safety record and its' operators have been in the bungee jumping industry for over 20 years. Located just 15 min south of Whistler Village and only an hour drive from West Vancouver, Whistler Bungee is easily accessible just off the Sea to Sky Highway.
The whole experience was first class. The staff are very helpful, friendly, and not afraid to joke around with you if you show any signs of weakness. "Oh don't worry, if something goes wrong, just make sure you swim to the left. If you swim to the right, the current will take you away".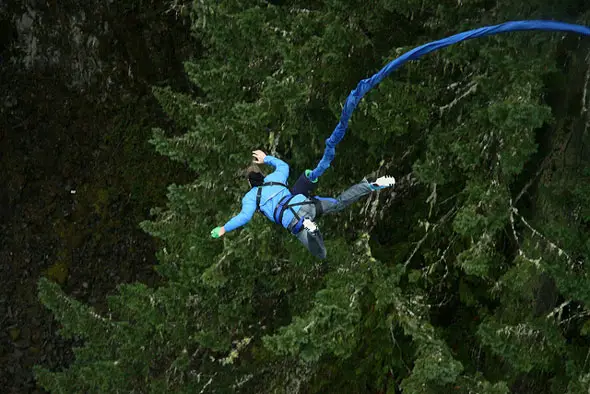 That said, the company has a great reputation for safety, and a clean track record. Overall, the experience of jumping was great. The 160ft free fall was amazing, and afterward you are hoisted back up (instead of pulled into a boat), which I don't think a lot of bungee places do. You have your choice to be harnessed by the chest or feet, and how you want to jump.
Whistler Bungee is located about 15 minutes south of Whistler Village. It costs $120 for your first jump, and $60 for any future jumps. Oh, and you get a t-shirt out of the deal. There is also a photographer who takes a bunch of pictures you can buy afterward. Another cool thing about the company for all you sustainability folks, is that the entire operation is run off a small windmill and solar panels. The 'operation' consists of 2 light bulbs, laptops, and a payment machine, but hey that's still pretty cool. I'll definitely be heading back to jump again at some point, and if you've ever thought about jumping just go do it. Even if you're a bit apprehensive, you'll be glad you did!