I run a lot. During the winter in Vancouver, this means a lot of time spent out in the dark after work, whether it's on the roads or the trails. For this reason, I've accumulated a half dozen or so headlamps over the years and have always gravitated towards one or two favourites based on the task at hand (a long night run through the woods vs. a short run around the neighbourhood vs. camping). Headlamps all have trade-offs when it comes to brightness, battery life, weight, comfort, etc.
I recently tested the new BioLite HeadLamp 200 and will be sharing my thoughts here.
BioLite first became known for its off-the-grid wood-burning camp stoves a decade ago. Since then, they've slowly been expanding their product line with innovative devices like solar chargers, and most recently, headlamps.
The HeadLamp 200 is their newest product and the second headlamp in their lineup.
Pros
Keep in mind, my testing of the BioLite 200 Headlamp so far has been limited to road running, but I see no reason why the features I like about this headlamp wouldn't translate to hiking and camping.
Lightweight design and small footprint
This is by far the biggest advantage of the HeadLamp 200. Weighing in at just 50 grams, it is incredibly lightweight. This means that during running, the headlamp doesn't bounce up and down annoyingly on your forward like so many headlamps do. Some headlamps use an external battery located behind the head to counterbalance the weight and reduce bobbing. But I often find those external battery packs annoying themselves. The BioLite 200 does a great job of having no rear battery pack and still managing to have zero bouncing or shifting on the forehead during running.
It's so lightweight, you barely notice it at all. It is the most comfortable headlamp I've ever used.
As mentioned, the battery is self-contained to the front, and there is no external battery pack. This means that the Headlamp 200 is also a great option to keep in your Ten Essentials kit as your spare source of illumination. It's light and takes up minimal space. You can also lock it so the battery doesn't accidentally drain, so it will be there ready to go if you need it in an emergency.
Simplicity
One thing I love about the HeadLamp 200 is that there is just one button. On. Off. That's it.
Yet, you can still put the headlamp into battery protection mode, cycle through the different lighting options (I'll explain below) and vary the intensity of the light. Everything can be controlled intuitively from the single button, making it a no-fuss device.
USB Recharging
Through a standard micro USB cable, you can quickly recharge the BioLite 200, which means no need to use AAA batteries or to pop out the battery for recharging. You simply plug directly into the headlamp. This is handy for recharging with a power bar or in via your car's USB during camping.
All the modes and features you need (and nothing more)
The BioLite 200 has 4 lighting modes.
White light
White strobe
Red light
Red strobe
The intensity of the solid white and red lights can be controlled by pressing and holding the power button, which initiates the dimming. Simply release at the desired brightness.
The lamp tilts to several different positions to direct the beam of light where you want it. And the HeadLamp 200 also has a comfortable, moisture-wicking headband.
That's about it for the main features – which is great because a headlamp only needs to do one thing well – light your path.
---
---
Cons
Brightness vs. Battery Life
For battery life, the BioLite has an impressive run time, given how light it is and the fact that there is no external battery pack. At full illumination (200 lumens), the HeadLamp 200 lasts for about 3 hours. More than enough for a run through the streets at night.
If you want to extend the battery life, you can simply dim the light, getting a maximum of 40 hours at the dimmest setting. This would be enough light to get you through an unexpected night on the trail, should you get lost. Or it will get you through a weekend of camping.
That said, at max brightness, you have about 200 lumens and a nearly 50-meter range. Which is fine for hiking and certain types of running. But you wouldn't want any setting much dimmer than the max output for trail running at night, nor would you have enough battery time to run through the night, during an ultramarathon, for example.
For long-distance, overnight trail running events, I would still foresee using something like the Petzel Nao which has 700 lumens and replaceable batteries so you can carry spares. But this goes back to the cost/ benefit of having a headlamp like that which weighs much more, has an external battery pack and is much more expensive.
For the vast majority of outings, outside of intense trail running, the HeadLamp 200 is far more practical and comfortable to wear.
And as mentioned above, for something like an overnight running event, the HeadLamp 200 becomes the ideal backup torch because of its weight and footprint.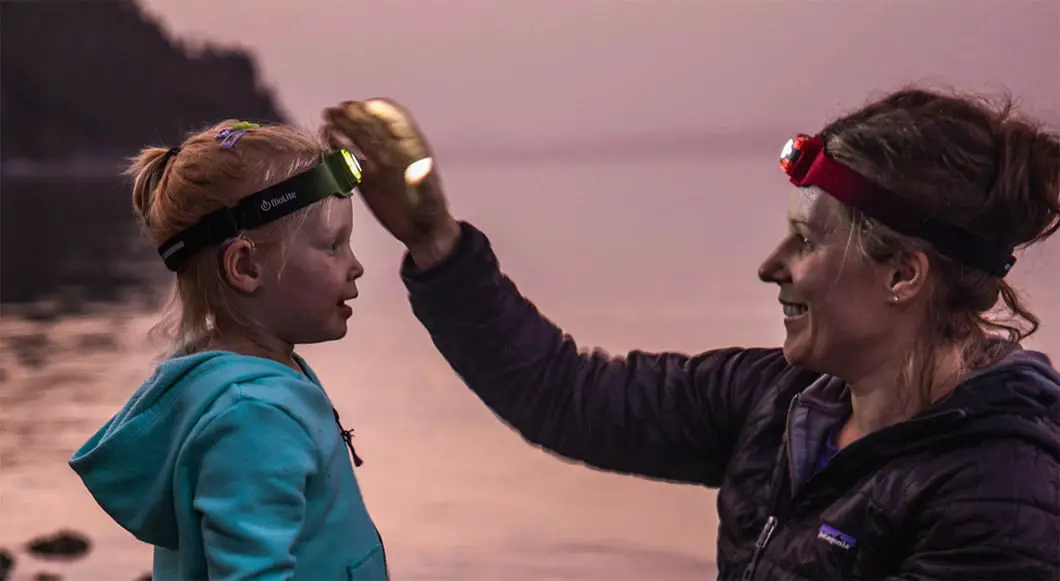 Conclusion
The BioLite HeadLamp 200 has instantly become my go-to headlamp for road running at night. It's hard to find a lamp so light and so comfortable, which produces sufficient illumination. 
It also makes for the perfect lamp to throw into your Ten Essentials bag, for emergency use while hiking, and for navigating your campsite at night.
The HeadLamp 200 has a clever design, is simple to use, and packs all the features a headlamp needs without any of the excesses.
It's a great choice for hiking, camping and running where you don't need a ton of lumens. However, the max output, topping out at 200 lumens, is the only downside to this headlamp. For those looking for more lumens, perhaps for trail running, the BioLite HeadLamp 330 might be a good alternative.
For the price point, I find the BioLite HeadLamp 200 to be great value.
The Specs
Weighs 50g
Max Output: 200 lumens
White + Dim , Red + Dim, White Strobe, Red Strobe
Front panel tilts downward with one hand
40 hours on LO, 3 hours on HIGH
Recharge via micro USB
IPX4 water-resistance rating
---
Other recent reviews: