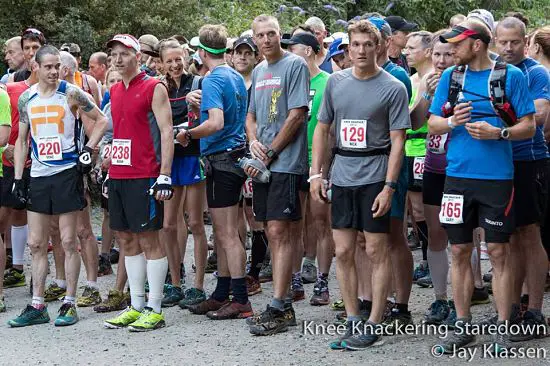 Photo by Jay Klassen via solanaleigh.com
There were several great races this month, including the home-town favorite North Shore Knee Knackering Trail Race. And what a race it was this year! Not only was it the 25th Knee Knacker, but it came down to a sprint-finish with some very impressive times, and almost a new course record. Before we get into that though….
News and Articles from the month:
Series of traps along in B.C. coast hooked woman to tree, almost decapitated cyclist. @National Post
July Race Results:
North Shore Knee Knackering Trail Race – July 13, North Shore. 30miles.(RESULTS)
Tynehead Tour – July 14, Surrey. 8 Hours. (RESULTS)
Full Monty – July 20, Victoria. 12, 25, 50km options. (RESULTS)
5 Peaks, Cypress – July 20, West Vancouver. 6, 12km options. (RESULTS)
Mary Leliveld's Happy Trails Run – July 28, North Vancouver. Lynn Peak hike/run. (RESULTS)
Bill's Great Peak Ascent – July 29, North Vancouver. Various distance options. (RESULTS)
Knee Knacker Race Reports
With a competitive field this year, the 25th edition of the Knee Knacker was promising to be a good one, and it delivered. The top 3 finishers all finished within 2minutes 39 seconds of each other. Gary Robbins, the winner, finished just 1 minute and a half off the course record. And Mike Murphy, the second place finisher, set the Masters records. Wow! Its a special race, and you'll have to read some of the race reports below to get an understanding of what the Baden-Powell is all about, and what this race means to those who run it.
Races in July!
Squamish Days – August 4, Squamish. 10km.
Arc'teryx Squamish 50 – August 10, Squamish. 50miles/ 50km/ 23km.
5 Peaks Whistler Blackcomb – Aug 24, Whistler. 6.5km / 10.6km.
Capilano Canyon Night Run – A Mid Summer's Night Dream. ~90 minute course.
Go Home Via the Hanes Valley – Aug 31, North Vancouver. 14km / 18km / 30km.
Trail Video of the Month:
Darkness: how ultrarunning can strip away our emotional barriers.
Philosophy, meets poetry, meets trail running. Left me with goosebumps.
Science Corner:
A new segment for the monthly trail running run-down – Science Corner. Inspired by some recent scientific research I think we can all get behind!
"Researchers at Granada University in Spain said drinking beer after strenuous physical activity can be beneficial for the body."
What else do you need to know? Study: Beer beats water for hydration
Happy trails until next month!
Related posts: