When it comes to gear, I'm a big fan of buying products that serve multiple purposes. While multi-functional gear usually costs more up-front, it allows you to travel lighter and faster.
Versatility is what caught my eye with the Peak Design Travel Line 45L Backpack – it's a chameleon of a backpack, adapting to any trip through its countless features and interchangeable packing tools. For me, this a pack that can be used for both hiking (and photography), and also general travel. I've never found a backpack that can be used so optimally for both purposes before.
General Features
Packing Tools
The Travel Line can be completely customized with all its built-in features and the additional 'packing tools'. The packing tools (additional purchase) include Packing Cubes, Camera Cubes, Tech Pouch, Wash Pouch and Shoe Pouch. All cubes and pouches are designed to fit perfectly within the Travel Line backpack, and in any combination that makes sense for your next trip.
Each of these cubes and pouches are well-designed, and are worthy of a review in themselves. The wash pouch, for example, may not sound very exciting but it has a stowable hook for hanging, magnetic toothbrush pocket, external razor pocket, and is made from weatherproof nylon canvas which makes for easy washing if anything spills. Basically, it's the ideal wash pouch.
The tech pouch is even more impressive, and doubles as a day-use carry bag (if you have an additional Peak Design leash).
Compression
The Travel Line has 35L of space in its standard state. The front pocket has compression zippers that can expand the bag for an additional 10L of space. Don't need much space on your next trip? There's additional snaps that can fold in the top of the backpack to reduce it to its smallest size of 30L.
Other features
Built in rain fly.
Access from the back to completely open the pack and get at everything.
Side access from both sides if you need to grab your camera, or something buried at the bottom.
Hidden pockets on the sides, and in the waist belt.
Waist belt and shoulder straps stow into the rear panel.
Hidden external carry straps to leash on anything that can't fit inside the bag (ie, large tripod, large jacket).
There are so many features I won't cover them all here, but this video from Peak Design goes through everything about the Travel Line in detail.
---
The Travel Line for Hiking
How does the Travel Line hold up for hiking? For one, the zippers are water resistant, but it also has a built in rainfly in case the weather really turns for the worse.
The Travel Line also easily holds everything I need for hiking – which is a lot of gear as I'm usually taking lots of photos and video.
The two external side pockets are perfect for a water bottle and tripod (or bear spray or trekking poles). The inside has plenty of room to carry my camera (with the small sized camera cube) and has room to spare for everything else.
I am able to easily fit:
Canon DSLR w/ zoom lens
50mm prime lens
DJI Spark drone (plus controller)
Water bottle in side pocket
Tripod in side pocket
DJI Osmo Mobile gimbal
Trekking poles (foldable)
10 Essentials
Extra food and clothes
inReach GPS
Bear spray
The bag was able to easily fit these items, plus the other random gear that finds its way onto my hikes.
It's also a comfortable pack to carry, with a waist belt and sternum strap to secure the pack and take weight off the shoulders.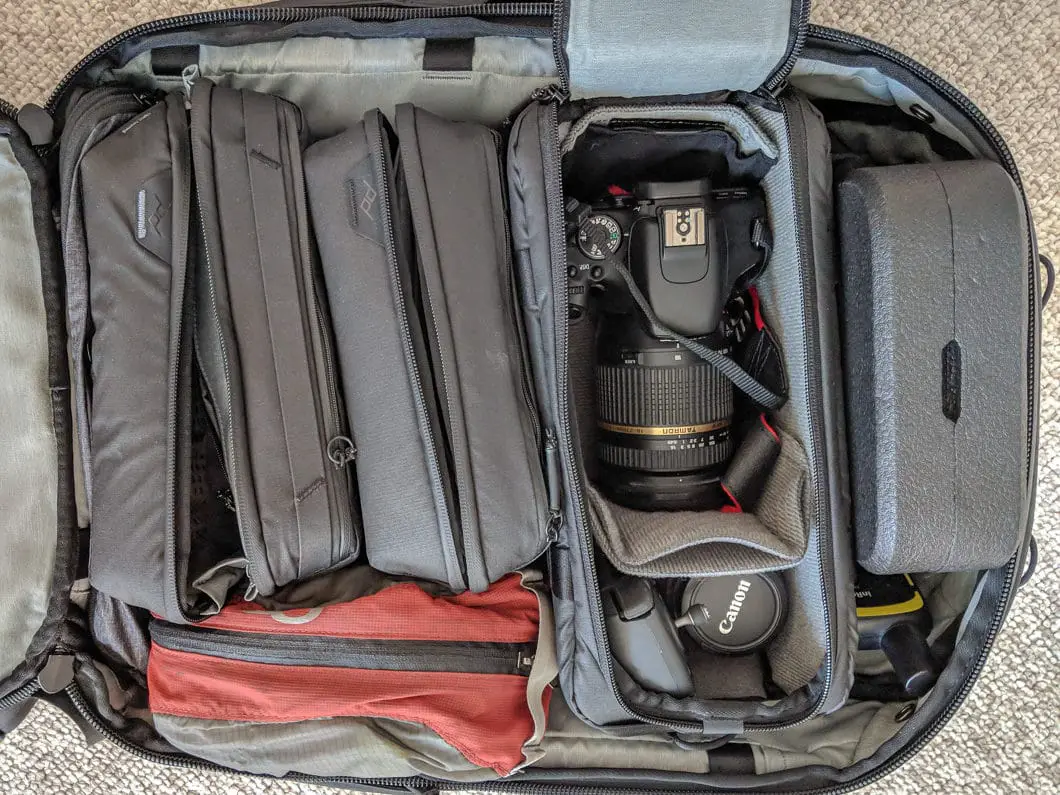 ---
The Travel Line for Airplanes
I generally try to avoid checked-baggage at all possible costs. This backpack is absolutely perfect for airline travel for several reasons.
It has tons of space at 35L. It can expand to 45L if needed, though this will make it larger than the standard carry-on size.
The straps fold into the back support so they aren't getting caught in security scanners or dangling when putting into an overhead bin. When the straps are stowed, the handle on the rear of the pack allows it to be carried duffle-style or to slide the bag over your roller-luggage handle.
There is easy access to the essentials like your laptop, books and other items you want during the flight through a well thought out internal organization and pocket system.
There is also the ability to secure all the zippers to deter pickpockets in foreign places.
Conclusion
For a bag that has so many features, it's amazing how well everything works together. Nothing seems gimmicky or ad-hoc. Every single feature is well thought out and works as you would hope. Everything just works. The zippers, the compression, the cubes, the rain fly… Whatever feature you want to use, its intuitive and easy, and nothing is frustrating about using this backpack.
The packing cubes make it a cinch to customize the internal storage to suit any trip, and make this pack a no-brainer for those who travel.
The Travel Line from Peak Design is currently available on Kickstarter.