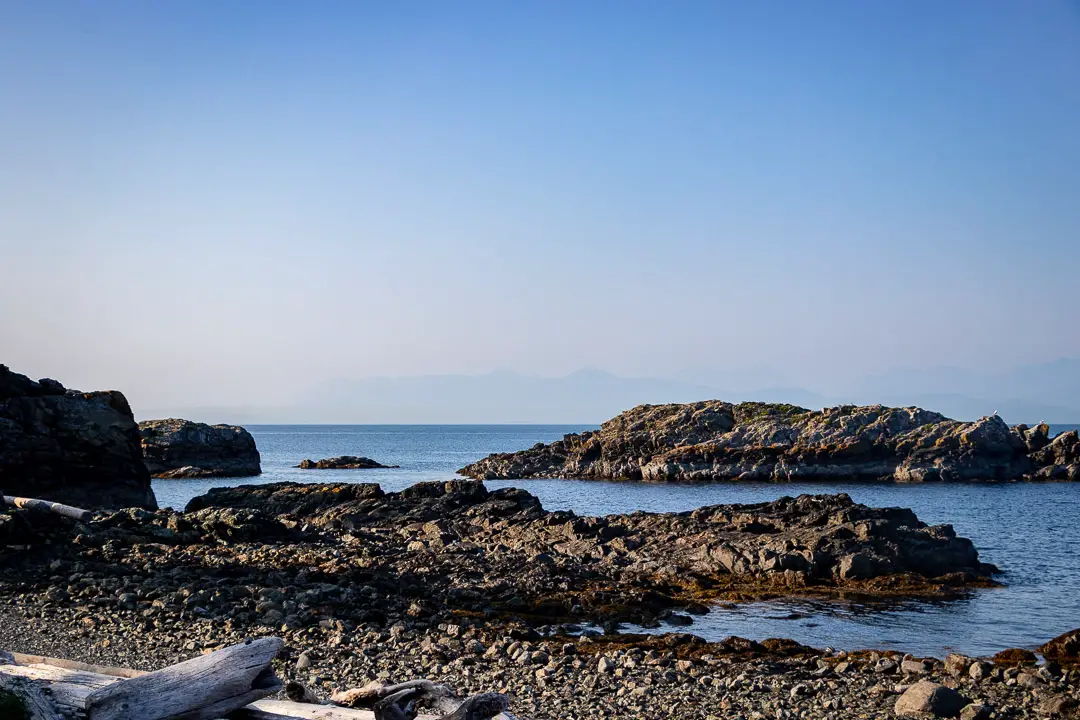 Neck Point – Table of Contents
Neck Point Hike Intro
Neck Point Park is a popular area for walking and scuba diving in Nanaimo. The ocean side park features several beautiful beaches and scenic trails through Garry Oak groves.
The 36-acre park gets its name from the unique neck-shaped point that juts out between Indian and Last beaches.
Watching the waters, it's possible to spot sea lions and otters, and sometimes, even orca.
The route described below makes a loop around the outer perimeter of the Neck Point Park, visiting its beaches and Neck Point itself.
A walk around Neck Point is perfect for families wanting to get outside for a relaxing walk, and the park is a great place to catch a sunset.
Cool fact: "In its earliest days, the Snuneymuxw used to fish and collect food resources in the area, which was rich in salmon, ling cod and rock fish, and families had cabins in the 1930s along Finn, Indian and Sunset beaches, according to the city's Neck Point master plan". [Source]
---
Neck Point Hike Stats
Rating: Easy
Distance: 2 km
Net Elevation Change*: 17 m
Highest Point: 25 m
Time Needed: 1 Hour
Type: Loop
Season: Year-round
Dogs Allowed: Yes, on leash
Est. Driving Time from Vancouver: 3 Hours
Trailhead Coordinates: 49.233195, -123.964562
*For a better understanding of the stats and difficulty rating, check out the Hiking Guides page for details. Always carry The Essentials and fill out a trip plan.
---
Neck Point Video
Here is a 1-minute video of our experience on this hike!
---
Neck Point Hike Map and Elevation
Profile
Minimum elevation:
No data
Maximum elevation:
No data
Duration:
No data
---
Neck Point Hiking Route
There are many trails within Neck Point Park and you can choose any route you wish by looking at the park map. The hiking route described below is a loop that takes you around the outer perimeter of the park, along the beaches and ocean lookouts.
Starting at the parking lot, you can look at the park map to get your bearings and plan your route.
Across the street from the parking lot, you'll find Finn Beach. Go to the beach and onto the trail, walking with the water on your right. You'll climb a small hill and follow the trail around the point before reaching a viewing platform known as the 'Neck Point Boathouse and Seawall'. From this concrete viewing area above Indian Beach, you can see Shack Island and the Strait of Georgia.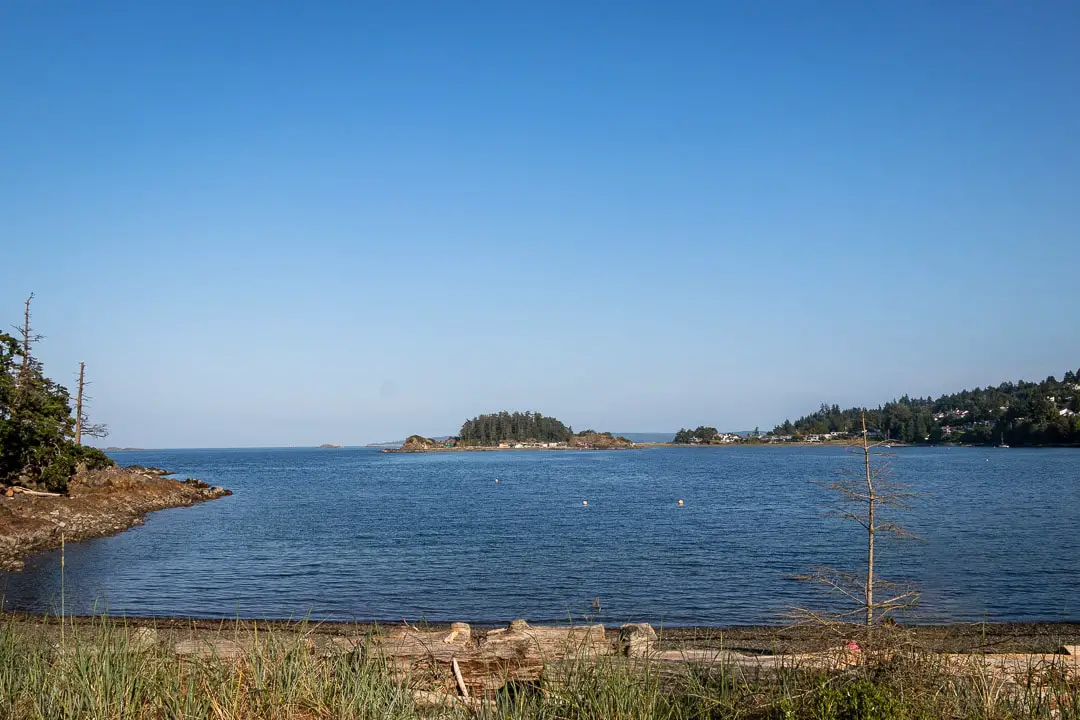 "Shack Island is the rocky beach that separates Pipers Lagoon from Neck Point. In 1907 the Pacific Whaling company built a whaling station on Shack Island but it was demolished within a couple of years when the whale population began to decrease. The cabins that are still standing were built in the 1930s… The present "shacks" are rustic in appearance and are often mistaken as abandoned, but they are still owned by descendants of the original owners". [Source: Park interpretive sign]
Check out the view from here and then carry along the trail that follows the shore.
Following the trail, you'll come to a rocky area and a large set of wooden stairs. The stairs take you up to a lookout over Neck Point itself. Looking north up the Strait of Georgia, you can see Texada and Lasqueti Islands. Enjoy the beautiful scenery and walk down onto Neck Point if you wish, before continuing north along the trail.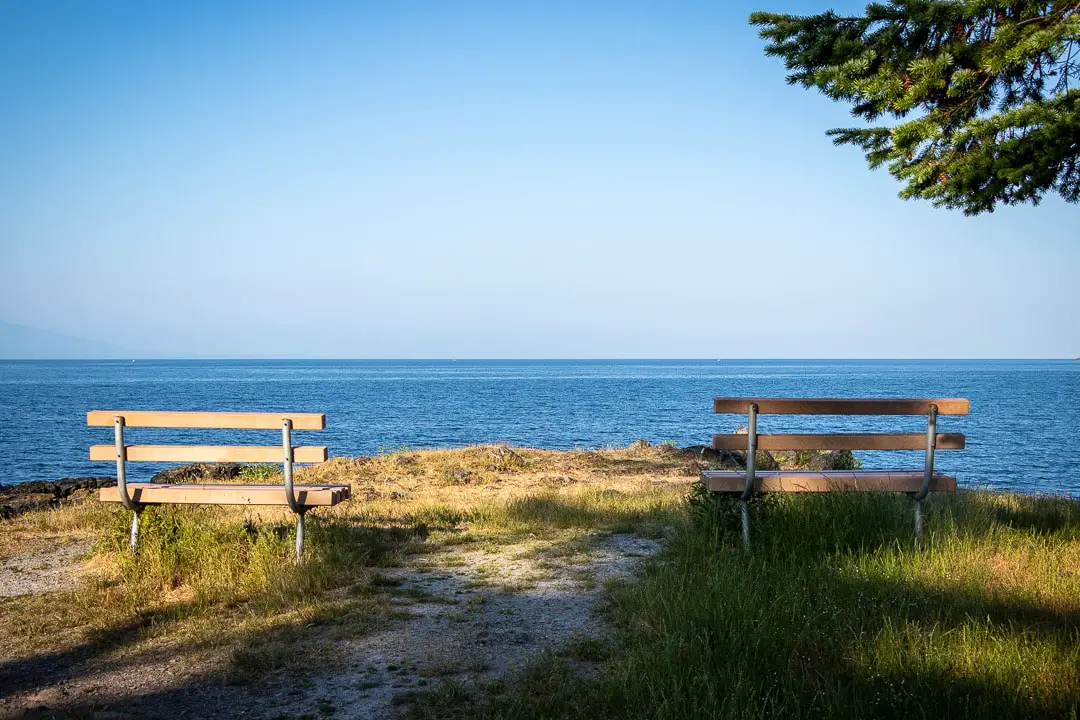 Carrying on, you'll come to Last Beach which is popular for scuba diving. Keep following the wide gravel pathways. There are plenty of interpretive signs you can read as you wander.
From Last Beach, the trail carries back into the forest where there is a steep cliff wall. Get on the path, and hang a right so you're hugging the cliff walls above the water.
If you stay to the right, you'll now be on the cliffs above the beach. You'll find two wooden platforms overlooking the ocean from a scenic vantage point.
To make your way down and around from the second lookout, you will double back and then go right at the nearest junction. Turn right again, and it's a short walk to reach Sunset Beach.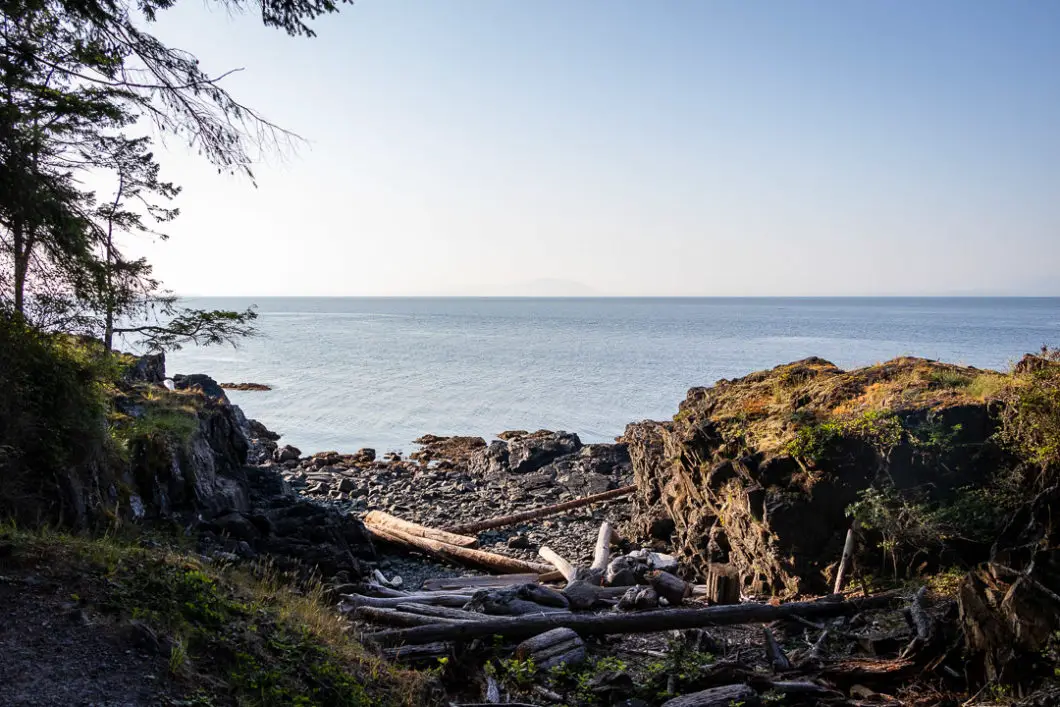 You can walk along the beach and find a viewing platform on the far side of the beach. Sunset Beach is great for, you guessed it, sunsets.
From Sunset Beach, you can follow the large gravel road (Annie Clark's Way) for 400 meters back to the parking lot where you started.
As you walk back to the parking lot, you may spot some of the creative 'gnome houses' built into the base of some trees.
Otherwise, you can continue to explore the other trails throughout the park if you wish to continue hiking!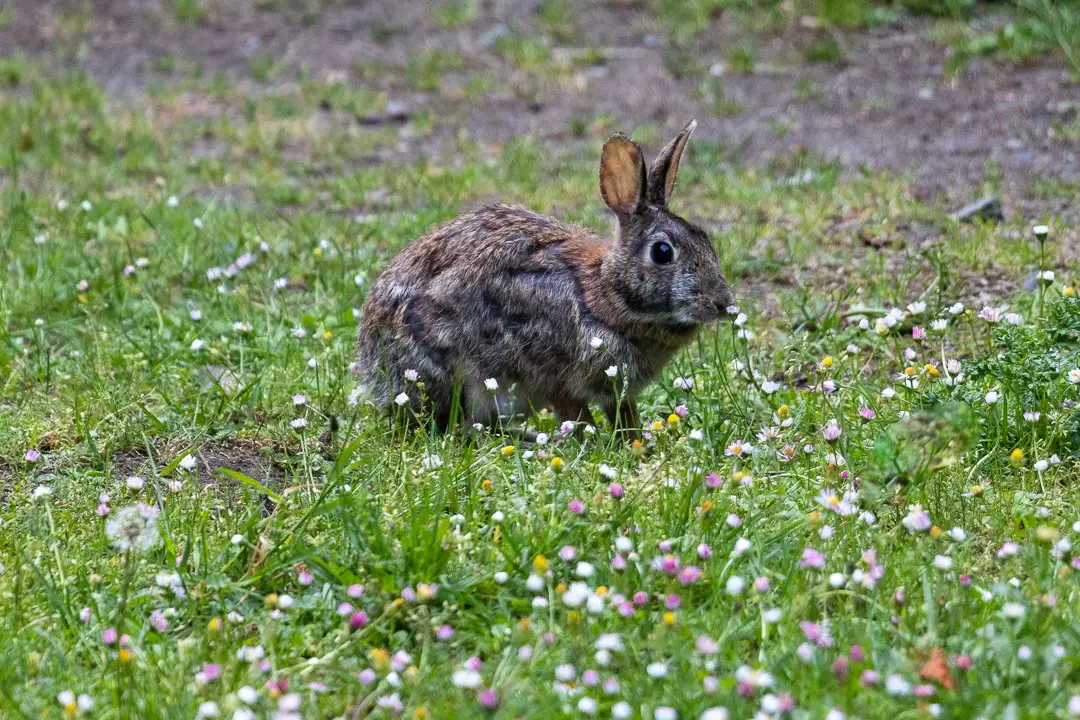 ---
Download the PDF version of this guide for offline use
Enter your email to receive the free PDF version of this guide. You will receive the file immediately in your email, and will also gain access to the monthly Outdoor Vancouver newsletter.
---
Help Us Create New Hiking Guides!
Advertising revenue is falling quickly across the internet, and independently-run sites like Outdoor Vancouver are hit hardest by it. We are committed to keeping Outdoor Vancouver free and independent, but we need to find other ways to continue operating this site.

If you like our hiking guides and would like to help, please consider making a contribution with the PayPal or Patreon links below – any amount helps! There is also a list of other ways you can support Outdoor Vancouver here!
Becoming a Patron through Patreon unlocks membership benefits and rewards. Learn More.
A one-time donation through PayPal helps with monthly website hosting costs.
---
Directions and Parking
From downtown Nanaimo, take Terminal Ave N/Trans-Canada Hwy/BC-1 N.

Turn right onto Departure Bay Rd before Brooks Landing Mall. Follow the road at is rounds Departure Bay, and then turn right onto Hammond Bay Rd. Follow Hammond Bay past Piper's Lagoon Park and turn right onto Morningside Dr.

Morningside Dr will take you right to the Neck Point parking lot.

Google Map directions are here.
---
Other great hikes on Vancouver Island
---
Download the PDF version of this guide for offline use
Enter your email to receive the free PDF version of this guide. You will receive the file immediately in your email, and will also gain access to the monthly Outdoor Vancouver newsletter.
---
Outdoor Vancouver Apparel