A good quality sleeping bag is essential for any camping or backpacking trip. It can make the difference between a comfortable night's sleep and a night of shivering. 
There are several factors to consider when choosing a sleeping bag, such as the temperature rating, the type of insulation, the size and shape, and the features. 
The temperature rating is the most important factor to consider, as it will determine how warm the sleeping bag will keep you. 
The type of insulation is also important, as it will affect the weight, warmth, and compressibility of the sleeping bag. 
The size and shape of the sleeping bag should be comfortable for you to sleep in, and the features should be tailored to your specific needs.
Yawn Patrol Sleeping Bag Review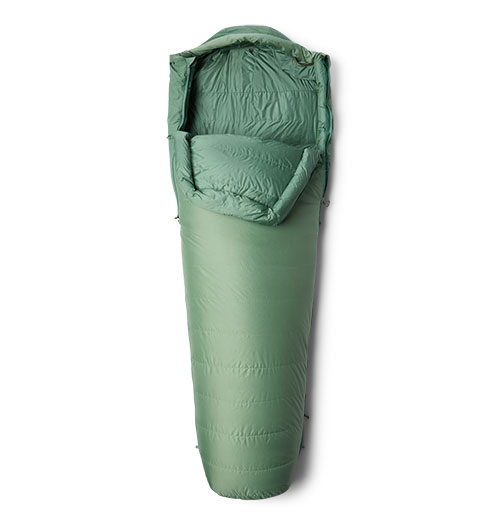 I recently had the chance to test out the Yawn Patrol sleeping bag from Mountain Hardwear, and will provide an overview of my thoughts here.
The Yawn Patrol is made with 650-fill RDS-certified down, which provides exceptional warmth and comfort, and makes it lightweight. The bag also has a durable, ripstop nylon shell that is water-resistant and windproof.
The Yawn Patrol is available in two sizes to accommodate different body types. It also has some features that make it ideal for camping and backpacking, such as a full-length zipper, a draft neck-collar, and a stuff sack with a compression strap.
One of the features I love about this sleeping bag is the two-way zipper. It makes it easy to get in and out of the bag, and also allows for ventilation on warmer nights, allowing you to kick your feed out the bottom of the bag while staying zipped up. 
This also allows you to use the sleeping bag as a quilt, while you're sitting around the campfire, or outside the tent gazing at the stars. It's a really handy feature, and would be great for backpacking as it gives the sleeping bag an additional use.
This bag is perfect for camping in the spring and fall, with a temperature rating of -1C and a durable construction that keeps you warm and comfortable all night long.
The Yawn Patrol is also designed with comfort in mind. It has a roomy interior that allows me to move around and sleep in any position I want (I'm a side-sleeper). This is something I have learned to really appreciate after using a mummy-stye bag for years that was too restrictive in the legs.
---
---
Here are some of the pros and cons of the Mountain Hardwear Yawn Patrol sleeping bag:
Pros
Spacious and comfortable
Warm and lofty
Durable and water-resistant
Windproof
Different sizing options
Features that make it ideal for camping and backpacking (ie, ability to use as a quilt)
Cons
Can be a bit bulky when packed
Can be a bit pricey
Down can lose its insulative properties if it gets wet.
Conclusion
After testing out the Yawn Patrol, I was impressed with its performance.
In my opinion, the Yawn Patrol sleeping bag from Mountain Hardwear is an excellent choice. It's a durable, warm, and comfortable sleeping bag. I would highly recommend the Yawn Patrol to anyone looking for a spacious and comfortable sleeping bag that is perfect for active sleepers. If you're a serious camper or backpacker, it's definitely worth the investment.
Learn more about the Yawn Patrol sleeping bag on the Mountain Hardwear website.