I've been a fan of LifeStraw water filters for a while. They are easy to throw in your backpack and simple to use when you need them. They require little maintenance, with just a quick backwash periodically. I have mainly been using the LifeStraw Go, which is a water bottle with the LifeStraw filter built into it. The Go allows me to quickly dunk the bottle into a stream or lake during a hike, and then filter the water as I drink it.
For short hikes where I don't think I'll need any water, or while I'm trail running, I simply bring the LifeStraw with me (no bottle) as an emergency backup.
But, a few months ago, LifeStraw came out with a new universal filter kit, which has become my new favorite method of filtering water out on the trail. It's aptly named the LifeStraw Universal.
The LifeStraw Universal works much in the same way as the LifeStraw Go, but with a few more advantages.
The Universal kit has a few lids that allow you to fit the filter into a number of existing water bottles you may already own. In this way you can 'plug and play' the filter into any water bottle that works for your trip. The Universal kits are compatible with most popular brands of bottles including Camelback, Klean Kanteen, Nalgene and Hydroflask.
In addition to the Universal, they have also introduced a kid's bottle (LifeStraw Play), which is great. My son has loved bringing it to school. Because the Lifestraw also has carbon filters, they improve the taste of the school tap water when he refills.
And the same goes for me when I'm travelling through airports. The Universal and the Go have been great to use in airports and on the go, not just for hiking.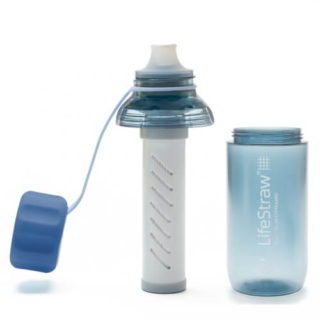 Another advantage of the new filters is that they have less membrane than the previous version, making the water flow better when drinking through the filter.
A few of the details for the LifeStraw Universal:
Kit includes 2-stage filter, threaded wide mouth and standard caps, standard and sport mouthpieces, leakproof lid with loop, and carry bag
Replaceable microbiological filter removes 99.999999% of waterborne bacteria, and 99.999% of waterborne protozoan parasites (up to 1,000 gallons)
Replaceable activated carbon capsule removes chemicals, chlorine, and improves taste (up to 25 gallons)
Food-grade silicone sport and standard mouthpieces, and leakproof lid are interchangeable between both included screw caps
You can pick one up on Amazon here.