"Sometimes the best part of getting outside is turning off your smartphone and getting away from technology. But there are definitely times where your iPhone or Android can open up new activities, or put needed information at your fingertips. Here are the 10 best smartphone apps for getting outdoors.
SIDENOTE: You do NOT want to rely on your phone's GPS for backcountry navigation, with very few exceptions. Why not? There is a detailed list of reasons in this article.
10a. Strava

Strava quickly became my favorite web-app for tracking all my running training. The website is very clean, provides great reports, and let's you follow your friend's training (and comment and leave 'kudos' on their workouts). Perhaps, the coolest feature of Strava is the 'segments'.
Segments are user-created, user-edited, and designate a portion of route where users can compete for time. You can use segments to compare your own times, or to compare with other user's times who have also completed the segment. Segments are a great way to see who is in your area, and to link to the type of routes other users are riding or running.
Best of all, after you upload your GPS file to the website, it will automatically see if you ran any segments and show you your overall standings in the leaderboard for that segment. The smartphone app for Strava let's you record your run or cycle using your phone's GPS and directly uploads the file to your account after the workout is complete. The app also lets you see your activity feed, your profile, and explore new segments. If you use Strava you can follow me here.
Strava App: iPhone | Android | Website
Cost: Free (there is a premium upgrade to unlock extra features on the website).
10b. RunGo
RunGo allows you to discover new running routes in any area, and gives you voice navigation for the route. Think of it like Google Maps navigation, for your run. The great thing about RunGo is that you can easily create your own route on the mobile app or on the web app. There are routes for races, and you can even load in your own .gpx file for guided navigation.
I've used it for hiking in the woods and it worked great – even on a route where the trail wasn't known in Google Maps. The voice navigation works well in the background, so you can listen to music also. The voice will activate to tell you when a turn is approaching or if you stray off route. Every kilometer you are also notified of your overall pace, and an estimated finishing time for your route.
RunGo is a great app to have for hiking and running.
RunGo App: iPhone | Android | Website
Cost: Free
---
9. iBird
For anyone who is a birder, and tech savy, this is a no-brainer compared to flipping though a book out of your backpack. But even if you're not a birder, I can see where this app comes in handy. There's been several times where I've been out hiking or trail running and have come across owls, which I think are amazing animals. But its frustrating if you don't know the species. Having this app on your phone is the answer.
iBird App: iPhone | Android | Website
Cost: Lite version is free, or $10 for pro on Android and $20 on iOS
Also slated for release in 2014 is a Google Glass version.
iPhone Alternative: MyBirdList ($20)
---
8. Everytrail
Everytrail is another website I use a lot. It is similar to Strava above, but geared towards hiking and walking, instead of cycling and running. The website allows you to comb through hundreds of thousands of user-generated trail guides. Each guide will allow you to view the GPS tracks on  a map, download the tracks, view the elevation profile, and most have accompanying pictures and or even video. A few features of the app:
Track your route with your phone's GPS capability – see your route map drawn while you move
Listen to awesome audio guides that give you hands free info at key POIs along the way
Plot pictures taken with your phone's camera on your map instantly
Download maps to use offline when data connection is spotty or to avoid pricey roaming charges (Pro Version only)
View stats while tracking (distance, speed, elevation and more)
Everytrail App: iPhone | Android | Website
Cost: Free for lite version, or $4 for Pro version (needed to unlock maps for offline use, and to remove ads)
---
7. Knots 3D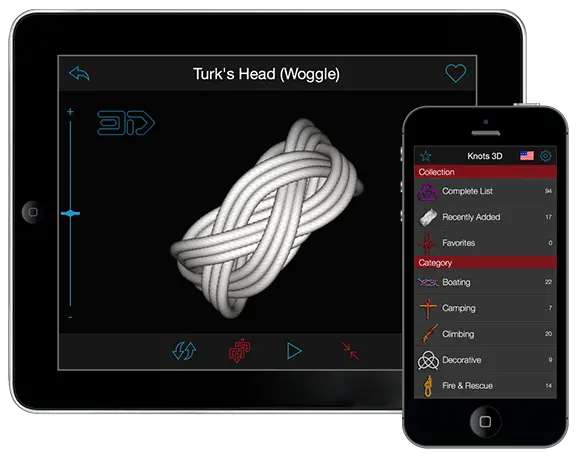 "Used by military, arborists, fishermen, firefighters, climbers and boy and girl scouts the world over, Knots 3D will quickly teach you how to tie even the most difficult knot. With more than 125 knots, Knots 3D will be your go-to reference! Grab some rope and have fun!
What Know To Do App: iPhone | Android | Website
Cost: $6.99
---
6. PeakFinder AR
PeakFinder AR uses your phone's compass to identify any mountains in the horizon. I was skeptical before using this app for the first time, but it works incredibly well! It has over 350,000 mountains in the global database, and has no problem identifying all the peaks around Vancouver.
It also shows you lunar and solar orbit paths, which is a great feature for photographers.
PeakFinder shows a 360° panoramic view from an arbitrary viewpoint of your choice. To render the panoramic views PeakFinder uses an elevation model that is integrated into the App. A database with a peak directory is included as well. For these reasons PeakFinder does not need an online connection for rendering the panoramic view and works completely offline from anywhere in the mountains.
PeakFinder AR App: iPhone | Android | Website
Cost: $6.49 Android, $4.99 iPhone
---
5. Learn to Camp
Learn to Camp is an app developed by Parks Canada, and its surprisingly well done. It has four basic main areas; Camping Basics, Camping Checklist, Recipes and Cooking, and Find a Park. There is plenty of simple and basic information under the Camping Basics section. This information is not very detailed, but would be useful for newbie campers. The Camping Checklist lets you create a list of items you'll need for your trip, which are added from pre-populated categories in the app. You can then cross them off as you've collected the items.
The app also shows you all the National Parks and general details about each site. This app is very handy. I wish they would team up with the Provincial Parks to add those parks into the app as well.
Learn to Camp App: iPhone | Android | Website
Cost: Free
---
4. The Backpacker Checklist
The title of the app says it all. If you're looking for a checklist that is more robust than the checklist built unto Learn To Camp (app #, above), then this is the one you want.
The Backpacker Checklist will help you:
Plan ahead for what to bring
Locate where to get your gear
Calculate how much your pack will weigh
Assist in eliminating stuff you don't want/need to carry
What Know To Do App: iPhone | Website
Cost: Free
Android Alternative: Backpack Planner ($1)
---
3. GPS Essentials
Although you should not rely on your phone's GPS (see side-note at the top of this post) for backcountry navigation, if you do want to record your tracks with your phone or otherwise use its GPS, GPS Essentials is hands-down the most feature-rich GPS app out there. The above video has  a nice review of the app. A few of the features:
Navigate, manage waypoints, tracks, routes, build your own dashboard from 45 widgets.
Shows navigation values such as: Accuracy, Altitude, Speed, Battery, Bearing, Climb, Course, Date, Declination, Distance, ETA, Latitude, Longitude, Max Speed, Min Speed, Actual Speed, True Speed, Sunrise, Sunset, Moonset, Moonrise, Moon Phase, Target, Time, TTG, Turn.
Show the orientation of the earth's magnetic field, shows an arbitrary tracking angle and the current target. Also a marine orienteering compass.
Record tracks and view them on map. Export KML files and import into Google Maps, Google Earth and others.
Manage routes and view them on map. Import KML files from Google Maps, Google Earth and others. Create turn-by-turn instructions between waypoints.
GPS Essentials App: Android | Website
Cost: Free

---
2. Vancouver Trails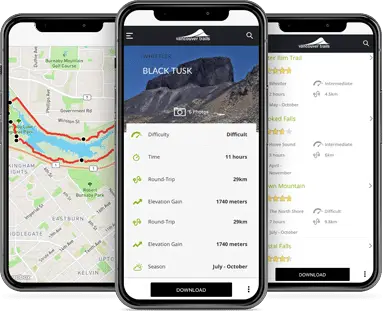 This app takes all of Vancouver Trail's hiking guides and brings them to your phone. Best of all you can download offline maps and take them with you on your hike to see where you are on the trail at all times, even when there is no cellular access.
The Vancouver Trails App is perfect for hikers and trail runners looking to explore the incredible hiking trails that Vancouver, Canada, has to offer. Discover a waterfall in the west coast rainforest, hike through a BC Provincial Park, or hike to the top of a mountain where a breathtaking view awaits. Vancouver Trails will help you find some of the best hikes in the region.
Features
Purchase offline maps for each trail so that you can take the map with you on your hike when there is no cellular phone service.
Browse detailed hiking trail information for more than 160 day-hikes near Vancouver, BC, Canada. Information includes accurate trail distances, elevation gain, difficulty, transit information, whether the trail is dog-friendly, and much, much more.
See photos of the trail
Read comments from local hikers about their experiences on the trail.
This app no longer exists
---
1. Geocaching
Geocaching is a really fun activity I've posted about before. The concept is very simple. You load the GPS coordinates for a 'cache' onto your handheld GPS or smartphone, use the provided hints, and go and try and find the cache, usually hidden in the woods or on a trail. There are different types of geocaches ranging in difficulty, but its the perfect way to have some leisurely fun in the outdoors, especially with kids.
Geocaching.com is the de-facto place to post and find new geocaches, and the smartphone app allows you to find nearby caches using your phone's GPS. You can view hints, record your activity history, and more.
Geocaching App: iPhone | Android | Website
Cost: $9.99
Android Alternative (Free): C:Geo
---
Are there other apps you use in the outdoors?