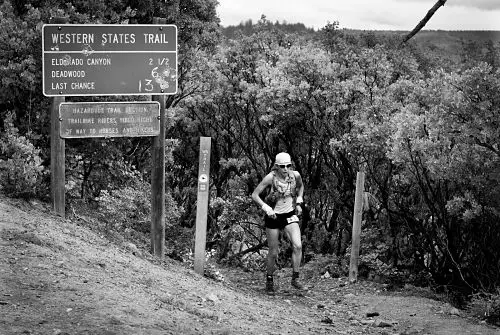 Photo By Brett Rivers
Tales from the Outdoors is an ongoing interview series featuring some of the most inspiring and motivational local athletes. Covering a myriad of outdoor pursuits across all skill levels, these are the stories of Vancouver's finest adventurers. To see previous interviews in the series, click here.
Where to start when introducing ultra runner Ellie Greenwood…
In 2012 alone, Ellie won ten of the twelve races she entered, ranging from road marathon distance (42.2km) to 100 mile trail races. This includes wins at the BMO Vancouver Marathon and Squamish 50miler, and a second place finish at the highly competitive Comrades 89km in South Africa. Perhaps most notably, Ellie also smashed (and I mean SMASHED) an 18 year-old course record at one of the most historied, competitive and prestigious races in the ultra running; the Western States 100miler (just think the Superbowl of ultra running). Incidentally, she also won Western States in 2011, on her first stab at the 100 mile distance. Beyond Western States, Ellie has held or currently holds course records at Chuckanut 50km, Canadian Death Race 125km, Knee Knackering North Shore Trail Run 30miler, Run for the Toad 50km, Calgary Marathon, Edmonton Marathon, Stormy 50miler, Powderface 42km, Elk Beaver 100km, and JFK 50miler.
Ellie was also voted Female Ultrarunner of the Year 2011 and 2012 by Ultrarunning magazine.
Basically, the point I'm trying to make here is this: Ellie is one badass runner.
For a recap of her amazing performance at Western States 2011 and what the race entails, you can watch Ellie's recent presentation at FEAT Canada below (which is truly amazing because it includes a come-from-behind win, vomiting, and chasing bears up trees):
Whether its on the trails or on the pavement, Ellie has proven herself to be one of the best endurance runners on the planet. Ellie was born in Scotland, but has called Vancouver's North Shore home for a number of years now, after having done a stint in Banff, Alberta as well.
Coming off a banner year in 2012, Ellie had lofty goals for 2013 including defending her title at Western States and another top placing at Comrades (to name a few). However, after pulling out of the Vancouver Marathon last month with a niggling pain in her ankle, Ellie discovered she'd been running on a stress fracture and has had to take those races off her calendar this year. Ellie is currently rehabilitating the fracture and maintaining her fitness until she is able to begin running again.
I hadn't met Ellie before requesting an interview, but those I asked about her all raved about how warm, friendly and outgoing she was. I guess you'd have to be, to earn a nickname like Little Miss Sunshine. I recently met with Ellie for a coffee in North Vancouver to catch up on her recent running stories and the injury. Ellie of course met with me after a training session at the pool, and having cycled to our meeting spot, because rehab does not mean rest when you compete at an elite level.
Q: Tell us a bit about your background and how you got started with running.
A: I'm from the UK. When I first came over to Canada, it was about 12 years ago now. I worked for a travel company and I got a job with that company over in Jasper. And that was just after university and so, came to Canada for a year, and twelve years later here I am! That's how I ended up here and for a while I was back-and-forth a little bit, between here and Europe.
How I got into running – I always did sports as a kid but my school wasn't high-profile. It wasn't like we had really good teams or anything. But it was always about participation so I played field hockey and net ball, and sure I did a bit of track and field but it was not competitive. It was about fun and participation and that stuff. And I always liked running, we did cross country running at school. At university, there wasn't really a sport university at all, so again I did some fun recreational clubs but I didn't run there really, even though I liked running. So I would go out for runs for fitness and something to do. And then I just decided I should have a goal, and I lived about an hour away from Newcastle where they have the Great North Run which is the biggest half-marathon [50,000 participants] in the world. And I was like 'oh I'll sign up for it', and I just ran for fun. I had no formal structure or training. I had no watch, I had no idea how far I was running or anything. But I did it and I loved the whole race atmosphere I guess. Then a year later I came to Vancouver and I blame it on my work manager at the time who said 'we're doing a half marathon next week, do you want to do it?' and I was like 'yeah ok!'. And then after that it was 'OK, now we're going to do a full marathon', and I was like 'yeah ok!'.
So I did a few marathons and then living in Vancouver you see people trail running. I've always been into hiking and I've lived in Switzerland and Norway and places like that. And growing up, going out for walks was something we did as a family. So I've always like the outdoors and I liked running, so trail running looked cool because it's the two put together. And it was Club Fat Ass really. I just showed up and you meet people.. and that's how I got started!
Q: You started with marathons and then moved to trail running where you excel. You continue to run on both road and trail, over a wide range of distances. Why don't you focus on a specific distance?
A: Right now I honestly think in the ultra running world, people keep going 'it's getting more competitive and there's so many more people doing ultras' which is may be true, but it's still quite a niche sport. So, I think if it grows there will come a point where you have to be so good that you can't do a mixture of everything. Whereas right now I can run a reasonable road marathon and still do trail 100 milers and say do 100k on road. But maybe there comes a point where 100km on road becomes so competitive that that is all you can train for because the quality goes up. I'm not saying things aren't competitive right now, but people are going to improve, so right now you can [afford to] not focus on one specific thing and still do quite well.
I think it keeps it interesting as well. If I am training for a road ultra, I will focus on training on the roads. And then you've done a lot of the same routes again, like the seawall again, and then after that race is over you can say 'now I'm training for trails' and I'm excited to be on the trails because I've not been on them so much recently. And I kind of like the speed element of the roads. The challenge is different and you can keep an eye on your pace.
Q: What type of training do you put in before a race, especially considering you hold a full-time job?
A: Some people ask 'how do you do a job and then train?'. But firstly, I don't have a family here so I can be quite selfish. But, usually I do between 15 and 20 hours a week. That might be 160 to 200km. That depends on the type of training, as running on the road you can get a lot more miles in faster. So you might do more miles but less time. And in the winter my work schedule is busier, so the summer is when I have more time to spend out on the trail. So [in the summer] maybe it's more time on the trails but not as much distance. I try and have 1 day off a week to stop getting injured, which hasn't really worked [laughs]. I don't run first thing in the morning, I can't do that [laughs] so I'm an after work person. Typically I run 2 hours in the evening after work. In the summer I have Saturday and Sunday off so I might do 4 – 6 hours both days, and in the winter I only have 1 day off so that will be my long run. So fairly typically to most people who have a job – the long run is on the weekend.
I'll do some speedwork once a week, like 5 x 1km intervals on trails. So it's somewhat structured, but for me, however serious I am, I also want to have fun. To me if it's like 'you must do this workout, you must do that workout', then I don't like it. With ultra running, to a limit, it's about getting time on your feet and just getting miles in. Obviously you can go overboard and there's also some quality, but sometimes you just want to go for a run. And then I do a bit of gym work and yoga and that sort of stuff.
Q: What are you favorite trails to run on the North Shore?
A: I'm really boring [laughs]. This is the one thing where some people like to go explore. I'm not saying I don't, but the thing is if I have a race I don't want to go exploring and go get lost or go on anything that is hillier than I thought. So I like to go on the routes that I know. I really like going up Mountain Highway, which some people hate but I love it. It's just a steady climb and its different for North Vancouver… when you get up towards the top its nice and open and that's different than being in the trees. Or I like going west on the Baden Powell from Cleveland Dam up to Cypress and Hollyburn. I love that. I don't really know why, its technical and fun. But I'm not the best person to ask about trails. People ask 'oh you must know the trails inside and out', but I like to stick to what I know. I like to go up to Squamish once in a while, because some of it is less technical, and it's not that I don't like technical trail running but I do like to run rather than hike a lot. And for some of North Van you end up hiking it.
Q: So let's cover the latest plans you had for 2013, and how things have changed with the discovery of your stress fracture. You recently ran the Vancouver Marathon, can you tell us about that for starters?
A: Going into BMO I was injured but I didn't know it was a stress fracture. So I did go in knowing I would be very lucky if I made it to the finish line. But I decided 'you never know', I'm quite optimistic and I thought it could work out. I did have a dropout plan of people along the course, where I said 'if I'm limping you're to take me off the course', because I know it's hard [to pull yourself from a race].
So it was obviously really disappointing because I had a good race there the year before and that was also partly why I wanted to do it, because that was so much fun. But you can never repeat things and I know that. So I went in with the attitude of 'I was pretty unlikely to win it''. If I was really lucky I'd make it to the finish line. And if not I'd make it about two hours in, which is what I did, and I'd run a decent pace and get training run, which I did, not knowing I had a stress fracture. But you know I had a nice time and at that point I was just like 'I'll give it a nice shot'. It was disappointing but it wasn't like I dropped and it was like 'Oh my gosh I thought I was going to win this today'.
And then it was about 10 days later that I found out that I have a stress fracture, and by that point I had already pulled out from Comrades, because for Comrades you have to be on top of your game. It's a long way to go all the way to South Africa. You can't go thinking 'I might have to drop out'. I'd gone from thinking I'd like to be up at the front at Comrades, to 'well maybe I can be top-ten' because top-ten is a big thing at Comrades, to then wondering if I can even run 89km. So I pulled the plug on that and found out it was a stress fracture. That was really disappointing because Comrades is my favorite race ever. I don't like to have favorite races because race directors put so much effort and each have got their own thing, but Comrades I absolutely love. But it's there next year and you have to accept… it's out of your control.
Q: With the injury now, what's the plan moving forward in terms of rehab and upcoming races?
A: I'm obviously not doing Western States. With the stress fracture I might be starting to run again by the time of the race [late June]. I was going to do UTMB but I'm not doing UTMB. I maybe could have done UTMB but again it's a long way to go and basically I want to get back fully-fit as soon as possible and I may have been able to do it, but maybe would have re-injured myself or it would have been too much pressure of 'I want to get back in as much running as possible', whereas I want to be boring and sensible. So, no race plans right now [laughs] which is weird. I've honestly not thought about it seriously. I'll do some races towards the end of the year, which ones they are I have no idea.
Q: Do you have any advice for new runners in Vancouver, or anyone thinking of getting outdoors?
A: For people that have never done running or trail running – the main thing I say is try and find a group if you can. And runners are so friendly, so even if you have never done it before and you think 'I'm going to be too slow or I don't know if I can do that' I say ' just give it a go'. I think joining a group is a great way. There's the Knee Knacker training runs and you don't have to be doing the Knee Knacker. Or there's Mountain Madness or Club Fat Ass or some of the running stores on the North Shore have trail running clinics, or I think Grouse Mountain does as well. I know not everyone wants to be super social, but you just learn an awful lot by going out with people and if you're worried about getting lost, then you're with other people [laughs] and you learn new trails as well. So I always say head out with other people, ask questions and people are usually friendly.
—
Thanks so much to Ellie for the insights, we wish her all the best with her rehab and future races.
You can keep up with Ellie on her blog, on Facebook, and Twitter.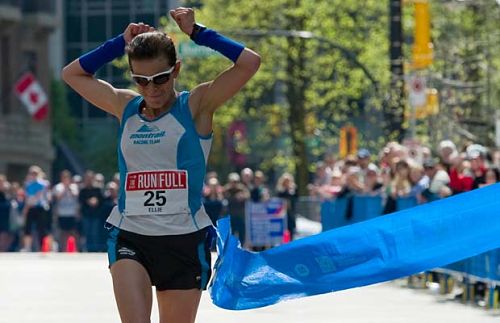 Photo by The Province (Vancouver)
Did you enjoy this article?
Tags: Tales from the Outdoors